Baltimore's Best Ice Cream Shops
In honor of the dog days of summer, we round up 22 of the best flavors in town.
As the summer heat reaches its peak, there's no better way to chill out than with a scoop of this classic sweat treat. Whether you're looking to venture to a new shop, or just trying to mix things up by sampling some fun flavors at your go-to neighborhood spot, here are our picks for the top 22 local creameries.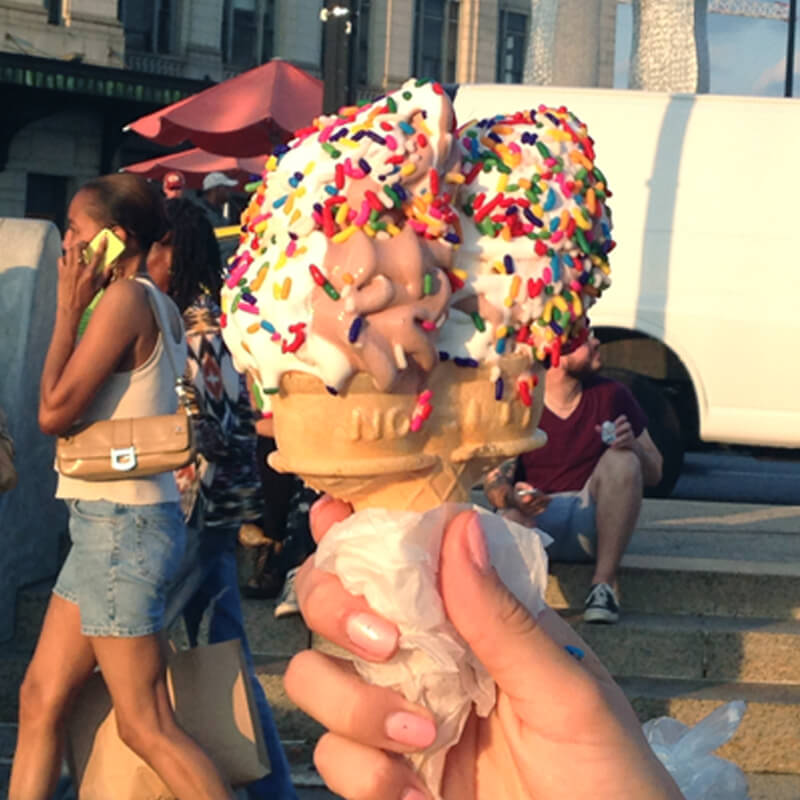 Miss Twist Ice Cream Although this dessert haven on wheels is constantly on-the-go—making frequent appearances at the Baltimore Museum of Industry and around Locust Point—Miss Twist is not your average ice cream truck, so don't expect to see any cartoon-character popsicles on this mobilized menu. The truck specializes in creamy soft serve, thick milkshakes, banana splits, Italian ices, and its signature double cones. Be sure to use Miss Twist's truck tracker to see where it's headed next. 443-564-1736, misstwisticecream.com

Standout Scoop: Vanilla-chocolate twist in a double cone
Lucky's Coffee, Ice Cream & Candy Featuring every imaginable variety of nostalgic candy and a menu full of house-made ice cream flavors, this corner store is a one stop shop for a bona fide sugar high. Checkered floor tiles and bright walls give the space an old-school ice cream parlor feel, and the shelves boast everything from lollipops to scoop-it-yourself gummy worms. When it comes to the ice cream, guests can treat themselves to a single, double, or triple scoop of flavors like peanut butter cup, honey graham, and vanilla bean. 601 E. Pratt St., 410-752-2500

Standout Scoop: Key lime pie
---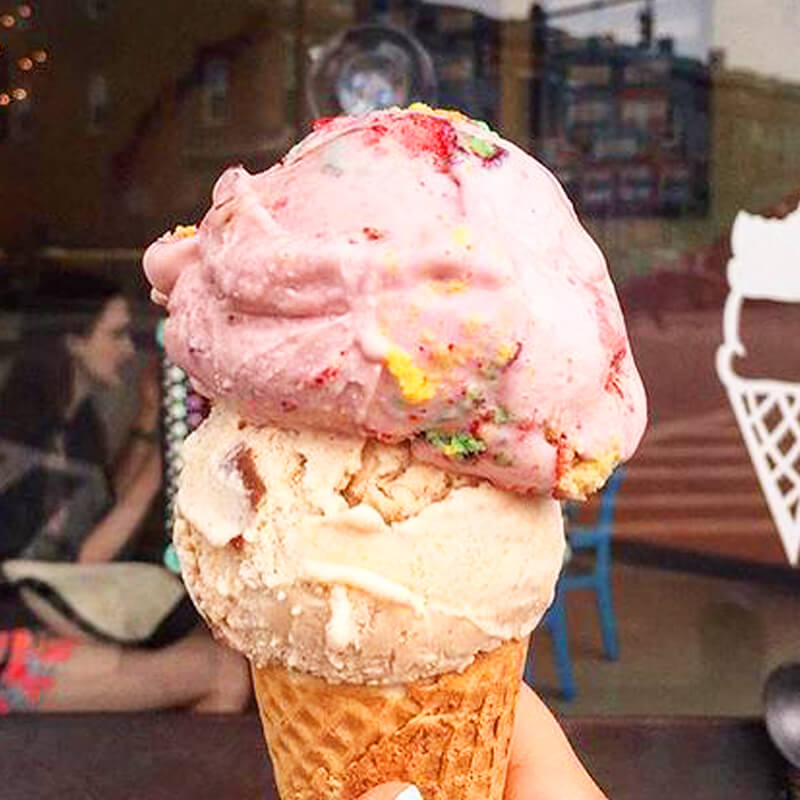 The Charmery Known for its inventive offerings and frequent collaborations with other local businesses, the accolades keep on coming for this Hampden hangout—which now boasts two additional locations at Union Collective and in Towson. The lists of outside-of-the-box flavors go on and on, but to give you an idea, think passionfruit ricotta, Ice Cream Sando, and Saturday Morning Cartoons (a mix of Frosted Flakes and Lucky Charms). 801 W. 36th St., 410-814-0493

Standout Scoop: Old Bay caramel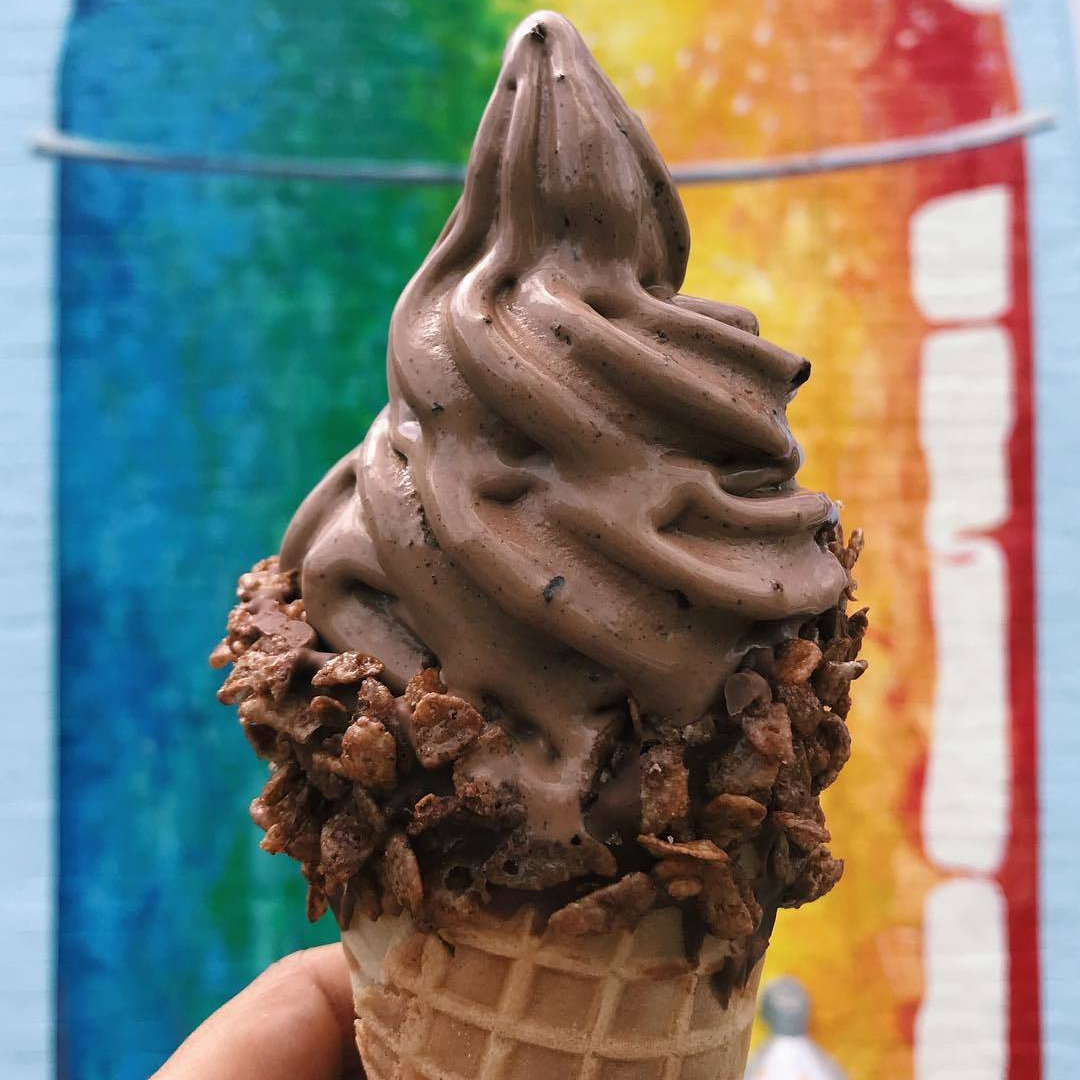 Bmore Licks This corner Canton ice cream shop has all the sweet treats you could possibly think of under one roof: soft serve, hard ice cream, snow balls, and even ice cream nachos and tacos. With a few dining tables inside and outside tables mostly inhabited by families and dog lovers, this place is packed almost every warm night of the week. We love creative flavors like Cookie Monster, birthday cake, and coconut soft serve. 2437 Eastern Ave., 410-732-5425

Standout Scoop: Peanut butter Oreo
---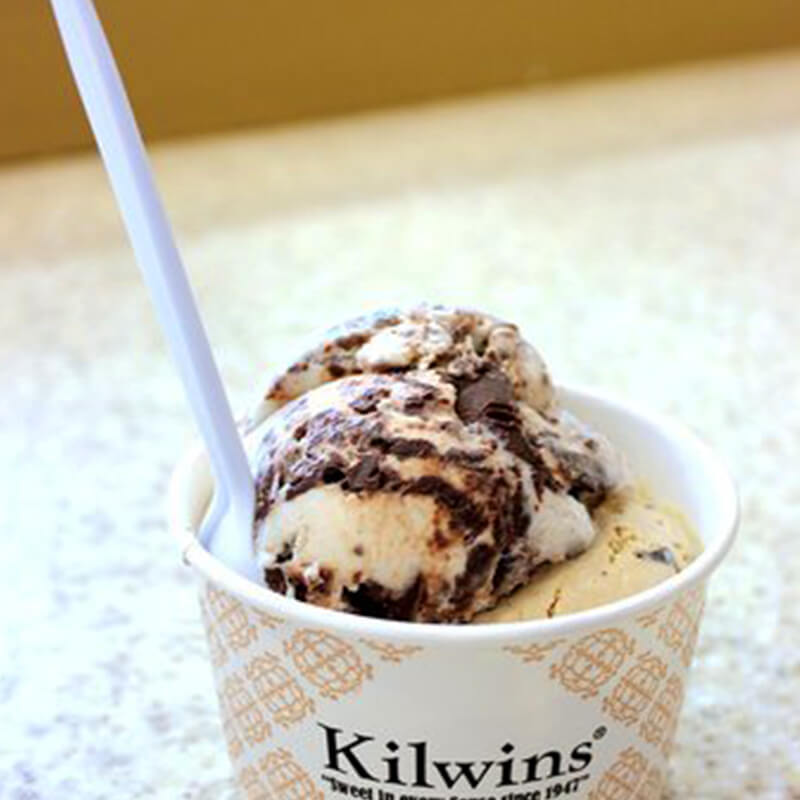 Kilwins Established in 1947, this renowned confectionary chain has been serving up its chocolate concoctions across the nation for decades. Locally, Kilwins sits in the heart of Fells Point, boasting glass show cases with everything from house-made caramel apples to chocolate-covered strawberries. The ice cream is top-notch, as well. With flavors like pistachio, "Kilwins Tracks", and colorful "Superman", the featured scoops make for a perfect harbor-side treat. 1625 Thames St., 410-276-9300

Standout Scoop: Toasted coconut.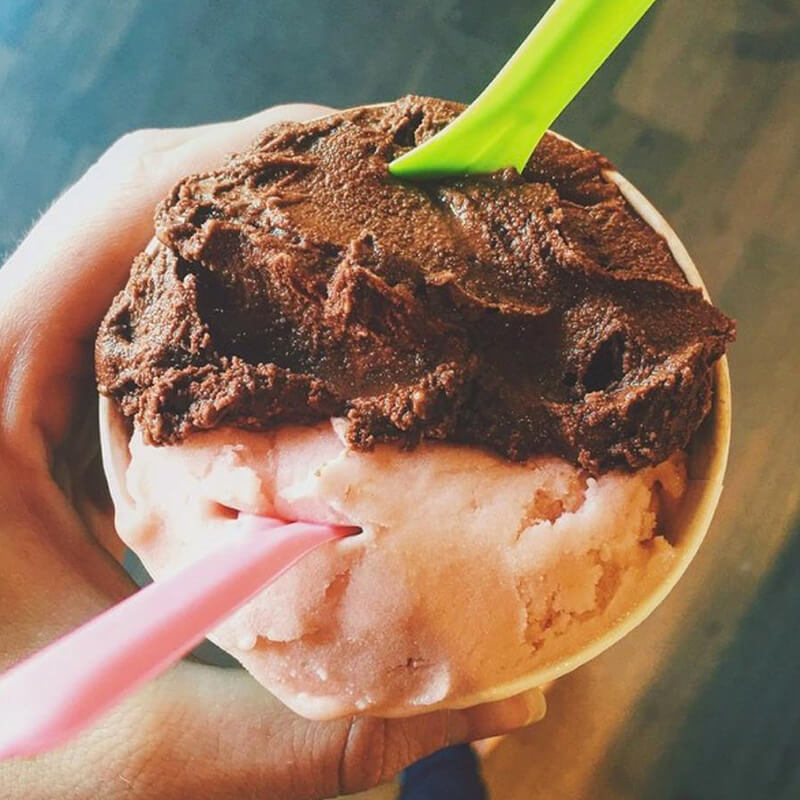 Pitango Gelato Head to this eye-catching mint green storefront while strolling around Fells Point's cobblestone streets for some of the most unique gelato in town. In keeping with Pitango's all-things-organic mantra, servers dish out creamy scoops of flavors made with fresh and local ingredients. Inventive options like banana, matcha, milk and honey, and star anise with notes of licorice make for a refreshing summer snack. (Tip: Double scoops of different flavors are totally allowed, so feel free to mix and match.) 802 S. Broadway., 410-236-0741

Standout Scoop: Pistachio and stracciatella (chocolate chip)
---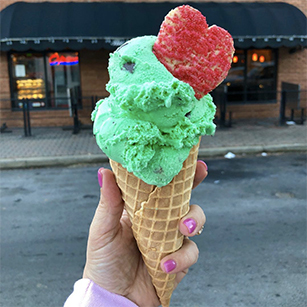 Vaccaro's Italian Pastry Shop This Little Italy haunt is the closest that we can get authentic Boot Country desserts in Charm City. Highlighting everything from cannolis to Tiramisu, the dimly-lit café is a great place to relax and enjoy coffee and dessert or to grab an after-dinner treat to go. It's apparent that the colorful gelato selection is Italian-inspired, with featured flavors like Amaretto, Peanutto, pistachio, and Italian cookies and cream taking center stage. Multiple locations including 222 Albemarle Street, 410-685-4905

Standout Scoop: Baci (chocolate hazelnut)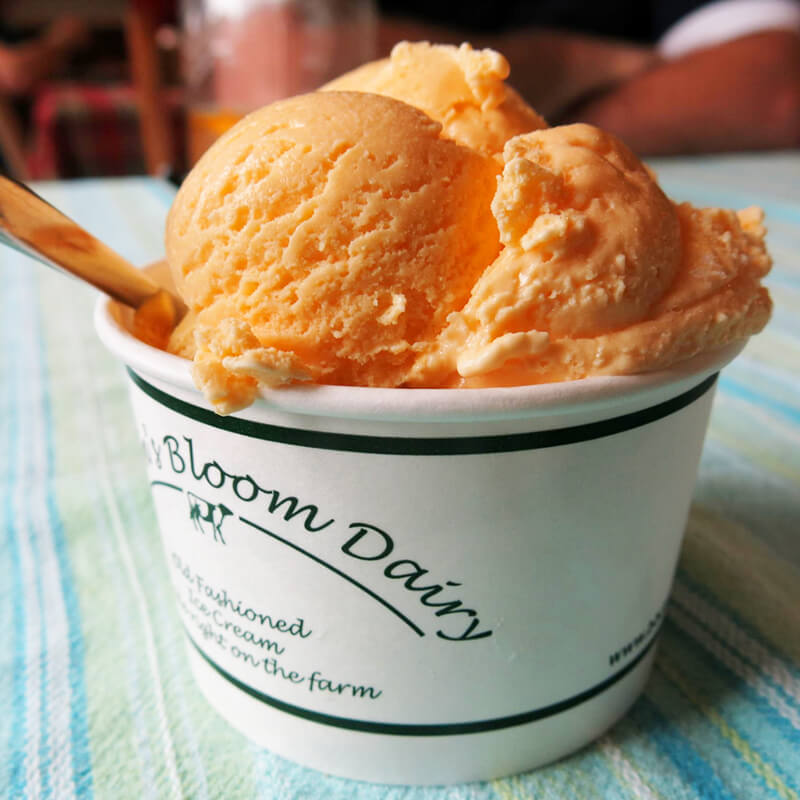 Broom's Bloom Dairy Adorned with rustic cupboards and window treatments, this 1700's farmhouse-turned-café sits on a 120-acre farm in Harford County. The family-run business has been around for decades, serving up soups, salads, and sandwiches made with the area's freshest bounty, but the ice cream continues to be Broom's Bloom's claim to fame. The old-fashioned treats are all hand-dipped, and the rotating menu typically features about 12 flavors at a time. Favorites include graham cracker cake batter, salted caramel, and rum raisin. 1700 S. Fountain Greene Road, Bel Air, 410-399-2697

Standout Scoop: Dirt (aka chocolate with chocolate mix-ins.)
---
Taharka Bros.This Clipper Mill-based creamery has made headlines with its inspiring philosophy of using its ice cream as a mechanism for social change. Taharka Bros. products are currently sold at more than 75 restaurants, local farms, college campuses, and ice cream shops all over town, as well as at brick-and-mortar stalls inside Broadway Market and R. House. Another is set to debut inside Cross Street Market this summer. Favorite flavors include white olive oil and sea salt, coconut chunk, and bananas foster. 1640 Alieceanna St. 410-961-2899
Standout Scoop: Honey graham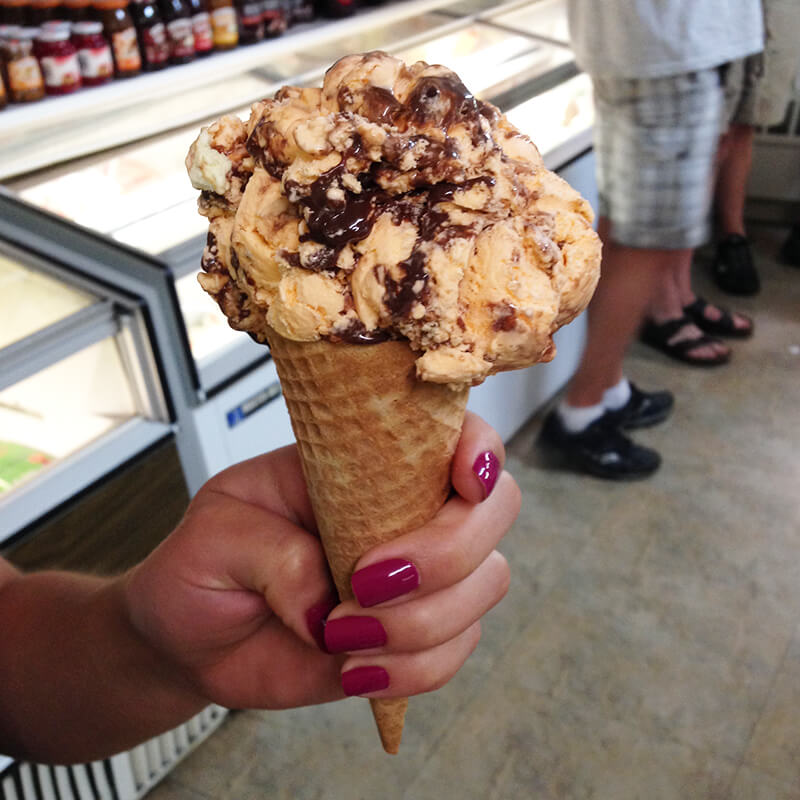 Hoffman's Home Made Ice Cream & Deli Visit this Westminster creamery on any given summer night and you'll find tons of locals kicking back in the parking lot enjoying its frozen concoctions. The quasi-convenience store and deli boasts a full-service ice cream shop in the back, highlighting house-made flavors available by the pint or scoop. Hoffman's offers a rotating menu of seasonal varieties (stop in this summer for peach, dreamsicle, lemon custard, cherry vanilla, and a Christmas in July-themed Peppermint ice cream) as well as traditional favorites like peanut butter ripple and mint chocolate chip. 934 Washington Road, Westminster, 410-857-0824

Standout Scoop: Fudge tracks (Vanilla ice cream dyed orange with fudge and mini peanut butter cups.)
---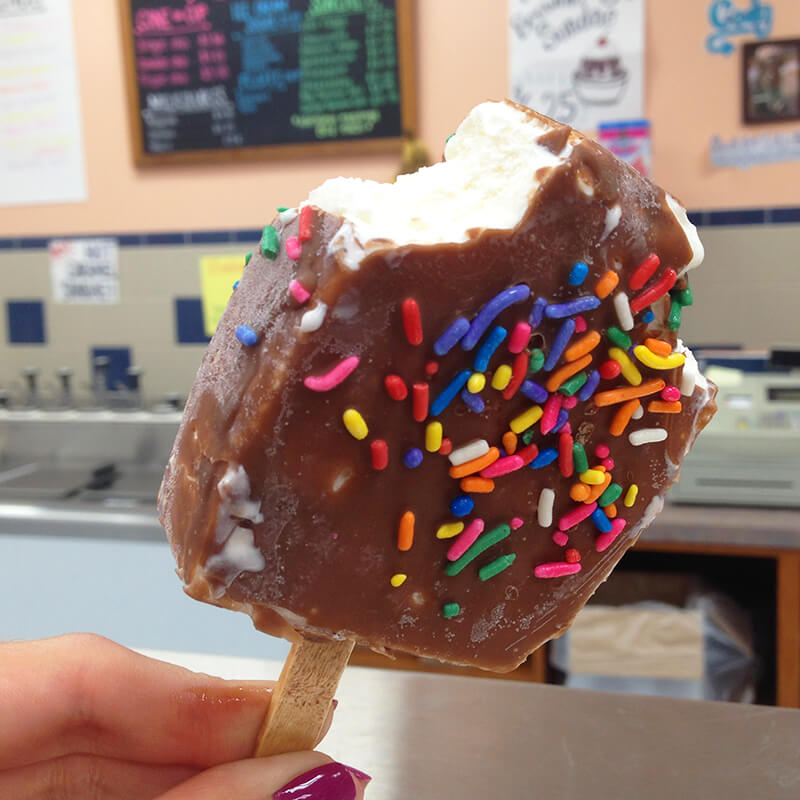 JJ Hoffman's Creamery With a signature "pet wall" lined with framed photos of regular customer's furry friends, this Hampstead store is bursting with neighborhood charm. The shop is always featuring weekly specials, and even offers house-made ice cream cakes and sandwiches made with fresh-baked cookies. Enjoy floats, sundaes, milkshakes, and ice cream by the single, double, or triple scoop. 841 S. Main St., Hampstead. 443-508-2375

Standout Scoop: JJ Cruncher's Ice Cream Bar (vanilla ice cream bar dipped in chocolate ganache and rolled in rainbow sprinkles)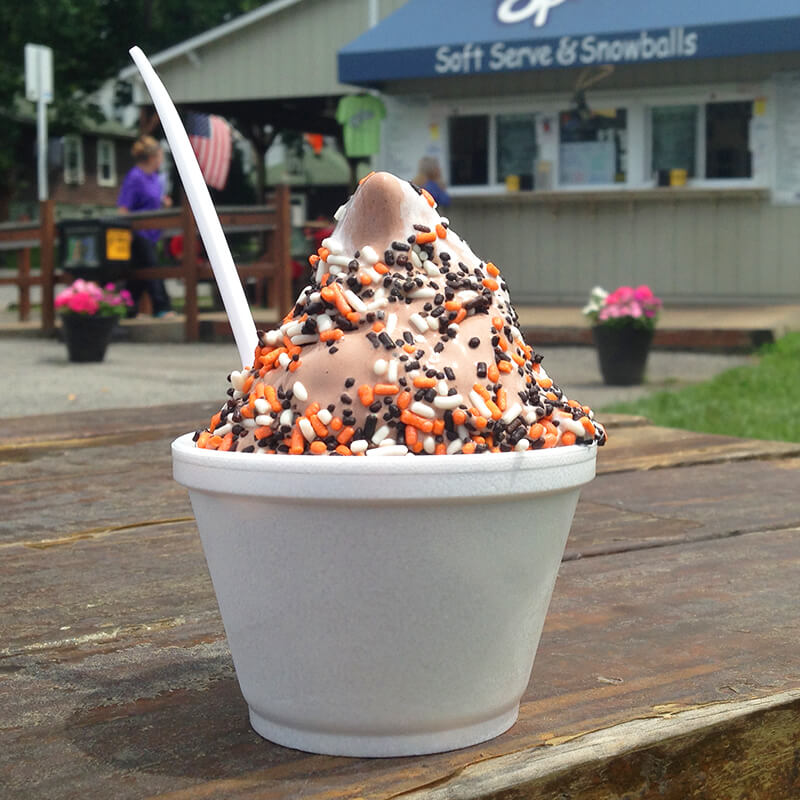 Opie's Soft Serve & Snowballs Nothing says summer in Catonsville like a trip to this freestanding ice cream shack on Edmonson Avenue. Head to the royal blue awning to experience iconic seasonal flavors mixed into sundaes, snowballs, and shakes. If the choice between rich ice cream and a fruity snowball proves to be a difficult one, Opie's offers a signature concoction called a "Snowcream" which layers a snowball flavor of your choosing with soft serve. 1603 Edmonson Ave., Catonsville.

Standout Scoop: Vanilla and chocolate soft serve with Orioles sprinkles
---
The Cow The roadside cow statue off of Main Street in Reisterstown has practically become a community landmark. Not only does it make for great selfies, but it's also a symbol of the frozen treats at this beloved dessert destination. The Cow features Italian ice and scratch-made frozen custard, which is used in its specialty sundaes, milkshakes, and cones dipped in flavored hard shells. First-timers should go for the famous gelatis that sandwich Italian ice between creamy custard. A lengthy list of 60 ice flavors includes favorites like rocky road, cookies and cream, watermelon, toasted almond, and strawberry lemonade. 201 Main St., Reisterstown. 410-526-1800

Standout Scoop: Gelati with peanut butter ice, vanilla-chocolate swirl, and rainbow sprinkles.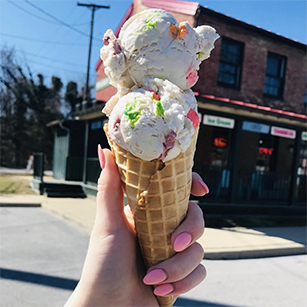 Jupiter's Ice Cream Serving Taharka Bros. ice cream, Jupiter's brings sweet treats to the Mount Washington masses. Plus, the spot also carries candy and other goodies to try. Sample flavors like Coffee Oreo and Honey Graham and pick a favorite. 1405 Forge Ave., 410-433-1673

Standout Scoop: Olive oil and sea salt
---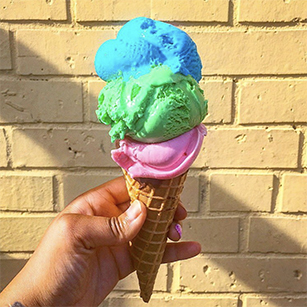 Fells Point Creamery Conveniently located on a Broadway Square corner, this unassuming ice cream shop is a great way to cool off during a summer day or cap off a meal in Fells Point. There aren't many better things to do when the weather's nice than walking along the water with a cone in hand. A scoop here is a tad pricey, but worth it. 821 S. Broadway, 410-342-8399

Standout Scoop: Cookies and cream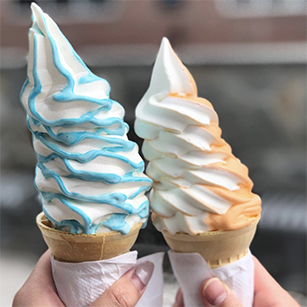 Soft Stuff Ice Cream Known for its overflowing soft serve towers at prices that don't break the bank, this longtime community favorite is a go-to dessert spot in Ellicott City. After 29 years as a freestanding ice cream shack located along Route 40, the business recently moved to a bigger space in the new Forest Green Shopping Center on Baltimore National Pike. Although it has a new home, Soft Stuff's original recipe remains the same, highlighting its signature "flavor bursts" that fuse vanilla ice cream with flavors like banana and raspberry. 10039 Baltimore National Pike, Suite G, Ellicott City, 410-750-7561

Standout Scoop: Blue Hawaiian (coconut, chocolate, and vanilla twist.)
---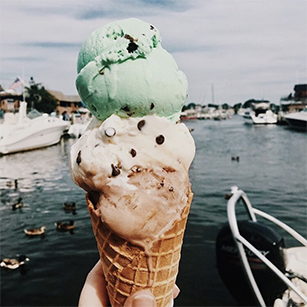 Storm Bros. Ice Cream Factory Head to the red and white striped awning while strolling around Downtown Annapolis and take your pick of more than 40 quality flavors at this family-run shop. Although the line is often out the door when tourists take over, with flavors like raspberry truffle, rocky road, and red velvet cake, the ice cream is worth the wait. Traditional shakes, floats, sundaes, and sodas are also featured. 130 Dock St., Annapolis, 410-263-3376

Standout Scoop: Deep Dark Chocolate
Roll Ice Cream & Coffee Mix up your normal dessert routine at this Highlandtown hangout that offers rolled ice cream—a trendy treat with roots in Asia. After liquid anglaise is frozen on a cold slab at -25 degrees, the cream is mixed with customizable flavorings, pressed flat, and scraped into rolls before landing in a cup with DIY toppings. Swing by the shop to sample creative concoctions like "Couch Surfer" with potato chips and caramel popcorn and "Flew Over the Cocoa's Nest"—chocolate ice cream mixed with brownie bits and chocolate chips. 3222 Eastern Ave., 443-595-7655

Standout Scoop: Everyday I'm Trufflin' with cake batter truffle
---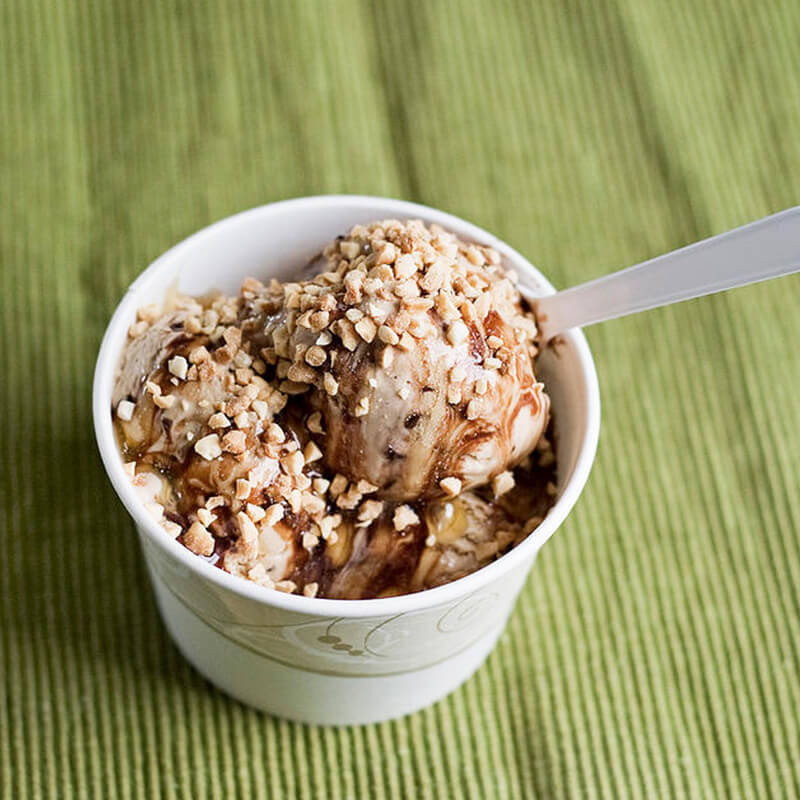 Prigel Family Creamery From frozen yogurt to seasonal pies, this Glen Arm creamery makes all of its products from scratch. Located on an organic farm that has been in the Prigel family for more than a century, nattily-dressed servers dish out house-made flavors like cappuccino chip, black cherry, and caramel pretzel. The creamery has also debuted a sister location inside Belvedere Square Market. 4851 Long Green Road, Glen Arm, 410-510-7488

Standout Scoop: Caramel pretzel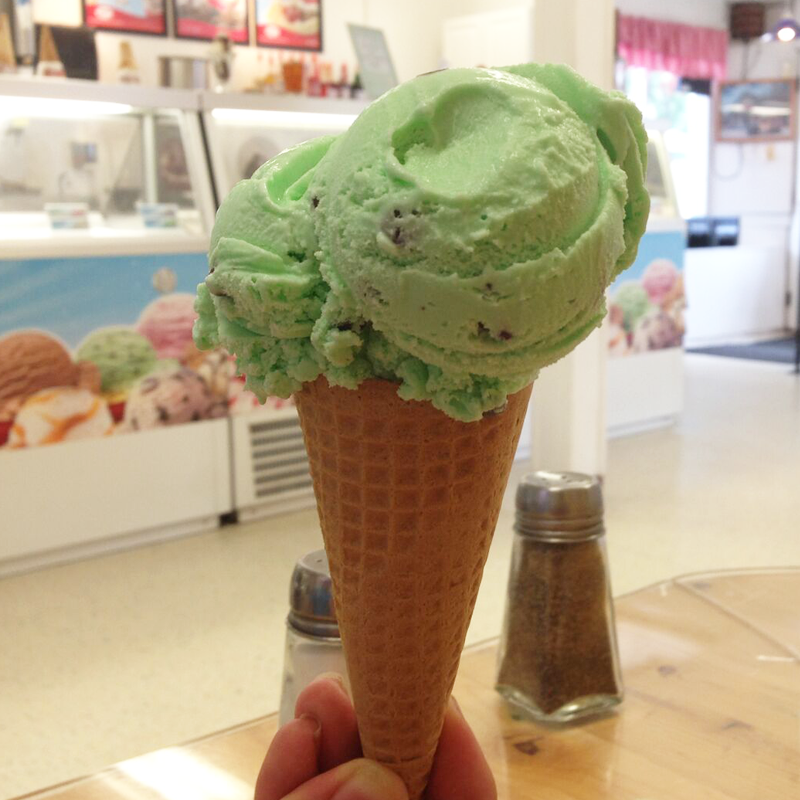 Ice Cream Cottage Featuring a soundtrack of throwback tunes and checkerboards painted on every table, this Arbutus haunt screams old-school ice cream parlor. The quaint space offers a wide variety of ice cream flavors including strawberry cheesecake and cookies and cream. If checkers isn't your thing, pull up an Adirondack chair and enjoy your sweet treat on the outside deck. 1348 Stevens Ave., Arbutus, 410-247-3620

Standout Scoop: Moose tracks
---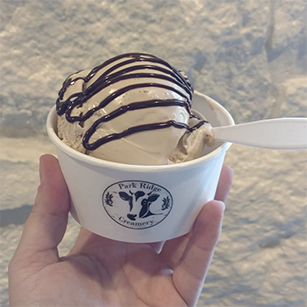 Park Ridge CreameryEllicott City residents have embraced this spot as their go-to ice cream parlor, featuring Taharka Bros. and original gourmet flavors. Sit outside at the tables by the courtyard, where there might just be some live music playing. 3741 Hamilton St., Ellicott City

Standout Scoop: Blueberry pie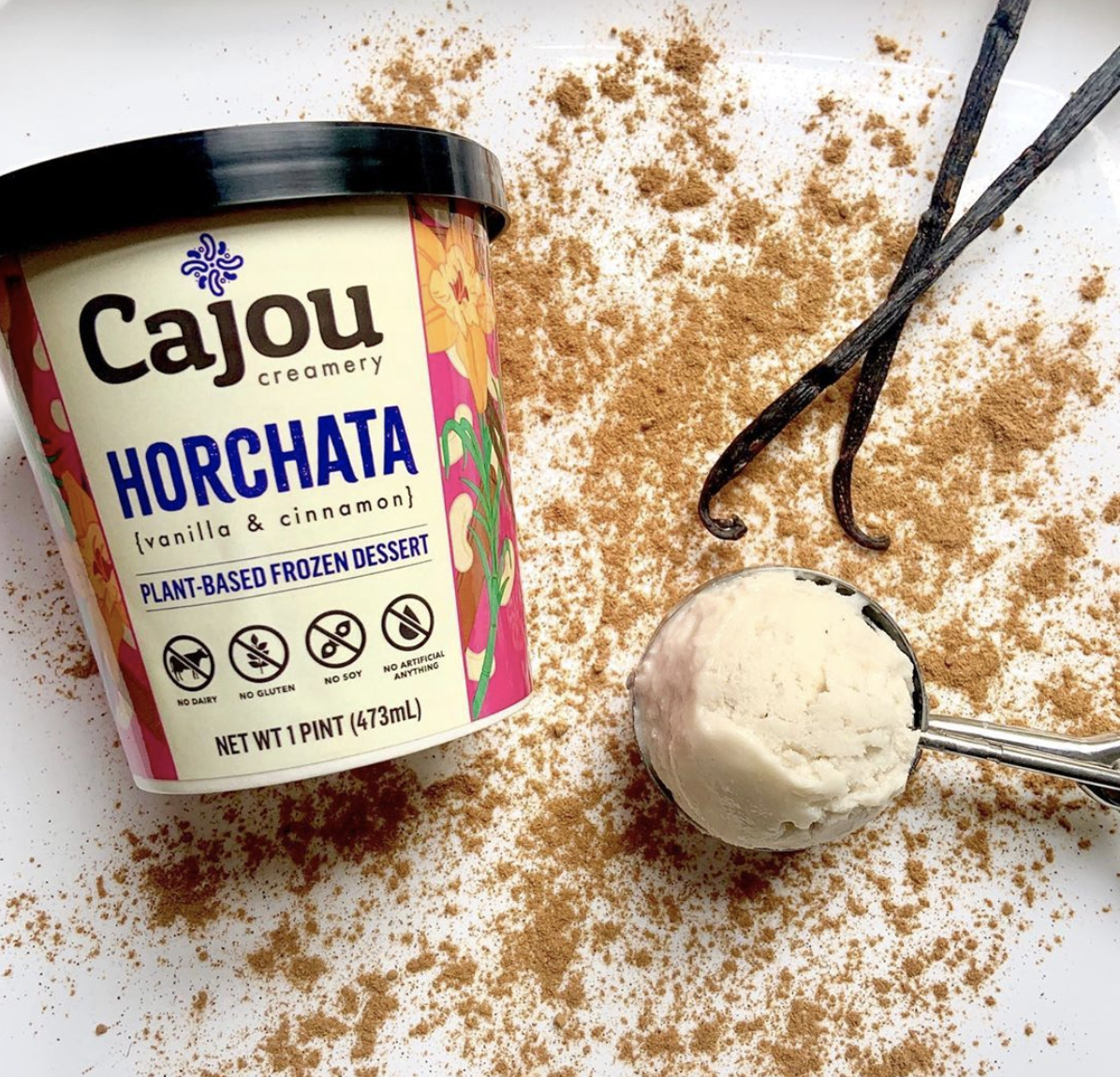 Cajou CreameryThis dairy-free operation from husband-and-wife owners Dwight Campbell and Nicole Foster has quickly become a favorite among Charm City's plant-based community and beyond. The owners are currently offering contact-free "porch drops" throughout the pandemic, and they're also raising money via Kickstarter to help fund equipment for their new storefront and offer nationwide shipping.

Standout Scoop: Horchata
---
*Additional reporting by Evan Greenberg and Jason Fontelieu