Pure Imagination
The Charmery owners David and Laura Alima give us the scoop on their growing ice cream business.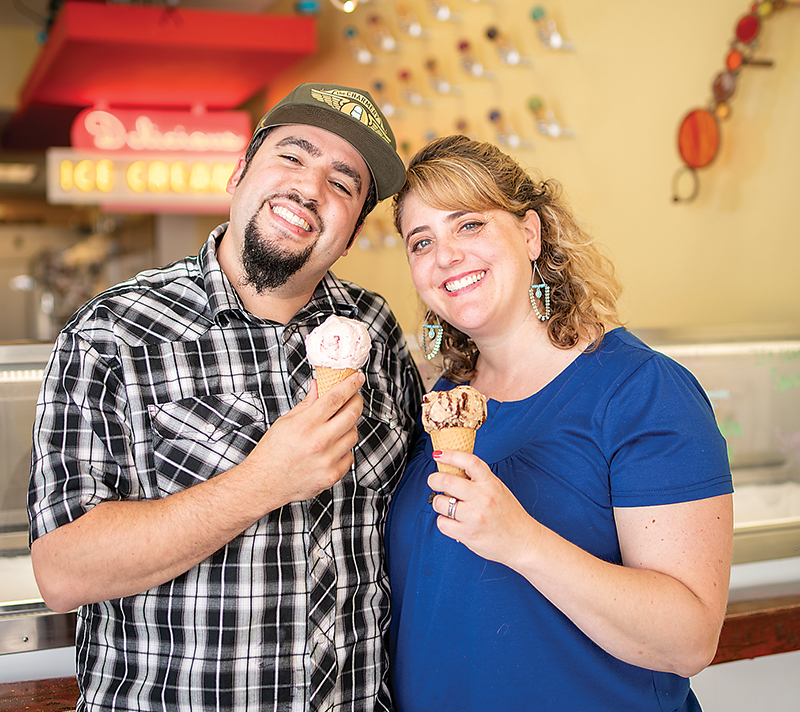 Laura Alima takes inventory of metal ice cream scoopers in the bright kitchen of her new Towson shop. A former minimart on York Road, it's now the second iteration of The Charmery, which Laura and her husband, David, opened in Hampden in 2013. It's one day before the new location is set to officially debut, and the Alimas have gotten a last-minute request to scoop for the cast and crew on the set of House of Cards.
Even with opening day quickly approaching (she still has to make sure the phone works, oversee exterior work, and tidy up the space behind the counter), Laura makes time to pack up equipment for one of the coolest catering gigs her team has had yet. "We've wanted to do this forever," she says. "It's just one of those moments where you can't say no."
The request from the execs at House of Cards—who will enjoy the shop's Pure Vanilla, Maryland Mud, and Salty Caramel ice cream later that day while shooting the show's final season—is just another cherry on top for The Charmery as it continues to expand.
A few miles south in Medfield, David runs test batches at the new Union Collective—a 138,000-square-foot makerspace that houses a number of local businesses, including a third Charmery location. Attached to the retail shop is the Alimas' new ice cream factory, which is three times the size of their cramped production kitchen in Hampden.
By day's end, David and his team will have churned out nearly 300 gallons of Salty Caramel and Vegan Coconut Cookies-and-Cream ice cream—two of the many creative varieties that The Charmery has become known for. Other funky flavors in the rotation have included Mango Sticky Rice, Butter Popcorn Pecan, and Mezcal-Lime Strawberry.
David, who began making ice cream as a hobby after graduating from college, finds the inspiration for his sweet and savory concoctions in everything—from pop culture (he once made a champagne-poppy seed flavor inspired by Drake's Instagram handle) to local luminaries such as musicians Dan Deacon and TT The Artist, as well as the unofficial mayor of Hampden, Lou Catelli.
"The creativity that he puts behind the flavors is amazing," says David's close friend Carlos Raba, co-owner and executive chef of Clavel in Remington. "I remember the first time my wife and I went to The Charmery, and we saw his cheese-and-crackers flavor [a combination of sharp cheddar and Ritz cracker dust]. I was like, 'What is that?' I would never think to put cheese and crackers in ice cream, but I tried it and I was hooked."
To make their popular Salty Caramel, the team mixes handcrafted caramel flavoring with a dairy base (heavy cream, whole milk, and natural stabilizers), adds vanilla and salt, and then places it into an ice cream machine to give it a soft-serve consistency. Later, it goes into a blast freezer, where it hardens overnight.
"This feels like an empire," David says. "But we didn't go into it with the goal of opening multiple shops. Our goal was always, 'Let's open this one shop and make it an institution that is an important part of people's lives.'"
Laura's business sense paired with David's creativity is the recipe for success at The Charmery—a community staple that has become a requisite stop on The Avenue. "It has its own vibe," says Matt Stegman, president of the Hampden Community Council. "There are shops all over that have good ice cream, but the fun of The Charmery is that every time you go, you're going to see five or six new options. Not just flavors that you've never seen there before—things that you've never seen anywhere."
Featuring a whimsical soda-fountain feel (and an aquatic-themed bathroom that was named runner-up in Cintas' America's Best Restroom Contest in 2016), the colorful and quirky shop, which serves as many as 1,000 customers per day during the busy summer months, is a reflection of the owners' personalities. Unlike many sweet shops that see a dip in business or close during the colder months, this place is packed year-round.
"There's something nostalgic about ice cream that touches people on an emotional level, whether they're aware of it or not," Laura says. "When we first envisioned The Charmery, we thought a lot about how the shop could touch people in a way that triggers their first ice cream memory. People remember those things more so than where they had their first hamburger."
Sitting in the inviting living room of their Govans home—which boasts bins of vinyl and a wildly painted taxidermy deer bust—the two laugh as they reminisce about the 20-year journey together. When they talk, Laura, who has wavy blond hair that is pinned back to reveal her warm smile, and David, who sports a signature goatee and baseball cap, are so in sync that they finish each other's sentences, though they have individual interests, too. While she likes wine and admires culinary superstar Danny Meyer, he is inspired by reggae music and the zaniness of Willy Wonka.
Growing up in Columbia, Laura dreamed of operating her own peanut butter factory ("It was going to be called Like it or Nut Peanut Butter," she chuckles), which later gave way to aspirations of owning a classic American diner. "I remember my mom had given me this book about diners, and I was obsessed with them," she recalls. "Mine was going to employ every member of my family."
David, who was raised in Pikesville, had a similar entrepreneurial spirit. His grandparents and mother owned a pharmacy in the county (serendipitously, Laura's grandfather was also a pharmacist, and The Charmery in Hampden is housed in an old pharmacy building) and his Israeli-born father ran a healthcare supply company. As a student at Beth Tfiloh Dahan Community School, David—an avid music lover—excelled in courses that challenged his artistic side.
The couple eventually met in the summer of 1998 while working as counselors at Camp Moshava, a Jewish sleepaway camp just outside of Bel Air. Laura was preparing for her freshman year studying hotel and restaurant management at Cornell University in Ithaca, and David was a rising sophomore at the University of Maryland, College Park. They hit it off during a staff outing at Denny's, one of the only restaurants remotely close to camp. "I ate an entire pie to impress her," David says with a laugh. "And it worked."
The couple continued the long-distance relationship for a semester, then David transferred to Ithaca College to study marketing, communications, and creative writing. "Ithaca had these beautiful mountains," says David. "And Laura was there."
After college, the duo lived in Washington D.C., before heading out West. "We didn't want to end up here our whole lives having never left," David says. Laura wanted to learn more about wine, so Northern California seemed like a natural fit. "We looked at the map, and Santa Rosa was the largest dot between Sonoma and Napa," she says.
The relaxed atmosphere in Santa Rosa—where David did marketing for a reggae band and Laura did marketing for high-end food and wine events—proved to be formative. "It struck me that there were 45-year-old people working at a winery, but they didn't want to take over the winery," David says. "They didn't want to use the winery as a jumping board to their next step. They just wanted to be and live a happy life."
Laura's business sense paired with David's creativity is the recipe for success.
Even so, after five years on the West Coast, David and Laura had a brood of nieces and nephews back in Baltimore and family beckoned them home. They continued their marketing careers in Baltimore, where Laura worked with Chef's Expressions and David headed up efforts for Everyman Theatre.
"I remember sitting at my desk there and being like, 'Okay, in this path that I'm going on, what would be the best job that I could imagine?'" he remembers. "I just couldn't see it being at the place where I was. So I came home to Laura and told her, 'I don't know what do, I don't see where my path leads to happiness.'"
As it turns out, that path was paved with ice cream. After drafting a number of business plans—including one to revamp Lost City Diner in Station North—the duo decided to execute their vision of opening an ice cream shop similar to the city-defining parlors they had visited throughout their travels. "Every time we traveled, we would always seek out ice cream," David says. "That's how we found these iconic shops that would put the cities on their shoulders." They drew inspiration from places such as Molly Moon's in Seattle, The Creole Creamery in New Orleans, Screamin' Mimi's near Santa Rosa, and, of course, Purity Ice Cream in Ithaca.
"Everyone who we talked to about this was like, 'You have to serve sandwiches—you won't survive the winter,'" David recalls. "But we had seen these shops and what they could do. We had such complete faith in the concept."
And they were right. The community believed in The Charmery's mission from its very first night of business on July 20, 2013. "I very viscerally remember that feeling of taking the paper off of the door and seeing a line of people outside on opening night," Laura says. And lines have continued to flood out the door—and snake around the block—ever since.
The Alimas took their time establishing the Hampden location and starting their family—they have a 4-year-old daughter, Maggie, and 1-year-old son, Max—before taking the plunge. When they were approached by the Union Craft Brewing team in 2016, they decided it was the right time to grow their footprint. "We knew opening at the Collective meant that we needed another space to open almost simultaneously," Laura says. Adds David: "The factory only works if it has something to feed."
Even in the midst of major growth, taking time to breathe, a skill that the Alimas learned in Santa Rosa, is something that they remain committed to, whether they're checking out new restaurants in town or relaxing with their children in their playroom at home. David finds clarity in his routine of morning coffee dates with Raba and other local business owners including Dave Sherman of Ground & Griddled and former Food Market partner Elan Kotz. They all support one another. "Baltimore loves Baltimore," David says. "You just have to find your people and your space. Once you do that, the city just kind of opens itself to you."
Back at Union Collective, David's new office sits behind an orange barn door with a hand-painted quote inspired by Willy Wonka & The Chocolate Factory sprawled across it. "Don't forget what happened to the man who suddenly got everything he ever wanted," it reads. "He lived happily ever after."
"I don't want to forget," David says. "I mean, look at this place. How did I do this? Six years ago, I had no idea what my adulthood would look like. To go from that to being here is amazing. It's everything I've ever wanted."