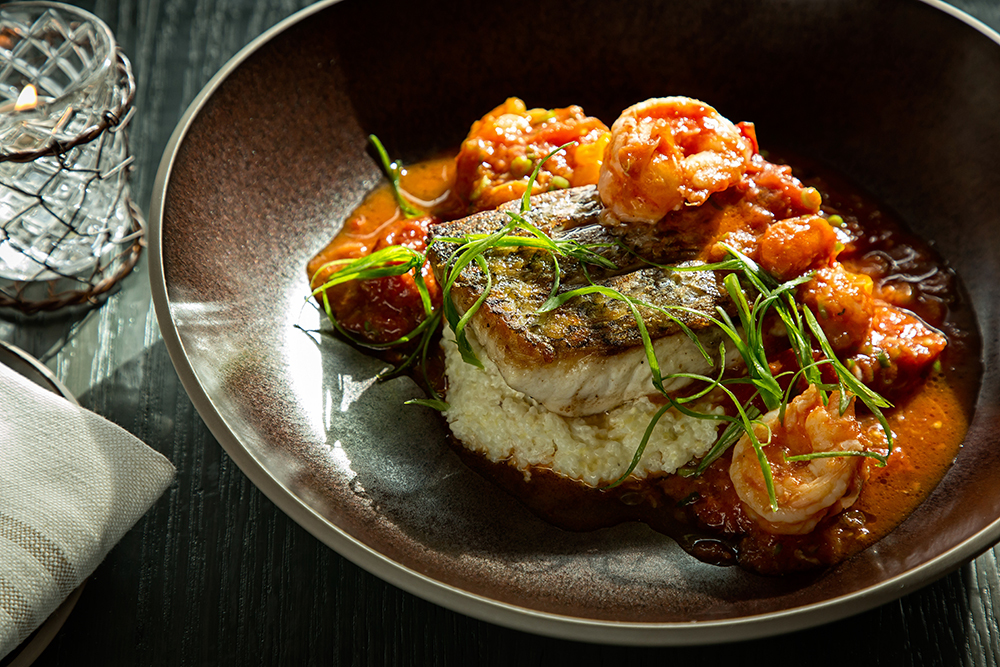 Scott Suchman
To say that I made more reservations this year than meals at home would be an understatement. I worked my way through countless crab houses, taquerias, vegetarian spots, and restaurants of every conceivable kind from chop houses to soul food spots to New American bistros. From Cockeysville to Federal Hill to Fulton, I slurped squid ink pasta, raw oysters, and matzoh ball soup, devoured plates of steak and baskets fried chicken with Old Bay—and I loved it all. 
There's a reason why comfort foods ranked high on my greatest hits list this year. When I think back on 2017, it was a year to remember, mostly for the wrong reasons between the #MeToo movement, post-election fallout, record-setting gun violence, and natural disasters, to name a few. In times of trouble, nothing soothes like breaking bread with friends and family. Here are the foods that satisfied my soul.
S'oupe a L'Oignon Gratinée at Petit Louis Bistro
The onion soup at Petit Louis is hardly a new find, but a recent visit to this Roland Park bistro reminds me why it's considered a classic. On a chilly fall night, I enjoyed an order of this soothing soup rife with onions, spiked with sherry, and a raft of cheese blanketing the top. Think of this as French penicillin in a crock. 
Salmon Tikka Masala at Royal Taj
Baltimore is blessed with many great Indian restaurants, but The Royal Taj in Howard County was a new discovery for me, as was a fragrant dish of salmon tikka masala, which our server suggested. The masala sauce—with a touch of cream and a vivid smoky tomato flavor—was more delicate than the usual fare, allowing the seafood to really shine. 
Eggplant Parmesan at Tagliata
Sometimes you just want the simple comforts of a red-sauce dish at a time when the classics have given way to one too many servings of beets and kale. Enter the eggplant Parm at this new Harbor East stunner. This rendition is comprised of a soul-satisfying version of top-flight ingredients including house-made mozzarella, a stellar tomato sauce, a crispy crust of eggs, breadcrumbs, and Parm that oozes, appealingly, over the copper gratin dish it's served in.  
Maryland Rockfish at Rye Street Tavern
The Maryland rockfish at Rye Street Tavern puts a mid-Atlantic spin on southern shrimp and grits. A fat, just-caught piece of our state fish is paired with shrimp, tomatoes, and grits for a beautifully balanced dish that offers hints of sweetness and smoke. I'm not alone in my adoration—Under Armour CEO, and Rye Street owner, Kevin Plank orders this dish as a regular part of his repertoire when he dines here. You'd be wise to make it yours.  
The Green Chile Burger at Dylan's Oyster Cellar
Ordinarily, I'd say that any burger in a sea of seafood, including some of the best-shucked oysters in the city, is a throwaway item for only the most recalcitrant carnivore at the table. But if I said that while supping at Dylan's Oyster Cellar, I'd be wrong. The burger arrives cooked to order on a bun that strikes the right balance between squishy and sturdy. The meat is of high-quality, and the whole affair is topped with nothing more than some green chile and so-called "special sauce" that more than lives up to its name. 
Tacos at Cocina Luchadoras 
This sweet new spot in Upper Fells does everything right from the lovely agua fresca for a hot summer's day to the house-made mole sauce to some of the best tortilla chips in town. Every inch of the tacos—from the tortilla to the chorizo—are handmade here (and topped with homegrown microgreens), many of them by owner Rosayln Vera's mother, Margarita. 
The Pastrami Reuben at The Essen Room
Surprising to say, but Pikesville badly needed a Jewish deli, and it arrived just in time as my craving for corned beef, kreplach, potato knishes, and the Eastern European foods of my heritage kicked in. The pièce de résistance is the pastrami reuben—towering high onto well-seeded rye with three inches of meat, some sauerkraut, and a dollop of spicy mustard and Russian dressing. You will not be able to eat a whole in a single sitting.
Crab Cake at Woodberry Kitchen
In Baltimore, a crab cake is as ubiquitous as a burger on area menus, and as long as they're made with Maryland meat (in season) and from the Gulf (out of season), they're always good. But Woodberry Kitchen takes it to the next level with their six-ounce cakes (a mixture of lump and backfin) made with nothing more than fish pepper, oil, and egg. The simplicity of the dish, in combination with the purity of the ingredients, is what makes this shine.
Bread Pudding at Ida B's Table
If you're going to eat dessert, make your calories count. The bread pudding at this new downtown soul food spot is worth every spoonful. Made by co-owner Tonya Thomas, it's drizzled with crème Anglaise and topped with cloud-like sorghum whipped cream. I try not to eat my emotions, but this cures everything that ails me.