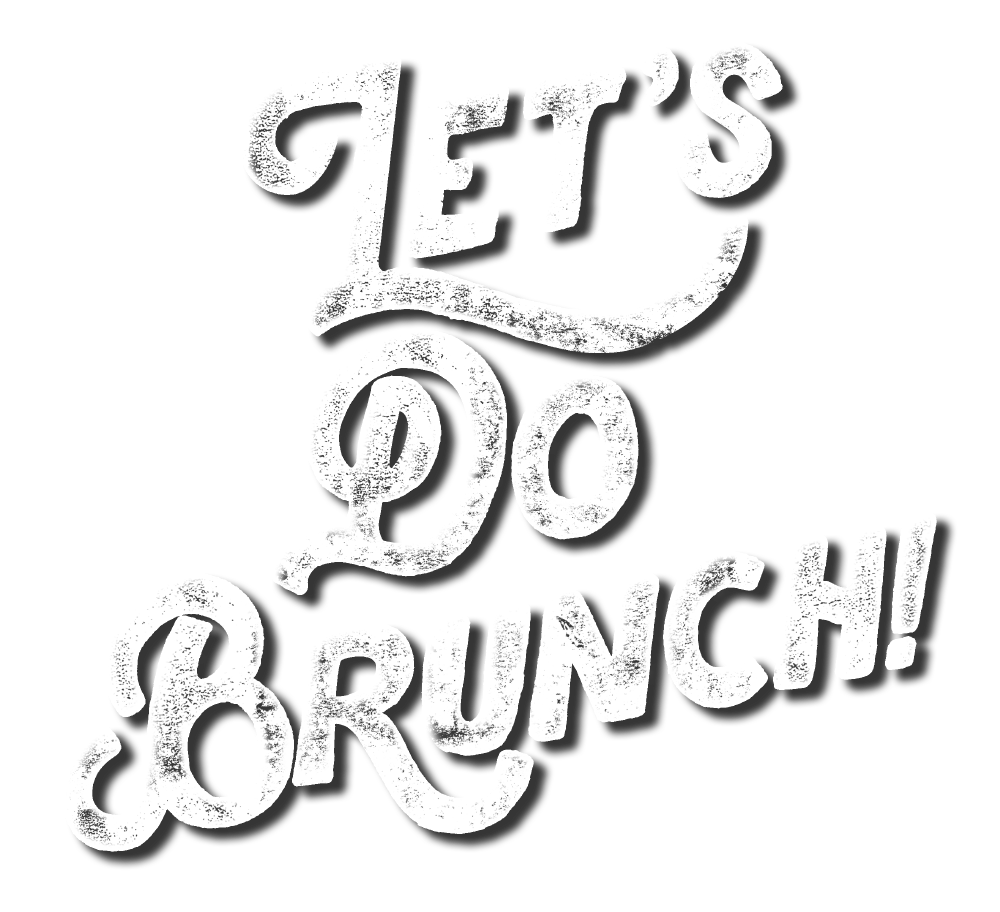 Rise early, or sleep late—either way, kick off the covers and head to one of our 30 best brunch spots for this ritualistic repast.
Food & Drink
Let's Do Brunch
Rise early, or sleep late—either way, kick off the covers and head to one of our 30 best brunch spots for this ritualistic repast.

While the late Anthony Bourdain famously expressed antipathy for brunch ("The 'B' word is dreaded by all dedicated cooks," he wrote in his first piece for The New Yorker), there are many of us who embrace it.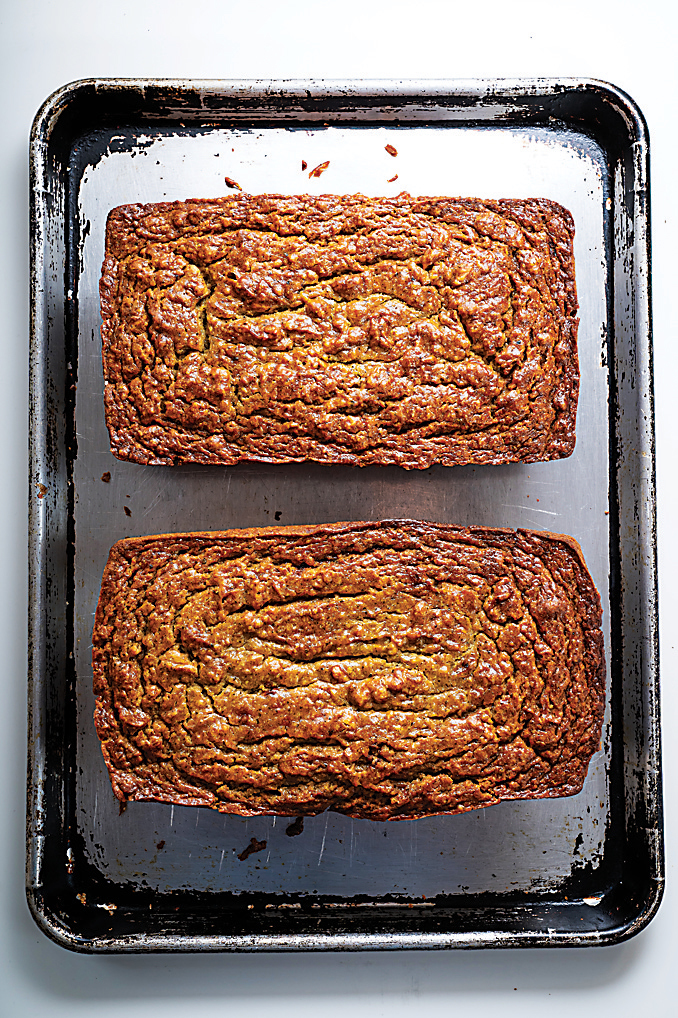 And with good reason—from the boozy drinks to the slower pacing (breakfast begins the day, brunch is the day), to the over-the-top dishes we might not otherwise eat, brunch, when done right, can be a truly satisfying meal. In fact, it's hard to remember a time when brunch didn't exist (though it first appeared in England in an 1895 Hunter's Weekly article, "Brunch: A Plea," by author Guy Beringer). At the time, Beringer's brunch was conceived as a lighter alternative to heavy, post-church Sunday meals—though the best-laid plans can go awry. By the 1920s, brunch spread across the Atlantic to New York City, Chicago, and New Orleans, explains Farha Ternikar, author of Brunch: A History. But its true origins, however, are up for debate. "Some evidence suggests the American brunch was created in New Orleans," says Ternikar, "while others claim that during the Gilded Age, we saw brunch first take off when city socialites such as Emily Post first brunched at the infamous Delmonico's of Manhattan." By 1939, as brunch became rooted in American culture, The New York Times proclaimed Sunday a two-meal day. By the 1990s, the sacred end-of-the-week brunch was offered on Saturdays, too.
These days, brunch has proliferated across the world, especially into Asia and the Middle East on Sundays, but also on Fridays in Islamic and Middle-Eastern cultures. But, while brunch is beloved by some, and may be the Rodney "I-get-no-respect" Dangerfield of meals to others, we say, bring on the pile of pancakes with blueberry syrup and whipped cream—we're all in. And, if you happen to be one of those people in the con camp, chances are you just haven't discovered the right spot yet. Read on—these restaurants will make you a quick convert.
but first...
BRUNCH DOS & DON'TS
Enjoying brunch is not as simple as it looks!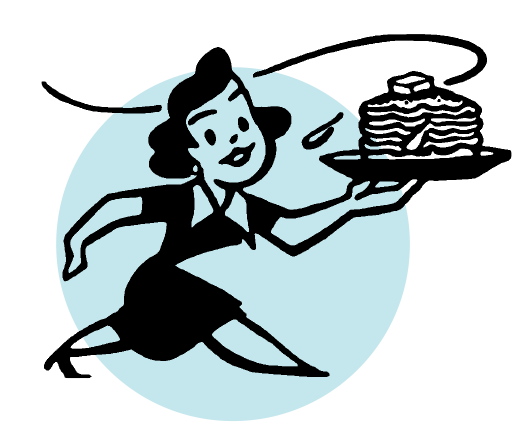 DO have a designated driver if you're going bottomless—safety first.
DON'T eat breakfast before you go—or you're missing the point.
DO drink a lot of water to help dilute anything else you drink.
DO be a good conversationalist—talk is at the heart of brunch.
DON'T make plans for après brunch, unless you consider sitting (or reclining) on your sofa a plan.
DO consider a shower or a change of clothes after you've eaten. Chances are, you smell like bacon.
DO go with a crowd. Brunch might be a combination of breakfast and lunch, but it also goes by another name: daytime party.
DO splurge. The pastry chef woke up at 3 a.m. to make those mini-muffins and doughnuts for your personal pleasure.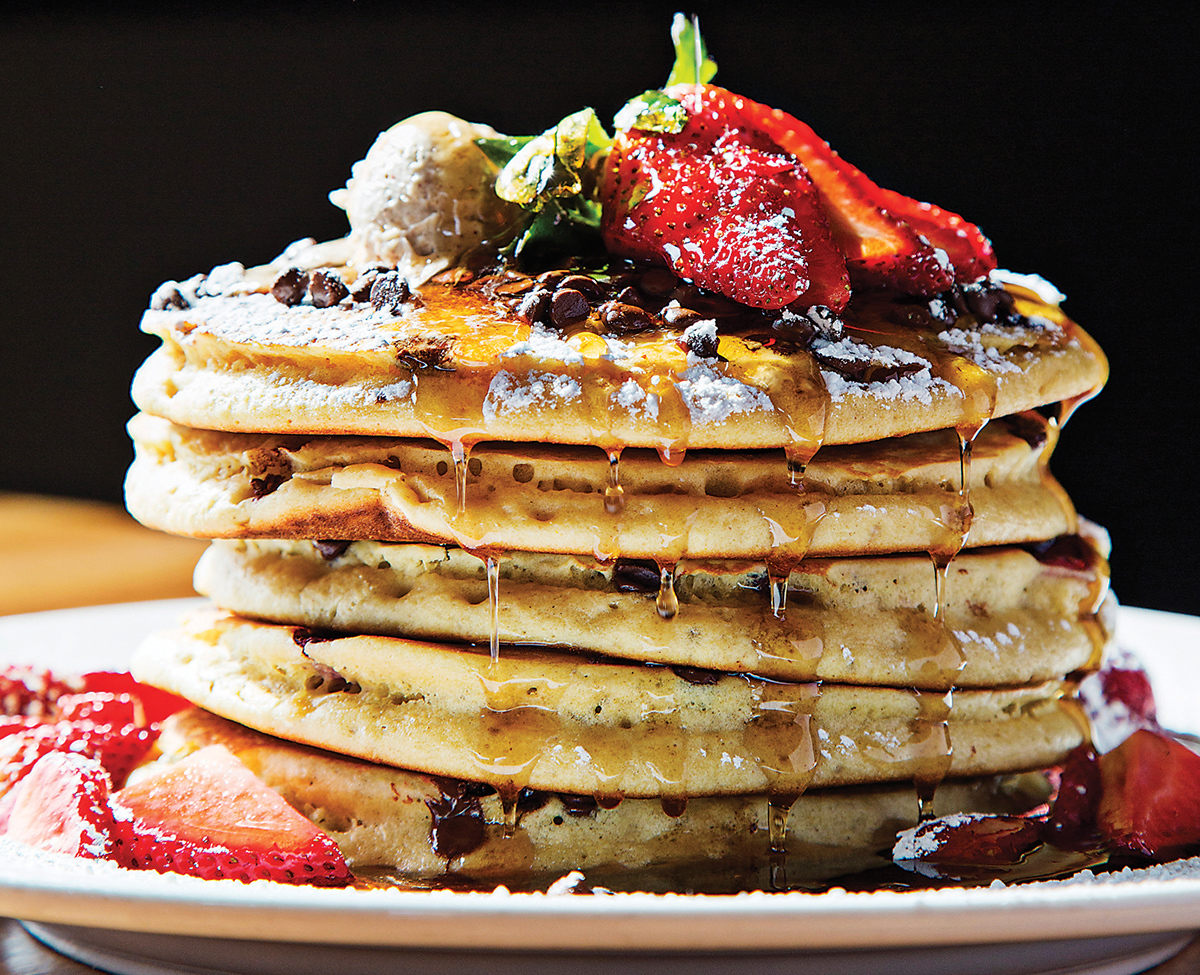 Atwater's
Lake Falls Village
Sometimes you just want to roll out of bed and go somewhere easy. If that's your jam, head to Atwater's. There's rarely a wait, the menu isn't overwhelming, the pricing is reasonable, and the food is quality you can count on. There are six locations of this cafe, but on weekends we love the brunch menu on Falls Road. Take a table inside or on the patio and order the hometown breakfast (two farm eggs, bacon, roasted potatoes, wheat toast) or avocado toast with goat cheese and dukah while daydreaming of future orders—huevos rancheros or French toast casserole with raisin pumpernickel and whipped cream. It's everything a laidback brunch needs to be. Multiple locations, including 1407 Clarkview Rd.
Blue Moon CafE
FELLS POINT
Brunch typically feels fancy, with overly adorned cocktails and avocado on everything. But not at Blue Moon. After 22 years, the Fells Point dive prides itself on Old Baltimore charm—its flagship rowhome brims with bric-a-brac, massive portions of comfort food fare, and those willing to wait in line for it. The jumbo-lump crab eggs Benedict, stacks of specialty pancakes (see the apple-and-bacon), and, of course, the signature Cap'n Crunch French toast will take an oh-so-worth-it toll on your waistband. Consider this fair warning. Two locations, including 1621 Aliceanna St.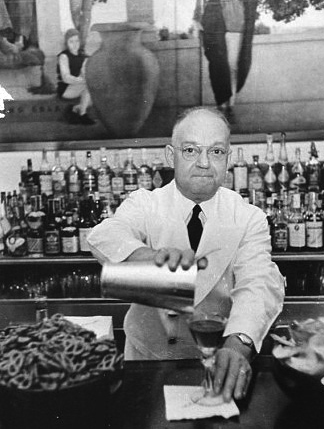 FUN FACT!
hail mary
Bloody Marys were born in the 1920s when Fernand Petiot, a bartender at Harry's New York Bar in Paris, mixed equal parts tomato juice and vodka to give some flavor to the spirit. As the drink was perfected, Tabasco and other fixings were added. Years later, at the St. Regis Hotel in actual New York, the drink was renamed "The Red Snapper."
Chuck's Trading Post
HAMPDEN
Skillets steal the spotlight at this Hampden haunt that looks like a saloon straight out of the Wild West. Belly up to the lunch counter to feast on many varieties of breakfast hash—including raclette cheese with bacon and potatoes, or a spicy "Spaniard" version with chorizo, corn, and onions—topped with fried eggs and served in a pan. The menu also features sandwiches that hit the spot any time of day. Among them is the "Uncle Loubaka" (pesto, mozzarella, and prosciutto) named after Hampden's "mayor" Lou Catelli—whom we just so happened to spot biking while we sampled the sandwich. 1506 W. 36th St.
Iron Rooster
CANTON
Iron Rooster's motto is, "We're makin' bacon," but they're also always making creative morning fare such as spiked corned beef hash, chicken and waffles with black pepper gravy, flatbreads with arugula, capers, locally smoked salmon, and a gravity-defying waffle burger. (Try it, we liked it!) In a sea of brunch belly-busters, the antidote is an artfully served Greek yogurt parfait layered with made-from-scratch granola. To truly rule the roost, wash it all down with bottomless cups of Rise Up coffee and a house-made pop tart. Multiple locations, including 1606 Whetstone Way.
Miss Shirley's Cafe
ROLAND PARK
If you have a sweet tooth in the morning, Miss Shirley's should be your go-to for brunch. Here, the offerings read like a visit to Candy Land, tempting patrons with coconut cream-stuffed French toast, raspberry white chocolate pancakes, and enough cinnamon sugar to transport you to a time when calories didn't count. Savory types can seek refuge in the piquant chicken and waffles or fried green tomatoes with jumbo lump crab. Miss Shirley's scores extra points for bringing us genuine syrup, too—the type that's tapped from trees, not the processed sticky stuff that has never met a maple leaf. Multiple locations, including 513 W. Cold Spring Ln.
Spoons
FEDERAL HILL
Now in its 19th year of slinging all-day breakfast, this neighborhood staple is known for its giant cups of house-roasted coffee and over-the-top comfort food such as huevos verdes, featuring crispy corn tortillas topped with any-way-you-want-them eggs, smoky-sweet black bean chili, crumbles of queso fresco, and tomatillo salsa. The cinnamon roll pancakes and "Beast" biscuit sandwich—stacked with fried eggs, fried chicken, bacon, and sausage gravy (plus its very own #eatthebeast hashtag)—will leave you with few regrets, though you should bank on spending the afternoon in recovery mode. 24 E. Cross St.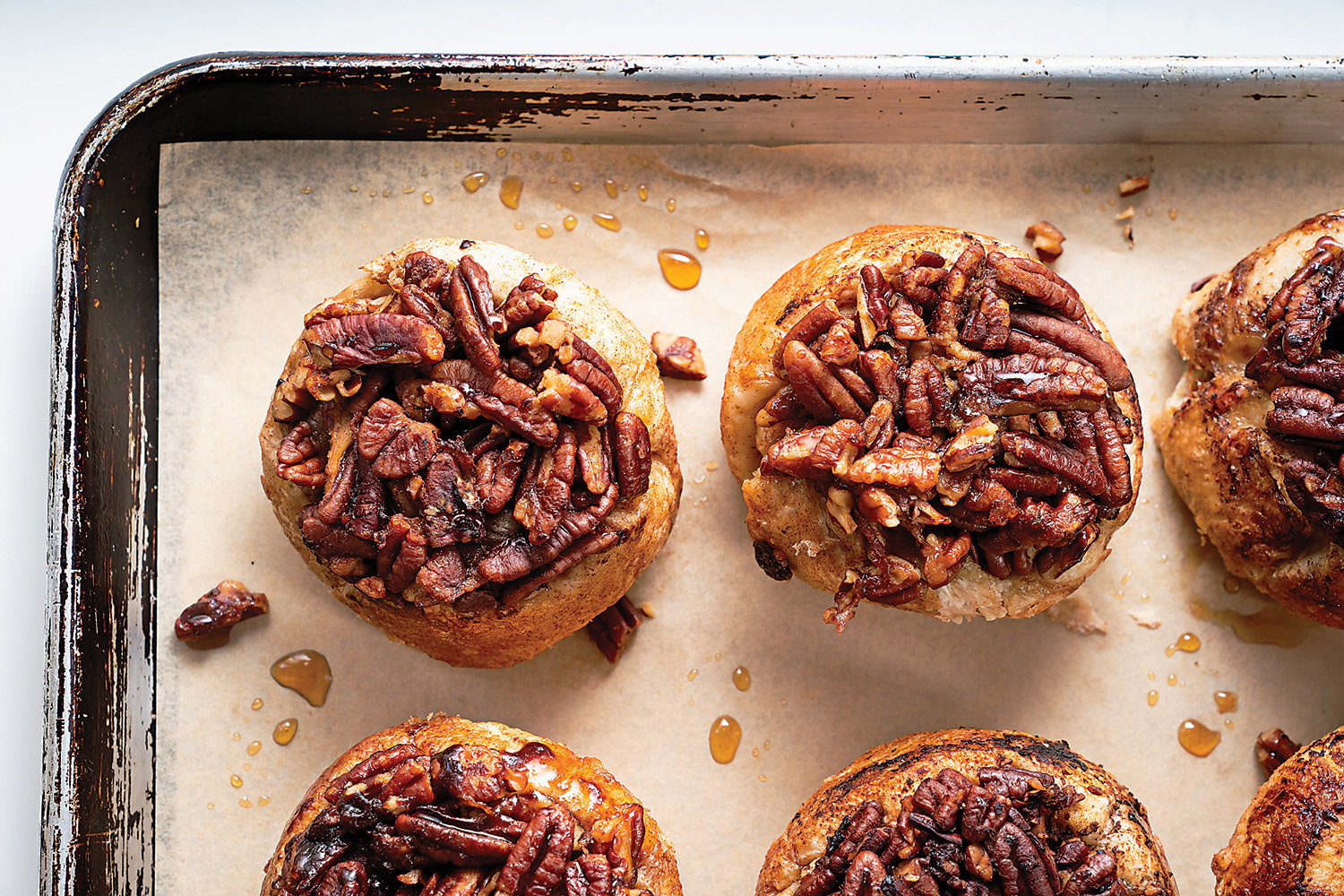 THE CORNER PANTRY
MT. WASHINGTON
Whether you're a fan of The Crown or just the occasional morning crumpet, make your way to Neill and Emily Howell's cafe for a Saturday-only brunch that features a by-the-pound bar with top-your-own yogurt, as well as gravlax and a soft egg on pumpernickel. Consider an authentic scone, followed by an order of soft-boiled eggs and toast or buckwheat pancakes, plus crème fraîche and cherry compote. To truly live like The Queen, whole-hog it with The Full English: fried eggs, mushrooms, blistered tomatoes, bacon, sausage, and baked beans. 6080 Falls Rd.
Dovecote CaFE
RESERVOIR HILL
The motto at this sun-drenched spot has always been "community first, cafe second." While we're grateful for the former, the scratch-made pastries and comfort foods are an added bonus to the mission. Chef Dria Somerville rotates a small list of specials, including a thin-pressed croque madame, a wonderful veggie frittata, and an egg sandwich with turkey sausage. Even if they leave you feeling full, grab a slice of peach upside-down cake to go and thank us later. 2501 Madison Ave.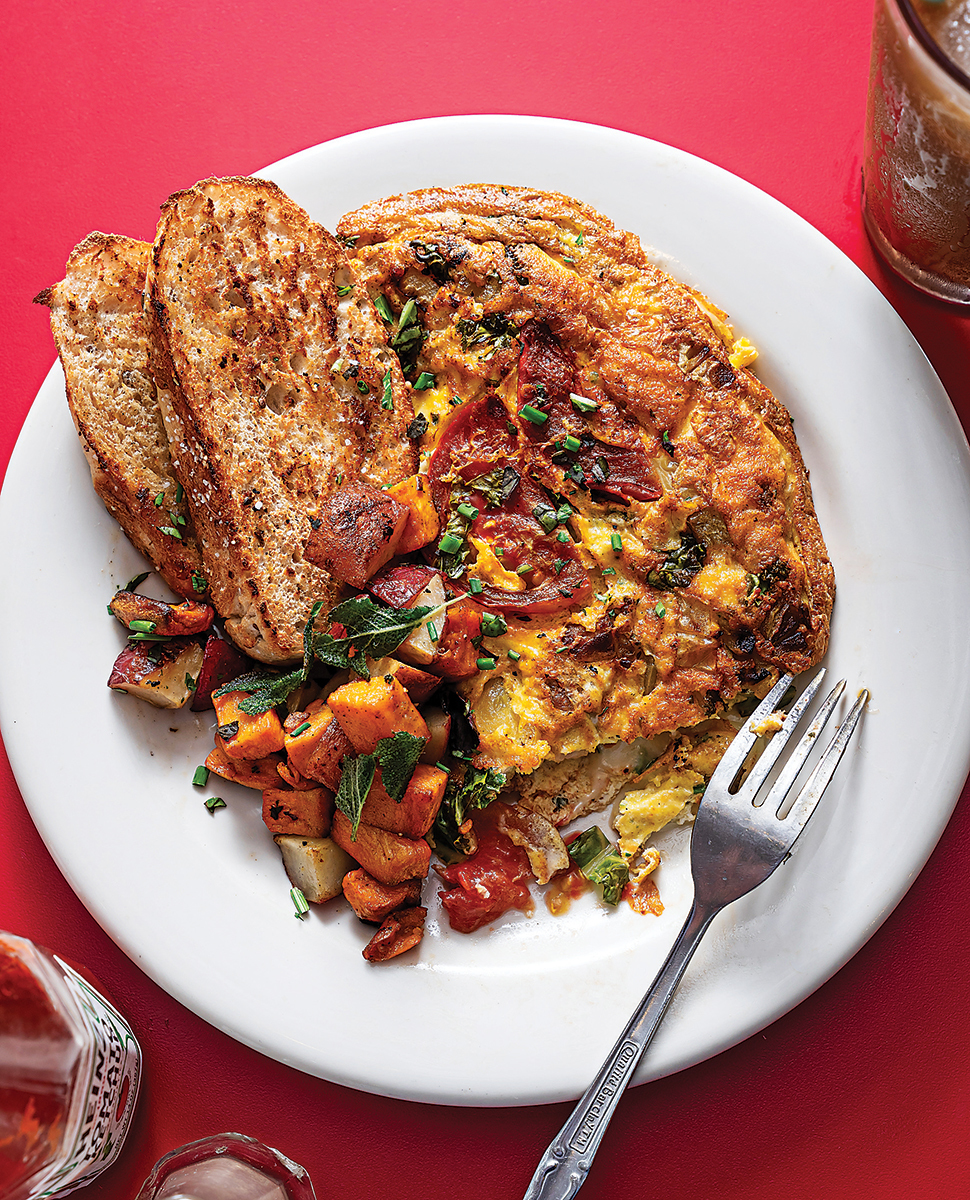 Jack & Zach's
mt. Vernon
It's not every meal that you get to embrace your inner Jack Kerouac, but at this old-school Mt. Vernon diner, as you order a cup of Zeke's coffee at the red linoleum counter and flip through the tattered house copies of Vonnegut and Keats, the farm-fresh eggs and house-made sausage will transport you back to the '60s. A chalkboard lists local farms sourced on the menu, but whatever the season, a hearty breakfast sandwich, served on a scratch-made English muffin, and the omelet of the day are always great bets. 333 N. Charles St.
Johnny's
ROLAND PARK
Adults with little early risers will appreciate Johnny's Sunday brunch kickoff at 9 a.m. The family eats together, and no one gets hangry. It's hard to be irritable when faced with such a delicious menu. Classic sweets such as French toast and can't-miss buttermilk pancakes are balanced by savory favorites including ribeye steak and eggs or the strangely perfect Kiko's Loco Fried Rice. And if you've been roused too early, you'll appreciate Johnny's excellent coffee service all the more. 4800 Roland Ave.
Silver Queen CafE
HAMILTON
Since opening in 2016, this shabby-chic cafe has become a standard stop while strolling along Hamilton's Harford Road—and with good reason. It's BYOB, kid-friendly, and, of course, offers up a boffo brunch. In addition to serving staples such as fluffy pancakes and the signature "Hangover Hash" (fried chicken livers and sunny-side up eggs), chef/owner Jason Daniloski rotates brunch specials based on what's in season. On a recent visit, we enjoyed shrimp and scallop fritters with a zesty tomatillo-avocado salsa before digging into a veggie omelet filled with zucchini and arugula. House-bottled ketchup, hot sauce, and berry jam give the mid-morning dishes an extra burst of flavor and innovation. 5429 Harford Rd.
Water For Chocolate
FELLS POINT
While it might look like a corner bodega from the outside, Water For Chocolate is cooking up some of the boldest flavors in town. Start with the potent red sangria known as Dope Juice. (They also serve growlers of the stuff to go.) Food-wise, though more traditional dishes like Benedicts and bagels are available, we advise you to go big and try the tangy BBQ shrimp and Parmesan grits; sweet potato polenta topped with grilled veggies, eggs, and goat cheese; or the aptly named "Hangover Special," a gargantuan pile of macaroni and cheese, scrambled eggs, and cornbread. Afterward, a few laps around nearby Patterson Park might do the body good. 1841 E. Lombard Ave.
Cheers!
beyond the bloody
We've rounded up creative brunch drinks to get you out of your cocktail comfort zone.
By Jess Mayhugh
Illustrations by Danielle Dernoga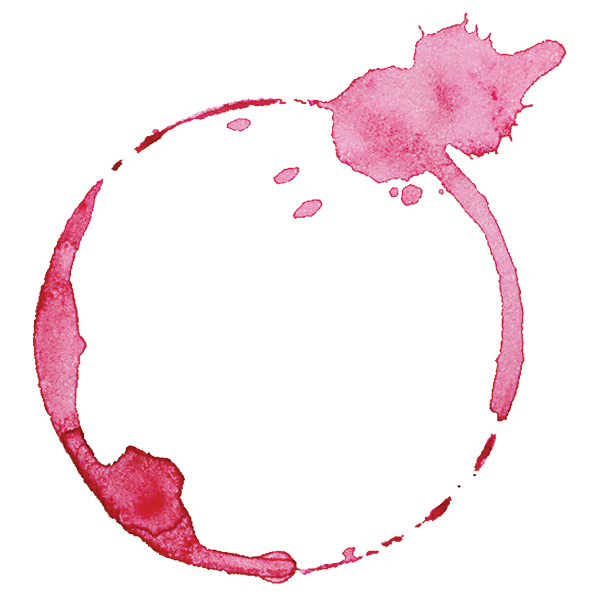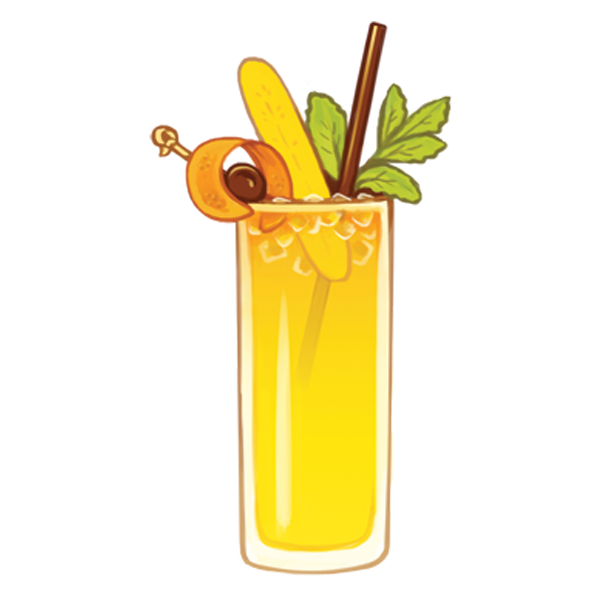 Copa Banana
Rye Street Tavern
A balanced breakfast should always include fruit, which is why we love this island-inspired cocktail. The Port Covington bar uses its signature Sagamore Rye, D.C.'s Cotton & Reed rum, banana, orgeat, lemon, and some colorful garnishes. This is an ideal sipper while you take in a game of cornhole on the water.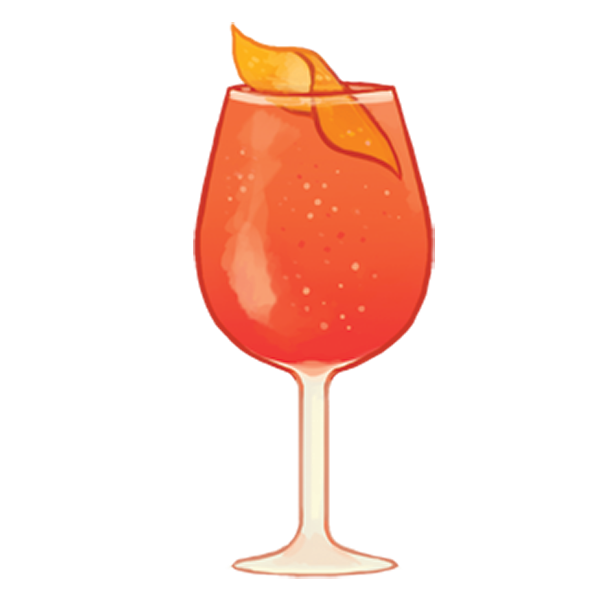 Spritz GnocChetto
Gnochetto
Sidle up to the bar at this Mediterranean spot in Highlandtown for pretty plates of tomato-poached eggs and Nutella doughnuts. But don't leave your stool before trying the Spritz Gnocchetto, an Italian-inspired bubbly mix of Aperol, prosecco, grapefruit, and mint. Saluti!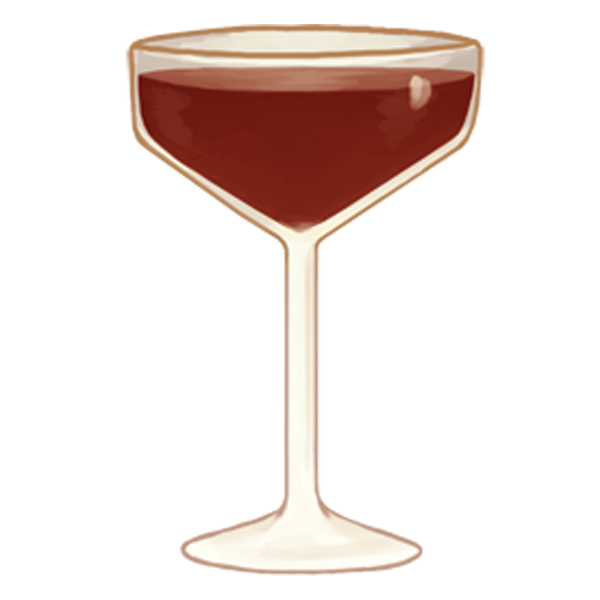 Coffee and Cigarettes
Of Love & Regret 
Channel an old-school diner with this concoction that gives off smoky notes from Islay Scotch and bitter flavors of coffee liqueur, capped off with industry favorite Fernet and black walnut liqueur. This is a perfect complement to the bar's house-made cornbread with salted honey-butter.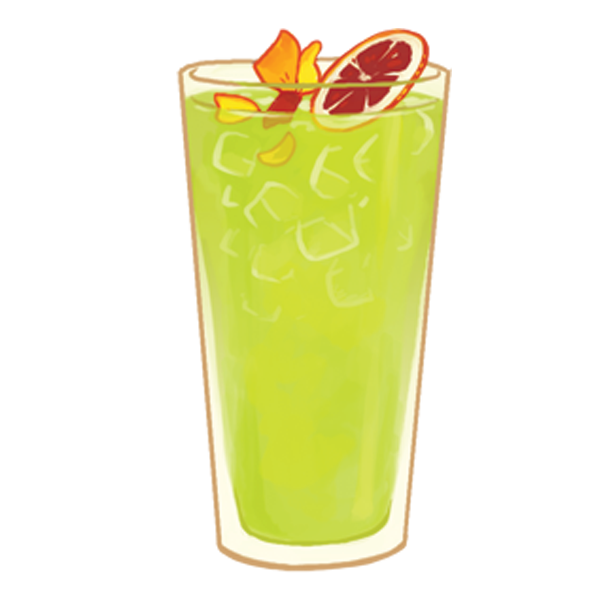 You Got the Green Light
Gunther & Co.
This brunch cocktail's neon green appearnace (and botanical flavor) come naturally, thanks to cucumber-infused Belle Isle Moonshine out of Richmond, a Dutch liqueur made with dandelion and mint, house-made ginger-mint shrub, melon liqueur, and lime juice.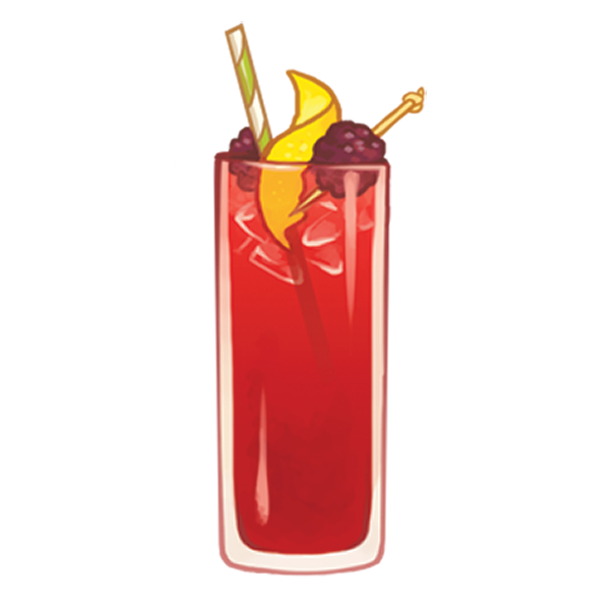 RED BALLOON
LUPA
If brunch on a patio overlooking Lake Kittamaqundi sounds like an ideal weekend morning to you, head to Lupa. Be sure to try the Red Balloon, a gin-drinker's dream fashioned from house-made blackberry jus, rose-flavored vermouth, and topped with prosecco and lemon.
FIELD TRIP
By Jane Marion
Bacon, eggs, and sausage are big business at Reisterstown's Liberty Delight Farms, which sells brunch staples to many area restaurants including Gertrude's, Woodberry Kitchen, and Ida B's Table. To understand what makes the all-natural products so good, we toured the 400-acre farm with farmer/owner Shane Hughes and his fiancé, Lauren Taylor. The 1700s property has been in Hughes' family for five or so generations. "The key is keeping the animals comfortable and happy," he says. "If they are happy, they'll eat—they are not going to be stressed out, and they will grow better." So, while you can't sew a silk purse out of a sow's ear, you can make great bacon out of a Liberty Delight sow's loin.
Fun Fact: "If an egg is fresh, it floats," says Hughes. "The yolk stands up tall. It's sturdier and denser and actually tastes like something."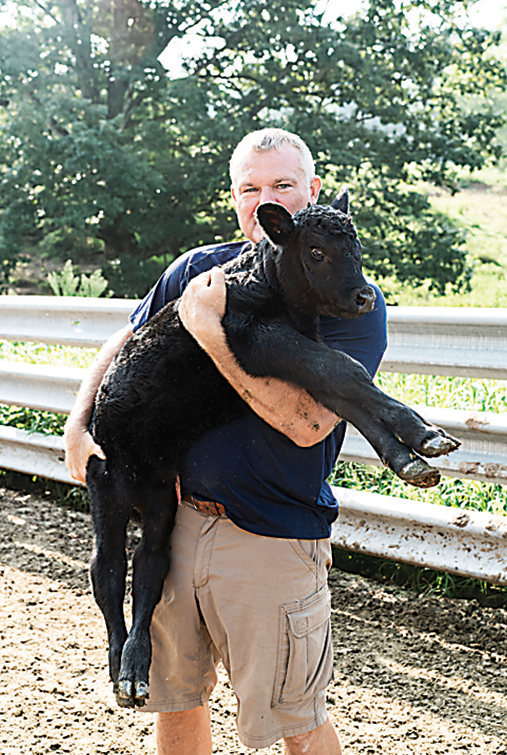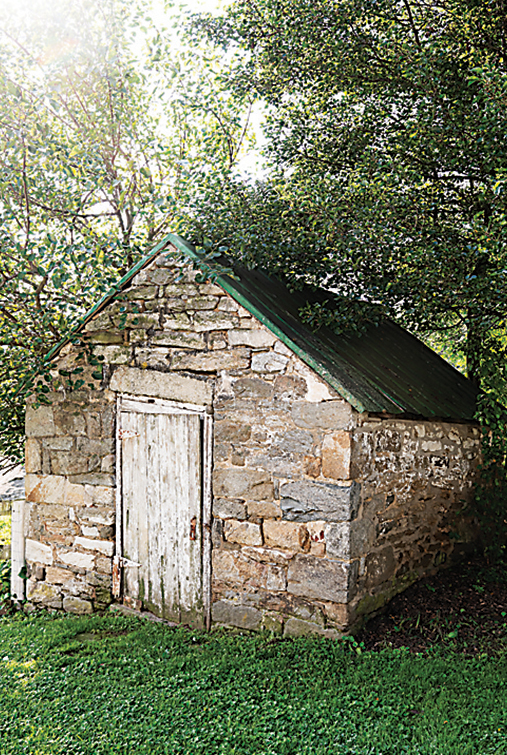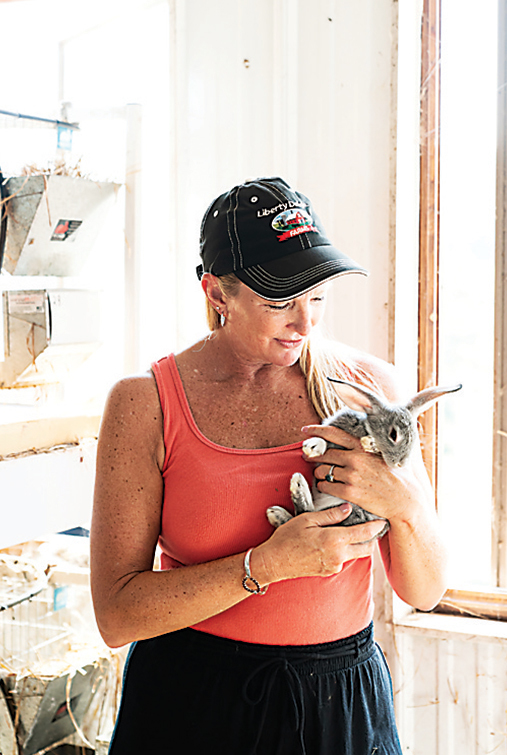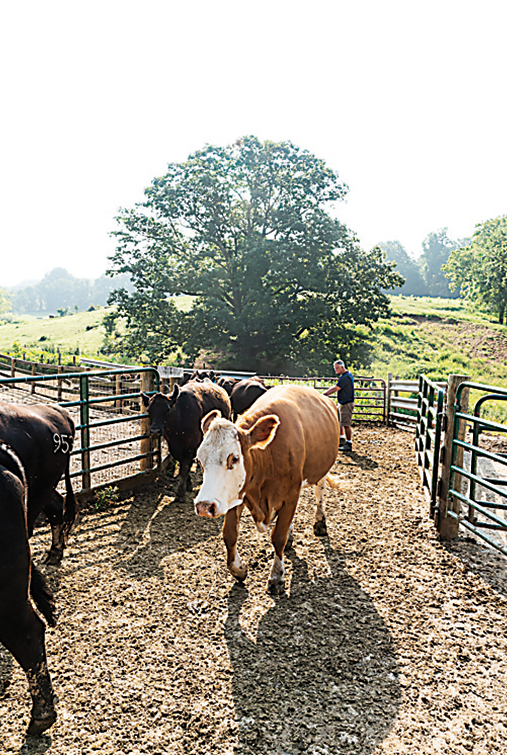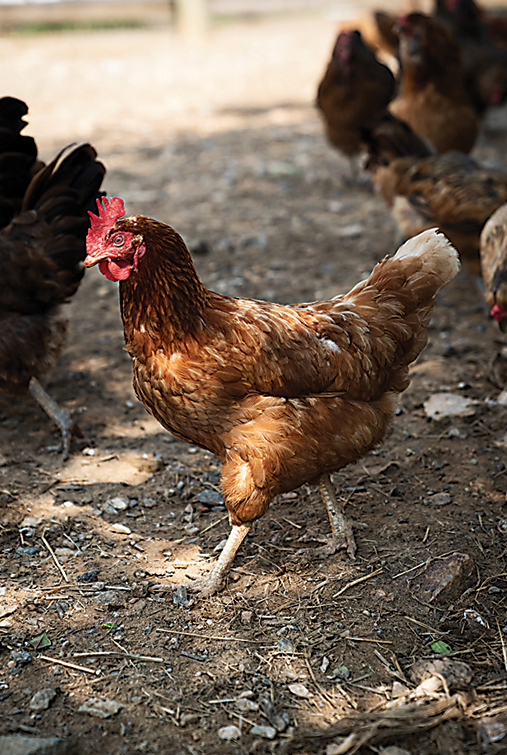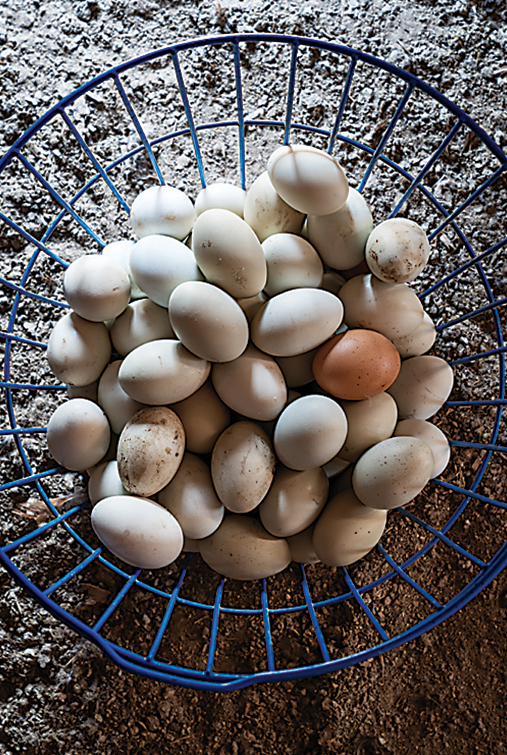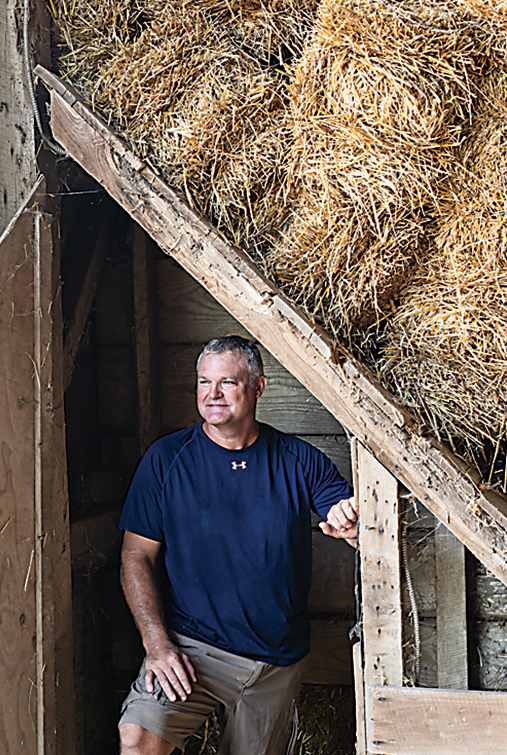 Makin' Bacon
Liberty Delight has five types of bacon, including nitrate-free and Canadian bacon, as well as 12 types of sausage, from chicken-mango jalapeño to chicken with crabmeat. "We take breakfast and brunch pretty seriously around here," says Taylor.
INCREDIBLE EDIBLE EGGS
Liberty Delight supplies between 150 and 180 dozen eggs—that's upward of 2,160— a week for area farmers' markets and restaurants. In its prime, a chicken lays eggs for up to two years. "The Rhode Island Reds are egg-laying machines," says Hughes. "They lay an egg a day, on average."
GOOD EGG
Many supermarket eggs are tasteless, so what's the difference between the egg you buy on a farm and the one off a cold-storage shelf? "It starts with good genetics," says Hughes, who keeps free-range Americanas and Rhode Island Red laying hens at the farm. "It's also all about letting the chicken do what they do, scratching for bugs and getting good minerals and nutrients that they need out of the soil."
THIS LITTLE PIGGY
The pigs at Liberty Delight, like all of the animals, drink from the natural stream on the property. "They eat a lot of green vegetables, and their primary diet is ground-up grain, some wheat and oats," says Hughes. "We get all of their compost from nearby restaurants like Santoni's in Glyndon, so the pigs and cows twice a week get all of this access to produce and scraps and compost from the salad bar. They also eat scraps from Otterbein's."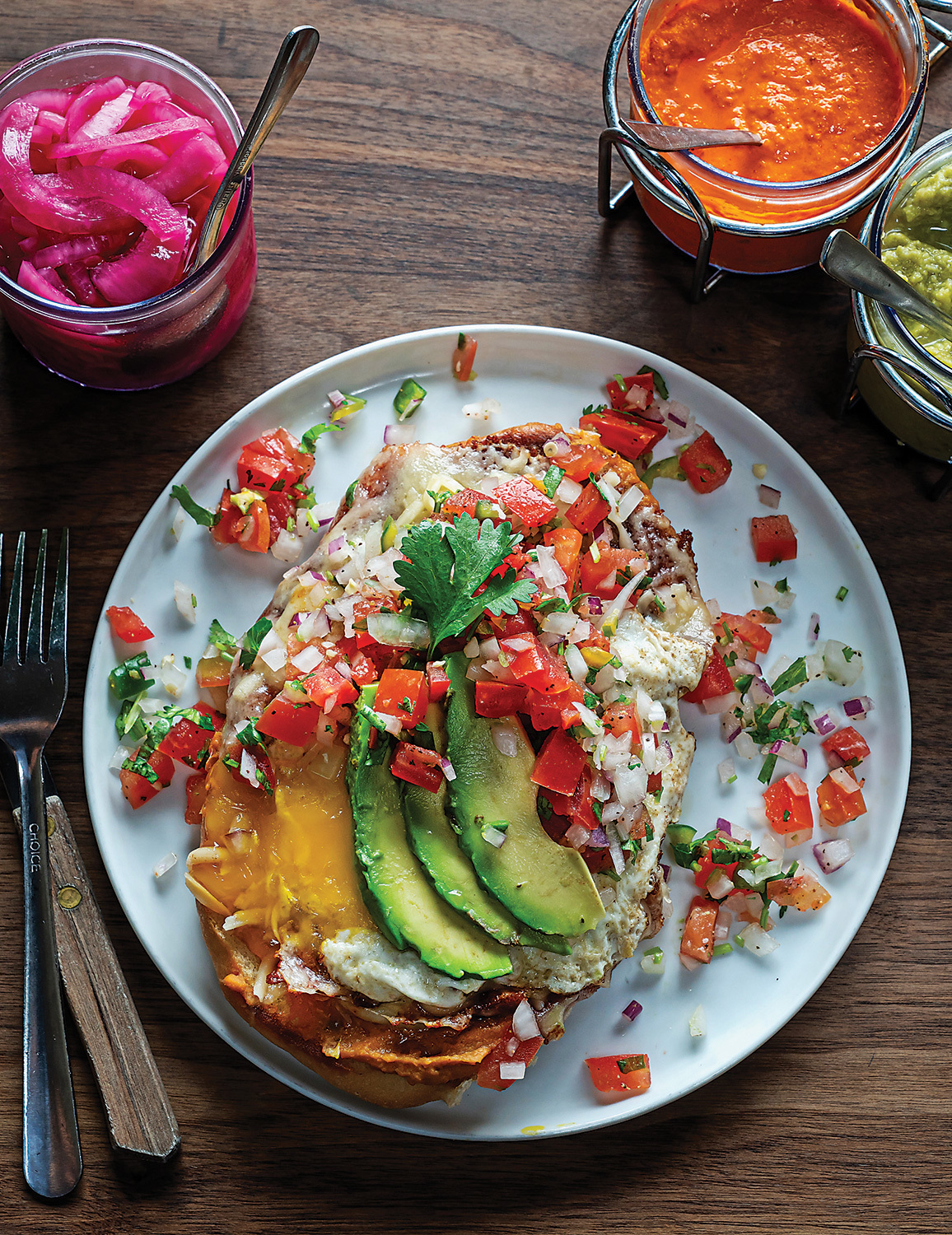 Clavel
REMINGTON
This Remington darling is known for its ceviches, tacos, and mezcal, but why wait until after dark for that fiesta feel? If you're bored by the typical brunch, Clavel's morning fare features options that are equally spicy and invigorating. One highlight includes the molletes: Toasted pan telera forms the foundation and gets topped with black beans, queso Chihuahua, pico de gallo, and also sliced avocado, and we like to top ours with a fried egg. There's also a deeply rich and filling huevos rancheros that made the grown man at our table cry tears of joy, though it could have been the fermented pineapple tepache with cava rosé talking. 225 W. 23rd. St.
The Food Market
HAMPDEN
A complimentary order of fried doughnut holes greets guests as they sit down to brunch at chef Chad Gauss' elevated comfort food classic. The amuse-bouche acts as a teaser for the playful menu, which features everything from chicken and biscuits to mock oatmeal with red quinoa, vanilla, and brûléed berries. Surefire bets are the turkey sausage tacos with whipped avocado, the Korean pork belly Benedict, and the sweet-and-salty Monte Cristo that layers ham in between slices of French toast. No visit to The Food Market is complete without a "Funchie" starter of Amish soft pretzels dunked in beer cheese fondue. Still not sated? Brunch cocktail offerings such as the "French Toast" cocktail with Bailey's, butterscotch, and cinnamon will leave you with warm feelings. 1017 W. 36th St.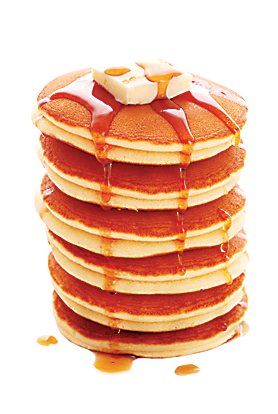 FUN FACT!
piece of Cake
In Colonial America, pancakes were known as hoe cakes, Johnny cakes, or flapjacks and were made with buckwheat or cornmeal. Amelia Simmons' American Cookery, thought to be the first all-American cookbook, published in 1796, has two recipes for pancakes. Thomas Jefferson was a fan.
Golden West Café
HAMPDEN
With greasy spoon favorites, vegan specialties, and Southern satisfiers, it's no wonder that this eclectic hangout has been a go-to on The Avenue for 20 years. The brunch options showcase the spot's New Mexican flair, with dishes including egg-and-chorizo quesadillas and a burger smothered with green chile sauce. The signature Frito Pie appetizer—corn chips, cheddar-jack cheese, salsa fresca, and your choice of beans or taco meat piled into a snack-sized Frito bag—is an ideal hangover helper. If you're looking for something traditional, the Liege-style waffles are crowd pleasers. 1105 W. 36th St.
The Outpost American Tavern
RIVERSIDE
This Riverside corner bar has really come into its own since opening last year. The brunch menu is best described as eclectic, but not in a cutesy way. Rather, it's an assemblage of items that a seasoned bruncher would really want. Starting with a basket of house-baked goods is a sure bet, as is saving some (or all) of a cloud-like biscuit to squeegee up every last drop of the finest sausage gravy in Baltimore (no exaggeration). Thanks to huge portions and deft execution, requisites such as Benedict and huevos rancheros are solid enough to compete with a no-holds-barred French toast with brûléed banana, waffles topped with brisket and Cheez Whiz, a triple decker Monte Cristo imbued with syrup, or a sous-vide steak paired with chimichurri eggs. Interesting cocktails and mimosa pitchers round out the morning nicely. 1032 Riverside Ave.
Papermoon Diner
REMINGTON
Play the ultimate game of I spy while waiting for your order to arrive at this oh-so-Baltimore Remington funhouse featuring an array of funky toys and trinkets around every corner. (Don't miss the plastic mannequins covered in toy cars, dolls hanging from the ceiling, or the collection of vintage Pez dispensers up front.) The lengthy menu is just as whimsical, offering all-day breakfast dishes such as sausage-and-pancake pigs in a blanket, a massive plate of shrimp and grits in Tasso ham gravy, and "The Big Dipper"—a take on the classic "egg in a basket" dish that fries eggs into the center of multigrain French toast. Complete the retro diner experience with a thick milkshake (Chunky Monkey for life!) topped with a hefty dollop of whipped cream. 227 W. 29th St.
Points South Latin Kitchen
FELLS POINT
The Sunday brunch buffet at Points South is small, though stocked—and dutifully replenished—with a tasty roster of breakfast-y items such as fruit and green salads, exceptionally crispy potatoes, eggs, and breakfast meats, often including a Latin-style sauté of vegetables. Though it's noteworthy, the draw is not necessarily the food. On Sundays, they mount a full-on drag show that will take many back to the glory days of The Hippo—top-notch performers led by a fiercely on-point emcee. Make no mistake, this is brunch for grown folks, with strong language, even stronger drinks, and, if you're lucky, a good old-fashioned twerk-off in which the winners earn a round of shots for their table. 1640 Thames St.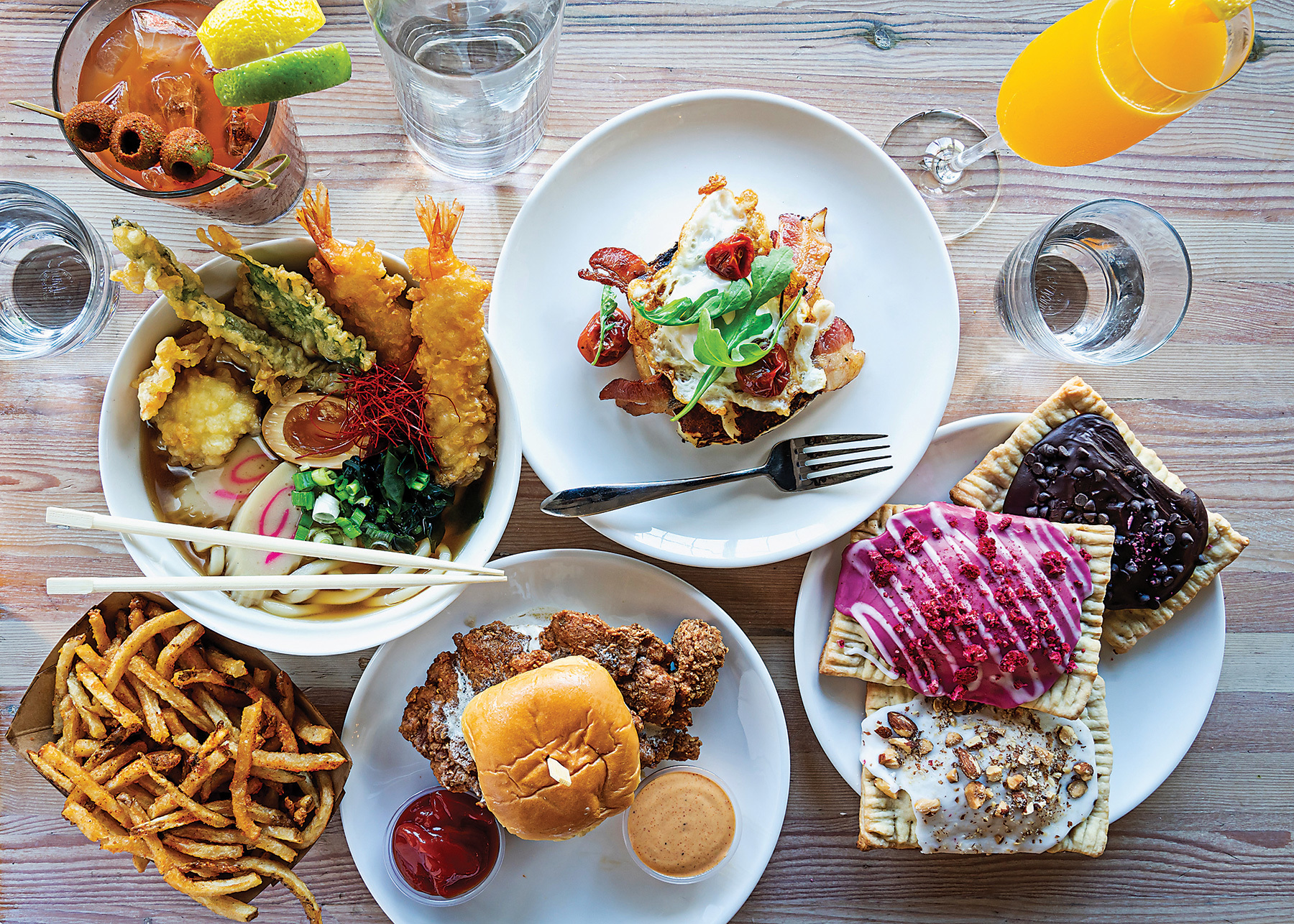 Brunch House at R. House
REMINGTON
Just when we thought this communal food hall couldn't get any more enticing, the Remington hangout recently debuted weekend brunch service. Each of the stalls highlights its own mid-morning menu, and the centerpiece R. Bar offers bottomless Bloody Marys, mimosas, and sangria to wash it all down. The best part? There's something to please all palates if you're brunching with a group. Divide and conquer to slurp down smoothie bowls from Stall 11, munch on breakfast tacos from Amano Taco, or cut into paprika-fried eggs and perfectly crisp bacon from Ground & Griddled. International options—like a Korean tater tot bowl from Bebim, shakshuka from Arba, or Hawaiian loco moco from Hilo—are a great way to shake up the normal brunch routine. 301 W. 29th St.
Little Havana
FEDERAL HILL
There's a reason that a line starts forming every weekend around 11 a.m. on Key Highway. When the doors swing open to Little Havana, the staff barely has time to breathe before brunch is in full swing. Diners opt for waterfront al fresco tables at this Cuban-inspired bar and are more likely to be sipping on mint-filled mojitos than mimosas on Sunday mornings. Most brunch items have a Latin flair, and it's best to go in that direction with dishes such as traditional huevos rancheros or Cuban fried eggs served over rice, black beans, and peppery sofrito. Of course, any sandwich with Little Havana's signature tender pulled pork is reason enough to wait in line. 1325 Key Hwy.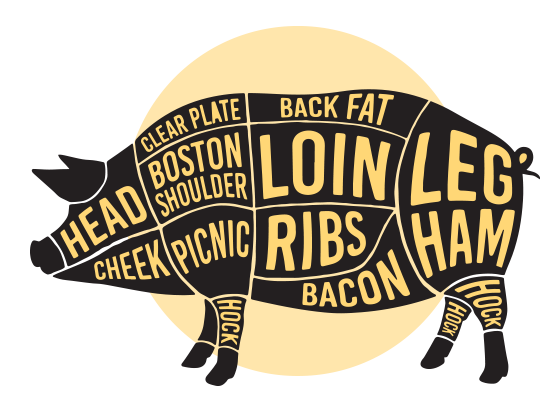 FUN FACT!
PIG PARTS
The Pennsylvania Dutch concocted a farmhouse-style "pâté" as a way of using unpopular pig parts, including the head and organ meats, by boiling it with cornmeal then pressing and baking it in a loaf pan. Scrapple is now found on many a Maryland menu.
Minnow
RIVERSIDE
We're hesitant to spill the beans, but Minnow may just have the best brunch deal in town. Not only is there an occasional drag show, but every weekend for just $39 per person, diners can get bottomless tapas dishes and unlimited mimosas and Bloody Marys. Theoretically, you could never stop eating—and we really didn't want to. With a seafood slant, menu highlights include oysters with saffron and a shrimp ceviche. Don't miss the fried bacalao croquettes with sweet red pepper aioli or blistered shishito peppers squeezed with just a hint of lime. Minnow even manages to make the mundane exciting, like elevating creamy scrambled eggs with chevre and tarragon or a thick piece of bacon with sticky maple glaze. And while you'll try to find the bottom of this never-ending feast (it's somewhere near the sour cream doughnuts with dulce de leche), it's all about the journey, not the destination, here. 2 E. Wells St.
Red Star
FELLS POINT
We're sure glad a second location of Red Star opened up in Charles Village, because its original Fells Point spot has been a go-to brunch destination for years—a welcome respite the morning after those same neighborhood cobblestones have been filled with drunken revelers. Plus, friendly servers offer up $13 bottomless mimosas and Bloody Marys. We appreciate that Red Star's menu offers a range of lighter dishes including breakfast wraps and colorful salads, as well as more substantial fare such as the stand-out cinnamon brioche French toast or chilaquiles with spicy chorizo, fried eggs, queso, and onions piled high on tortilla chips. Hangover cured! Two locations, including 906 S. Wolfe St.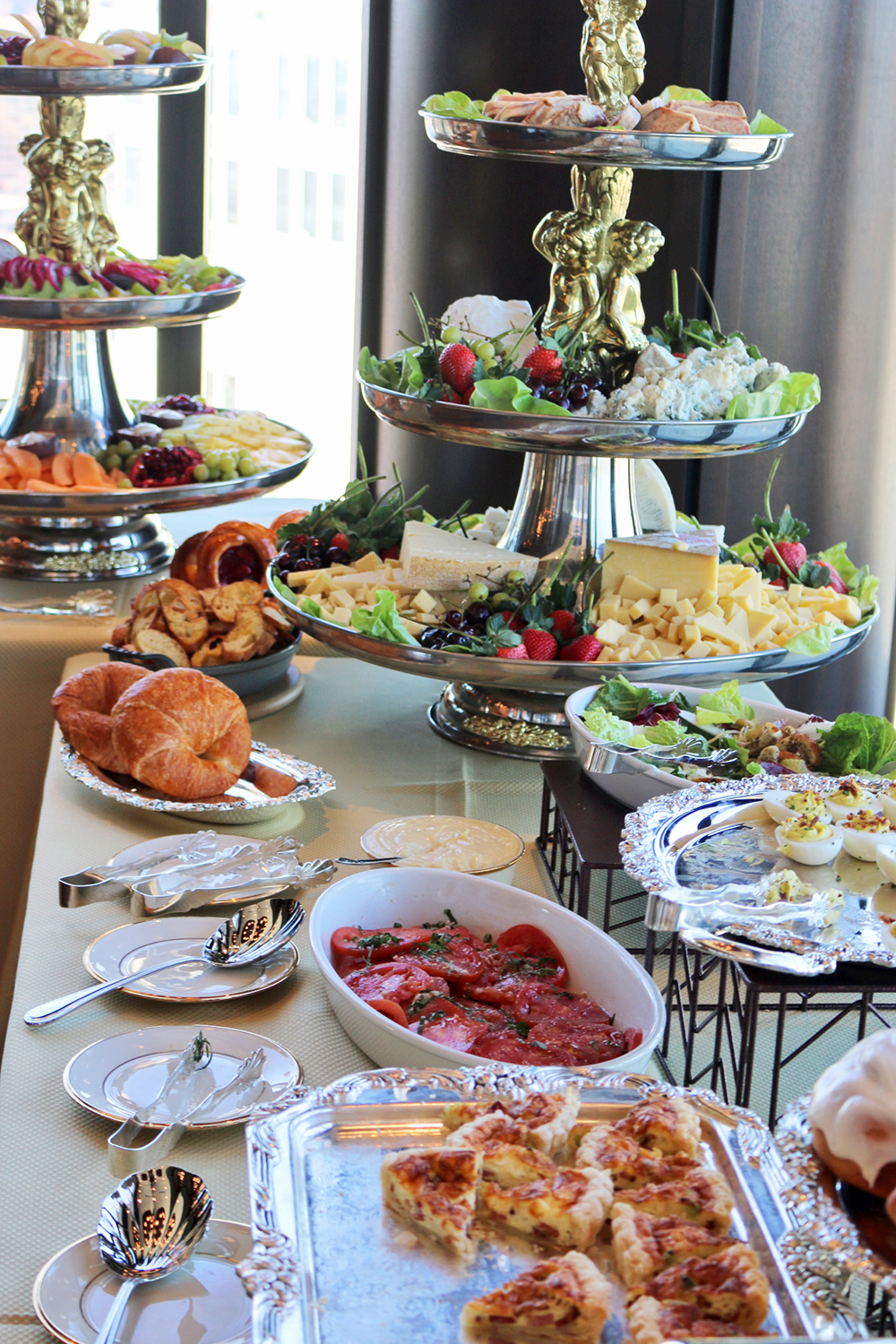 Ananda
FULTON
When co-owner Binda Singh greets guests in line for the brunch buffet at his Indian palace in Fulton, he gives one piece of advice: "Try everything." And we did. Make your way down the line to find expertly crafted classics such as chicken tikka masala, chana, and tandoori lamb. Of equal note are the dishes you won't find on other menus around town. We savored every bite of the Kerala cakes stuffed with lump crab and local sweet corn, chicken chaat salad mixed with sesame seeds and crispy lentils, and the life-changing gobinda (roasted cauliflower) tossed in a chili-lime glaze. Finish it all off with a warm chai on the all-weather patio—a fitting experience given Ananda's name, which means "bliss" in Sanskrit. 7421 Maple Lawn Blvd., Fulton.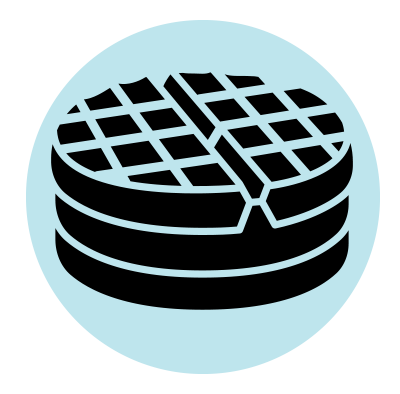 FUN FACT!
LET'S BRUNCH
Baltimore residents and self-anointed "Brunch A Morons" Lydia Tucker and Dana Barnes, two Ellicott City friends since high school, started a bottomless brunch blog that now has 2,500 followers on Facebook and 1,200 on Instagram.
Bygone
HARBOR EAST
You might think that $60 for a brunch buffet is a ripoff—until you see the spread at Bygone. Succulent raw oysters, tender and juicy prime rib, perfectly spiced chicken and biscuits, omelet and waffle stations, fried eggs in spicy tomato sauce, and poached eggs nestled in puff pastry all await your appetite, along with the best view of the harbor this side of a helicopter ride. Our advice is to skip the ho-hum mini pastries and go straight to the main event. You won't need to eat again until bedtime. 400 International Dr.
Rusty Scupper
FEDERAL HILL
The Rusty Scupper, stalwart sentry of the Inner Harbor for lo these many decades, has remained steadfast as the city's restaurant scene explodes. Located on the still-quiet stretch of promenade near Rash Field, the view, facing toward the entire developed waterfront, is magnificent. And while it's known locally as a tourist spot, when it comes to the all-you-can-eat bottomless brunch ($45 bottomless for adults, $16 for children), even the highest-browed among us should not resist. The sheer scale of offerings—with multiple omelet stations, a raw bar, steamed shrimp, carved prime rib and ham, and a Belgian waffle station, to name but a few of the options—is notable. Efficient service keeps the massive operation orderly, and the whole experience may leave you wondering why it took so long to visit. 402 Key Hwy.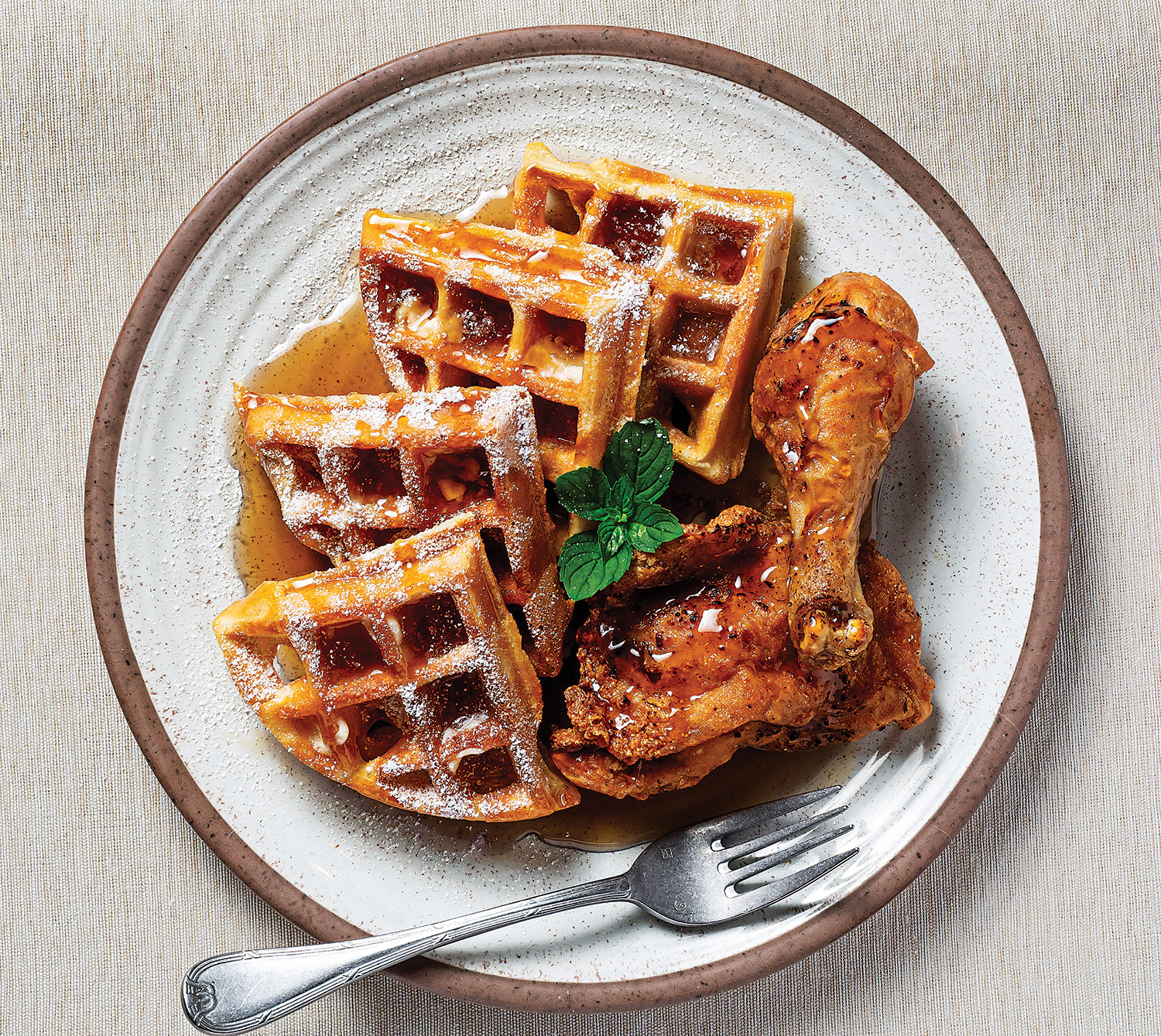 Gertrude's Chesapeake Kitchen
CHARLES VILLAGE
Against a backdrop as gorgeous as The Baltimore Museum of Art, one could serve month-old Hot Pockets and folks would love it. But brunch at the newly named Gertrude's Chesapeake Kitchen is truly delicious. We are particularly fond of their riffs on eggs Benedict that swing from classic to fanciful (broiled crab cakes with poached eggs and Hollandaise) and embrace Chesapeake bounty. The restaurant's bar slings great cocktails, too. Wash all that indulgence down with one of the tastiest Bloody Marys in Baltimore, the Old Bay-infused Dirty Gertie, or simply sit back and regard the majesty of the sculpture garden with a blood orange mimosa. Feeling full? Walk it off with a museum tour after your meal. 10 Art Museum Dr.
Ida B's Table
DOWNTOWN
Brunch at Ida B's in the city's downtown district has become so popular that reservations during prime time are tough to come by. What's served here is soul food that honors its roots in the slave trade while also embracing its American identity with made-in-the-Mid-Atlantic ingredients. Pastries baked in-house, like a tomato tart or honey graham muffin, are playful yet sensible: a bracingly spicy boudin (Cajun pork and rice sausage) or a runny egg on a croissant is decadence with bite. Breakfast cobblers are a stroke of pure genius—"scooped" buttermilk biscuits filled with eggs scrambled with spinach, cheese, blackened chicken, or braised brisket. More traditional Southern standards such as fried chicken and waffles are excellent, as are the home fries (add pork belly and cheddar). An inspired cocktail program and coffee bar round out the offerings. 235 Holliday St.
Maggie's Farm
Lauraville
At Maggie's Farm, the dining room is cozy and can fill up suddenly, so perhaps the rather compact menu is a hedge against getting overwhelmed. On the bright side, you can't go wrong with a single item on the menu. The house-made cinnamon roll is adorned with a well-balanced cream cheese icing, which, along with fresh strawberries, can also be found stuffed into amazing challah French toast. Chicken and waffles here follows the trend of forgoing bone-in fried chicken for fried chunks, but raises the bar with candied pecans, syrup, and sausage gravy. The details really matter here—the steak and eggs arrive with a thick, perfectly marked and cooked sirloin, accompanied by an appealing vegetable hash. Even the bacon is excellent and cooked to that just medium-well stage that most folks can agree upon. 4341 Harford Rd.
Petit Louis Bistro
ROLAND PARK
We're not sure the French actually brunch, but if they do, we are sure Petit Louis nails it. Eschewing the sweet and sticky side of this weekend repast, Baltimore's Gallic bistro instead serves up fluffy omelets, decadent onion soup, lightly dressed salads, and even continental standbys such as escargot and steak frites. Our favorite is the classic croque-monsieur, a sinfully rich griddled ham and cheese sandwich on brioche bread, donning a fried egg chapeau to become a croque-madame. The French toa–er, that is, the pain perdu—will satisfy your sugar craving as one of the best examples in town. Bon appétit, indeed! 4800 Roland Ave.
Woodberry Kitchen
WOODBERRY
This farm-to-fork stalwart has all the brunch bona fides—house-baked goods (don't miss the cast-iron blueberry cornbread), French toast with cherries, and a flatbread with bacon, ham, potatoes, eggs, onions, and cheddar. If you're not in a brunchy mood, indulge in some of the James Beard-winning restaurant's dinner faves—the chicken enchiladas (topped with a fried egg at brunch) or the Tilghman Island crab pot. Libations of any kind are a must. WK has notable coffee and cocktail programs. Multitasking types will want to order the "Good Morning Heartache" with brown-butter washed rum, coffee amaro, maple syrup, and coffee bitters to experience both at the same time. 2010 Clipper Park Rd.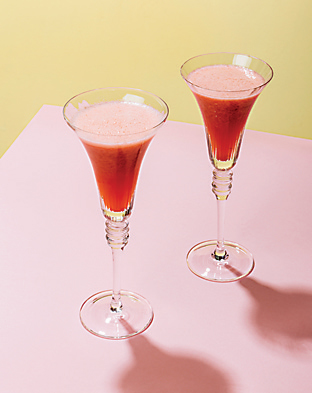 FUN FACT!
think pink
The Bellini was invented in 1948 by Giuseppe Cipriani, founder of Harry's Bar in Venice. The pink drink is believed to have been inspired by a color often used by 15th-century Venetian artist Giovanni Bellini.