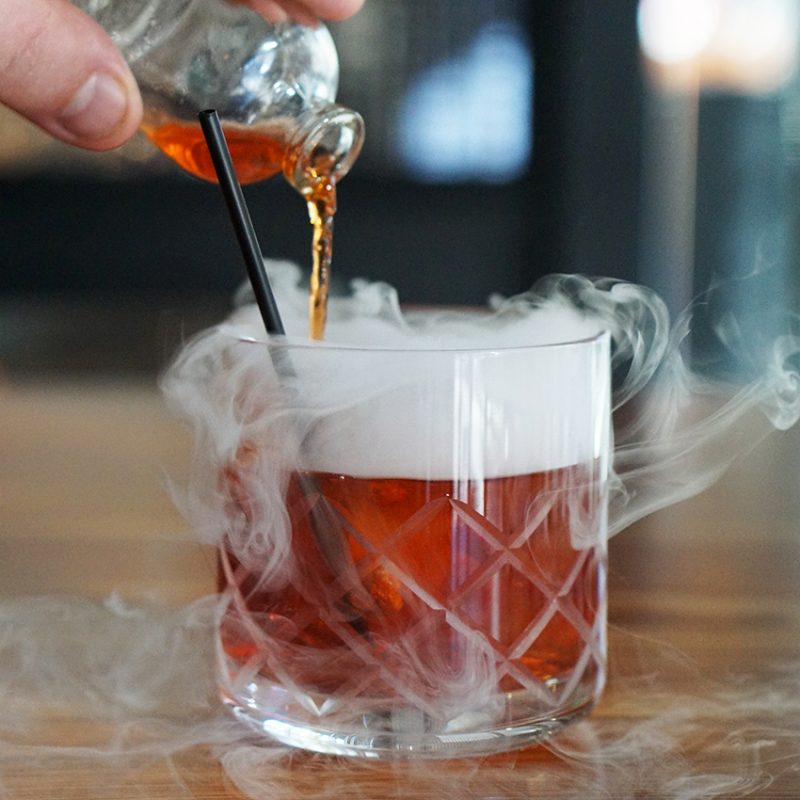 Minnow
Every year in review for 2017 has a tinge of exhaustion, WTF happened, and a need for self-healing. So while imbibing seems like an obvious stress cure, I also found some other through-lines besides alcohol in my drink choices this year. There have been a lot of soothing honey and herbaceous notes, some much-needed coffee flavors (did I mention I was tired?), and a lot of Maryland firsts, which, in particular, have put a welcome and positive spin on this past year. 
Handsome Devil at The Bluebird Cocktail Room
This past May, the top floor of 3602 Hickory Avenue was transformed into a beautiful, European-style bistro. With a name inspired by a Charles Bukowski poem, the literary theme is everywhere at The Bluebird Cocktail Room—especially on the drink menu that is laid out in chapters. I recently tried the new selection of winter drinks (which is phenomenal), and was so happy to see the Handsome Devil still available. With honey gin, wildflower honey, amaro, and activated charcoal (good for a hangover!), this black cocktail is as balanced and botanical as it is beautiful in appearance.
Love Potion #8 at Minnow
There are some serious magic tricks going on at Minnow, the restaurant from the owners of La Cuchara that opened up in Riverside this year. Take the bar's Toddies for Two, which uses a vacuum siphon to infuse a traditional toddy with rosemary and citrus. Or the smoky and ethereal Love Potion #8, in which Wint & Lila pure grain vodka, elderflower, and a house-made tea-based liqueur made with spearmint and peppermint all gets poured over dry ice for dramatic effect. But, beyond the bells and whistles, the proof is in the flavors and Minnow's cocktail menu is full of some of the most herbaceous and exciting ones around. 
Dust Rings from Union Craft Brewing and Stillwater Artisanal
Brewed to commemorate the 9th annual Baltimore Beer Week, Dust Rings was created by two local powerhouses. The double dry-hopped sour ale took advantage of lupulin, a concentrated hop powder that beer nerds were going crazy for in 2017. Because of its density, lupulin bursts with zesty flavors and funky hop notes—and those notes really came through in Dust Rings, which poured a hazy yellow color and tasted of sour lemon, melon, and pine. This one was best enjoyed straight from the source at Union Craft or at sour mecca Wet City in Mt. Vernon.
Guinness Hazy IPA #1 from Old Gate Brewery & Barrel House
Another exciting development in the beer world was Guinness opening its first U.S. brewery in 60 years right near Halethorpe. Though the main campus, tasting room, and shop won't be open until summer 2018, diehard Dublin fans got a preview of what the brewers are putting out when the test taproom opened in October. So far, I've loved working my way through the Golden Series and seeing how each iteration differs, but my favorite Guinness variety brewed in Maryland is the Hazy IPA #1, packed with juicy flavors of grapefruit and pineapple. I can't wait to see what's in store for next year.
Seeds & Skins from Old Westminster Winery
Speaking of firsts, Old Westminster Winery became the first of its kind in the tri-state area to produce wine in a can. The Western Maryland operation debuted its first three creations in Baltimore at Parts & Labor and, while there's a time an a place for the fizzy chardonnay and and the full-bodied cab franc, I was immediately drawn to Seeds & Skins, a skin-fermented pinot gris that pours a slight amber hue. The brief contact between the grape's skin and juices during fermenting adds to its color, gives it more body, and explains its description as a "rosé for fall."
Banana Old Fashioned at The Point in Towson
I know, I know. Why mess with a classic? I, too, was skeptical when I first saw this on the menu at The Point's newest location on York Road in Towson. What was encouraging, however, was that The Point house-infuses its Jameson with banana so you don't have to worry much about overly sweet flavors or additives in some other flavored liquors. Plus, the addition of walnut bitters, Angostura, and citrus added a sweet and earthy body to the drink. It was as cozy as a warm loaf of banana bread straight out of the oven.
Annabel Tea at R. Bar
When R. House opened just over a year ago, the food hall's main focus, of course, was the cuisine. But now its central, square-shaped R. Bar has really hit its stride, creating innovative and thoughtful menu options utilizing its best source: the food hall's vendors. Take a cocktail from its fall, Edgar Allan Poe-themed menu called the Annabel Tea combining Rittenhouse Rye, amaro, lime, bitters, and chai tea from corner stall Ground & Griddled. Look out for other ingredients like wasabi from Hilo and apple brandy from Baltimore Whiskey Company. 
Baltamaro at Baltimore Whiskey Company
While we're talking about them, the Baltimore Whiskey Company has been up to quite a lot. We gave them a nod for "Best Boozy Parties" and the distillery is making nice progress on its barrel-aged whiskey. For the past two years, they've also been developing three lines of amari (bitter Italian liqueur) and launched them a few weeks ago. The three lines consist of a Fernet-style, a Szechuan-peppercorn, and a coffee-flavored amaro. I got a sneak peek of the Szechuan-peppercorn earlier this year and, while it's certainly an outside-of-the-box take on the traditional liqueur of the Amalfi coast, I loved the bold smoky and spicy notes. Plus, shoutouts for amazing branding!