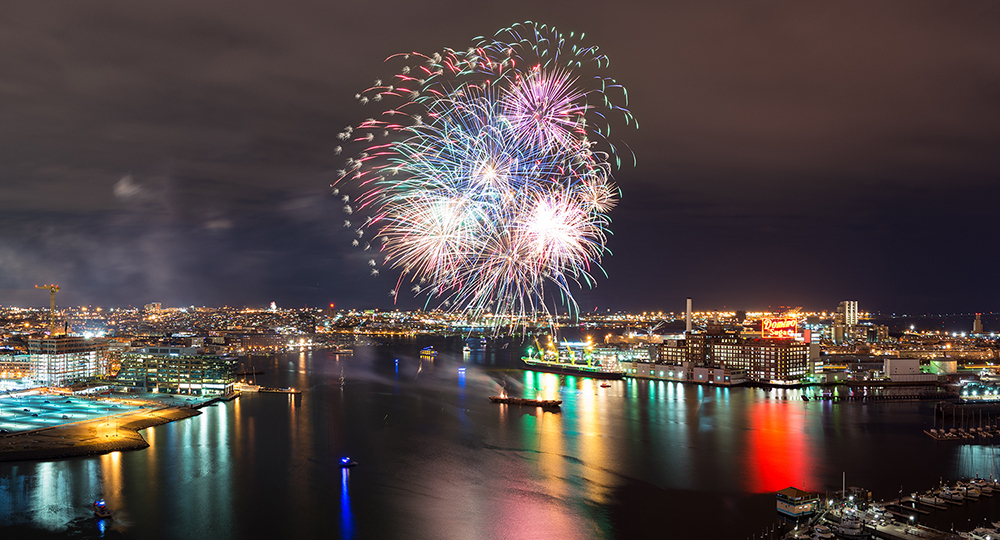 Flickr / Creative Commons
Since 1977, the Inner Harbor's Fourth of July Celebration has illuminated the Baltimore Waterfront and elicited oohs and ahhs from city onlookers. Read up on fun facts about the show in time for this year's fireworks spectacular.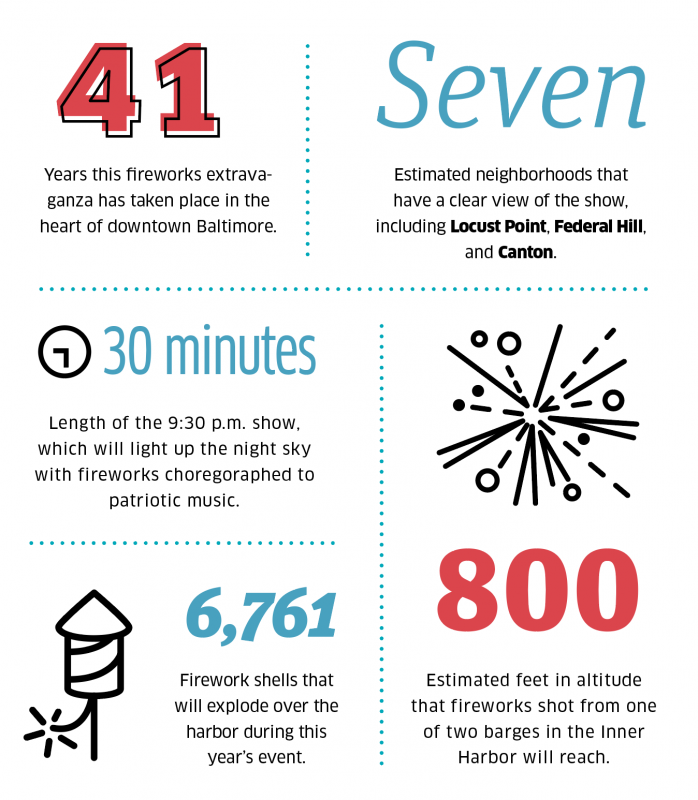 Top Places to Celebrate
Oregon Ridge Park: On July 3, head to Oregon Ridge Park in Cockeysville to hear the Baltimore Symphony Orchestra perform family-friendly favorites and traditional patriotic scores in honor of Independence Day. Once the sun sets, watch as a dazzling fireworks display lights up the night sky.
Sandlot: This waterfront oasis in Harbor Point is the perfect spot to sip on frozen cocktails and dip your toes in the sand while taking in the big-bang show. Starting at 4 p.m., Sandlot will feature live music from Speakers of the House and DJ Neil Paul, as well as special games leading up to the fireworks. Plus, there will be a tap and can takeover by Dogfish Head Brewing and a menu of Fourth of July favorites like hamburgers, hot dogs, and stadium nachos. Admission is $10 for adults and $5 for kids.
Wit & Wisdom: The restaurant inside Four Seasons Baltimore will host a family-friendly evening with dinner, live entertainment, an on-site snowball machine, and an unparalleled view of the Inner Harbor fireworks.
L.P. Steamers: Grab a brown paper-covered table on the roof deck of this Locust Point staple for a picturesque view, as well as plenty of steamed crabs and Natty Bohs.
Canton Waterfront Park: Bring your own snacks, drinks, and lawn chairs to this neighborhood park for a panoramic vantage point to watch the fireworks sparkling over the harbor.
American Visionary Art Museum: On the morning of the Fourth of July, join hundreds of pet owners and their four-legged friends to watch animals of all shapes and sizes compete for prizes such as most patriotic, visionary pet tricks, and least likely to succeed.