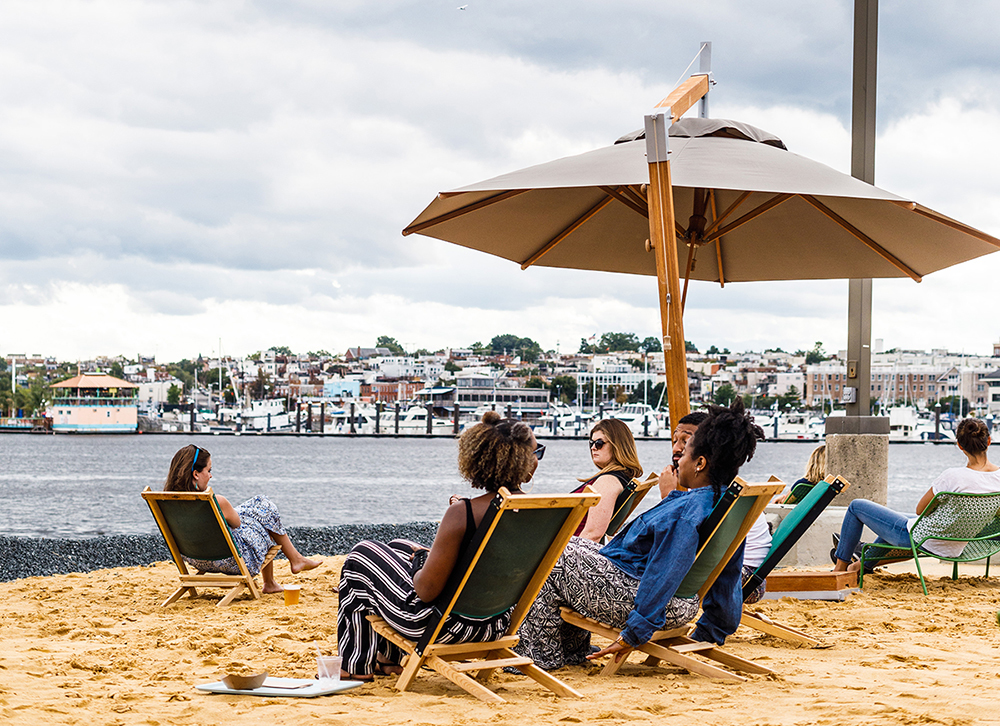 Sandlot
When you're headed out on a date with someone you've never met, as is commonplace in the age of dating apps, there are certain criteria. Not only do you want to like the person you're sharing appetizers with, but you also want to like the appetizers themselves.
The thing about first dates is that your comfort level can make or break them. You don't want something too formal, or else it will feel like a business meeting, but you want something casual enough to keep the whole thing feeling breezy.
Luckily, in Baltimore, you don't have to go a five-star restaurant to find stellar atmosphere, a good meal, and a couple of tasty drinks. Here are some of the best first date-spots around.
Wicked Sisters
There are a few reasons why I try and steer all of my first dates towards Wicked Sisters. The Hampden spot has great atmosphere filled with intimate corners that are great for, at the very least, cozying up to a bottle of wine. The whole place has good vibes but, come springtime, the outdoor patio is where it's at. Appetizers are big enough to share and you should never leave without trying the sweet and spicy Brussels sprouts. 3845 Falls Rd., 410-878-0884
Belvedere Square Market
When you're planning to meet someone for the first time, you probably have no idea what food they're into. Luckily, Belvedere Square Market has everything from smoked fish and quick-fired pizza to hearty sandwiches and spicy ramen. Afterwards, if the date lasts that long, head over to Grand Cru for some cocktails and light bites. The whole marketplace has outdoor seating, too, which is perfect for the warmer weather. 529 E. Belvedere Ave., 410-464-9773
Nepenthe Brewing Co.
It's the perfect time to make a date at the brewery just off of The Avenue in Hampden. Check out the new peach and raspberry sour beer or the Something Pithy Pale Ale with grapefruit while the spring breeze rolls through the open garage-door windows. Talk about keepin' it breezy! You know the beers will be delicious but the food is on point, too. And if it all starts to go south, there are plenty of nearby places to escape (aka bar hop with your friends). 3626 Falls Rd., 443-438-4846
Nick's Fish House
If you're looking for relaxing, you can't really beat sitting out on the deck at Nick's Fish House overlooking the Patapsco River. Sure, you'll probably wind up covered in Old Bay from picking crabs and sucking down many more Orange Crushes than you had planned, but it's all in good fun. Make sure to check the music schedule and bring your energy because jammy music is the thing at Nick's every Thursday-Sunday. As long as your date can get down, you're in for a night filled with seafood, dance moves, and all-around good vibes. 2600 Insulator Dr., 410- 347-4123
R. House
With new spring drinks on the menu and ample outdoor seating, you can't beat a date at R. House. Clever new drink creations like the new Mean Green Mother from Outer Space cocktail and the Rebel Dentist will be sure to help rid you of the first-date jitters. You can find tacos, spicy chicken sandwiches, and scrumptious hot dogs from new stand, On Top Hot, just to name a few. The patio is tons of fun this time of year, but, maybe more importantly, it provides a speedy exit when absolutely necessary. 301 W 29th St., 443- 347-3570
29th Street Tavern
We all love to sit outside and soak up the sun this time of year, but spring still has a few chilly days in store. For those rainy date nights, hunker down at the ultra cozy 29th Street Tavern and load up on the spicy wings and beers. Blast some tunes on the jukebox and, if you aren't having fun yet, well, you're definitely on the wrong date. 398 W 29th St., 410-235-2426
The Sandlot
You don't have to head downy ocean to put your toes in the sand. Just head towards Harbor Point to this seasonal waterfront bar. Opening day is just around the corner on May 3, making this the perfect warm-weather date spot. Word on the street is there will be a bit more shade than last year so you won't wind-up sundrunk, though maybe just regular drunk. Sun, sand, boozy beverages, and crab-corn fritters? At this point, halfway decent conversation would just be an added bonus. 1000 Wills St., 410-568-4916
Of Love & Regret
This unique, hidden gem in Brewer's Hill has some of the best cocktails around, making it just a touch easier to fall in love, at least for the evening. You can sample liquor from all over the globe while munching delicious shareables like grilled smoked meatballs or calamari. The lobster mac and cheese is a must-have but they have tons of vegetarian options in case your date is an omnivore. With such amazing menu options and a cozy first-date atmosphere, Of Love & Regret boasts a price point that's totally reasonable. Let's hope your date is, too. 1028 S. Conkling St., 410-327-0760
Blue Pit BBQ and Whiskey Bar
Blue Pit's laid-back vibes make for a great first date no matter what. But in the springtime, you can head out to the patio, which means your dog can come, too (your dog's instincts about your date may even be more accurate than yours). With $2 off drafts, $1 off wine, $7 house Old Fashioneds and Manhattans, and $5 for a shot and a beer, the happy hour is a near steal. But don't forget to fill up on pulled pork and addictive potato salad. If you don't, the whiskey might get the best of you. And then it's just you and the dog . . . 1601 Union Ave., 443- 948-5590