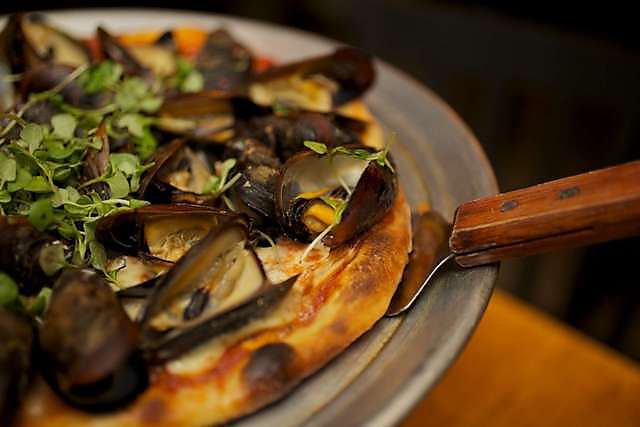 Courtesy of Birroteca
Birroteca fans rejoice. The popular Hampden hotspot is opening a second restaurant in Bel Air and will officially be ready for business on Oct. 22 at 4 p.m. during dinner service.
"The menu will basically be the same," says general manager Jon Angel. "We're keeping the staples like wild boar Bolognese with papparedelle, charcuterie, and pizza, but we're going to change out some of the pastas and have different rotational menus that change through the seasons, as well."
Some fall specials will include carrot ricotta gnudi and rosemary brown butter sauce with candied pecans. "The wine list and beer list will basically be a carbon copy," explains Angel, "though there will also be some new items."
Décor-wise the space will include repurposed materials such as roof slates fashioned into an element of the bar area, as well as windows and shelving materials purchased at Second Chance in Baltimore.
Also on view: graffiti art from the same artist whose work appears at Birroteca sister restaurant, The Nickel Taphouse in Mt. Washington.
Birroteca owner Robbin Haas had first considered opening a second The Nickel Taphouse in the Bel Air area, according to Angel. "But they noticed a lot of restaurants that were already open there were very similar," says Angel. "They also realized that there were a lot of places with a big craft beer menu and there were a few Italian restaurants, but they weren't doing what we were doing."
For more information go to bmorebirroteca.com or call 443-981-3141.