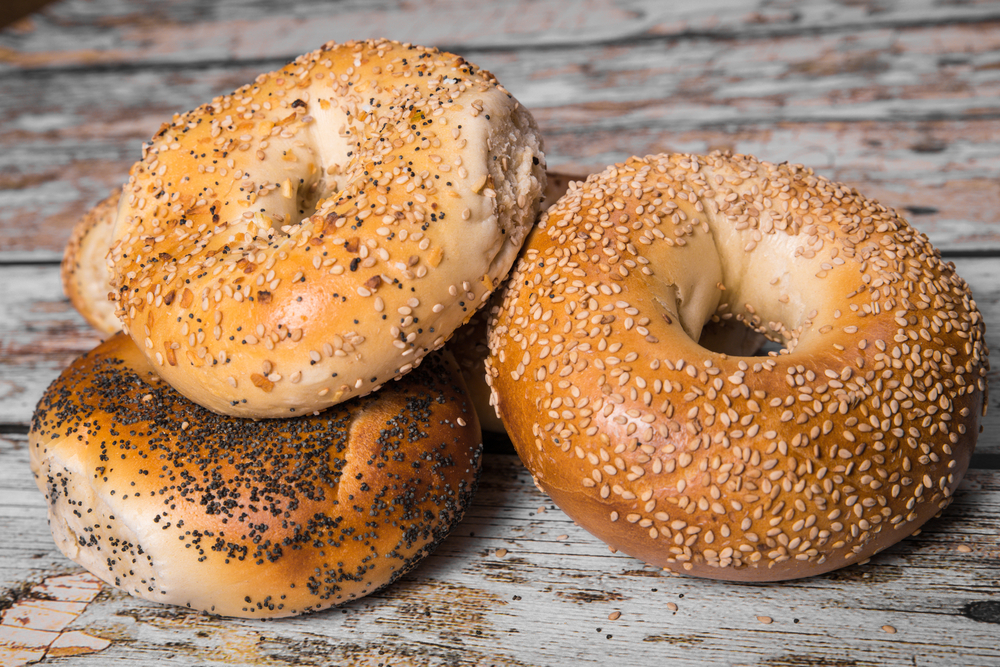 Shutterstock
Although the dining scene in Federal Hill surely isn't lacking, bagel shops are few and far between.
Next week, Waverly-based pop-up Bottoms Up Bagels (BUB) is presenting a new early-morning option, setting up a small-batch bagel shop inside the Pixilated space on East Cross Street.
The BUB concept is the brainchild of New Jersey natives Michelle Bond and Joan Kanner, who have both lived in Charm City for more than a decade. Together the duo operates Karmic Messenger, a two-year-old startup that launches food-related initiatives—like a recent survey that delved deep into the nuances of local dining decisions.
"We want to be a force for good through our services and ideas," Bond says. "Maybe that comes in the form of a product that makes you laugh, a good interaction when you're seeking it, or, in some cases, a really good bagel."
BUB launched at the 32nd Street Farmers' Market last fall, debuting Bond and Kanner's handcrafted pumpernickel, everything, Black Russian, and plain bagels paired with spreads like cured salmon and sesame-Sriracha cream cheese.
"If you go to any office that orders bagels, there is going to be a conversation about who has the best in Baltimore," Bond says. "We were both born in New Jersey where you can't throw anything without hitting three bagel shops. We know there's a need, we love making them, and this was a great opportunity for us get into the pop-up world."
In addition to the signature bagels and spreads, the pop-up, Feb 22-28, will highlight egg-and-cheese breakfast and lunch sandwiches and fresh-brewed Zeke's Coffee. In order to accommodate Federal Hill's bustling bar scene, Pixilated will also host "BUB After Dark" events from 8 p.m.-12 a.m. on Thursday, Friday, and Saturday, complete with music and late-night sandwich specials.
The owners say that one of the main perks of a farmers' market presence is being able to easily gauge customer feedback, something that they will continue to make a priority during their first weeklong pop-up experience.
Looking ahead, the founders hope to continue making relationships with other local businesses through their pop-up ventures, while also securing commercial kitchen space.
"The real goal is to be the local source for bagels," Bond says. "Baltimore has such a hustling spirit. People are willing to give anything a try and they're willing to change and grow along with you as long as the product isn't compromised."