On The Market
Broadway Market gets a makeover.
When patrons stop by the North Shed of Broadway Market in Fells Point, they can expect a great mix of vendors old (including Sal & Sons Seafood and Vikki's Fells Point Deli) and new (Thai Street, Connie's Chicken and Waffles, Old Boy). In fact, after a nine-month-long, $3-million renovation, this marks the first time in a decade that patrons can visit the North Shed, which fell into disrepair years ago and has finally gotten the spiffy update it needed.
"We knew that we had to create something that was what the market demanded in 2019," says Stacey Pack, project manager for Lexington Market and Baltimore Public Markets. "This is like traditional market meets food hall. You have stalls like Sal's selling fresh sh that you can take home to prepare or have it prepared there on the spot." Adds Phil Han, who owns two of the 10 stalls, "This is an ideal reincarnation of what Broadway Market wants to be right now."
Here are a few things to note when planning a visit:
Home Again
Three of the vendors, including Vikki's, Sal's Seafood, and Sophia's actually started their businesses in the North Shed, but when it became uninhabitable, they relocated to the South Shed.
Star Stall
Sophia's Place European Deli is the place to go for outstanding potato or kraut and mushroom pierogies, stuffed cabbage, and baked goods. Years ago, Chelsea Clinton stopped by. "She loved pierogies and kruschicki cookies," says owner Zofia Para. "Senator Barbara Mikulski [who is of Polish descent] has also been a frequent customer."
And. . . Action!
Old Boy's name was, in part, inspired by Park Chanwook's classic Korean action film Oldboy, based on a Japanese manga of the same name.
To the Dogs
Look for the bowls of water outside near the picnic seating. Broadway Market is Fido-friendly!
Fun Fact
Sal Ayala, who hails from El Salvador, came to L.A. in 1977 and worked in the fish markets, where he learned to speak many languages, including Korean. "I loved meeting Sal and having him speak to me in near fluent Korean," says Han, who is of Korean descent. "It blew me away." Says Sal, simply, "I'm a very smart man."
Golden Arches
The building's original interior arches above the floor-to-ceiling windows were covered over in the '70s and '80s. They've now been restored to their former glory and have helped drench the space in sunlight.
History Lesson
Baltimore boasts the oldest continuously operating public market system in the U.S. Baltimore Public Markets have operated even longer than the city's health department or mayor's office. A public lottery funded the construction of the first market in 1763. Six Baltimore City Public Markets remain, including Broadway Market—founded in 1786.
---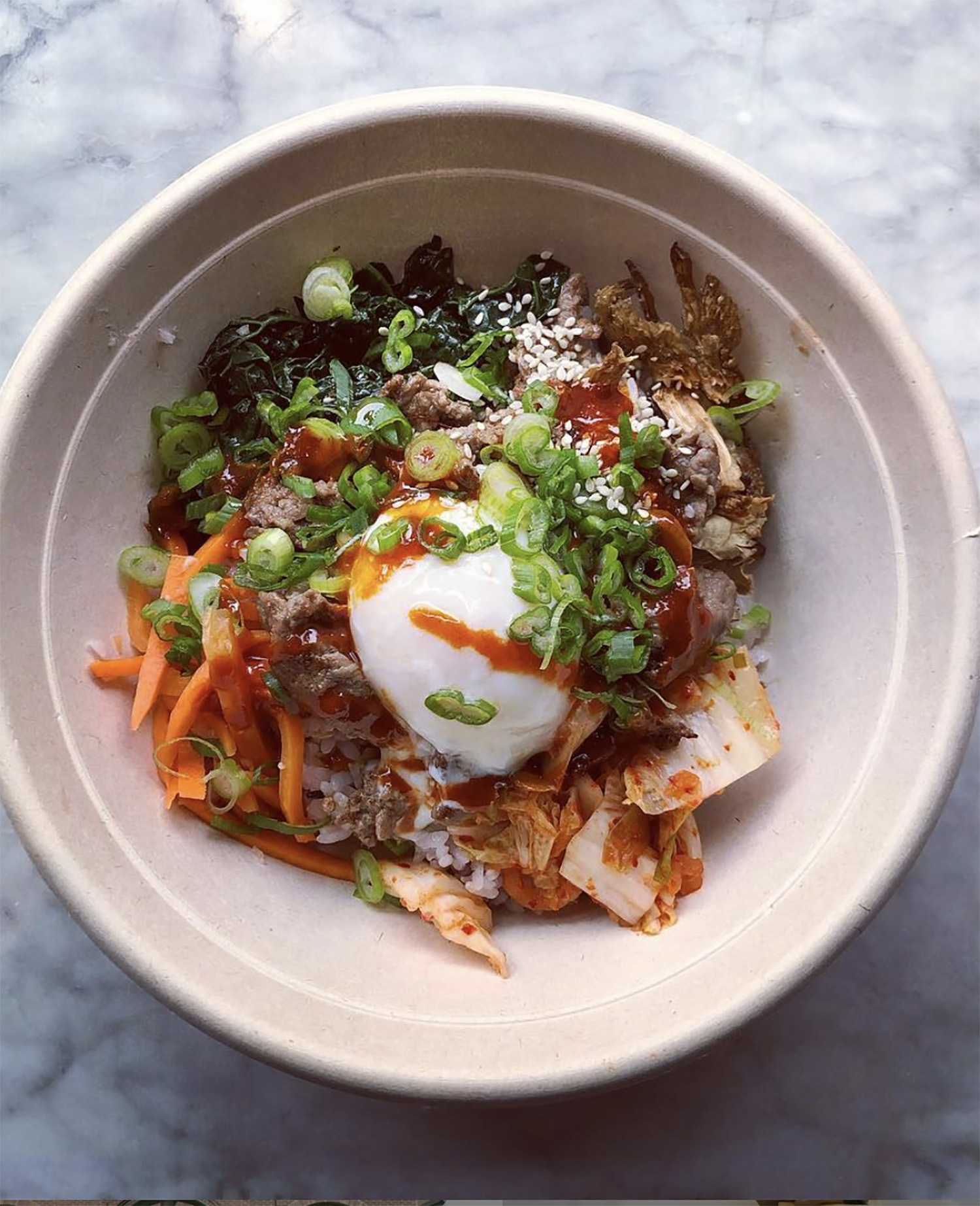 Courtesy of Old Boy
BEST
BITES
No need to ever go hungry (or thirsty) again, especially with new extended dinner hours at Broadway Market. From Poland to Thailand to Korea to India, here are some of the best bites we've had thus far.
Potato pierogies at Sophia's Place.
Salty caramel ice cream at Tahkara Bros.
Tonkatsu pork cutlets and bibimbap at Old Boy.
Fish and shrimp tacos at Sal & Sons Seafood.
Chive dumplings at Thai Street.
Ginger and mint lemonade at The Verandah.