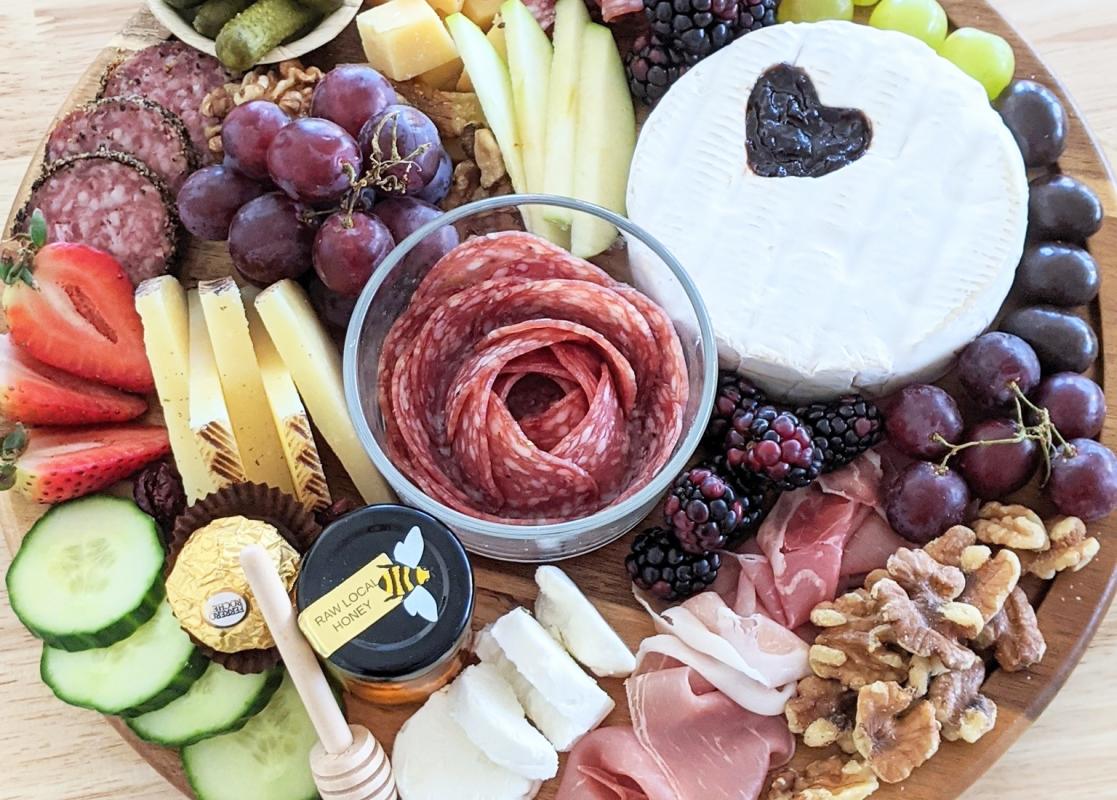 A custom Bon Apple Cheese spread. —Courtesy of Bon Apple Cheese
A rosette of prosciutto. A twirl of lemon slices. A coil of crackers amid a constellation of cheeses. Stacey Vaughan's friends had long oohed and ahhed over the charcuterie boards she brought to parties. Then, a few months ago, a neighbor suggested she start selling them. 
So Vaughan began hawking boxes of cured meats, cheese, and other deliciousness from her Canton home, a business she named Bon Apple Cheese. ("Puns—that's where I shine," she says). On sunny days, there is often a short line in front of her home, as people pick up boxes of charcuterie and walk to Patterson Park. There are boxes made for sharing, such as "The Stoop Night" or "The Boozy Brunch," and an individual charcuterie box named "The 'Rona," of course. 
 "It's a creative outlet for me," says Vaughan, a neonatal intensive care nurse. "The past year has been so intense for everyone, I wanted to do something in my free time that was the complete opposite of my work. I love the little community that is forming outside my windows. I think people want an excuse to do something wholesome like this, having a picnic in the park with friends." 
Vaughan is among a handful of Baltimoreans who have launched charcuterie businesses over the past few years. Among the first was Liz Flores, a professional caterer who started Highland Graze Company in 2019. While the tradition of curing meats originated in ancient Rome and the word "charcuterie" comes from French, it was the Australians who began flooding social media a few years ago with artfully arranged "grazing tables" of meats, cheeses, and fruits, Flores says.  
"You used to go to weddings and there was always steak and mashed potatoes," says Flores. "But over the past decade or so, you started to see all of the creative appetizers: soft pretzel bars and pizza bars. Grazing tables are an outgrowth of that. Everyone wants food that looks good and isn't too filling, Instagrammable food." 
When COVID-19 hit last year, many traditional catering opportunities—weddings, graduation parties, corporate gatherings—evaporated. So Flores began making smaller, boxed versions of her grazing tables. The Stoneleigh resident advertised them through social media and orders began pouring in. Couples ordered the boxes for a romantic evening at home, while others gave them as gifts or a way to show appreciation to employees. Flores and her team delivered the boxes along routes stretching from Parkton to Sykesville to Annapolis.  
Flores partners with local farmers, butchers, and cheesemakers to create the boxes, often building an arrangement around ingredients that are currently available. "We might find a really cool blue cheese or a perfect brie. I have connections with local farmers growing apricots and figs," she says. "And I just found a great farmer in Monkton who is going to hook us up with edible flowers." 
Highland Graze boxes usually include two or three cured meats accompanied by a variety of cheeses, crackers, fruits, and spreads. "We like to add the traditional berries and grapes, but also have citrus fruits as a palate cleanser," Flores says. "We just had some wonderful raspberry oranges we were working with." 
Much of the fun of putting together a charcuterie plate is coming up with the perfect bites, or ways to combine the ingredients, says Vaughan. "It turns out it's really personal," she says. "I have a friend whose thing is brie, strawberry, and a little bit of honey. My favorite is a savory cracker with goat cheese, chocolate, and a little drizzle of honey." 
She is always on the hunt for interesting crackers and fruits, and tries to purchase as many locally made products as possible. She usually buys meats from DiPasquales, cheeses from Whole Foods, jams from Atwater's, and honey from Baltimore-based Bee Friendly Apiary. 
She has also teamed up with Mobtown Brewing Company to create boxes that complement their beers. Most recently, she worked with nearby exercise studio, Capacity Fitness, to create a special assortment for members. Vaughan has even created "charKIDerie" boxes—packed with Goldfish crackers, veggies, hummus, and cute cut-outs of cheese—as well as "Barkuterie" boxes for furry friends. 
"Once I started making those, a bunch of dogs started following me on Instagram," she says.  
For Flores, the ebbing of the pandemic has led to increased orders for traditional catering, as well as requests for crowd-sized grazing tables. To prepare those, she begins by laying fresh herbs on the table, then piling on artichokes, cherries, figs, wheels of brie, honeycombs, and slices of crusty bread, like a banquet from a Roman bacchanal. 
Flores, who is preparing to move her catering business into north Baltimore's Bmore Kitchen incubator space, said she attempted to offer fewer charcuterie boxes as orders for parties and weddings have increased.  
"We tried to cut back and our customers lost it," she says. "They need their charcuterie boxes."
Feeling inspired? Stock up on ingredients to build your own board at these area shops:
818 Market: Head to this new market, bar, and cafe in Catonsville to snag all of the essentials from its in-house cheese shop. Browse an impressive selection of meats and cheeses, as well as nuts, dried fruit, and the requisite crackers. 
Cheese Galore and More: Federal Hill locals have made this one-stop-shop a destination for all of their charcuterie needs. Find everything from brie and bleu to goat and gouda, as well as locally sourced pantry items to craft your custom snack spread. 
The French Paradox: Pick up charcuterie staples while browsing wines and spirits at this Stevenson Village Shopping Center fixture. 
The Wine Source: Hang a left when you walk into this Hampden spirits shop and you'll find a large display of meats, cheeses, crackers, and other local goodies.

Firefly Farms Market: The team at this stall inside Hampden's Whitehall Market sells varieties sourced from its namesake farm in Western Maryland. Plus, they offer breads, crackers, chips, meats, and sweets if you're hoping to feature a little bit of everything.