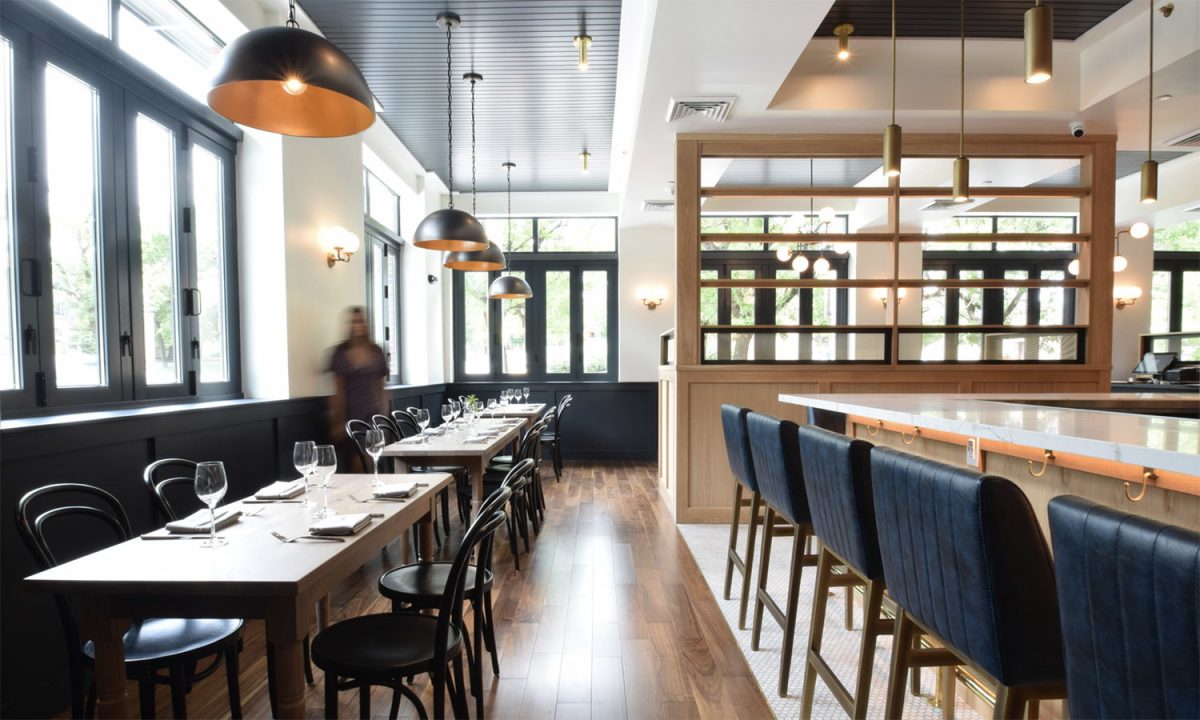 SM+P Architects
From Spike and Charlie Gjerde to Donna Crivello and Jerry Pellegrino, Andy Thomas has worked for almost every well-known chef in Baltimore. His most recent venture is The Tilted Row, a Bolton Hill gastropub inside The Jordan apartment building. We sat down with Thomas to chat about the concept, growing in the local restaurant industry, and the Tilted Row's signature crab cakes that pay homage to his Eastern Shore upbringing.
What was your mission with this menu? We know that it has a lot of Middle Eastern influences because owner Ziad Maalouf, who also operates Mt. Vernon's Cafe Fili, is Lebanese.
Before I even came on board, they had hired a consultant and had come up with the menu. When I came on the idea was for it to be elevated pub food with Mediterranean influences and Middle Eastern spice mixes like Chermoula—paprika, mint, and other things—and Baharat, which blends cumin, cardamom, allspice, cinnamon, paprika, and nutmeg.
I looked at the menu and it didn't have any vegan or vegetarian dishes, which I thought were important for this neighborhood. I also brought things like fried chicken, zucchini fritters, and duck fried rice like I'd been doing for years. We wanted to have Middle Eastern influences, but we also didn't want to have our hands tied by them. We didn't want the menu to be overly complicated. We wanted to keep it simple at a price point that wasn't too high.
I know you worked at The Elephant for years. Why do you think it didn't succeed?
I believe that it was hard to convince people that this grand space was a neighborhood place—people only came for their grandmother's birthday or prom. Two full floors of the space were not being used.
How did you eventually meet Maalouf?
We met on Craigslist. I was looking for a job and I answered an ad. I knew it was still under construction, but I didn't hear from him. I went to Café Fili to give him my resume but he wasn't there, then my good friends Jerry Pellegrino and Amy von Lange from Schola talked me up. I got a phone call from him the next day.
So that was it?
I worked part time doing some classes at Schola, then I worked full time at Fili. It was nice to ease into it.
How did you get into cooking?
I've always wanted to cook. I had an uncle who passed away when I was a young kid. He was a crab man with a truck that had a steamer and he'd park it on the side of the road and sell crabs. Here was this guy selling something people love. You sit down as a family as an event. He then had a crab steaming shop and he went to work in Old Bowie at this little old place called The Railroad Inn. It was a family-run place and I went there to wash dishes at 14. I made pizzas and got good enough to help the guys on the line. Then, in 12th grade, I did a work-study program at the Holiday Inn in Greenbelt. There was a real chef there and it was the first time I saw the line of people in white jackets. I knew these were my people.
Where did you go after that?
I went to Baltimore International College when it was on Gay Street. I did a two-year program in one and got a job at the Peabody Court Hotel in the brasserie, before going up to the 13th floor to work in The Conservatory. It was over the top with the silver and crystal and food under domes and then it became Michel Richard's Citronelle, and I learned that it's not just about cream and heavy meat reductions, but you can use olive oil and it can be well executed. It opened my eyes that food can be fun and fresh.
Didn't you also work at Donna's?
Yes, a friend of mine went to work there when it was at the Baltimore Museum of Art and I was his sous chef. Within two weeks, he had a nervous breakdown. I was 24 at the time, and they looked at me and said: "It's your turn to step up."
What a story. So now, here you are at The Tilted Row. Talk about some of your signature items, like the burger.
I just wanted to make a good pub burger. This one is from the original menu. It has tobacco onions and pickles. People think that burgers are easy to make, but they're anything but. It's the one item that people try to change the most, they try to take it apart and put it back together again.
Your crab cakes with succotash are excellent, but not what we're used to in Baltimore.
I grew up with a crab cake that was different than the one in Baltimore. I'm from Prince George's County and have family on the Eastern Shore. The only time we ate crab cakes was the day after we'd eaten steamed crabs on the back porch. We used leftover meat, not just jumbo lump, and would bind it in mayo, mustard, egg, and breadcrumbs. We breaded them on the outside and fried them in a pan. This is very much my version of a crab cake. There are people who are like, "That's not a crab cake." People have a very big opinion about it, but I stand by them. I grew up with the succotash, it had corn, tomatoes, and lima beans—but our version uses fava beans.
Give us your elevator pitch about why people should patronize The Tilted Row.
The neighborhood is this beautiful, historic place. People need to stop being afraid to come into Baltimore and embrace this town again.