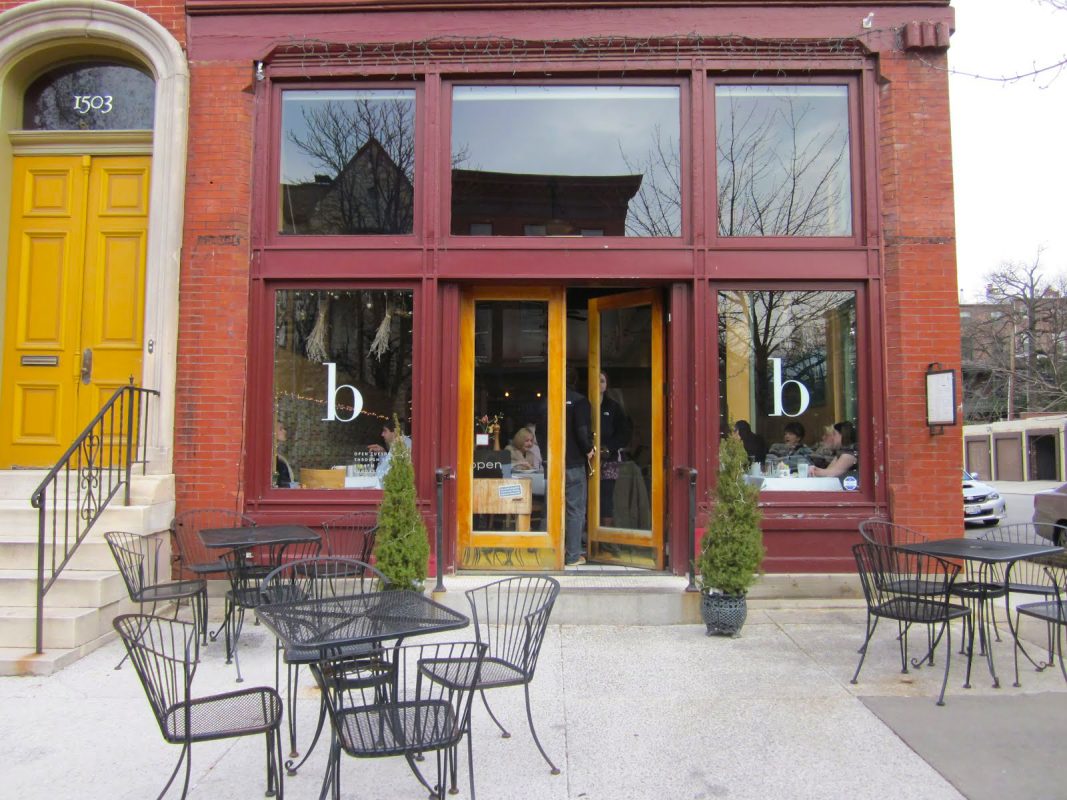 Dudes on Foods
The idea is for CookHouse in Bolton Hill to be the quintessential buzzy neighborhood hangout—featuring all-day service, outdoor seating, a full bar, and a thoughtful carry-out program. But there is one thing that chef/owner George Dailey says diners shouldn't expect to see at his forthcoming restaurant.
"We're not going to have TVs in the place," says Dailey, a Bolton Hill resident who also operates mainstay cafe On The Hill in the neighborhood. "You're there to eat, not to watch TV. They're just really impersonal."
Aside from wanting the focus to be on the food, the English-born chef says that he wants CookHouse to be the type of place where neighbors of all ages can come to connect and converse with one another. "They will still have their phones, though," he says with a laugh. "So maybe nevermind that."
CookHouse is slated to open in the former home of B. Bistro on the corner of Bolton and Mosher streets in October. Dailey and his realtor wife, Jessica, purchased the building from the Karzai family last year, and have been working to transform the look and feel of the space ever since.
"We removed everything and started over," Dailey says of the slow-and-steady construction process. "It's an old building, so it takes a lot of work, but we're really hoping people's expectations are met."
One of the larger tasks that the team took on was breaking up the open floorplan with a mix of banquette and table seating, a newly built bar, and a seperate area for takeout service.
"B didn't have a bar, so that was the first thing that we thought the place needed," Dailey says, adding that the bar will highlight beer, wine, and classic cocktails like a Negroni and French 75. "It was also an open dining room, so when you entered, it was kind of like you were standing right in front of somebody having dinner."
The "classic yet modern" design of the 75-seat restaurant (which will also have outdoor sidewalk seating) will pay homage to the historic architecture of the building, while also incorporating neutral tones, warm woods, marble accents, and textured wallpaper.
In addition to the drastically remodeled space, the food will also be unrecognizable to Bolton Hill locals. Dailey says that the menu of European and American staples will be completely different than the sandwiches, soups, and burritos that diners have become familiar with at On The Hill.
For starters, the CookHouse menu will be much smaller. It will offer full breakfast plates (think eggs cooked to order, French toast, Belgian waffles, and steel-cut oats with berry compote), and a curated list of salads and burgers for lunch.
The restaurant will close briefly from 3-5 p.m. before reopening for dinner service, which will feature more intricate dishes like steak frites, steamed mussels, Beef Wellington, and a classic sole meuniere with lemon and brown butter sauce. For the more adventurous eater, there will also be a small section of nose-to-tail cooking with dishes like pig's feet and veal kidneys: "It's this whole philosophy of, if you're going to butcher an animal, you better eat it all," he says.
Learning from his experiences at On The Hill, Dailey is also streamlining a takeout program with dishes that are specifically designed to travel well. "There won't be any soggy fries or things like that," he says. "I want people's food to arrive in a good state."
That focus on hospitality is a major part of the mission behind CookHouse. Because there aren't a ton of commercial restaurant spaces in the area (Noona's recently opened near Mount Royal Station and The Tilted Row will soon debut in the new Jordan apartment building), Dailey feels lucky to be able to offer two eateries in the place that he and his family call home.
"I fell in love with the neighborhood when we first came here," he says of his move from Boston nearly 20 years ago. "What really drives me are the big beautiful buildings that have so much history behind them. You try to picture this neighborhood 100 years ago when there were horses in front of the houses and you're like, 'Wow, that's pretty cool.' We really want to honor that."