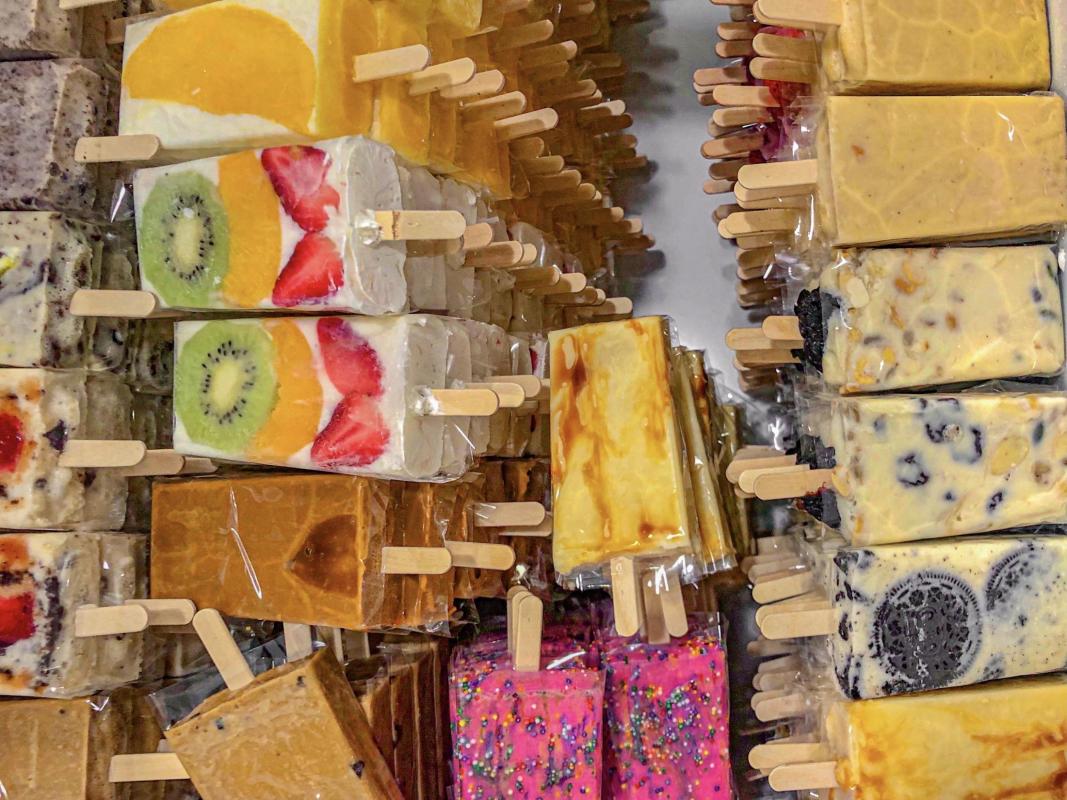 Paletas at Corazon Helado. —Photography by Jane Marion
Rosalyn Vera has always been a big believer in the "your vibe attracts your tribe" mantra: "For some reason I think that I always attract the right people," says Vera, the owner of Cocina Luchadoras in Upper Fells Point. "So here we are."
She's referring to her latest partnership with Mexican native Paul Plascencia and his wife, Joe Álvarez, who began frequenting Vera's taqueria after they moved to Baltimore and were searching for a taste of home. 
A lover of sharing her culture with the community, Vera says it's always been a dream of hers to open a Mexican ice cream shop. And it just so happened that Plascencia had operated a sweets shop of his own—which highlighted Mexican ice cream, paletas (popsicles), and other traditional snacks—in California before moving to Baltimore. 
Now, the team has taken over the former Roll Bmore space on Eastern Avenue in Highlandtown to make Vera's dream become a reality. The new spot's name, Corazón Helado, translates to "Cold Heart" in Spanish—which was the name of Plascencia's shop on the West Coast. But Vera explains that the name is also a nod to the love they are putting into the business, which is slated to debut in March. 
"Our logo has some flames around the heart that are [meant to symbolize] our passion," she says. "We're literally putting our hearts in here."
Nothing will capture the owners' spirits quite like the flavors themselves. Plascencia hails from Michoacán, the Mexican state famous for popularizing paletas. Just as Vera's recipes—like the handmade tortillas at Cocina Luchadoras—were passed down from her grandmother, Plascencia has early memories of making ice cream with his grandparents. 
The biggest difference between Mexican and American ice cream, says Plascencia, is that it incorporates chunky pieces of fresh fruit. He explains that Mexican ice cream is a fusion of the gelato that originated in Italy. When it made its way to Mexico, the soil in Michoacán was fertile for planting the ingredients needed for the fruit-forward paletas and helados (ice cream flavors). 
At Corazón Helado, Plascencia will pay homage to those techniques by sourcing as many fruits (like peaches and berries) as possible from local farms and orchards. He has ordered custom equipment from Mexico that will be used to produce flavors ranging from mango and pineapple to avocado with cacao and spicy chocolate chili. 
Plascencia is also looking forward to getting creative with the paleta flavors, with plans to fill some with dulce du leche and even create one that serves as an ode to Gansito, a Mexican snack cake reminiscent of a chocolate-covered Twinkie. 
Inspired by the paleterias that Vera grew up visiting with her siblings (she was born in New York but spent a lot of time in Mexico City with her grandmother), Corazón Helado will also feature an Aguas Fresca station (think varieties like hibiscus and horchata), baked goods, and Dorilocos—bags of Doritos that are cut open and topped with tons of sweet and savory add-ons. 
"I have those memories with my siblings," Vera says, "and I want to start creating new memories for all of our community so they can remember getting paletas in Highlandtown on our little corner."
As much as the owners are excited to share their Mexican culture, they are also looking forward to celebrating Charm City: "This is our city and I want to make sure that we represent it the best way that we can," Vera says. 
In keeping with that sentiment, the space itself will feature nods to both Baltimore and Mexico, with art designed by Plascencia gracing its walls. Upon visiting the shop, expect to see 3-D designs of luchadores and day of the dead skulls next to Edgar Allan Poe and a mural of the iconic Patterson Theater marquee—which sits just a block away. The duo is also looking forward to creating signature flavors for Orioles and Ravens games. 
Though the pandemic has made it a difficult time to be opening a dining establishment, Vera has faith in the concept: "To me, if you don't take risks, then you don't know what life is," she says. 
For Plascencia's part, he is simply looking forward to sharing his treats, and his culture, with the community.
"He'll be very excited that everybody leaves here with a smile," says Vera, translating Plascencia's response from Spanish to English. "I'm sure that they will with the art, the flavors, and everything," she adds. "We're just going to have a party in here."