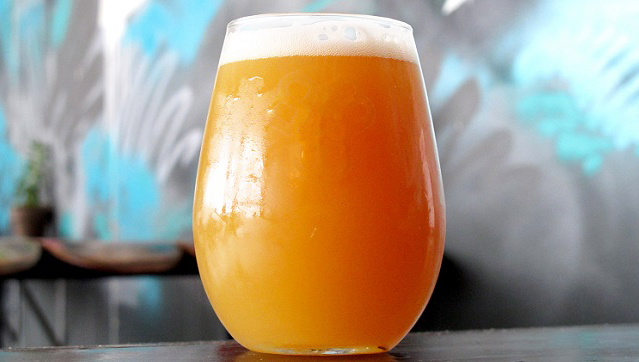 All About Beer
While most people start off their year thinking about meal preps and workout plans, we're asking an entirely different question: What's on tap in the drink world for 2019? We asked some local experts—brewers, distillers, bartenders, and wine makers—to conjure their best ESP skills and predict what drink styles we'll be seeing more of in the year to come.
IPAs are Here to Stay
Brewers are still waiting for lagers to have their big day in the sun, but consumers will continue to want their beer hop-heavy. "Juicy, hazy, New England-style, brut, and sour will all continue to be applied to IPA, IPA, IPA," says Union Craft Brewing co-owner Jon Zerivitz. However, some of the novelty of the milkshake-style IPAs might wear off and you'll see brewers playing less with lactose than they did in 2018, according to Hop Culture. While Wet City owners PJ and Josh Sullivan say they are hearing "chatter" regarding lager beers, they echo the IPA growth prediction. "The popularity of Hazy IPAs is still going strong," PJ says. "And we don't see any end in sight."
Where to try now: So many options! Change Order at Union; Lil Woozy at Wet City; Nobo at Monument City; Astrodon at Peabody Heights.
CBD, THC, OMG
It's easy to find CBD—a cannabis compound that is not psychoactive like THC—in oils, juices, and sparkling water around town. But expect it to slip into more and more cocktails this coming year. Some bars will give you off-menu options and the bartenders at Gunther & Co. even mixed up some for a dispensary event last fall. This week, Frederick-based Flying Dog Brewery announced that it's releasing Hop Chronic, a non-alcoholic IPA infused with therapeutic cannabinoids available at dispensaries throughout Maryland. (Release of the product is subject to regulatory and legal approvals.) "We see a lot of interest in cannabis from the craft beer community," says Ben Savage, CMO of Flying Dog, which is partnering with Green Leaf Medical Cannabis on the product. "There are definitely similarities between the natural flavor profiles we extract from hops and the terpenes and found in cannabis."
Where to try now: CBD oils are available at MOM's Organic Market and area dispensaries to try out your cocktail-making skills at home.
Blurring of Categories
It's no secret that the craft beverage market has become a really crowded space, so brands are looking to diversify and break out in any way they can. Looking at the year ahead, many breweries, wineries, cideries, and distilleries will be collaborating to come up with sub-genres to potentially attract a new customer base. "At our bar, we've seen kettle sours bring wine drinkers and people that don't normally drink beer into the craft beer scene," PJ of Wet City says. Lyon Distilling in St. Michael's and Jailbreak Brewing in Laurel just collaborated on a "beerskey," or a beer distilled into a whiskey, and Old Westminster Winery (OWW) is seeing great success by mixing it up. "Some of our most popular products are the wine and cider hybrids," says Drew Baker, co-owner of OWW. "Producers—whether you're making beer, wine, or spirits—are looking to fill that space in between."
Where to try now: Pip & Berry from OWW at Grand Cru; Cherry Berliner Cider at Union Craft.
Non-Alcoholic Cocktails
Yes, this is a thing! Dry January participants can rejoice as the popularity of teetotalling and even zero-proof spirits will make a bigger impact on the market this year. "A large part of the population is not drinking as much as they used to or are a bit more conscientious about their intake," says R. Bar manager Amie Ward. "This is a great thing! But it does require bars and restaurants to start thinking about alternative options. Simply throwing together juices isn't going to cut it." Non-alcoholic spirit companies—like Seedlip and Ceder's—have launched in recent years, applying the same distilling process and equipment to create zero-proof booze. But, more commonly, bars in New York City, Chicago, and LA, are simply taking the alcohol out to create thoughtful and tasty mocktails.
Where to try now: R. Bar has four options that start as non-alcoholic and include a suggested spirit; Woodberry Kitchen has a lovely mocktail menu.
Ready-to-Drink
Thought the concept of bottled and canned cocktails has been around for a while, things are starting to get a little more sophisticated. "When people think 'ready-to-drink,' there is the unfortunate connotation of the sugary stuff from the 2000s," says Jaime Windon, co-owner of Lyon and president of the Maryland Distillers Guild. "But you're going to see the new age of bottled cocktails. You don't have to go to the bar to necessarily have a beautiful cocktail." Many brands around the country are bottling classic cocktails like the negroni (sign me up!) to elevate the trend. Next month, winemakers at OWW will be coming out with a low-calorie, low-proof spritzer cocktail in a can. As Windon sums up: "People want less work."
Where to try now: The 84-proof Rock & Rum, basically a rum old-fashioned, at Lyon Distilling.
Fermentation Experimentation
Of course, the fermentation process is crucial in making alcohol of all forms and flavors, but expect people to get pretty weird this year. Brewers will play more with barrel-fermented and mixed-fermented sours for extra tart and acidity, which many drinkers in the market have demanded. Plus, fermented beverages like kombucha will still have a place as mixers or additives in booze. And exotic fermented cocktails like the pineapple-flavored Tepache are staying prevalent on local bar menus, as well. "I've many customers start to appreciate the more complex, mixed-fermentation sours these days," says PJ of Wet City.
Where to try now: The Artista Zynergia barrel-aged sour series at Wet City; Tepache at Alma Cocina Latina and Clavel.