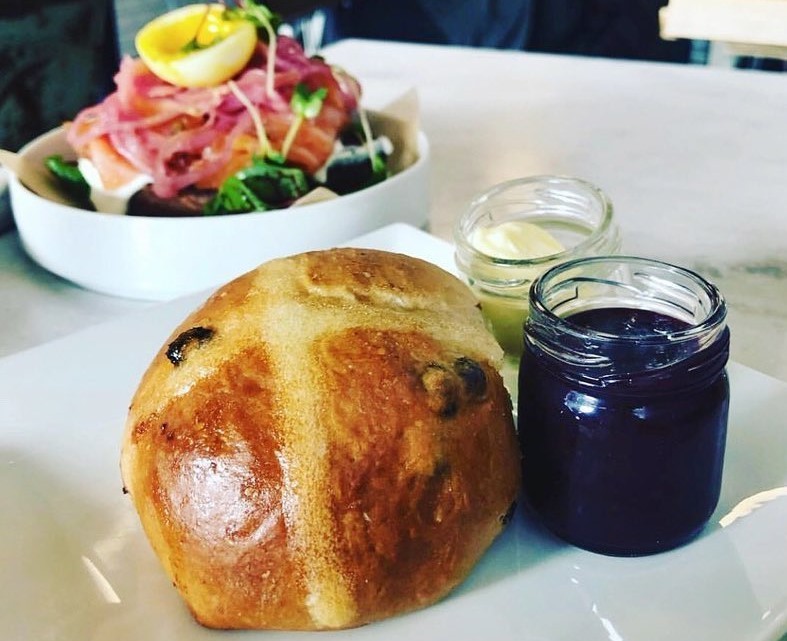 We've all been doing a lot of cooking lately. So why not celebrate the spring holidays by giving yourself a break from the kitchen prep and cleanup? (And relish the opportunity to support local restaurants, while you're at it.) Though family celebrations will undoubtedly be a bit different this year, there are plenty of spots whipping up holiday dishes that maintain tradition. Here are some of the local options to choose from:
Baltimore Chef Shop: Continuing its take-home dinners, this Hampden cooking school is offering an Easter package featuring baked ham, scalloped potatoes, green beans, and lemon pound cake. The dinner serves two people, and orders need to be placed by 8 p.m. the night before pickup. They can be placed on the school's website and picked up on Saturday and Sunday from 3-5 p.m. Customers can add on the hot cross buns make-at-home kit for another traditional Easter recipe. A portion of all proceeds will be donated this week to support Johns Hopkins hospitals.
The Charmery: The Charmery in Hampden and Towson will be celebrating both holidays with "Easter Egg" ice cream pies and pints, and pints of its signature "Matzah Brittle" flavor for Passover. Pies are priced at $30 and pints at $10, with $1 from each item purchased set aside to benefit employees.
The Corner Pantry: Mt. Washington favorite The Corner Pantry is offering a variety of Easter and Passover staples for curbside pickup or carryout. The full menu can be seen on its website, with items including grilled lamb chops, boulangere potatoes, deviled eggs, and hot cross buns. Options are subject to change based on availability. Orders can be placed online and picked up either at The Corner Pantry between 9 a.m. and 3 p.m. or at The French Paradox in Stevenson Village between 3 p.m. and 8 p.m.
Four Seasons Hotel: The Four Seasons Hotel will be celebrating Easter with a brunch takeout menu. Customers can choose their choice of an appetizer, salad, entre, side, and dessert to enjoy. A few featured menu items include crab deviled eggs, honey glazed ham, and whipped mashed potatoes. Orders can be called in at 410-223-1366, and are taken daily from 7 a.m. to 11 p.m. All orders must be placed by 11 p.m. on April 11, and curbside pickup is between 11 a.m. and 2 p.m. on April 12 at the front drive. Brunch is $89 for two, $149 for four, and $189 for six. The best part? For every meal purchased, the Four Seasons will provide a complimentary Easter meal to a Baltimore first responder.
The Gourmet Girls: Celebrate with this Owings Mills cafe and caterer, which has you covered for both holidays. Passover specials include "Seder Containters" that can be customized with options including roasted chicken, roasted brisket, matzo ball soup, Passover rolls, and chocolate-dipped macaroons. For Easter, indulge in turkey, ham, salads, desserts, and all the fixins'. Carryout orders can be placed by calling 410-581-4914.
La Cuchara: La Cuchara is making Easter easy with its special Easter experience meal. With a two-person minimum, diners can enjoy deviled eggs, mashed potatoes, green beans, sweet potatoes, artisan bread, braised lamb shoulder, and coconut cake for $49 per person. Customers can also add a bottle of wine from the restaurant's extensive list to the order. Orders must be placed at least 48 hours in advance, and picked up on Saturday, April 11 between 3 and 5 p.m. To place an order, the staff asks that you email and indicate the size of your party, payment method, and any dietary restrictions.
Lenny's Deli: In addition to its full menu, this Owings Mills institution is offering Passover specialties including homemade chopped liver, matzo ball soup, roasted chicken, and brisket with brown gravy. Order at least 24 hours in advance by calling 410-363-3353.
Orto: This Station North hotspot is celebrating Passover with cookies that are available for preorder for the holiday. The coconut macaroons and amaretti cookies with salted caramel buttercream are available in orders of 12 per type for $15. Cookie carryout begins at 3 p.m. on April 8 and orders can be placed via email. Orto will also be offering Easter dinner family packs for 2 to 10 people, in addition to its regular carryout menu. Easter dinners can be pre-ordered via email and picked up on April 12 between 1 and 6 p.m. Menu items include an arugula and pea salad, torta pasqualina, roasted leg of lamb, and pastiera for dessert.