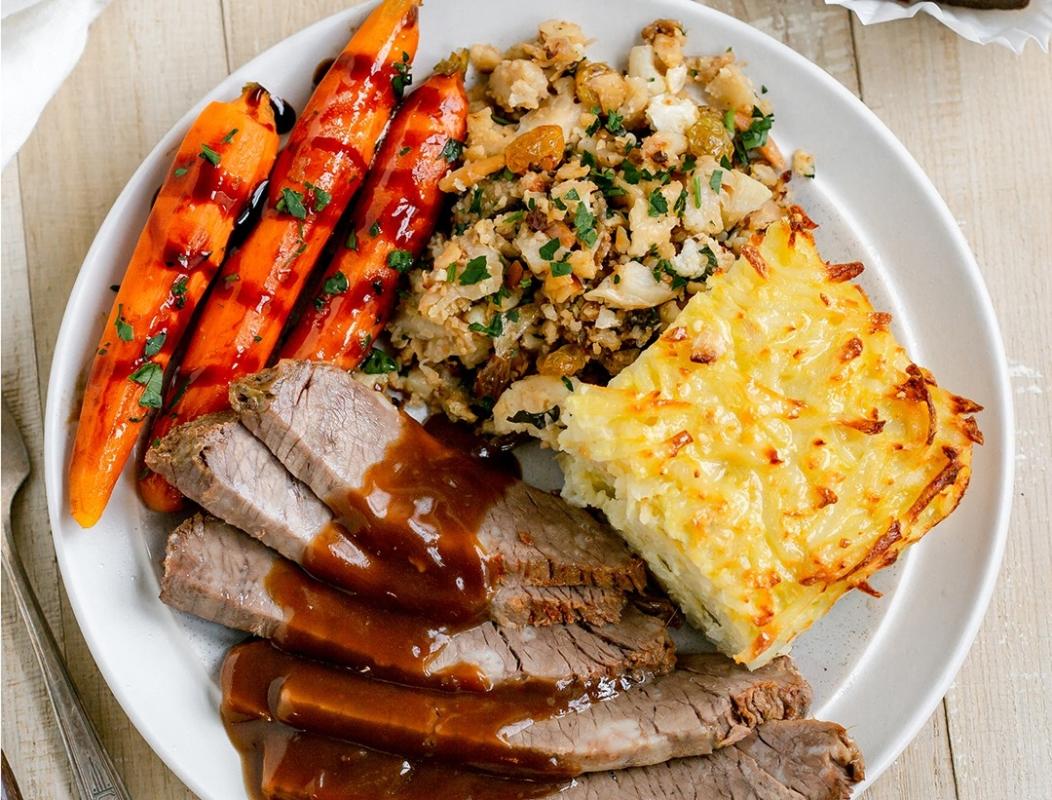 —Courtesy of Eddie's of Roland Park via Facebook
If you're still triggered by the loads of dishes that piled up after the winter holidays, this season is the perfect time to keep things easy-breezy. Take cooking off of your plate for the upcoming Passover (begins at sundown on Wednesday, April 5) and Easter (Sunday, April 9) holidays so that you can focus on spending quality time with loved ones. Thankfully, many local caterers, markets, and restaurants—scattered all over town like Easter eggs—are here to help. Check out our list of to-go specials and dine-in deals, below.  
Catered Seders 
The Classic Catering People: The Passover catering menu from this Owings Mills favorite will make hosting a piece of (unleavened) cake. A traditional Passover dinner spread features all of the goods, including a seder plate, matzo ball soup, grilled chicken, roasted veggies, and a flourless chocolate cake. You can also order individual dishes or plant-based options to combine all of your family's favorites. For dessert, you can't go wrong with matzo brittle in flavors like triple chocolate, raspberry almond, white chocolate, and toffee.
Eddie's of Roland Park: As usual, the chefs at Eddie's are hard at work preparing traditional recipes for the spring holidays. For Passover, choose from individual plates, a la carte sides, and desserts, or a full spread to feed a crew. The Passover in a Box and Seder for Six deals, for example, feature offerings such as roasted brisket with gravy, herb-crusted salmon, onion-thyme matzo kugel, braised sweet potatoes, marinated asparagus with pistachio-scallion gremolata, and coconut macaroons. Orders need to be placed 72 hours in advance. You can order in person or by calling 410-323-3656 for the Roland Avenue location, and 410-377-8040 for the N. Charles Street location.
Gourmet Girls: Set the table and have your Passover feast delivered to your doorstep by leaning on the talents of this Owings Mills caterer. Entrees include corned beef with maple brown sugar glaze, pepper-crusted beef tenderloin with horseradish aioli, vegetarian matzo ball soup, chopped liver, and homemade gefilte fish. The kosher-for-Passover dessert selection is impressive, too, with options like classic Mondel bread, an individual chocolate torte, or Passover chocolate rolls sourced from Bertucco's Bakery in Hampstead. Want the whole she-bang? Try the Seder in a Box, which includes a seder plate, matzo ball soup, your choice of an entree, two sides, and chocolate brownies. 
Lenny's Deli: From a classic breakfast platter to a fried chicken combo with fries, this Owings Mills fixture always has us covered when hunger strikes—and Passover is no exception. Though the holiday menu obviously nixes all of the chametz (so long for now, corned beef on rye), Lenny's is offering catered packages that feature brisket with brown gravy, oven-roasted chicken, or tender-cut beef, plus a number of sides. You can also tack on an order of matzo rolls, a sponge cake, or chocolate-dipped coconut macaroons. Orders can be placed by calling 410-363-3353. 
Easter Eats
The Classic Catering People: For Easter, Classic's prepared dinner includes staples like a half-glazed spiral ham, crispy fingerling potatoes, buttermilk biscuits, and festive cupcakes. There are also a ton of a la carte starters, entrees, and desserts (strawberry whoopie pies, anyone?) that you can customize based on your family's preferences and dietary restrictions. 
The Corner Pantry: Serve your guests the delightful culinary creations of this Mt. Washington favorite. Chef Neill Howell's menu features spring dishes that are just too good to pass up—including deviled eggs with pickled mustard seed; a carrot, feta, and thyme tart; grilled lamb chops drizzled with mint sauce; sausage-wrapped Scotch eggs; and lemon lavender poppy seed scones for dessert. The cafe is also accepting Passover pre-orders for its flourless chocolate cake, Orders must be placed by March 31 and are only available for pickup.
Eddie's of Roland Park: Just like its Passover offerings, Eddie's Easter in a Box meals include a full selection to feed a group. (Think: hand-carved ham, a frisée salad with local goat cheese, chive corn souffle, and a coconut cake.) If you want to DIY your brunch or dinner, choose from other options like ham and gruyere strata, spring vegetable lasagna, crab meat quiche, mini strawberry scones, or a charcuterie-inspired Easter picnic plate. Orders need to be placed 72 hours in advance. You can order in person or by calling 410-323-3656 for the Roland Avenue location, and 410-377-8040 for the N. Charles Street location.
Gundalow Gourmet: With retail locations in Hampden and Towson, this prepared food purveyor is a go-to for holiday prep. For Easter, the Gundalow chefs are whipping up dishes such as an asparagus goat cheese leek quiche, eggs benedict casserole drizzled with hollandaise, and a sweet lemon blueberry cheesecake French toast. They also offer matzo ball soup for Passover, as well.
Santoni's: Hosting at your house this year? Don't sweat it. Order dinner from this Glyndon market for five to 10 people. Each meal comes with a baked ham dressed to your liking, plus dinner rolls, mini deviled eggs, and your choice of three sides. Sweets on offer include a fruited Boston cream cake or a bunny-shaped cake perfect for little ones. Orders must be placed by April 5.
Easter Sunday Sit-Down Specials
Baltimore Chef Shop: Switch up your regular Easter Sunday routine with a crepe-making class led by the experts at this Hampden kitchen. For $83, whip up your own mid-morning meal while gaining skills that you can keep for holidays in the future. More details to come as the event gets closer. Apr. 9. 9:30 to 12:30.
The Belvedere Hotel: While The Owl Bar will be closed, Mt. Vernon's storied hotel will be hosting an egg-cellent brunch buffet in its Charles ballroom. While sipping cocktail specials, munch on oven-fried chicken, honey-glazed ham, pomegranate Brussels sprouts, and more. Kids are welcome to a buffet of finger foods, too. $72 per adult, $35 per child, 10 a.m. to 3 p.m.
The Four Seasons Baltimore: Get your brunch on in the lavish dining room at The Four Seasons in Harbor East. The food and beverage team is whipping up dishes such as banana pancakes, a spring squash ratatouille, and brown butter mashed potatoes. Guests can also fill their plates with fare from separate omelet, shellfish, dessert, and meat-carving stations.
Gertrude's Chesapeake Kitchen: Throughout Easter weekend, chef John Shields and his team at Gertrude's at the BMA are serving up their full brunch menu with a few specials, including a braised lamb shank omelet and a smoked salmon quiche. 
Rec Pier Chop House: Just in time for the holiday, the swanky steakhouse inside the Sagamore Pendry in Fells Point is bringing back its Gospel Brunch series, every Sunday from April 2 to May 7, with a Southern-influenced menu curated by chef Colin King. While humming along to live choir music, indulge in a buffet spread that will offer scrambled eggs, bacon, barbecue shrimp, cheddar grits, chicken sausage, Old Bay potatoes, collard greens, oysters on the half shell, and more.
Gunther & Co.: Hop on over to this Brewer's Hill beauty for a two-course Easter spread. To start, choose from options like creamy crab soup, crispy pork belly and fried oysters in a lemongrass sauce, whole milk burrata topped with a strawberry-rhubarb compote, Vietnamese shrimp and scallop cakes, or a lemon-blueberry pound cake with citrus curd. For the main event, options include a roasted leg of lamb drenched in a mint curry sauce, pineapple and coconut French toast, farm scrambled eggs, and the famous smoked salmon everything flatbread.
The Manor Tavern: This Monkton stalwart has long been an Easter brunch destination, and this year is no exception. Throw on your Sunday best to dig into the signature all-you-can-eat buffet, featuring omelets made to order, chef carved leg of lamb and prime rib, a syrup-drenched French toast casserole, and more. You can also book a reservation for dinner with dishes off of the regular menu.
Nacho Mama's: On Saturday, April 8, the Easter bunny is arriving early for photo ops at the Towson location of this Tex-Mex hangout. From 11 a.m.-2 p.m. all kids will eat free with the purchase of an adult entree. On the big day, head to either location in Towson or Canton for a la carte specials including Maryland crab soup, lobster tacos, seafood paella, and fish quesadillas. In Canton, you can wash down all of the eats with a "Malibu Bunny," one of three holiday cocktails that fuses Malibu with strawberry puree and lemonade and comes garnished with a festive Peep.
NiHao Baltimore: At this authentic Chinese food staple in Canton, guests can enjoy dim sum dishes, Shanghai noodles, and sizzling black pepper scallops, as well as classics like Peking duck. The dim sum menu will be available throughout the weekend, or you can order a la carte. 
Rusty Scupper: A longtime Easter favorite, this dining destination offers a hearty buffet to be enjoyed against the backdrop of the sparkling Inner Harbor. From 10 a.m. to 6 p.m., the spread will highlight a raw bar, prime rib of beef with horseradish sauce, buttered lobster with smoked gouda cheese grits, P.E.I. mussels with pesto butter, herb-crusted leg of lamb with mint chimichurri, and made-to-order omelets. Plus, the price of admission ($38-$75) includes complimentary mimosas, bellinis, and red sangria.  
La Cuchara: Inspired by the flavors of northern Spain and France, this Hampden hotspot is offering a three-course menu that features entrees like grilled steak with black garlic butter, caper brown butter sole with haricots verts, and wood-grilled cabbage with roasted garlic labneh. Not convinced? The dessert menu (rose pavlova with lychee-raspberry mousse or a chocolate pistachio bombe with blackberry coulis) might sway you. Plus, take advantage of the restaurant's Sunday wine special with half-off bottles priced over $100. $48 per person, 11 a.m.  to 7 p.m.
McFaul's IronHorse Tavern: Come hungry to this Parkville community favorite for a brunch buffet from 10 a.m. to 3 p.m. You can also enjoy the regular menu offered afterwards until 7 p.m. Make your reservations and keep an eye out for the finalized Easter menu reveal as the holiday nears.
The Milton Inn: This Sparks gem invites you to spend Easter dinner in its cozy dining room inspired by old French hunting lodges. All of the dishes from the regular menu are available, including Dover sole bathed in lemon brown butter or the classic French onion soup drowning in cheese and caramelized onions. Try one of the bar's signature cocktails, like the martini Maison, to complement your feast.
Woodberry Tavern: Woodberry Kitchen's new, scaled-back tavern concept is ringing in its first Easter with a Southern-inspired spread, featuring juicy ham carved to order, an Easter eggs benedict, and fluffy buttermilk pancakes. If you're sticking with tradition, be sure to try the fresh-baked hot cross buns and biscuits, as well. The all-inclusive price of $50 includes a welcome cocktail and Easter baskets for the kids.