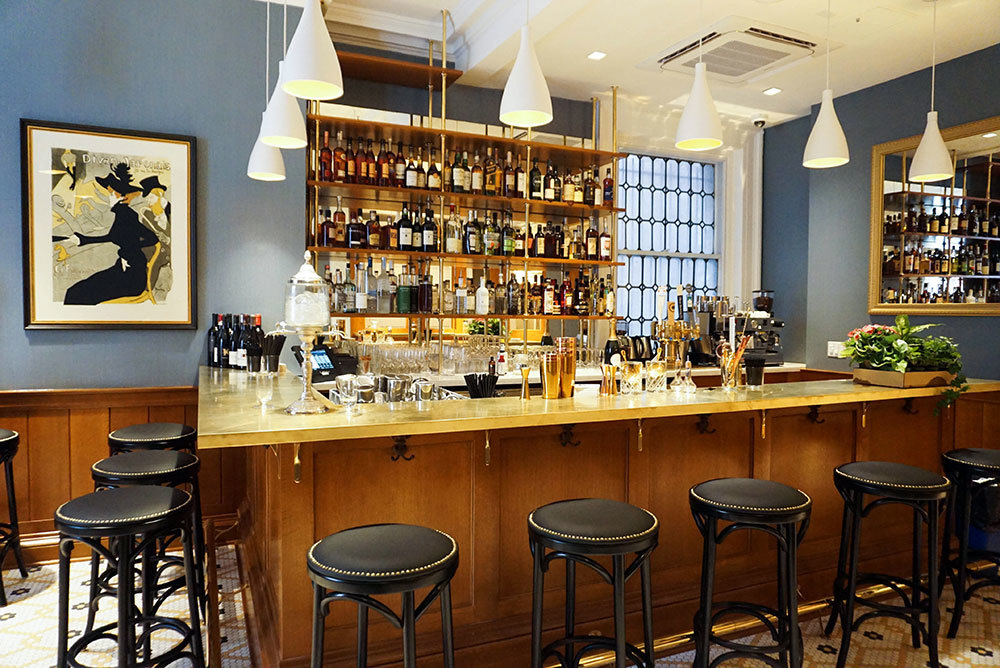 Chez Hugo
One evening after local developer Scott Helm finished a meal at Arômes in Hampden, he put in a request to speak with the chef.
 
"Our server Gilles [Mascarell] came back to the kitchen and asked me to come out and talk with him," recalls chef Steve Monnier. "And I was just like, 'It's Saturday night, I don't have time.'" 
Little did Monnier know, Helm was looking for someone to head up a new restaurant at a historic property that he had acquired downtown. Luckily, Helm came back for another meal with his family soon after.
  
"He was like, 'Do you have time now?'" Monnier recalls, with a laugh. "We talked about it, and I came out to see the space and fell in love."
 
Monnier closed Arômes in November to fully focus his energy on the new project, Chez Hugo, which is named after Monnier's son and makes its official debut next week (reservations are full for opening night on Saturday, but the spot will reopen for dinner service Tuesday) inside the historic Merchants Club building at 206 E. Redwood Street downtown.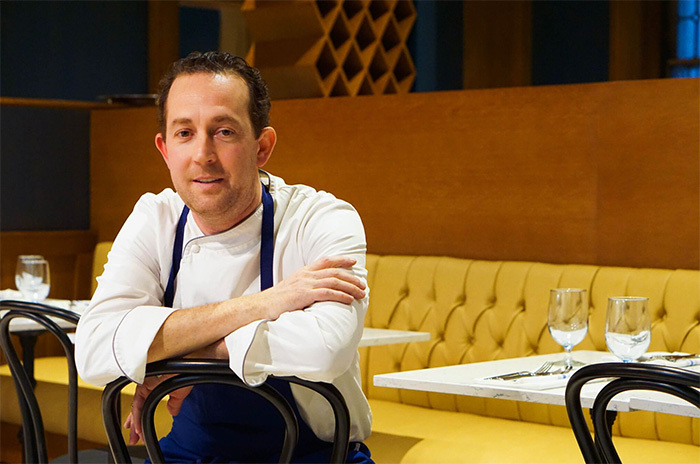 The building neighbors the Chesapeake Shakespeare Company, where Helm sits on the board. Monnier is looking forward to providing a pre-show dinner spot for theater-goers, as well as partnering with the troupe for special events—like a kids' tea party that will precede an April performance of Alice in Wonderland.  
The property's early 20th-century roots shine through in the bistro's layout, which preserves touches like dark wood moldings and vintage sliding doors. But designer Matthew Compton of local firm Foundry Architects had his work cut out for him when transforming the space—which was most recently used by Baltimore International College—into a full-fledged restaurant.  
Compton, whose work is also showcased at Parts & Labor and Belvedere Square Market, added elements like an open kitchen with a wood-burning hearth oven, private tasting room, main dining area with marble tabletops and yellow banquettes, and custom-made floor tiles to evoke a classic bistro feel. The 4,000-square-foot space can accommodate 60 people, with an additional 15 seats at the front bar.  
Though Monnier says that the bigger space provides an opportunity to continue his commitment to local sourcing (he frequently works with Monkton's Karma Farm), the experimental dishes that he became known for at Arômes will no longer be the focus at Chez Hugo. Instead, he is taking a classic approach to bistro fare.  
"It's a continuation," he says. "With Arômes, it made me realize that you cook for the people of the city, you don't cook for yourself. Here, I want to make sure I don't scare people. I want to go classic first, and then evolve later."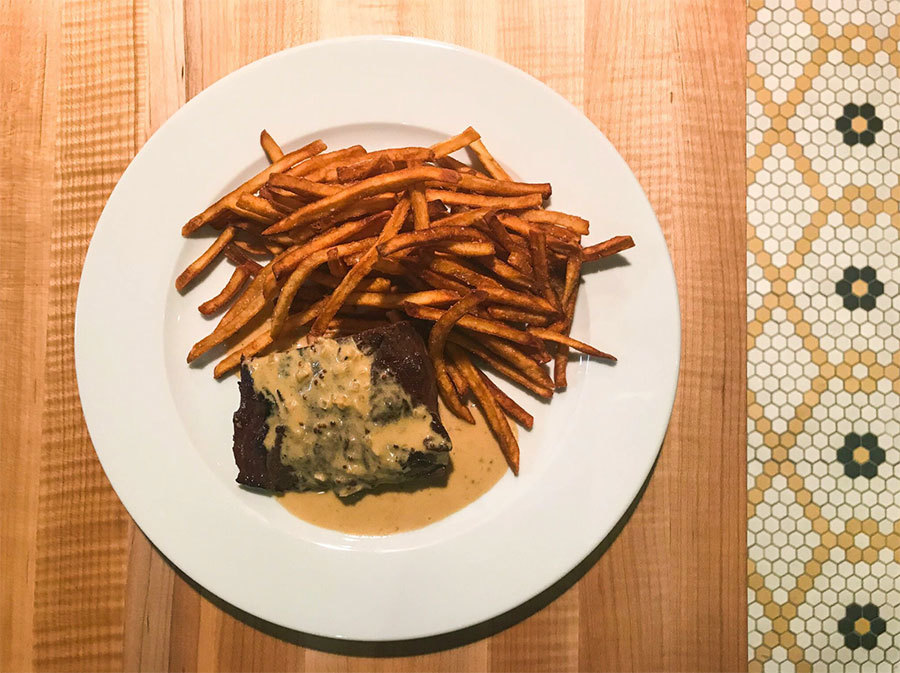 In the kitchen, Monnier, along with chef de cuisine Jeff Schultz, will take inspiration from many different French regions and rotate dishes seasonally. The opening menu, which includes a daily plat du jour, features takes on classics such as escargots with butter and parsley, grilled hanger steak frites, winter squash wrapped in brioche, foie gras terrine, and duck pithivier—which Monnier describes as a savory King Cake. In-house pastry chef Theresa Louis will craft desserts like chestnut mousse with an almond macaron and maraschino caramel.  
"Yeah, you're going to find things like onion soup," Monnier says. "But food is like fashion—it evolves. With French cuisine, we're reinterpreting things all the time."  
Accompanying the food will be a bar program led by beverage director Adam Litchfield, a 15-year industry veteran who followed Monnier from Arômes. The bar is equipped with four taps, two of which will be devoted to regional beers from Oliver Brewing Company and Right Proper Brewing. The others will either be rotating local varieties, or French brews.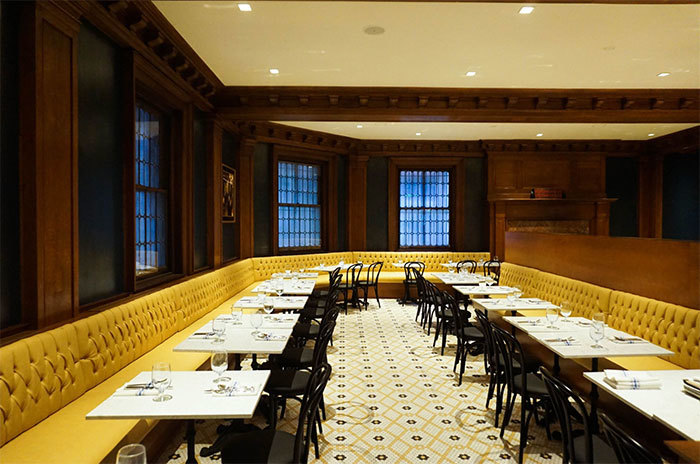 The cocktail menu will also reflect the theme, incorporating French spirits like pastis and chartreuse. One of Litchfield's signature drinks, "Rimbaud's Vice," is named after famed poet Arthur Rimbaud from Reims—the same region as Monnier—who "was legendary for sitting around drinking absinthe in the middle of the afternoon," Litchfield says.  
Of course, Litchfield's wine list has a French slant, but also includes approachable picks.  
"Some people just want to come in and drink a California cab," he says. "We want to make sure everyone feels welcome. Generally, there is this perception that French food is stuffy and fancy. We really want to emphasize that everyone who walks through the door is going to have a great meal."  
Above all, the staff stresses how important it is for the space to be inviting.  
"There are no VIPs," adds general manager Chad Gentile. "If a couple saves for an entire year to come out for one dinner, it should be just as extravagant as if the President of the United States comes."