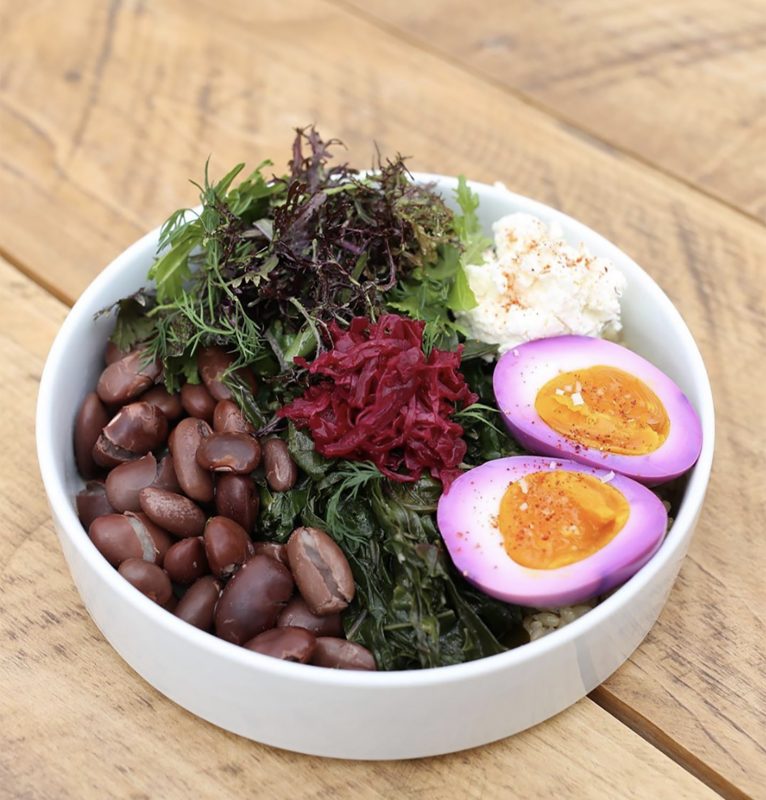 We're almost one month into 2020 and it already feels lighter and brighter. Of course, we all still have our rainy days, but it seems the collective energy is elevated. It helps that there seems to be a spotlight on bringing "wellness" to all areas of life, including our homes, work, workouts, and our plates. Locally, shops and restaurants are starting the year out strong by tapping into these philosophies. Here, we break down four food and drink trends to look out for in 2020 and where to make the most of them around town.
Eco-Friendly Foods
As more information becomes available, restauranteurs and consumers alike are looking for more environmentally-friendly ways to enjoy their favorite things.
"We want people to feel curious about how to eat more sustainably, not intimidated," says Helena del Pesco, owner of eco-conscious eatery Larder in Old Goucher. "It can feel hard to change habits, even when we know it's the right thing to do."
Recently, Baltimore City has made efforts by banning styrofoam and plastic-bags at retail locations, but the team at Larder is taking it a step further by working with the collectors at Compost Cab to keep their operation almost completely compostable. According to the United Nations Food and Agriculture Organization, if food waste were a country, it would be the third-largest greenhouse gas emitter, generating the emissions of more than 37 million passenger vehicles.
Larder's kitchen scraps, to-go containers, napkins, and utensils are composted at Real Food Farm and processed into soil that can be used to fertilize community gardens and parks.
"Yes it's an added expense, but ultimately it benefits all of us as opposed to creating a burden for future generations," Del Pesco says. "I grew up learning the three r's: Reduce, Reuse, and Recycle. Recycling has proven to be problematic…but composting, if done right, can actually turn our waste into a resource."
Climate conscious locations across the area are also including more local, seasonal ingredients to cut down on the carbon emissions that come with food transport. Cunningham's in Towson (whose restaurant is currently under renovation, but downstairs cafe is open for business), cuts out the middle man by sourcing most of its produce and meats from its own farm, located just minutes down the road in Cockeysville. With traditional, sustainable farming methods and organic feed, Cunningham's farmers work to cultivate items that lessen the restaurant's carbon footprint.
Seafood fans also know sister spots True Chesapeake Oyster Co. and The Local Oyster as other examples of regional sourcing. The True Chesapeake oyster farm, located in St. Jerome Creek in Southern Maryland, provides not only delicious, meaty mollusks, but a critical habitat for the surrounding ecosystem. Plus, they help clean up the Bay. According to the National Aquarium, a single oyster can filter up to 50 gallons of water in one day.
Mighty Mocktails

We noted the rise of non-alcoholic cocktails last year, and 2020 is proving to be even more accessible to the sober-curious: "We have certainly seen an increase in guest requests for interesting mocktails," says Rye Street Tavern beverage manager Scott Kollig. "We have a growing collection of recipes behind the bar that our team has created in the moment."
With mocktails, diners can enjoy all the things that come with social outings without the added baggage. This includes wellness effects across the board—from immediate issues like weight gain, loss of sleep, and hangover pains to long-term health problems like risks of heart disease, high blood pressure, cancer, and alcoholism. Hotel Revival just launched a "Zero Proof and Zero Judgement" menu to create a safe, fun space where guests can enjoy themselves, regardless of their drinking preference. A study published in 2018 shared modest health benefits that a group of adults experienced when they stopped drinking, even for just one month.
And it's not just your traditional Shirley Temples and fancy lemonades. Bartenders are stepping up their game, creating decadent, inspired creations. La Food Marketa has more than eight slushies and mocktails that incorporate ingredients such as blood orange, acai, dulce creama, and muddled basil. Woodbery Kitchen uses watermelon honey, lemon balm verjus, hibiscus tea, and egg whites.
"We have a few 'pocket' mocktails that we utilize as good go-to drinks, but we often simply ask guests what flavors they enjoy or don't enjoy and will build something bespoke for them," Kollig adds. "We have various syrups that are non-alcoholic that we can use to elevate the typical citrus flavors, but by far the biggest advantage we have is using Fee Brothers Bitters. Most bitters are alcohol-based, but Fee Brothers are glycerol-based in flavors like plum, cherry, black walnut, and even celery." Check out a few of our favorite recent mocktails here.
Functional Beverages

After the passage of the farm bill that legalized hemp across the country, we've seen CBD start popping up everywhere. CBD, short for cannabidiol, is a non-psychoactive compound extracted from hemp plants. It provides relaxing and sedative effects and it is commonly used to address a variety of symptoms including anxiety, insomnia, inflammation, chronic pain, and depression.
According to the World Health Organization, CBD exhibits "no effects indicative of any abuse or dependence potential." In Hampden, Artifact Coffee and Vent Coffee Roasters have CBD on their menus as an add-on for hot and cold beverages.
Although you may be hearing more about CBD, it's not the only drink infusion making a splash on Baltimore menus. At Plantbar's locations in Brewer's Hill and Towson, they've added collagen to their lengthy list of wellness add-ons that also includes chlorella, oregano oil, turmeric, and spirulina.
"Collagen is a major building block of skin, bones, muscles, tendons, and ligaments," says Plantbar owner Daniela Troia. "We use it in our upgraded coffees—basically a kicked up bulletproof coffee—and it can be added to smoothies."
A recent report shows that collagen supplements can increase skin elasticity and hydration. It can also help support joint and bone health, protect lean muscle, and build healthier hair and nails.
If you need an energy boost, Baltimore-based brewery Wild Kombucha has expanded on their offerings to include Icaro Yerba Maté blends. While kombucha has been adding natural probiotics to diets in recent years, the yerba maté extract blended into these new organic green tea beverages is a popular caffeine pick-me-up traditionally used in South America.
Plants, Plants, and More Plants

Plant-based items were also a top highlight in 2019 and continue with increased intensity. Vegetarian and vegan options are flooding the city and new blends are helping flexitarians take steps toward more plants, without making the full switch.
With this in mind, many Baltimore locations are expanding their veggie options, but keeping some of the meatier flavors and textures. At the newly opened Annoula's Kitchen inside Cross Street Market, diners can grab an open-faced Chickpea Melt on sourdough. North Avenue Market provides meat-like flavors without meat in their rotating specials, like the current Broccoli over Mushroom Duxelle. At Snake Hill in Canton, you can taste a variety of homemade sausages, including three non-meat options like the Smoked Apple Sage made with golden potatoes, as well as an Italian made with eggplant and fennel.
Baltimore is on-trend with leading chefs across the country who are looking to add healthier, planet-friendly options like these. The James Beard Foundation has even created The Blended Burger Project, a movement that encourages chefs to blend at least 25 percent mushrooms into burgers. Tying back to sustainability, this switch could reduce agricultural production-related greenhouse gas emissions and irrigation water demand. Plus, it could reduce global agricultural land demand by more than 14,000 square miles, an area larger than our state of Maryland.