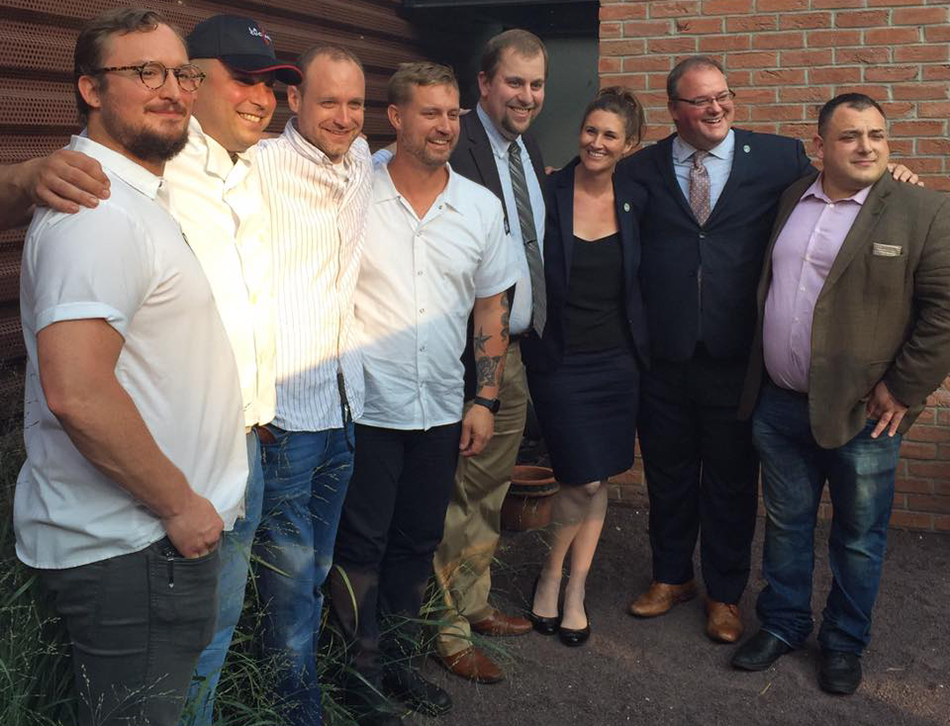 Photography by Kit Waskom Pollard
Last year, sommeliers Tim Riley of Fleet Street Kitchen and Julie Dalton of Wit & Wisdom put their heads together to dream up a way for diners to experience a handful of the city's top culinary destinations by making only one reservation.
The result was Fork & Cork—a sold-out series of monthly dinners that brought six local chefs and sommeliers together to fuse their styles into one multi-course meal.
Now, Fork & Cork 2.0 is gearing up later this summer, with Riley and chef Chris Becker of Fleet Street, Dalton and chef Zack Mills of Wit & Wisdom, and Chris Coker and chef Bryan Voltaggio of Aggio all back on board to participate. Joining the pack this time around is La Cuchara's chef Ben Lefenfeld and advanced sommelier Greg Schwab.
"It's been really nice to get to know a lot of the other chefs in the area over the past two years—these guys especially," Lefenfeld says. "We've all done different events under the same roof, but not necessarily where we executed a meal together. So it will be interesting to work together to come up with food that's going to knock people's socks off."
Each installment will take place at one of the four restaurants and feature a collaborative five-course meal. The chef and pastry chef from the home restaurant will prepare a main course and dessert, the visiting chefs will be responsible for the additional three courses, and the sommeliers will work together to curate a list of pairings from the home restaurant's cellar. The series kicks off with the first dinner at Aggio on August 16.
"The guest is the true winner here," Coker says. "You really get to see all of our personalities come to life."
The launch of Fork & Cork 2.0 comes at a particularly exciting time for Coker, who recently earned the distinction of Advanced Sommelier from the Court of Master Sommeliers. He is one of only three professionals in Baltimore to achieve such a distinction—the other two being his colleagues (and close friends) Dalton and Schwab.
Coker says that he wouldn't have been able to succeed without the support of the tight-knit community of local sommeliers, which was pioneered by Dalton when she started a peer tasting group in 2012.
He says that the process of taking the three-day exam—which covers service, blind tasting, and theory—was intense, and that he was a bit skeptical when he was summoned to receive the results.
"It takes a village to get that pin," he says. "Especially for the advanced exam, you want people to challenge you daily and push you forward. When I found out I passed I was totally silent. I said, 'Can you make sure my name is really on that piece of paper?'"
On the heels of earning the prestigious distinction, Coker is excited to take a break from studying and enjoy teaming up with the other sommeliers for the upcoming events.
"We're complete nerds when it comes to wine," he says. "We think about it in terms of structure and flavor profile, and that's why there will never be a bad pairing at Fork & Cork."
Following the launch at Aggio, the next installments will take place on September 13 at La Cuchara, October 18 at Fleet Street Kitchen, and November 15 at Wit & Wisdom. Admission for each event is $115, and guests who purchase tickets for all four dinners will receive a $20 gift certificate to each restaurant.
While the Fork & Cork menus are still in the works, Lefenfeld assures that each meal will be one of a kind. He says that, aside from getting the chance to explore the other chef's kitchens, he's most excited to play a role in providing such a unique experience to diners.
"I've done brief tours of the kitchens at Wit & Wisdom and Fleet Street and they both have a lot of fun toys to play with," he says with a laugh. "Special events like this are the ones that people should be excited about. We always over-deliver for people who indulge in this type of experience."