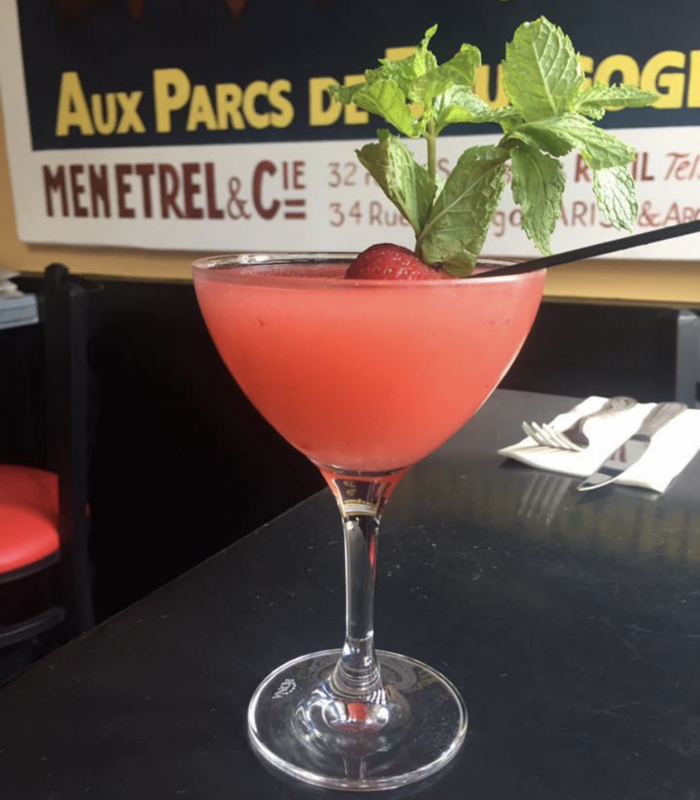 Courtesy of La Folie Steak Frites & Wine Bar
Chilled rosé has always been a popular summer sip, but now, Frosé—the frozen iteration of the pink pleasure—has escalated the wine to another level.
While some oenophiles might be quick to compare the wine slushy trend to that of the pumpkin-spice latté (social media maven Josh Ostrovsky's White Girl Rosé pokes fun at the "basic" stigma), there's no denying that the icy treats are ideal for cooling off during summer scorchers.
"There are definitely people who take one look at it and say, 'Oh no, I'm not interested in that at all,'" explains veteran bartender Doug Atwell, who serves the frozen drinks at Blue Pit BBQ in Woodberry. "I don't know where that comes from, but I don't make excuses for my guilty pleasures. If you enjoy something, you shouldn't apologize."
A handful of bartenders and restaurant owners seem to agree, as Frosé begins to surface on beverage menus all over Charm City.
Bill Irvin, a local restaurateur and early pioneer of the trend, first thought of freezing his wine while kicking back outside on a torrid afternoon last summer. He remembers plunking ice cubes into his rosé in an effort to beat the heat, and later attempted to freeze the wine in a baking dish. 
"It ended up splashing all over my freezer," Irvin remembers, mentioning that he also tried using ice trays. "It was a mess."
After getting his hands on a commercial-sized Slurpee machine, Irvin tried again, mixing the wine with a bit of strawberry pureé to add sweetness to the famously dry blend. This time, he was happy with the consistency: "I tried it and was like, 'Oh man, this is good.'"
Irvin—who is now finalizing the process of trademarking the term Frosé—later introduced the product to Canton hotspots La Folie Steak Frites & Wine Bar and The Dockbar at The Boathouse Canton. He says that any rosé works well, but a blend with a bit of a deeper color is ideal so that it maintains its vibrancy after it's frozen. 
"We were averaging 12 liters a day at La Folie," says Irvin, a former partner in the Canton restaurant. "It's become such a gigantic rage not only in Baltimore, but all over the world." 
Local bartenders have different ideas about what makes the drink so intriguing. Kevin Curley, the chef/owner of RegionAle in Ellicott City, says that the wine slushy trend piggybacks off of the popularity of its frozen predecessors. 
"Frozen drinks have always been such a big thing in the summer, most people are just used to it being a piña colada or strawberry daiquiri," he says. "But wine is becoming more popular, so mixing the two together has really caught on."
As a Cornell grad who spent a lot of time exploring wine country in upstate New York, Curley enjoys putting his own spin on the trend, experimenting with different house-made purée flavors, herbs, and juices. He notes his coconut-lime concoction, blended with basil and lemon, as a recent customer favorite.
Atwell, who has been mixing up boozy slushies at Blue Pit BBQ since last month, is a firm believer that diners eat (and drink) with their eyes first. 
"There's a visual element to seeing the machine running behind the bar," he says, adding that the cold drinks have also been a good way to complement the restaurant's outdoor patio. "A lot of times when people ask what's in it—before we even get through the description, they're like, 'Yup, I'll have that.'" 
Atwell's unique take on Frosé fuses Vinho Verde rosé, house-made strawberry pureé, and tequila. He has also recently debuted an icy version of the traditional Pimm's Cup, which features lemon, mint, and his signature cucumber-infused vodka. 
Irvin is going more of the commercial route, planning to unveil freezable bags of Frosé and FroBlanc (a white wine iteration that fuses Riesling with peach purée) in retail markets in 2018. 
"It reminds people of the Slurpees they drank when they were kids," he says. "And it's a great way to introduce wine to people who have never been into it before."