Spoonfuls of Sugar
Karen Segall enjoys the sweet life.
On a bright fall day in October, Karen Segall's stately, 1930s-era Stevenson home is filled with the sweet smell of scented candles. But most days, especially on Sundays when she's putting together care packages, it smells like some heavenly combination of breakfast treats, such as her son Ben's favorite banana chocolate-chip pecan muffins; cookies, like her daughter Annie's favorite chocolate-chip variety; or cakes coming straight out of the oven.
"With my kids away at college, every Monday, I'm at the post office mailing them care packages," says Segall. "It's the smell of the butter and sugar and things baking in the oven that they say they miss most."
And while the ultra-lithe yoga teacher insists that she eats sweets on a daily basis, she finds even more pleasure in sharing her sweets with others.
"There's a joy to me in giving them to someone," she says. "I can't explain it—there's nothing better when someone is having a hard day than giving them lemon bars or something that is evocative of love—it's just a simple thing to do for someone and easy way to make them feel good."
For Segall, who even helped design and make her own wedding cake 24 years ago—a lemon cake with buttercream filling and fresh flowers—baking is in the blood. Growing up in Pikesville, her maternal grandparents owned The Gourmet Shoppe, a well-known fine foods store in Towson.
"I grew up there," recalls Segall, who shares her home with her husband, Andy, a commercial real-estate broker, and dog Dash, named after Queen Victoria's King Charles Spaniel. "I loved being in that store, it was like a second home for me. My uncle also owned a bakery off of Menlo Drive in Baltimore that supplied baked goods to many bakers and grocery stores, and I used to beg my parents to let me hang out there. I'd make rainbow cake and chocolate-top cookies—Maryland has the best desserts."
Segall is a modern-day Betty Crocker, as she effortlessly whips up baked goods—pies, tortes, cookies, spelt and rye breads, and even a complicated multi-tiered Momofuku cake for Ben's 18th birthday—in her elegant English-country style kitchen.
"I'm a serviceable cook," she says modestly over grilled cheese and a bowl of tomato soup, "but I'm not really passionate about it. I prefer baking to cooking—cooking can be more imaginative. In baking you have to follow the rules—it's like chemistry. To me, there's nothing better than dessert." And that includes something sweet over something savory at the dinner table. "Sometimes Andy will come home and ask, 'What's for dinner?' and I'll say, 'Cookies!'" she says with only a trace of irony in her voice.
Much like the yoga classes Segall teaches at an area private school, baking is a form of meditation for her. "It's very relaxing," she says. "The actual process of baking is soothing, and there's instant gratification—you make it, you put it in the oven, the smell is instantaneous."
Above all, says Segall, it's the rules of baking that appeal most. "I have always loved Food Network host Alton Brown because he explained the chemistry of cooking," she says. "You always add dry to wet, not wet to dry, for example. If you follow the rules—put this together and that comes out—that's what I love about it. When you bake, it's like the universe makes sense."
Here, Segall shares some of her favorite recipes:
---
Dark Chocolate Bread Pudding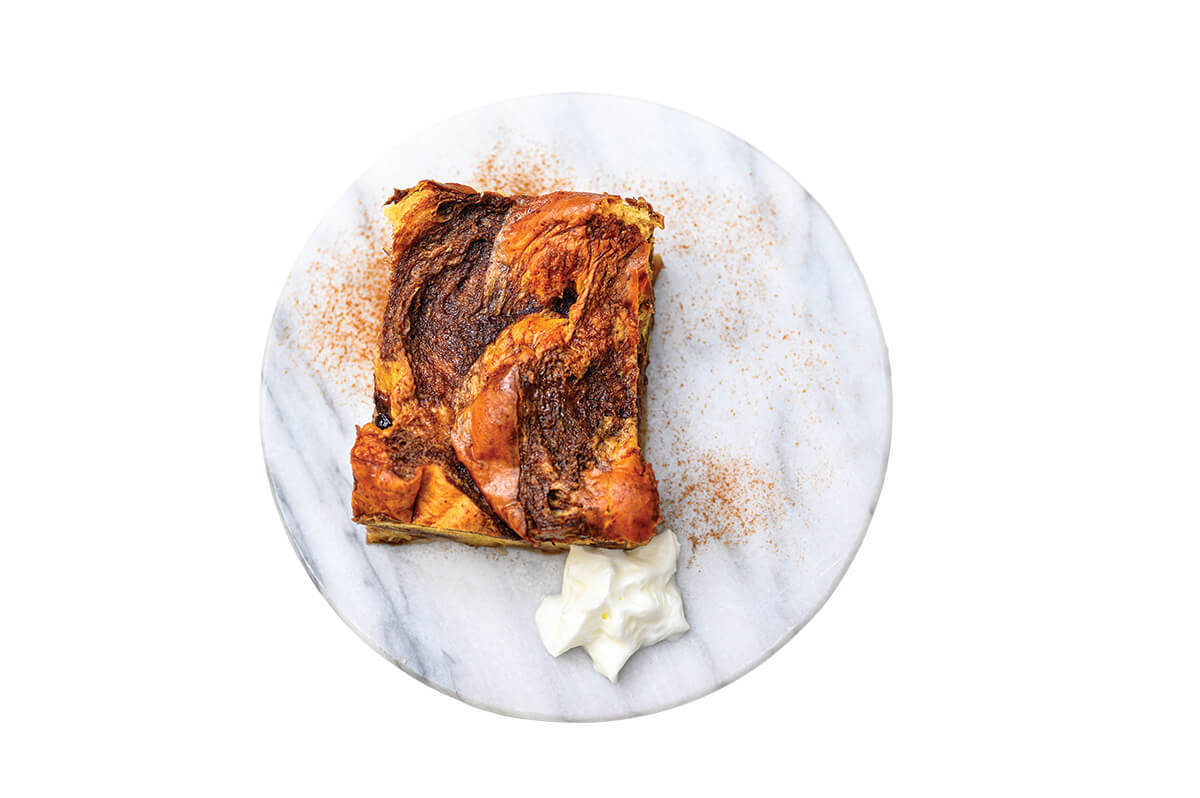 INGREDIENTS
Unsalted butter, room temperature (for the baking dish)
1 pound day-old brioche (or challah), sliced 1⁄2 inch thick
3 cups whole milk
10 ounces good semi- sweet chocolate, coarsely chopped
1⁄2 cup sugar
1 teaspoon vanilla extract
1⁄2 teaspoon kosher salt
6 large eggs
DIRECTIONS
Preheat oven to 325 degrees.
Generously butter a 13×9 baking dish
Arrange bread in dish, overlapping as needed to fit.
Heat the milk, chocolate, sugar, vanilla, and salt in a heatproof bowl set over a saucepan of simmering water, stirring until the chocolate is almost completely melted, about three minutes.
Remove chocolate mixture from heat and stir until the chocolate is completely melted. Let cool.
Add the eggs, one at a time, to the chocolate, whisking to blend after each addition.
Pour over the bread, pressing to help the bread absorb the liquid.
Let sit at room temperature about one hour.
Bake uncovered until the bread pudding is just set, 30-35 minutes.
Let cool slightly and serve warm, with whipped cream if desired.
---
Lemon-Ricotta Cake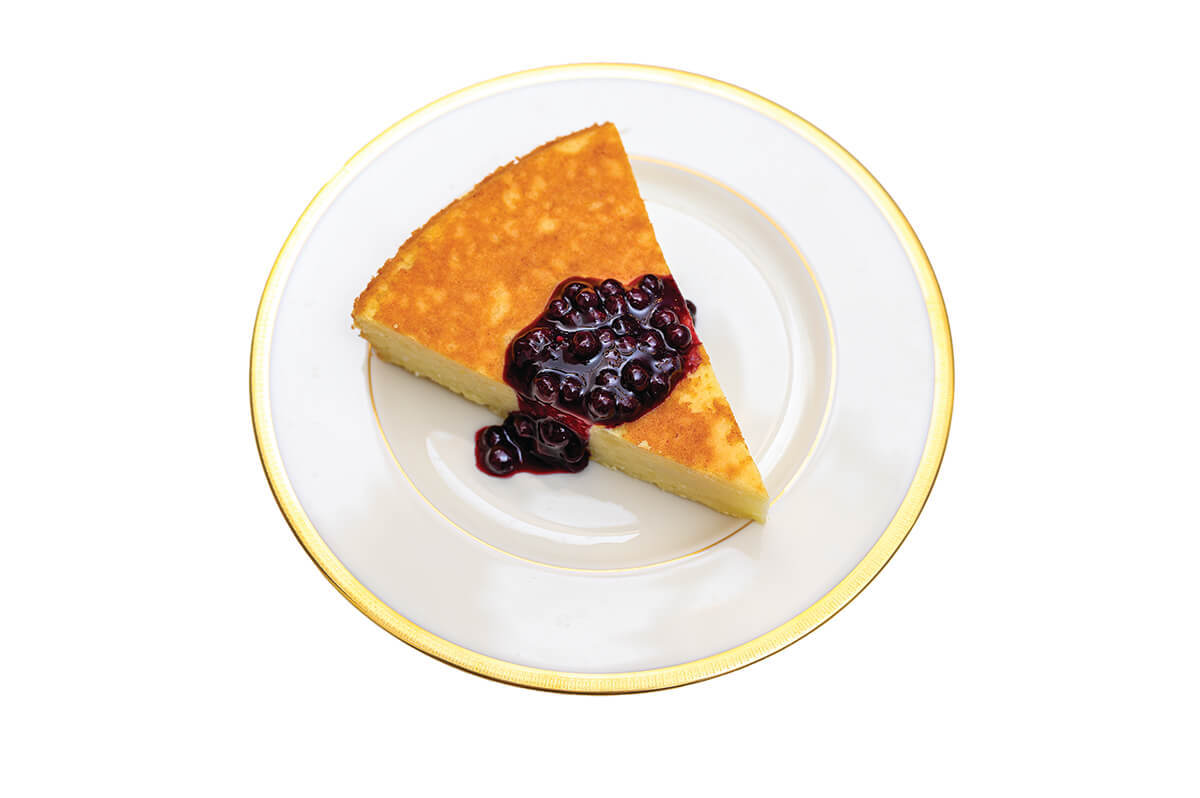 INGREDIENTS
3 tablespoons unsalted butter
1 quart whole milk
1 3⁄4 cups semolina flour
1⁄2 teaspoon kosher salt
1 3⁄4 cups sugar
1 large lemon, zested
4 large eggs
2 cups fresh ricotta cheese, strained
DIRECTIONS
Preheat the oven to 325 degrees.
Butter an 11-inch round cake pan.
Heat the milk in a saucepan over medium heat until just simmering.
Whisk in the semolina and the salt. Boil, stirring constantly, for two minutes.
Remove the pan from the heat, add the sugar and butter, stirring until combined.
Transfer the batter to a mixing bowl to cool, stirring frequently to prevent
a skin from forming. When the batter has cooled a bit, stir in the lemon zest.
Beat in the eggs slowly, one at a time, until combined.
Beat in the ricotta.
Pour the batter into the pan and bake for one hour until set and golden.
---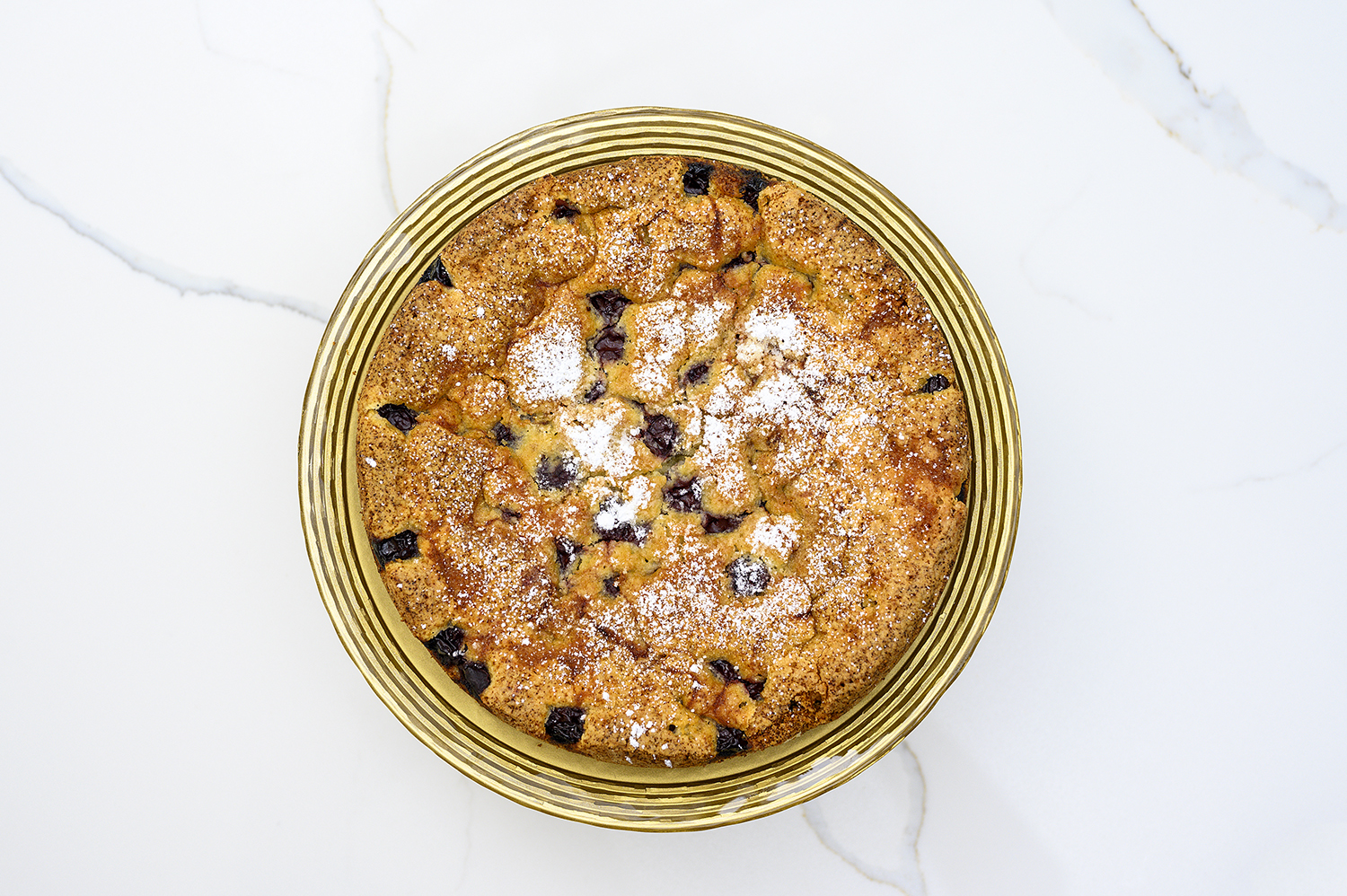 INGREDIENTS
1 cup flour
1 1/4 teaspoon baking powder
1 stick unsalted butter, softened
1 1/4 cups sugar
2 large eggs
2 teaspoons almond extract
15 once jar of tart, red cherries (like Morello), pitted and drained
DIRECTIONS
Preheat oven to 350 degrees.
Butter a 10-inch springform pan.
With the mixer on medium, beat butter and sugar for 2-3 minutes until light and fluffy.
Add the eggs slowly, one at a time, beating until each is incorporated.
Add the almond extract.
Sift the flour and baking powder together.
Add slowly to the butter mixture and mix until just incorporated.
Scrape the batter into the cake pan and smooth the surface with a spatula.
Spread the cherries evenly over the surface.
Bake for exactly 65 minutes.
Cool for 10 minutes, remove the sides of the pan and serve warm.