Kitsch Café Owner Talks About Leaving the Corporate World to Open a Cafe
Chef Jacqueline Mearman's 400-square-foot egg sandwich spot in Tuscany-Canterbury is not only surviving, but thriving, as a carryout cafe.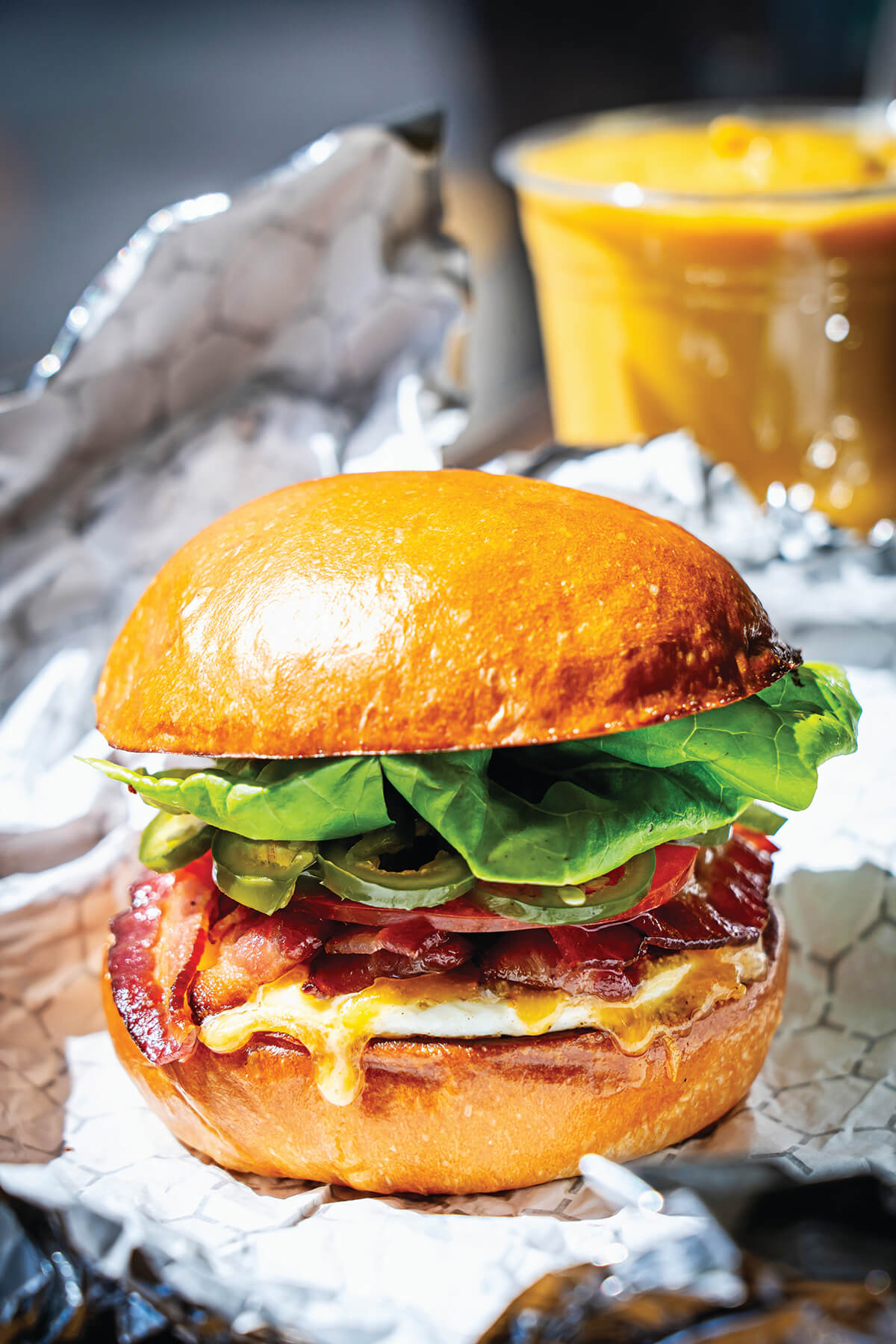 Having worked mostly in corporate pastry jobs—from Disney World to Four Seasons Baltimore and most recently at Atlas Restaurant Group—owning a tiny cafe is new territory for Jacqueline Mearman.
"As small and simple as this operation is operationally, every single step of my career has gotten me to this point of being able to run this operation and make it make sense," says Mearman.
Indeed, her charming 400-square foot cafe in Tuscany-Canterbury, which features egg sandwiches, house-made chicken salad, and vegan smoothies, opened in October of last year and is not only surviving, but thriving, as a carryout cafe.
"People ask me when we are going to have indoor seating," says Mearman. "I'm like, 'We are just across from Stony Run Park—we have the largest outdoor dining anywhere,'" she says.
How did you get into pastry?
To get out of math and science class, I took baking and pastry at CAT-North (the Center for Applied Technology) in Severn. About a semester in, I was like, "Oh, I really enjoy this, and I think I'm pretty good at it." I was lucky to have figured out my passion at an early age. From there, I went to the CIA [Culinary Institute of America] and graduated by the time I was 20.
Who was your most memorable mentor?
I go back to my teacher, Pete Akerboom at CAT-North. I would be practicing for competitions and icing Styrofoam cakes again and again and he was the kind of guy who would run his finger through it and say, "Do it again." He'd correct how I scraped the bowl and even how I scraped the dough off my hands—I still do it the same way he taught me at that age of 16. The food industry is very militant, but baking has a special place for the constant perfection of things.
So why did you decide to open a cafe?
In culinary school, every person had to say what they wanted to do with their degree and every person wanted to open a bakery or a cafe. I was like, "Y'all are crazy." But once the pandemic hit, it was the constant opening and closing of [Atlas] restaurants and having [to wear] a mask and laying off people. We had to make difficult decisions because we were in survival mode—it felt like my dream job was just gone.
What gave you the courage to take the leap?
I live in an apartment building, and the first floor was a cafe that's been closed for the last two years. I called the leasing agent and when he told me what the rent was, I sat my partner down, and he was like, "We can do this."
How did you come up with the concept?
We were limited with what we could do in such a small space. When we signed the lease, we had no idea what we were going to do. First, we thought we'd have deli sandwiches, and then one night we were like, "Breakfast sandwiches!"