Local DJ Mike Jointz Opens Cheezy Mike's in Mt. Vernon Marketplace
Get to know the Baltimore International College grad who is elevating late-night comfort food.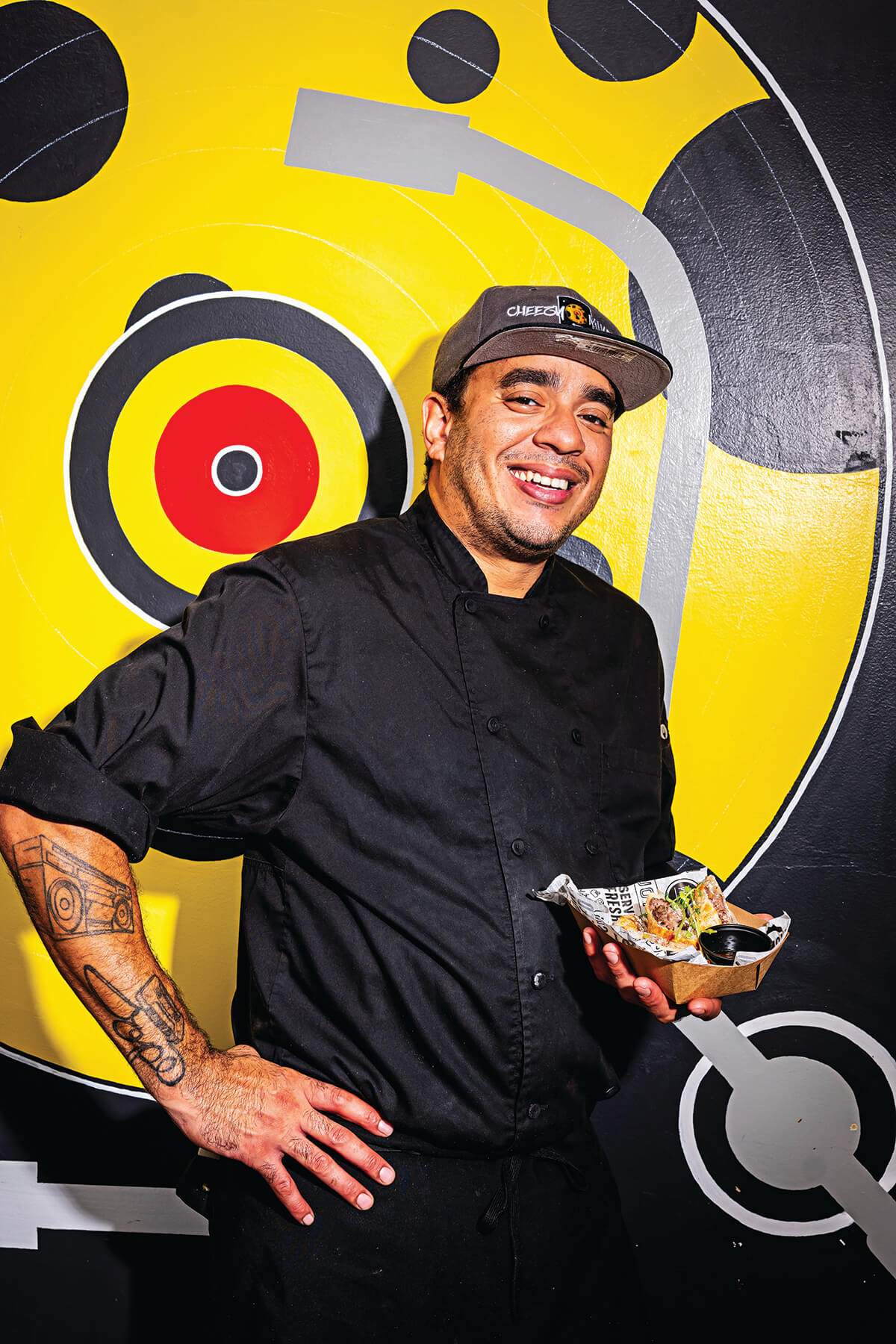 Mike Boggs is a jack of all trades, having worked as a general manager at Red Maple, a bartender at Baltimore Soundstage, and a DJ—nickname Mike Jointz—at various clubs around town. But Boggs, who studied cooking at Baltimore International College, had never been able to call himself a restaurant owner, until now. Last October, Boggs and his wife, Erin, opened Cheezy Mike's Food Emporium, a place for gut-busting comfort food inside Mt. Vernon Marketplace.
"We wanted to open something to see what would happen," says Boggs.
What has happened is that on any given day a line forms for the cheesesteak egg rolls, pretzel bites, and grilled cheese with pomegranate molasses at the small stall where everything is made from scratch out of the 257-square-foot kitchen.
"I had a lot of anxiety about opening a business during a pandemic," says Boggs, "but I'm very glad we did it. Things are definitely working out— we're on a roll."
Why did you decide to open Cheezy Mike's?
It got started back when I was a GM at Red Maple. I worked there for 10-plus years, and I got to know a lot of people. Around my birthday, I'd spontaneously throw a get-together at my house, because we worked hard and didn't always leave time to have fun. I'd have these massive cookouts and cook 10 different things. My food was delicious, and people still talk about it to this day. I've been cooking since I was 16. I just wanted to show off my talents.
What's the concept?
This is late-night comfort food. Usually, that kind of food is medium to average. We wanted to elevate that kind of food and have the same prices but high quality.
Tell me about your signature item, the cheesesteak eggroll.
Sullivan's Steakhouse had their version of a cheesesteak eggroll back in the day and I wanted to do my own version of it. We slow-roast top-round beef overnight, then slice it once it's cold and add Pepper Jack cheese and onions. It melts in your mouth. It's basically like eating a five-ounce filet. We've sold more than 2,600 of them since we opened.
Is there any connection between food and music?
Absolutely, there's a connection. When people eat, you see them do their happy dance—you want music to go with that.
How does Cheezy Mike's fit into Baltimore's culinary scene?
We are a Black-owned business and Baltimore's demographic is almost 75 percent Black. Black businesses are very encouraged now. We are very happy for the support. As a Black-owned business, I want to be one of those pioneers to bring more to the food scene in Baltimore.