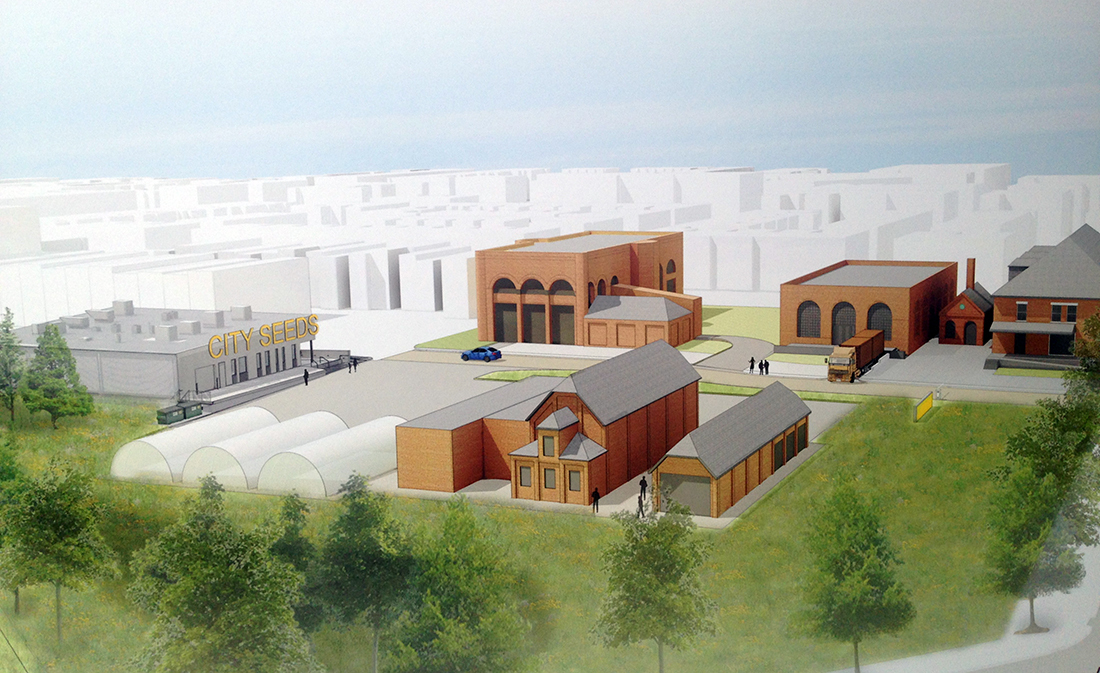 Courtesy of Ziger/Snead
The cluster of dilapidated masonry buildings that sits swallowed in untamed vines on the corner of East Oliver and North Wolfe Streets will soon become a destination for economic opportunity in East Baltimore.
Though it's been nearly five years since plans were announced to transform the old Eastern Pumping Station site into Baltimore Food Hub, a ground-breaking ceremony held earlier today officially kick started the $23.5 million redevelopment. The project will eventually yield a 3.5-acre campus with job-training facilities, communal incubator space, and an excess of land to be dedicated to urban farming.
Members of American Communities Trust (ACT)—the national development partner overseeing the redesign alongside local workforce nonprofit Humanim—were joined by upwards of 75 local community leaders and Broadway East residents to celebrate the milestone, as trains whizzed by on the adjacent Amtrak line overhead.
Among those in attendance were City Council President Bernard C. Young, U.S. Assistant Secretary of Commerce for Economic Development Jay Williams, ACT board president Bill Struever, Maryland State Delegate Maggie McIntosh, and Mayor Stephanie Rawlings-Blake, who has made food justice a top priority throughout her administration.
"The food hub is a perfect example of what happens when purpose meets planning," Rawlings-Blake said. "This site has been considered the front door to Baltimore that you see when you're travelling by Amtrak. This is a critical component to making that entryway vibrant and vital, and it's a true reflection of the future of our city."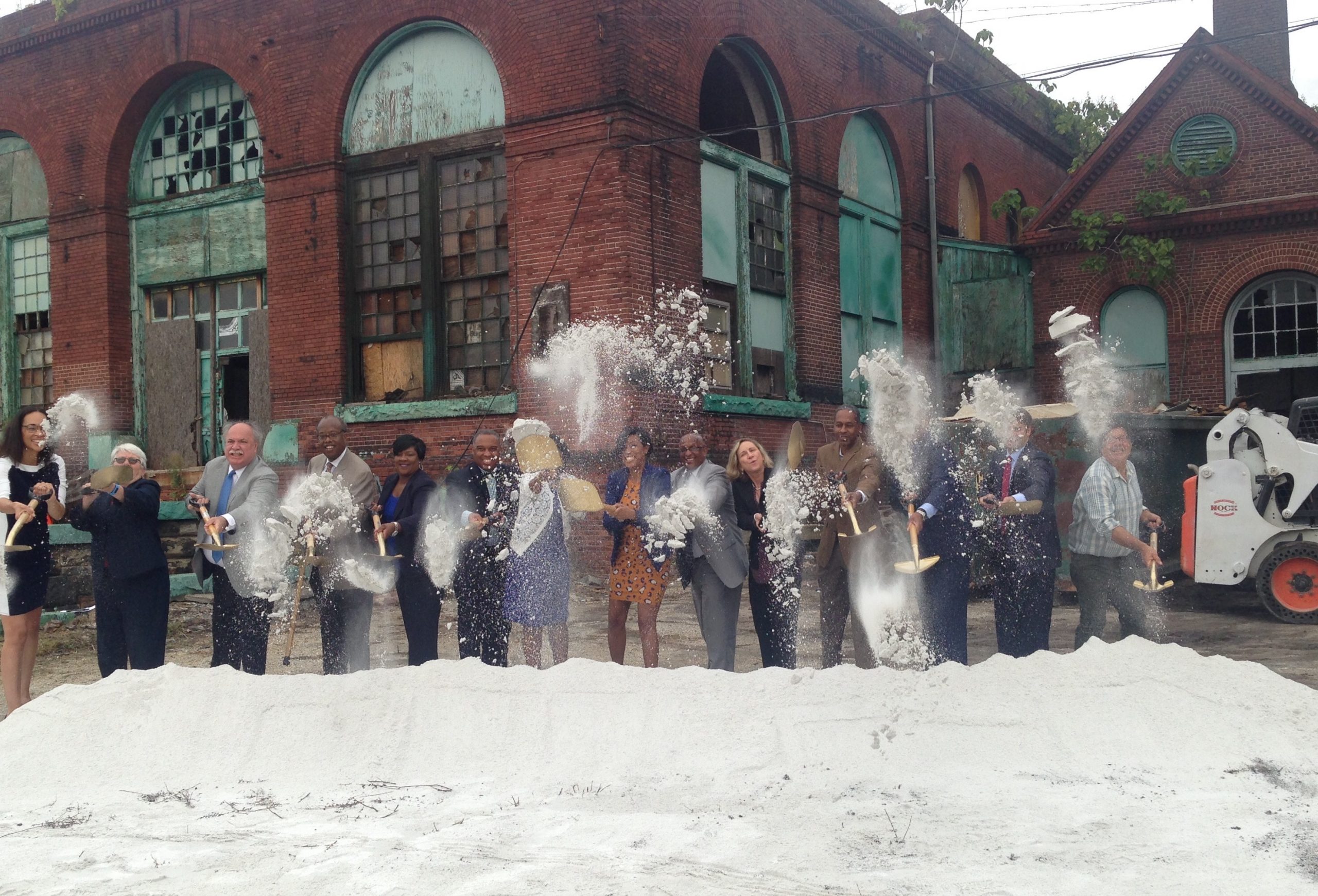 The socially conscious campus, which is expected to debut its first phase as early as summer 2017, will provide space for budding food businesses to thrive with amenities like a licensed commercial kitchen, tools for production and distribution, flexible office space for food companies and nonprofits, headquarters for food trucks, and its own teaching garden to be used to educate youth about urban agriculture—a model based off of chef Alice Water's acclaimed Edible Schoolyard project.
As a part of the larger effort to eliminate the city's food deserts, the hub will also be equipped with its own all-season food stand and garden center, which will be easily accessible to the public.
"This is a project that will empower the individuals within this community without displacing them," Williams said. "It will make sure that the young men and women and senior citizens that inhabit this neighborhood don't have to travel miles on the bus line or try to find a ride to get healthy, accessible food."
The 15,000-square-foot kitchen incubator on site has been fully leased by City Seeds, Humanim's culinary arm that specializes in job training for small food startups. Humanim itself will operate Baltimore Food Hub's signature teaching kitchen, which will offer a number of community education and workforce development programs for city residents.
The groundbreaking comes at a significant period of regrowth for East Baltimore, which has recently introduced other socially minded projects including communal incubator space Open Works and the redevelopment of the historic Hoen & Co. Lithograph building in Collington Square.
"It's not an accident, they're all connected," McIntosh said. "We need to continue the process of redeveloping these blighted areas to really grow the new economy."
Also in attendance at the press conference was Reverend Donté L. Hickman Sr., who is certainly familiar with the concept of revitalization after his church-sponsored senior center, which has since been rebuilt, was burned down during the Baltimore Uprising.
"In the early 2000s, there was an article written that said that this was a neighborhood 'dubbed without hope,'" Hickman said. "I always took issue with that particular article, because so many people who lived, and still live, here never lost their hope that this community could experience revitalization. I always considered it to be a neighborhood without help."