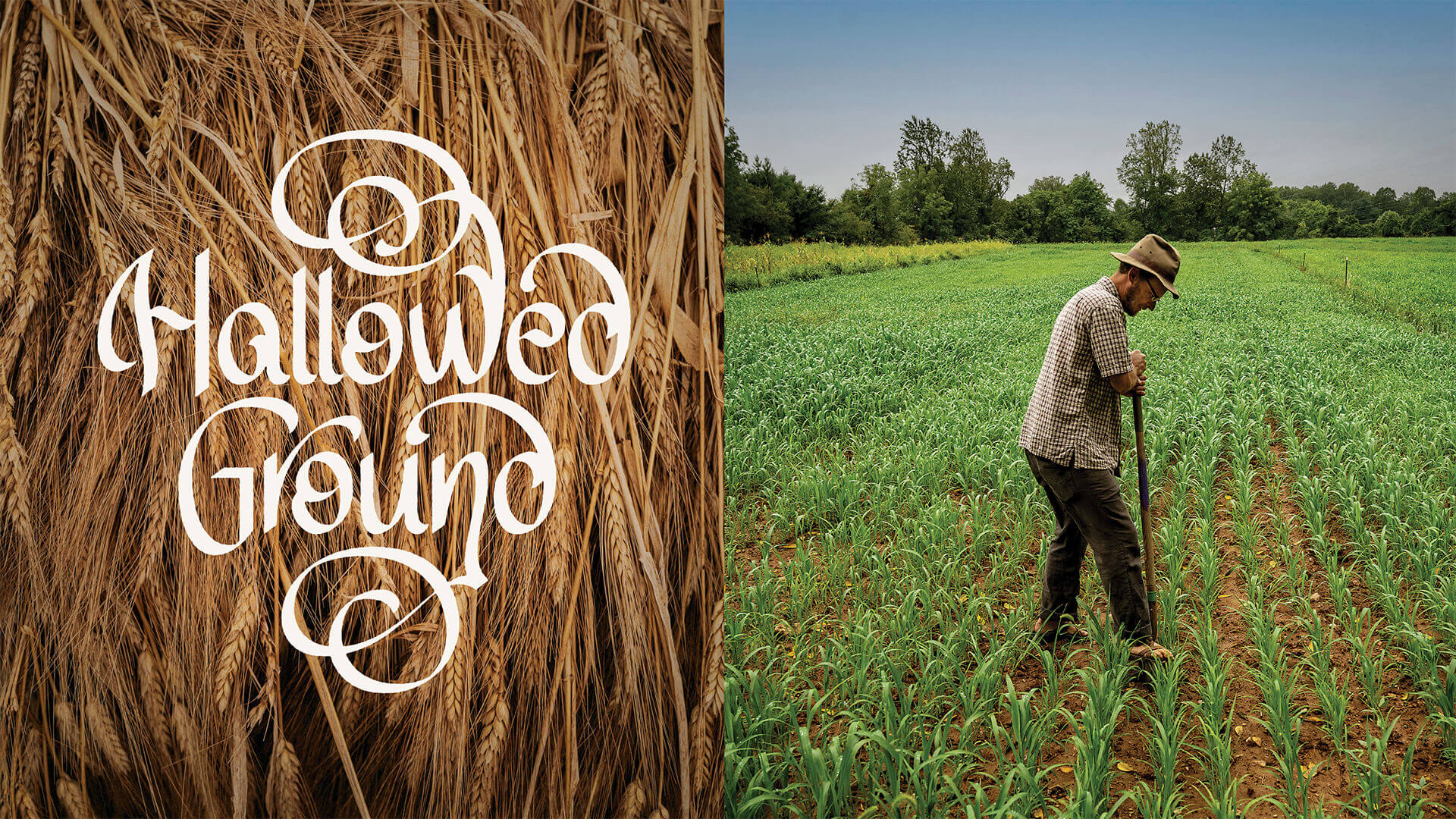 Travel & Outdoors
Hallowed Ground
Migrash Farm sows a sustainable future in Baltimore County.
By Lydia Woolever
Photography by Christopher Myers
Lettering by Simon Walker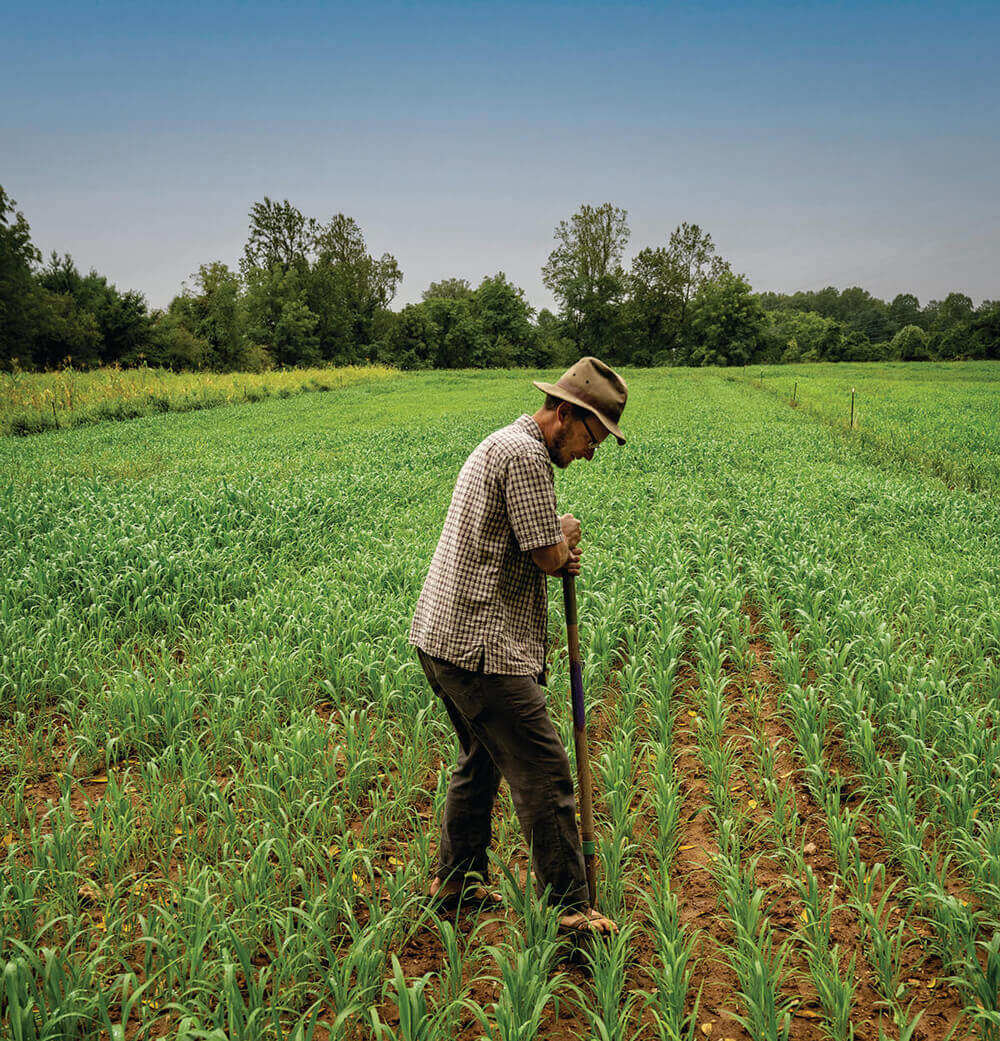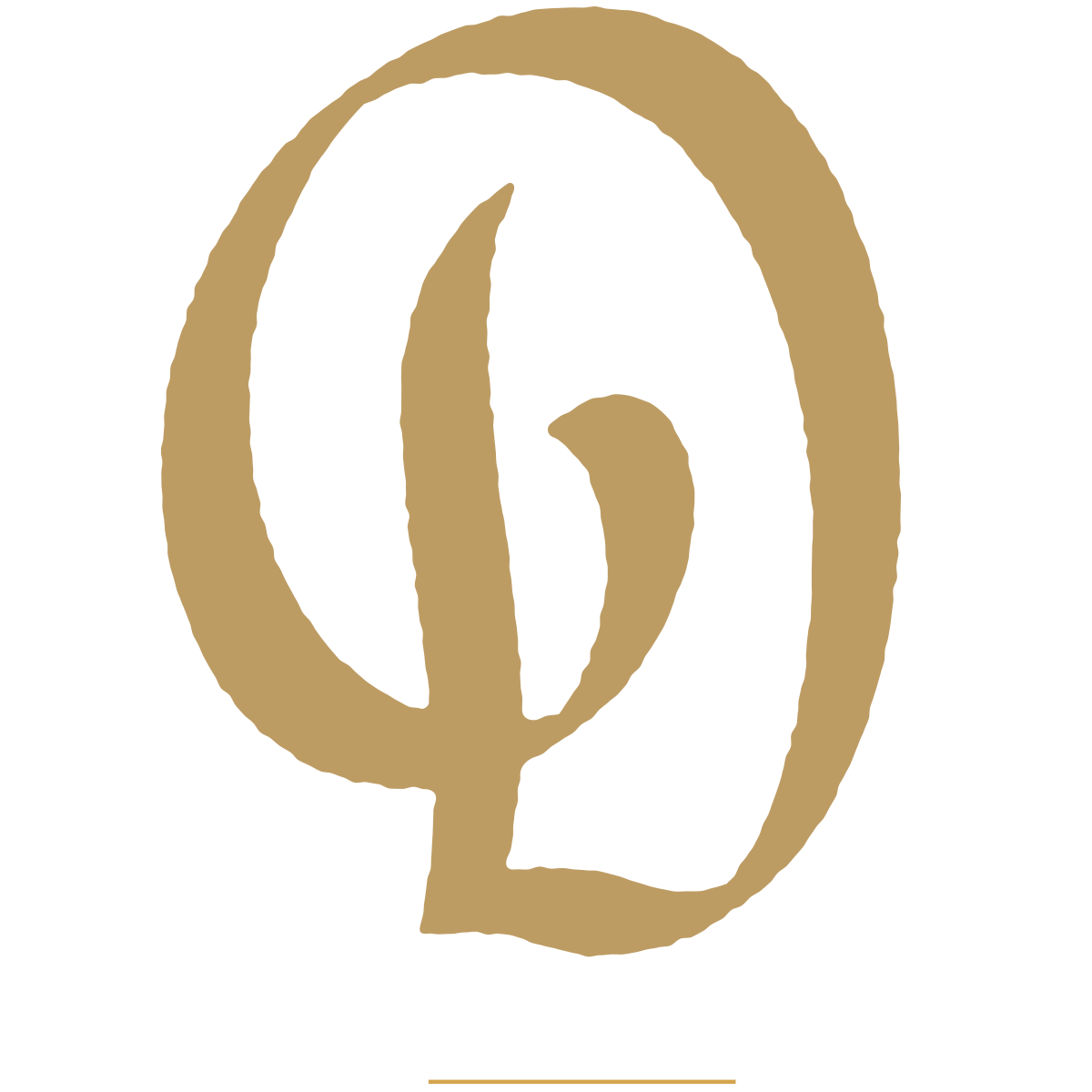 DOWN A NARROW LANE, PAST AN OLD BARN, and through the woods—exactly 11 miles as the crow flies from Baltimore's Inner Harbor—a freshly mowed path eventually leads to the verdant farmland of Migrash Farm near Randallstown, Maryland.
To the left, the last bit of morning shade on this already hot summer day dapples an overgrown corn field, while to the right, some seven acres of freshly prepared soil waits patiently to be planted.
Wearing thin glasses, a plaid button-up, and a soft brown hat over his yarmulke, Ian Hertzmark walks to the edge of this empty plot, kneels down, and, with his bare hands, lifts a clod of dirt into the light and cracks it open.
"See that?" says Hertzmark, nodding toward barely visible white tendrils interwoven into the soil. "That's what we're looking for—that's fungi. That's driving the entire ecosystem."
Hertzmark is referring to the symbiotic relationship known as mycorrhiza, where fungi help transfer nutrients from the earth to the roots of plants that grow in it. It's one of the many complex hallmarks of healthy soil—and, in turn, healthy crops—which is the central pillar of this small, sustainably minded operation, located in the heart of the Patapsco River Watershed, along the Piedmont foothills of the Appalachian Mountains.
While most city residents know of Migrash (pronounced mee-grash) as a mill—likely from its days at the JFX Farmers Market, where it sold high-end flours to a growing community of artisanal bread bakers, pastry chefs, locavore restaurants, and foodies—it is, first and foremost, a farm.
But unlike most of the large-scale conventional agriculture that takes place across the state and country, prioritizing output over environment, Migrash—which means "field" in Hebrew—puts its hallowed ground before its harvest.
It's a difference you can see in the soil, but also hear in the rumble of the old tractor engine, or Hertzmark's detailed descriptions of the origins of every one of the half-dozen heritage wheat varieties that are bundled in his open-air greenhouse, each being trialed for successful growth in this particular landscape.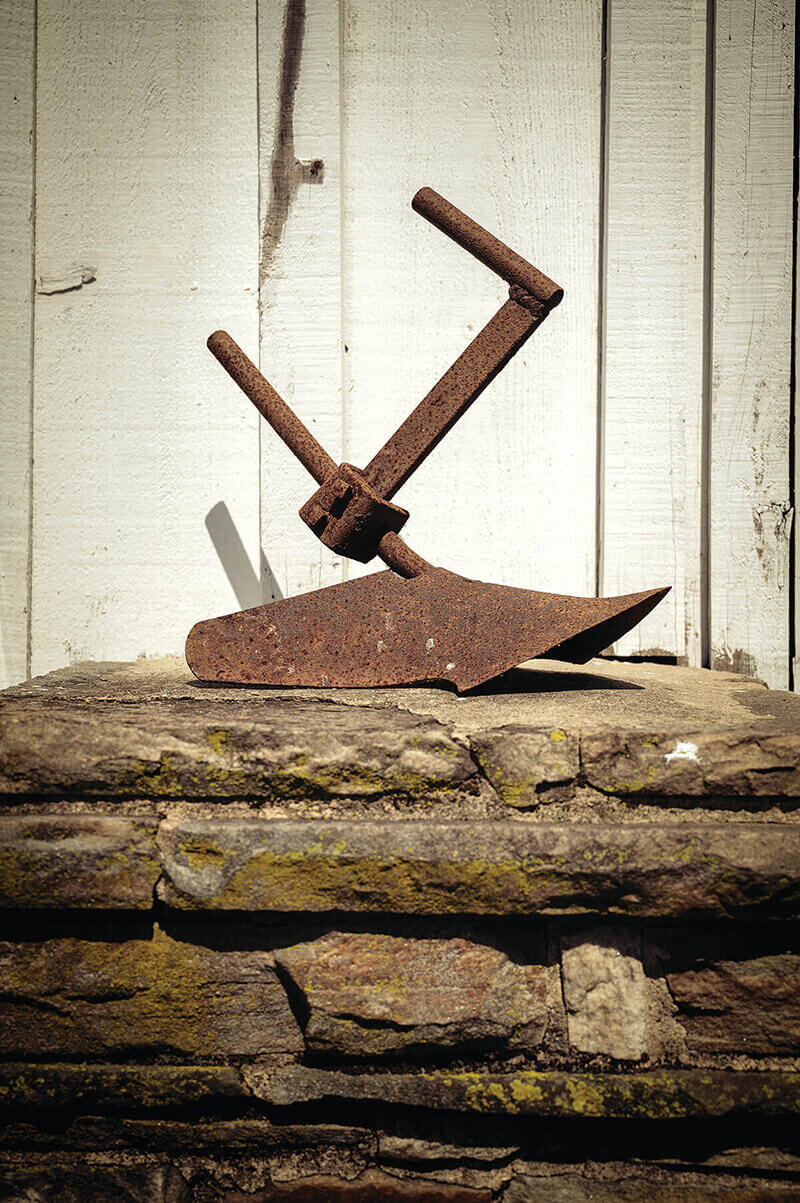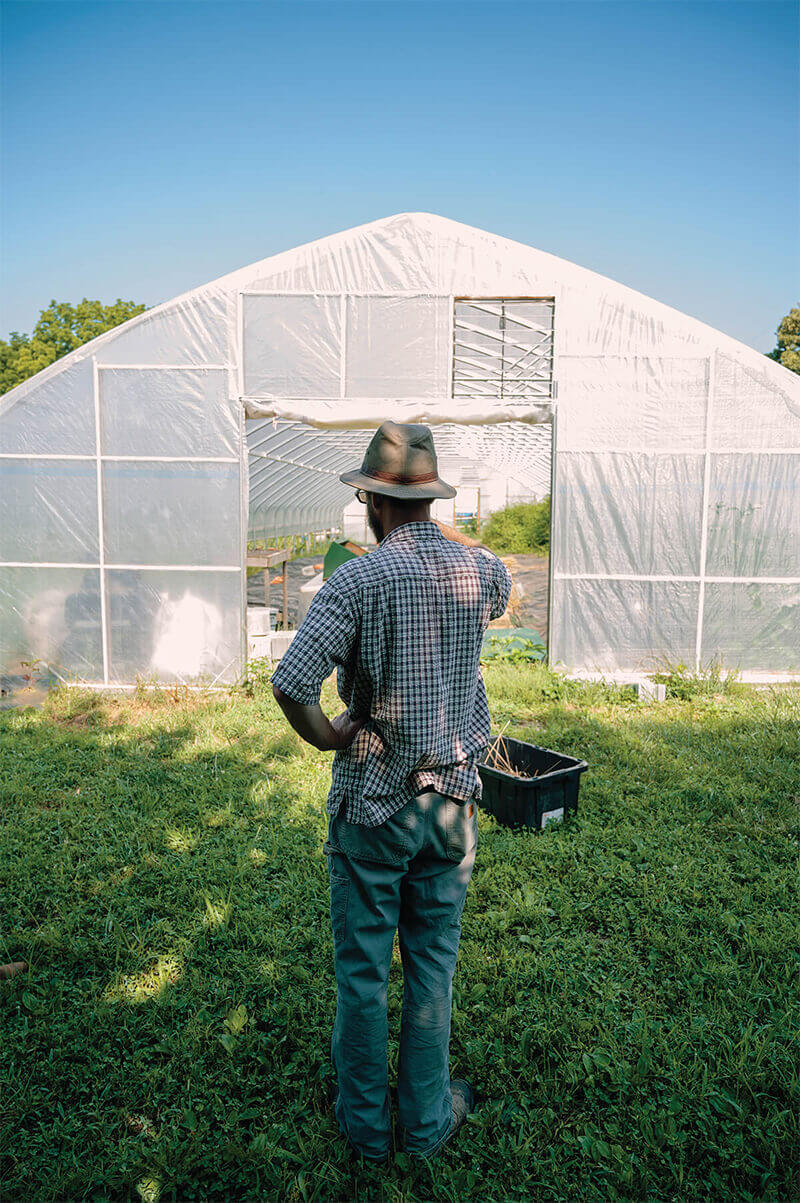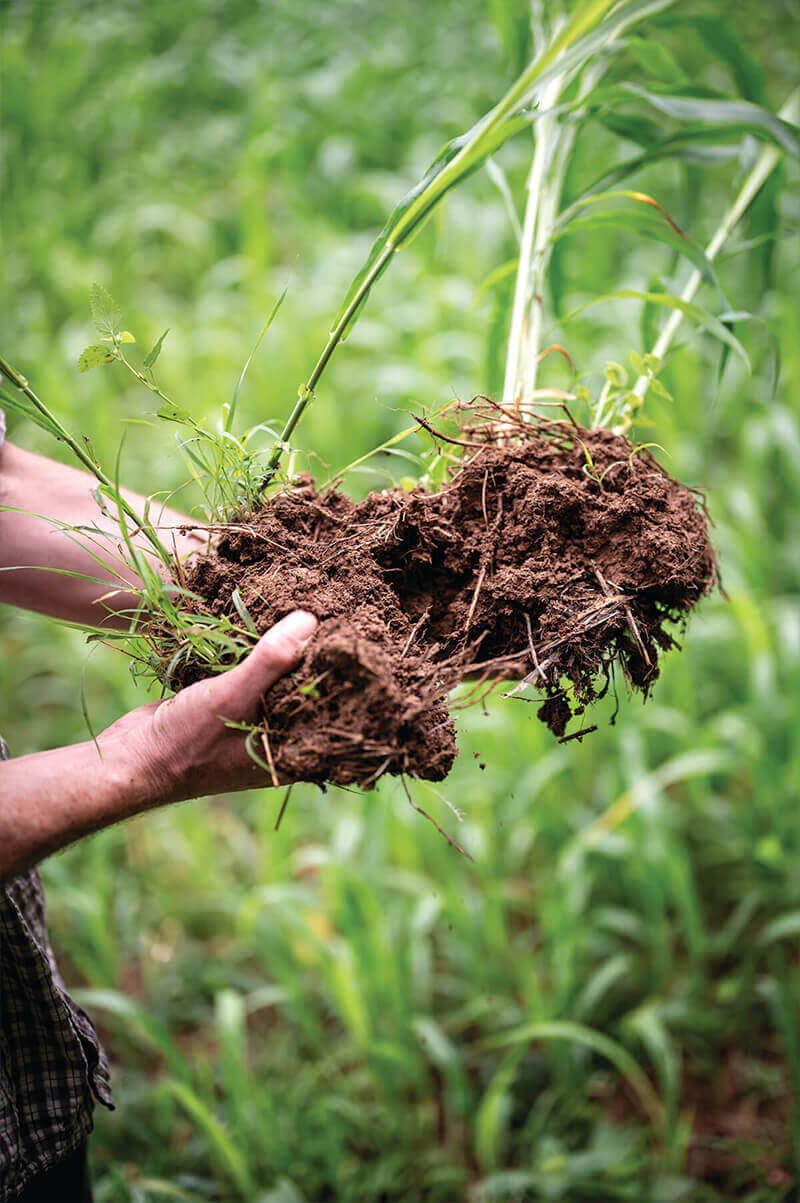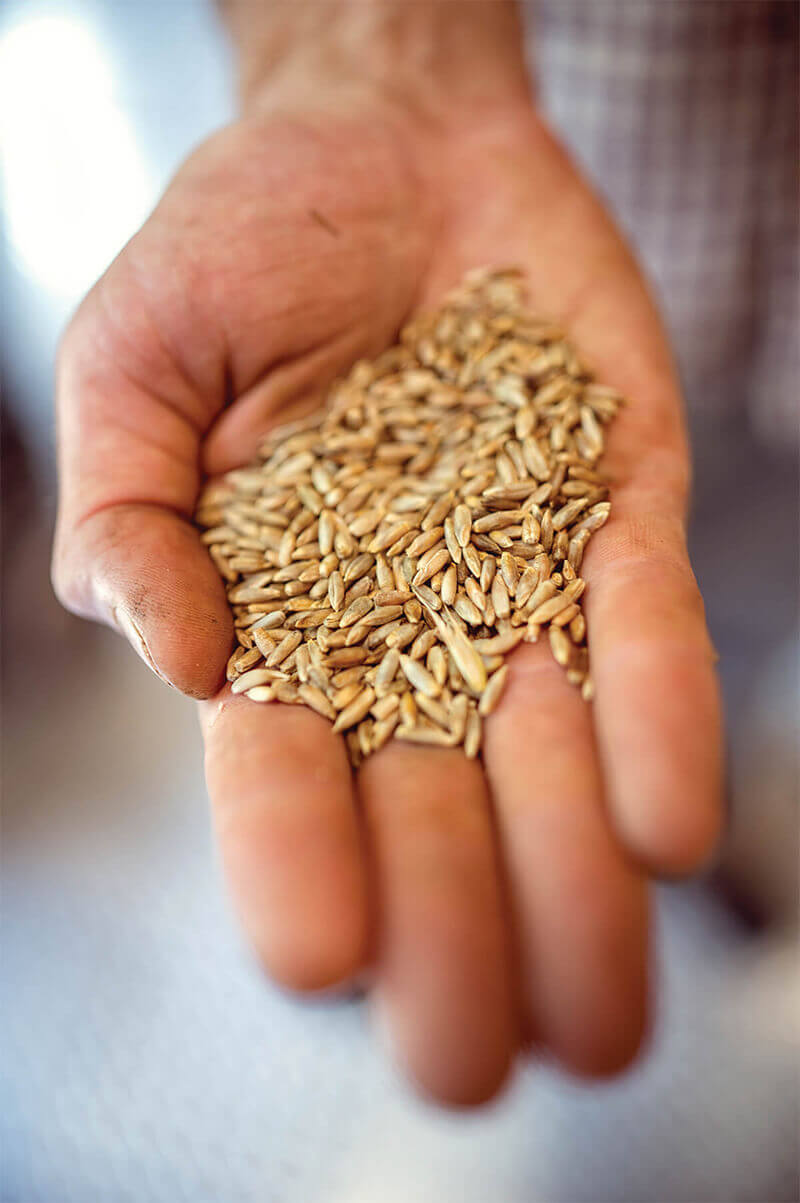 Old equipment; the greenhouse; a handful of heritage Abruzzi rye; Hertzmark shows off his soil structure.
It's also something you can smell inside the circa-1865 barn, especially when sticking your head into one of the hot-tub-sized storage containers of grain, which is then regularly sold by the 50-pound bag to renowned paniphiles like Motzi Bread in Charles Village or Seylou Bakery in Washington, D.C.
And certainly, it's something you can taste—nutty and sweet and nuanced, unlike anything found on grocery-store shelves—in the flour itself or, better yet, baked into a loaf of sourdough.
At 42 years old, Hertzmark, too, is far from your ordinary farmer. Deeply rooted in his Jewish faith, he came to this career by what can only be described as some higher calling, having found an interconnection between science and spirituality that led him to this location, where he is now helping spearhead the emergence of a local, sustainable grain movement across the Mid-Atlantic—and maybe beyond.
Will it succeed? Only time will tell. But Hertzmark embraces the unknowns that lie ahead.
"In traditional Judaism, there is no sense of God as something tangible—we understand that, in the Bible, God appears in reference to the human body and human language, because, being so small, it's the only way we can understand it," he says. "But the rabbis fully acknowledge we have no clue. And anybody who says they have a clue probably doesn't. For me, faith in that mystery is comforting. To know that there's something bigger, that there's a system in place."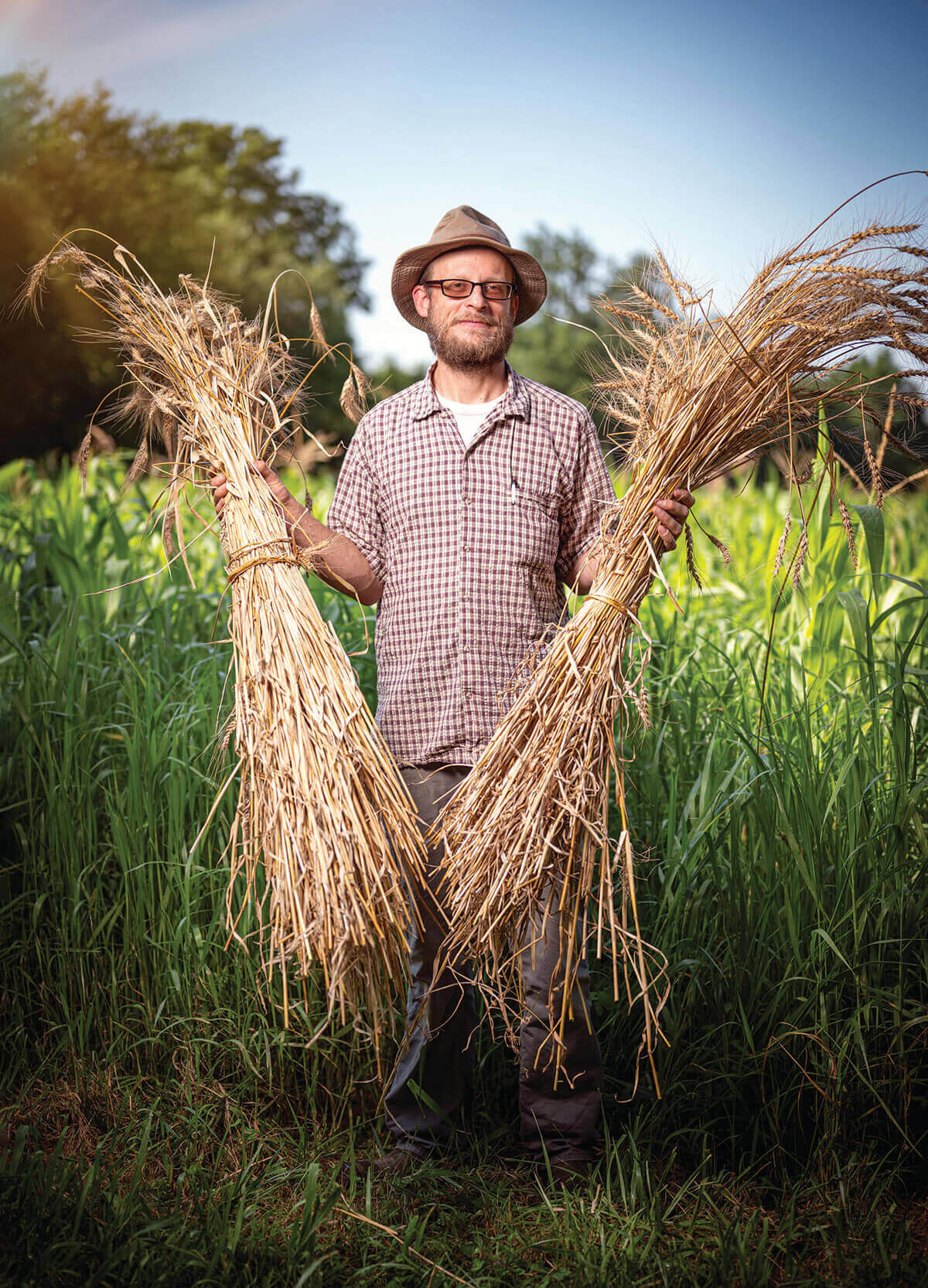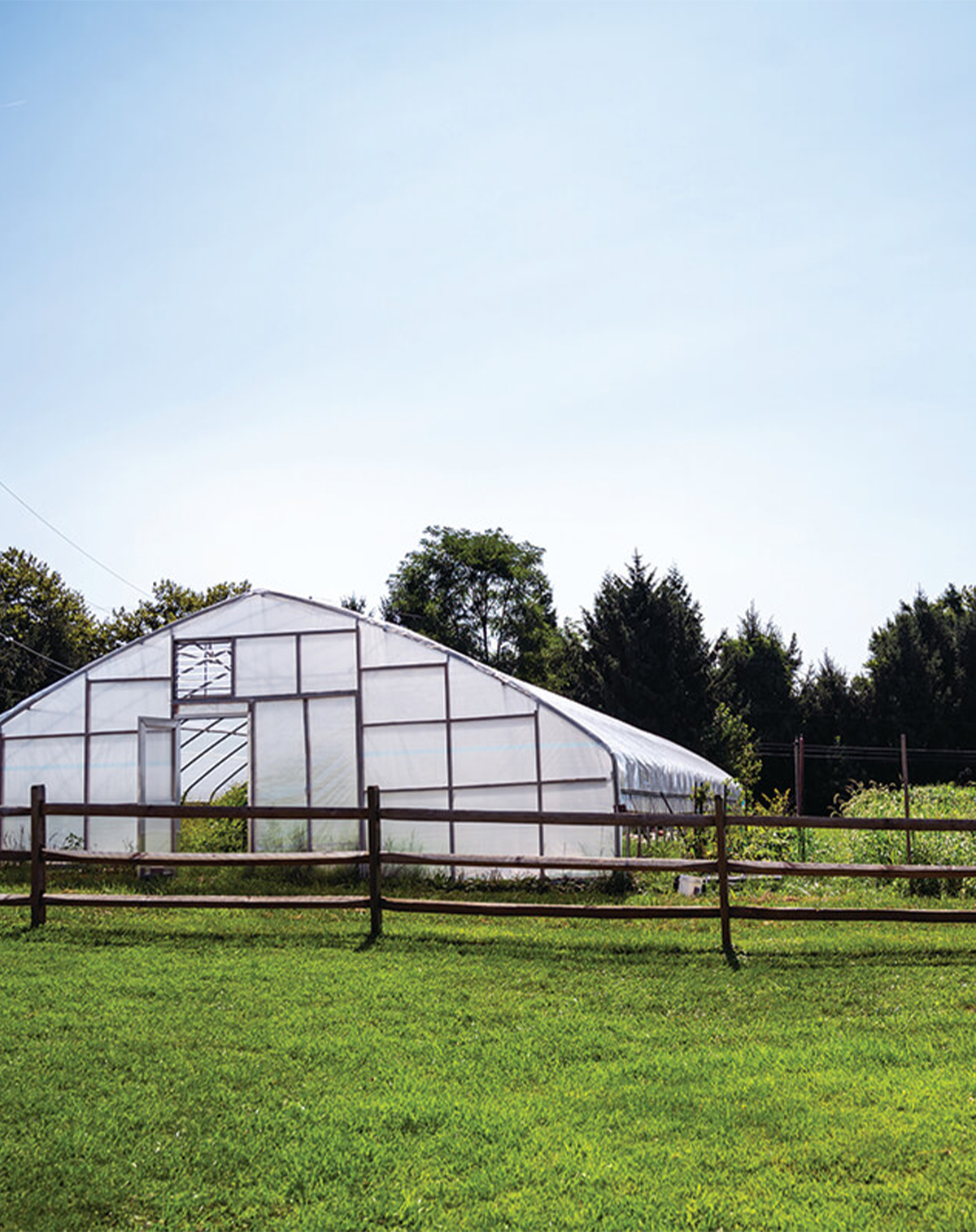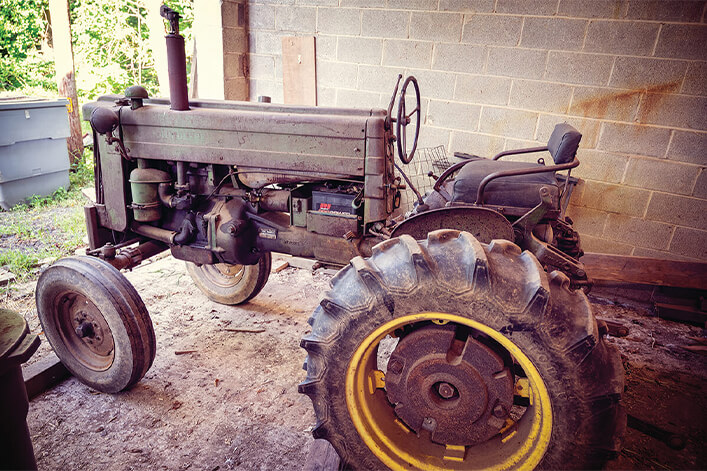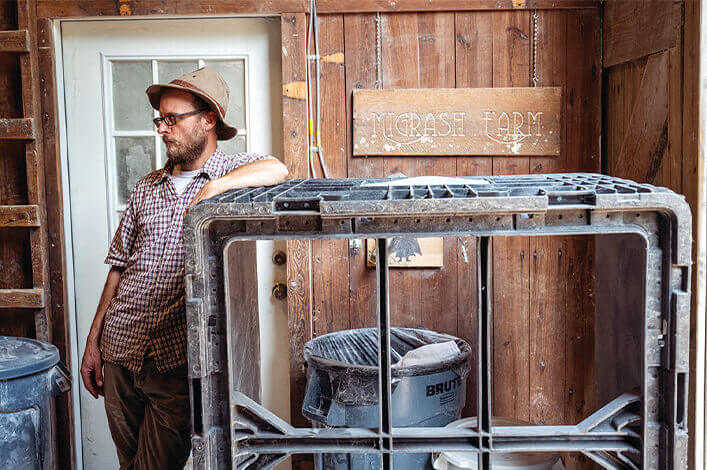 Hertzmark; the farm's old tractor; Hertzmark in the barn; the greenhouse in midsummer.
I n a way, both of Hertzmark's worlds, that of this physical realm and the one beyond it, have always been intertwined. Before arriving in Baltimore, he was born and raised in Denver, Colorado, where, as a bookish, bass-playing teenager, he dreamed of becoming an artist.
That is, until one fateful encounter with a high school teacher, whose courses in geology and astronomy, plus an especially memorable comparison of the scale of Earth's history to that of humankind's, threw him headfirst into the sciences.
"It just opened everything up for me," says Hertzmark, who went on to study botany and wildlife biology at Colorado State University in nearby Fort Collins, where he worked at the school's organic vegetable farm.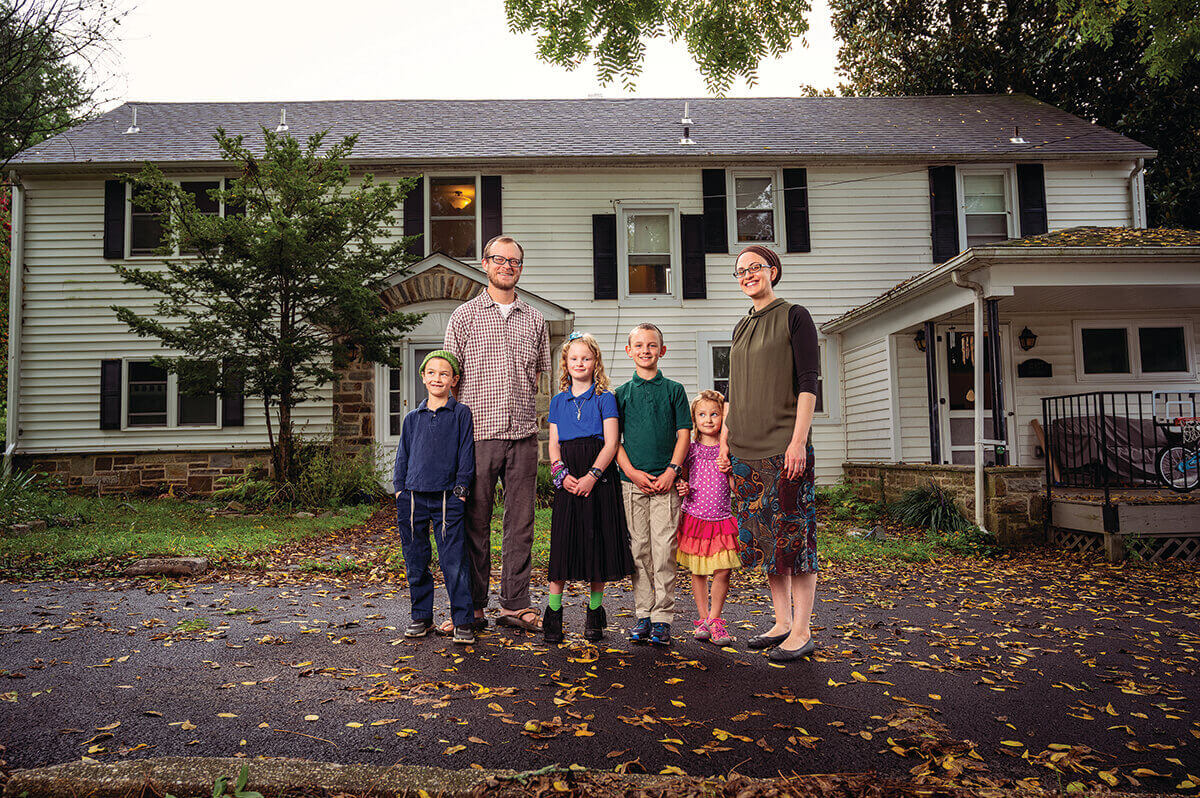 The Hertzmark family: Aliza, pictured far right with Ian and their four children
After graduation, he became a landscape ecologist and habitat specialist for the state and the United States Geological Survey, conducting surveys to identify threatened and endangered species on sites slated for development. Between projects, he would moonlight on an organic stone fruit orchard along the banks of the Gunnison River, often leaving the gate open for a neighborhood cinnamon bear who liked to wander in at night and eat the dropped fruit.
Spending so much time in the outdoors, he felt a connection with this planet and his place in it like never before. "My spirituality had been growing, I had been reconnecting with Judaism, and it just all fit together and made sense to me," says Hertzmark. He points to parallels between the Big Bang Theory and the traditional rabbinic reading of creation, likening the universe's origin story of disparate matter coalescing into one expansive cosmos to that of the "heavenly firmaments" mentioned in the Old Testament.
"For me, as a person who fancies himself a rational scientist, I was like, 'Wait a minute, there was a rabbi, in like 1100 [C.E.], when most people still thought the Earth was flat, who was willing to say that each of the seven days of creation might have represented 12 million years, and he was dealing with fossils, and putting it all together with layers of sediment?'" says Hertzmark. "Like, okay, I can dig that."

All the while, he followed the land, and before long, that brought him east, working first at Adamah, a Jewish community farming program in Connecticut, where he met his wife, Aliza, whom he married in 2010. A year later, they moved to Baltimore, closer to family and his new role as farm manager at Pearlstone, a Jewish retreat and outdoor education center in Reisterstown. He eventually became a kosher butcher for a regional pastured-meat company, but continued to farm on the side, renting a few acres on Liberty Road, where he grows today and also now lives with Aliza and their four children.
But even with all of its Biblical ties, grain was not Hertzmark's first crop here. Instead, he grew produce. Tomatoes. Lots of tomatoes, he says, which the local deer naturally loved. Meanwhile, his alliums—onions, garlic, shallots—evaded the herd but required a laborious harvest with lower profit. Then one day in 2015, after a conversation with a farming mentor who noted that grain was the missing link in the local food movement, he planted a patch of Red Fife wheat and never looked back.
"It was like a bug," says Hertzmark, one that Aliza encouraged him to follow for better life balance after working all day in the factory and out in the field until dark. "I was like, 'Oh my gosh, this is amazing—it makes even less money than alliums, but there's much less work and it's so dreamy and bucolic and I can get lost in all of these ancient, dilapidated machines for hours, then go have my harvest.' I had no idea what I was getting into..."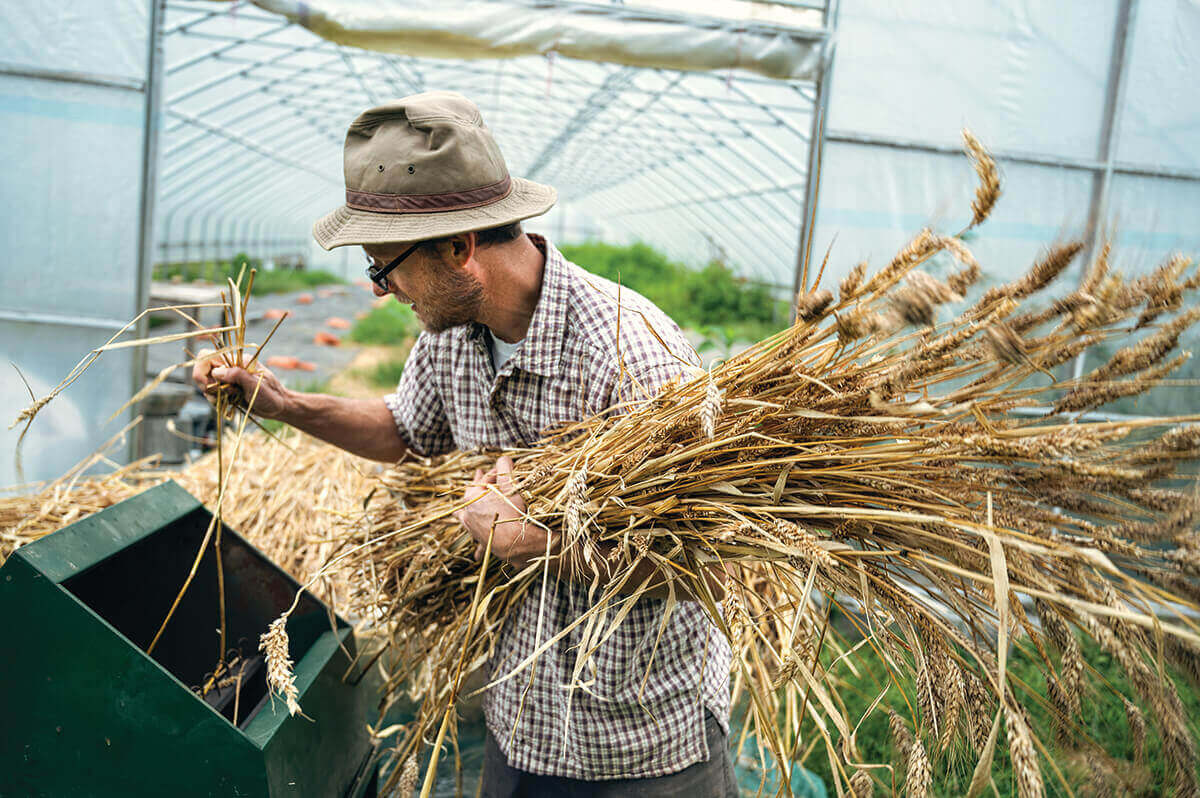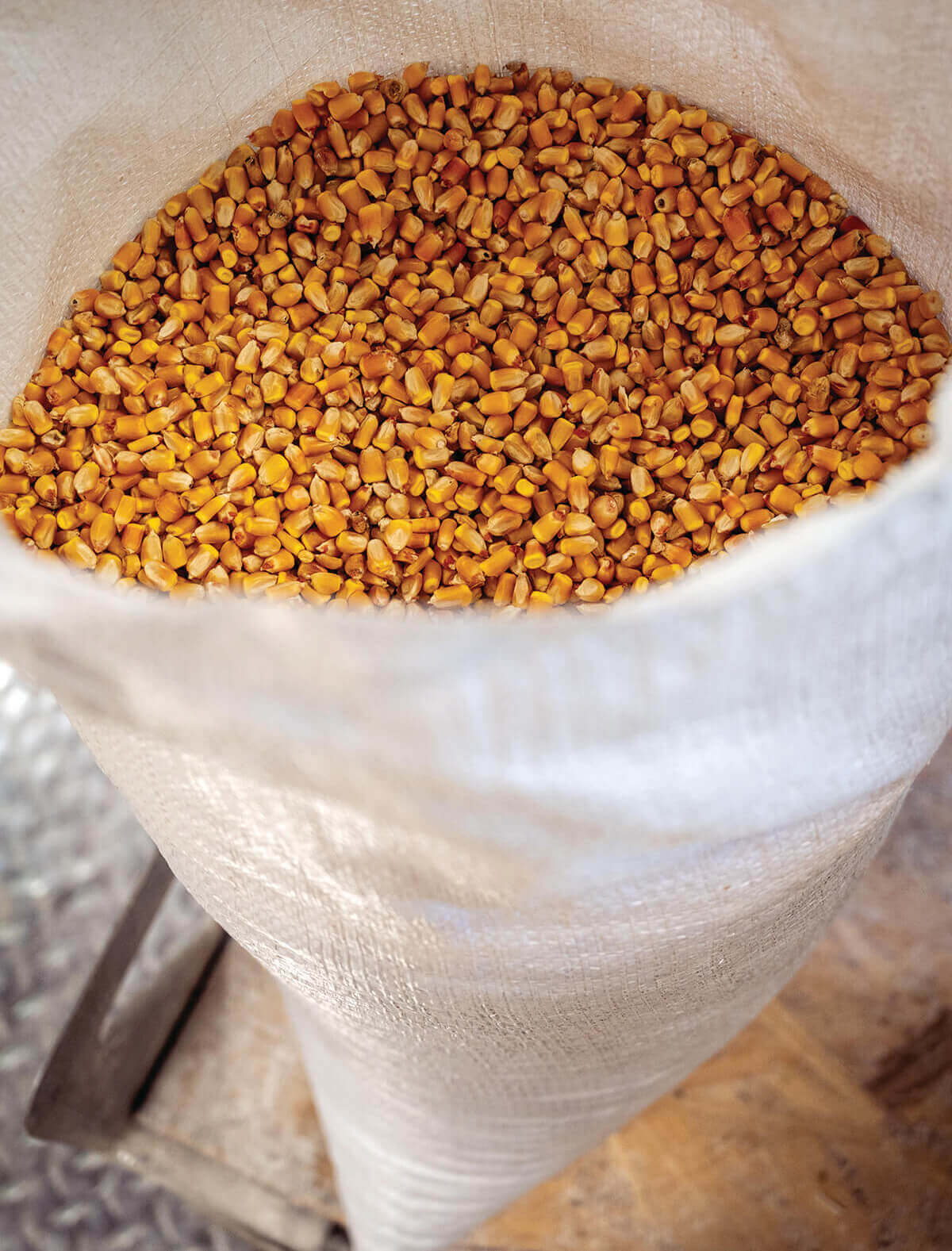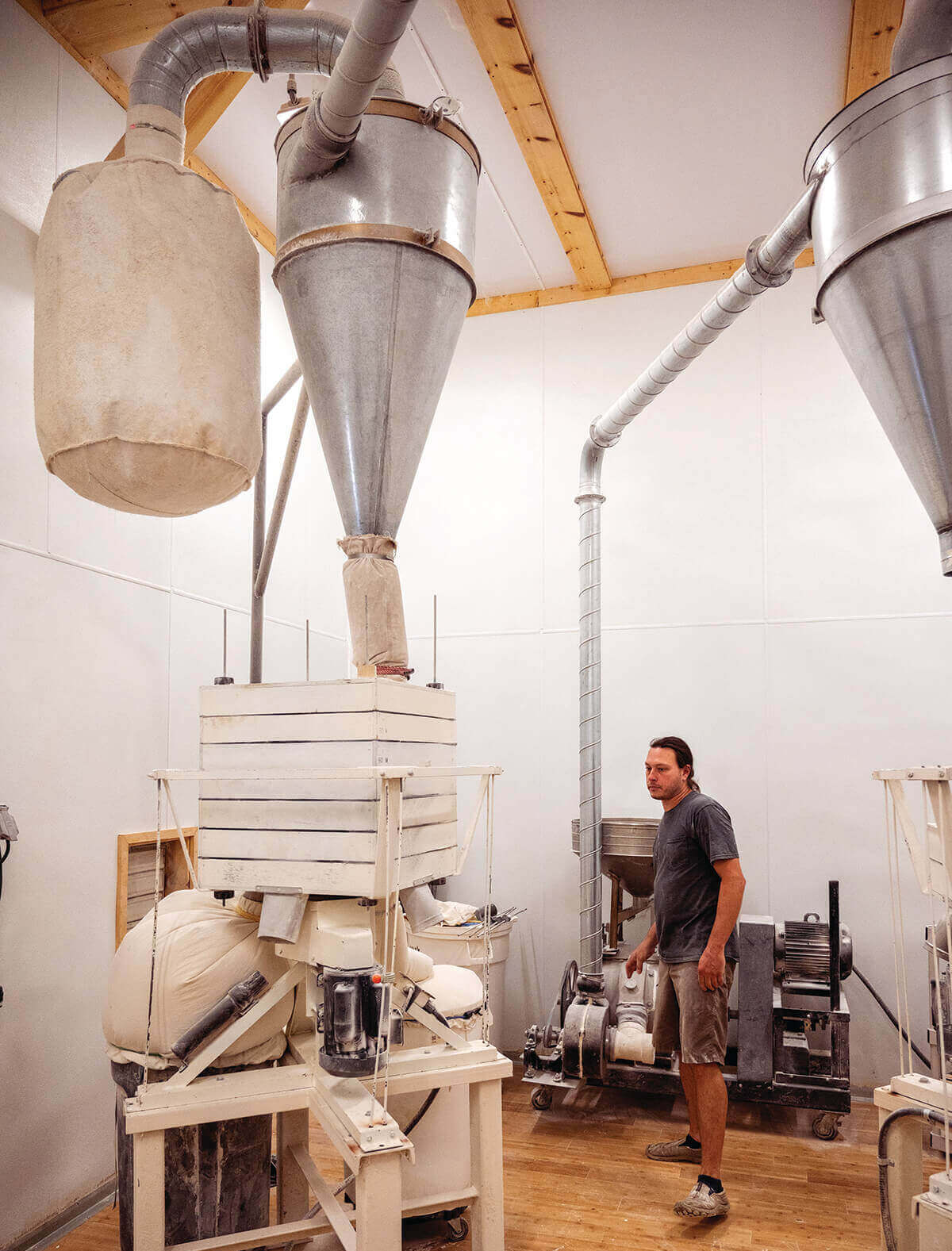 Hertzmark petal-threshing Rivet wheat; farmhand Owen Hubbs runs the stone mill; a bag of Reid's Yellow Dent heritage corn.
O ne is inclined to say that Hertzmark grows something called "ancient grains"—the latest culinary buzzword popularized by the farm-to-table movement, best-selling books like Roxana Jullapat's Mother Grains, and, of course, the food frenzy of social media, with everyone from King Arthur to General Mills getting in on the trend.
But what exactly makes a grain ancient? With no standardized definition, it's highly subjective, says Hertzmark, calling it simply good marketing, before answering with a history lesson. "Einkorn is the most ancient of all the wheats—it was the first wheat that humans were eating, then cultivating, going from the wild einkorn to domesticated einkorn approximately 9,000 to 10,000 years ago," he says of a grain grown at Migrash with an increasingly household name. "It had the chance to naturally cross in the field, and from that came emmer, which is, in Hebrew, Em Ha'Hitah, or Mother of Wheat, from which virtually all modern wheat that we eat comes."
But while Migrash does specialize in heritage wheat varieties—meaning those that predate 20th-century technologies, such as Red Fife and Ukrainka (and perhaps soon enough, Fulcaster, a once-prolific version developed in southern Pennsylvania that largely disappeared by the mid-1900s)—as well as those even older grains like einkorn, emmer, spelt, rye, and barley, Hertzmark is nothing if not a pragmatist.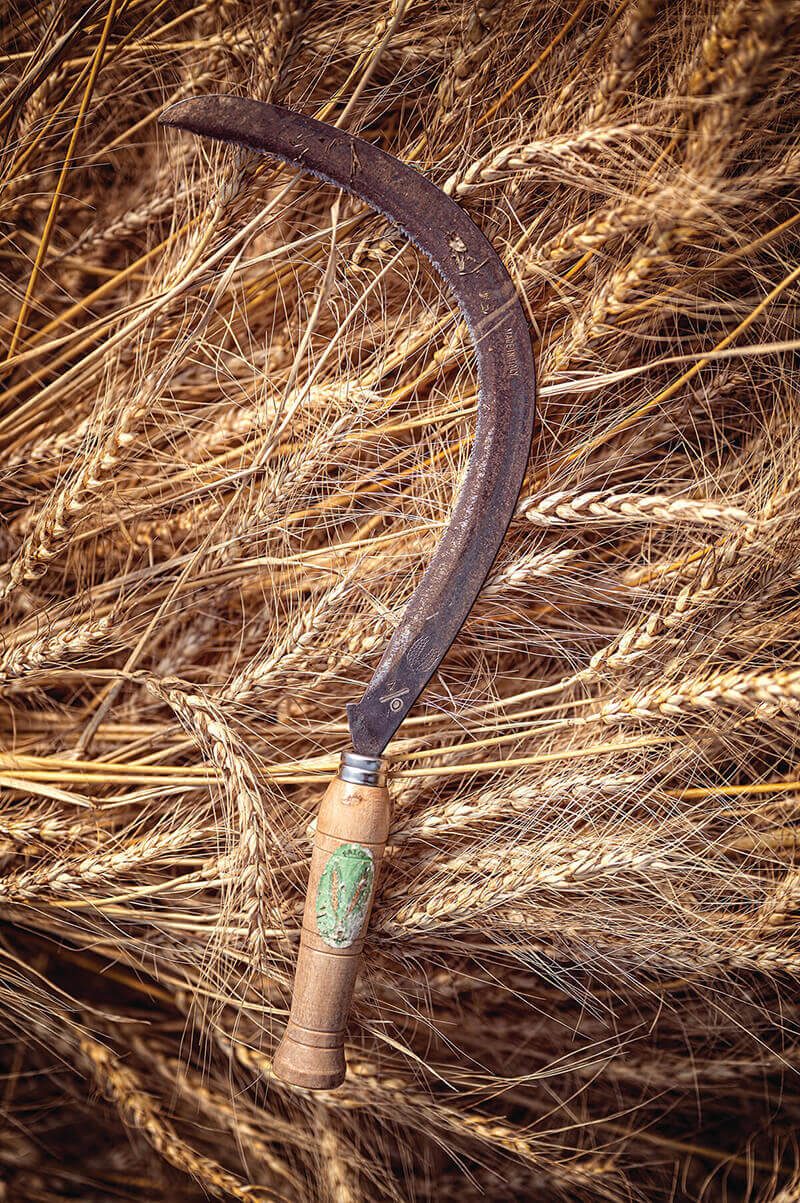 A hand sickle over heritage wheat.
He regularly works with so-called modern wheats, too, with names like Redeemer and Appalachian White, which produce greater harvest yields than their predecessors and work well under organic growing conditions—a key tenet of Migrash's practices. This means, in part, no synthetic chemicals, aka pesticides or herbicides like Roundup, which Hertzmark calls "the single worst thing we can do [as farmers]," due to their adverse effects on both biodiversity and human health.
By contrast, the almost futuristic varieties used by most conventional grain farms today—those seemingly endless swaths of corn and soybeans in rural Maryland—are often genetically modified for pest resistance and tolerance to those chemicals, providing even higher yields and, effectively, a lower price. In other words, they're tough competition.
This makes it difficult for Hertzmark to subsist on his grain and his grain alone. For that, he has established close relationships with other regional farmers, most of whom are certified organic and all with similar regenerative land ethics—that is, farming in a way that prioritizes the land—to purchase additional grain and increase the scale of his production.
In 2016, he also invested in his first stone mill, allowing him to increase the value of his harvest and also bring the fruits of his soil to more people—and actually feed them.
With corn and soybeans leading the charge, the vast majority of grain grown in the United States never makes it to a plate at all. Most is used for livestock feed or fuel sources, while much of the rest is processed into products like oils, starch, and sweeteners. Nearly half of American wheat, typically destined for human consumption, is exported as a commodity.
In Maryland, Hertzmark remains one of the rare farmers growing and processing local grain for local food, alongside other leaders like Next Step Produce in Charles County and Purple Mountain Organics in Montgomery. "There are a few silly people who are doing it on a small scale like me," says Hertzmark, "but we are few and far between."
When compared to conventional grain farms, typically hundreds if not thousands of acres in size, Hertzmark's operation is a speck of stardust.
His farm is a total of 32 acres, his flour is made in small batches—really small batches—and the bright, white side room in the old barn holds just three compact stone mills. About the size of a workbench, each mill features a rotating runner stone and a fixed bed stone, both made of North Carolina pink granite and etched with a sun-like, spiral design, similar to Migrash's logo.
Amid an ever-present metallic whirr, grain is fed into the mill's hopper, where it enters the center of the stone, slowly making its way into each furrow, then across the surface, where the kernels are ground into flour that is fanned cool then vacuumed through a shaft to a nearby sifting box. Here, it is sorted by size—from powdered-sugar-like pastry flour to coarser grades for bread—and accumulated in rolling bins. It is then bagged by hand and stacked briefly in the walk-in cooler, with every batch milled to order.
"That's the beauty of it," says Hertzmark, patting a pile of brown-paper bags. "This flour is literally two days old."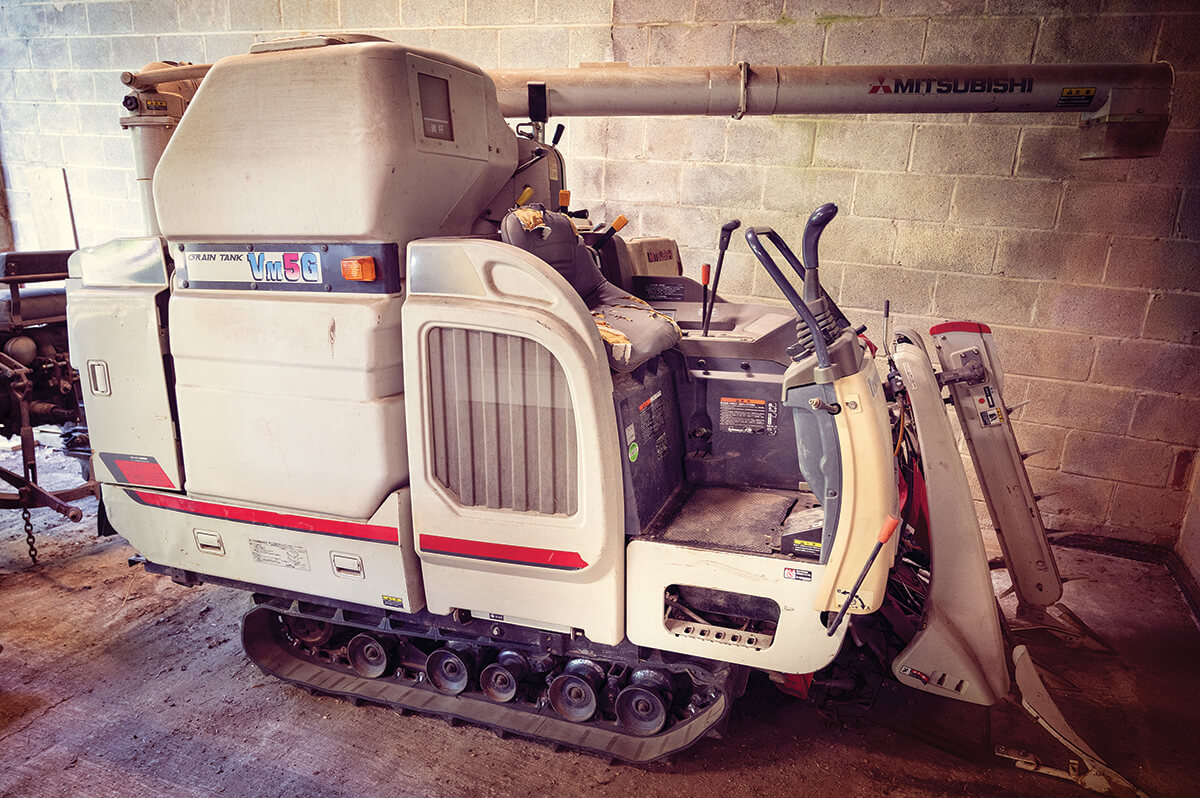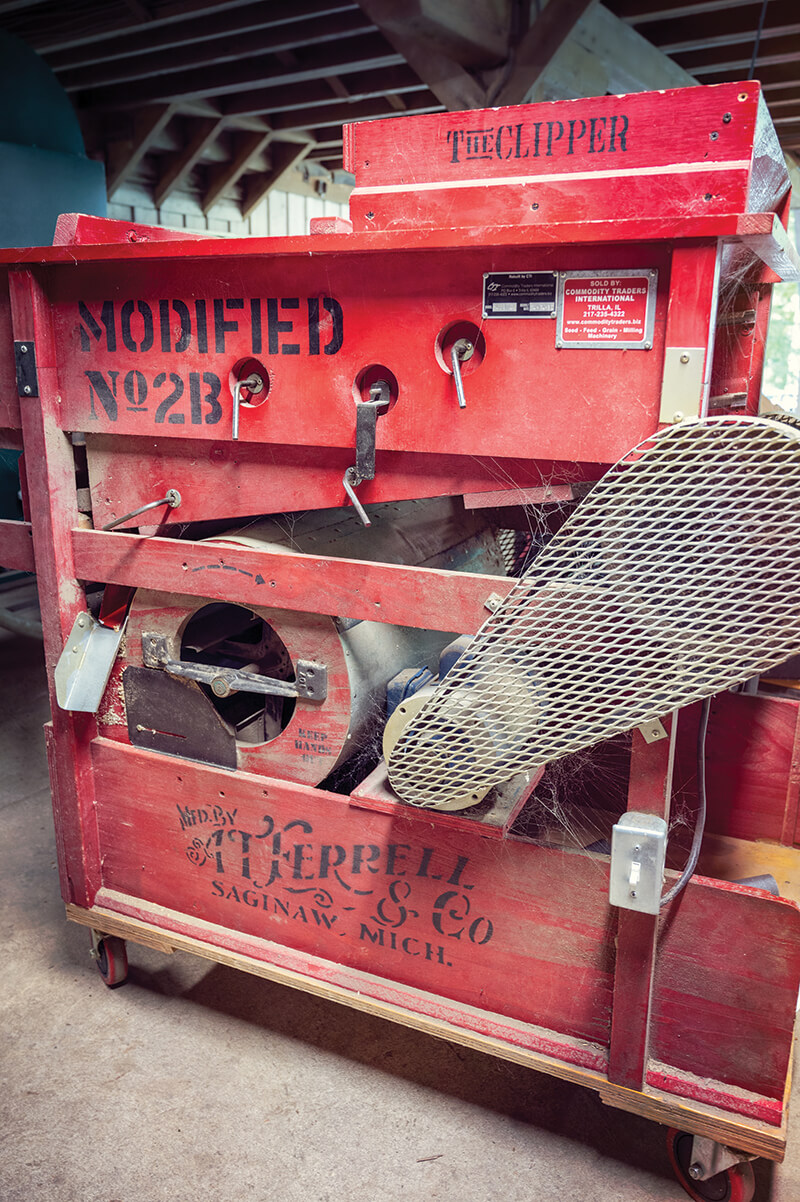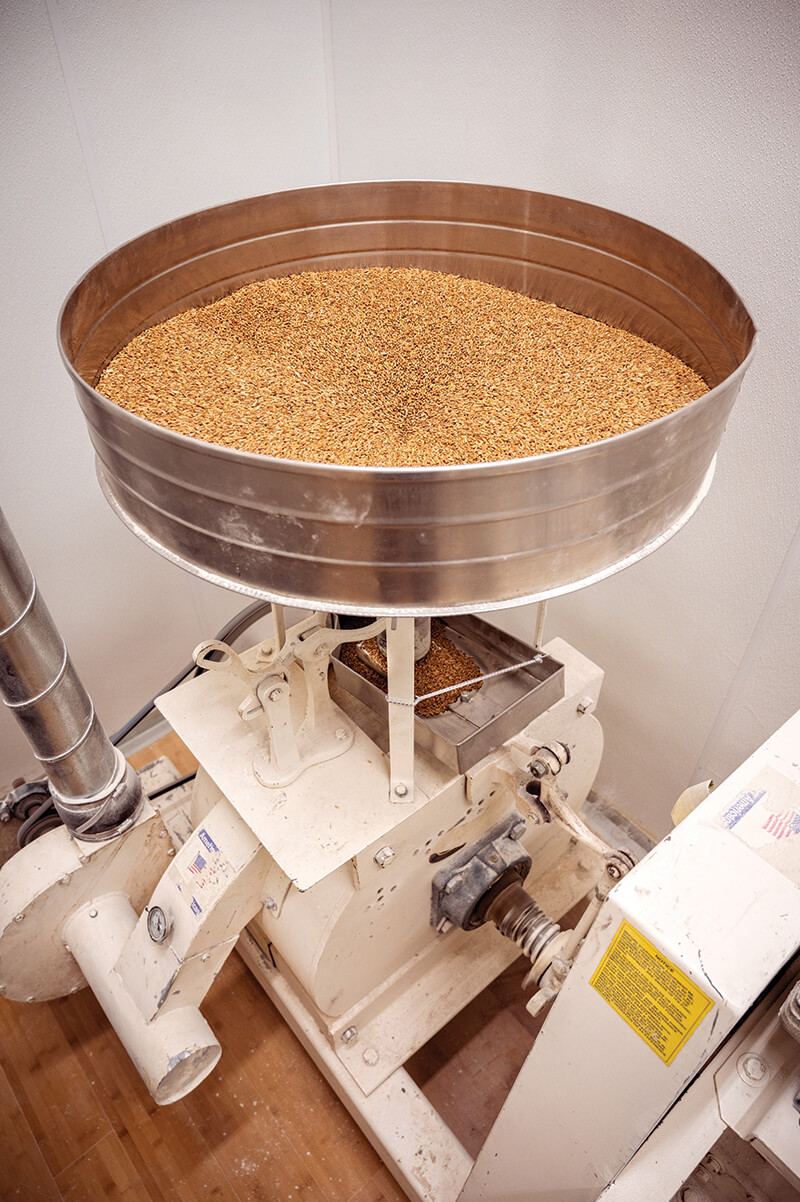 The Migrash Japanese rice combine, which Hertzmark uses to harvest his crops; grain waits in the mill's hopper; the assembly line of grain cleaning machinery.
But why go to all this trouble when you could just buy an all-purpose sack of the stuff in your baking aisle? One key benefit of stone milling is that the process, by its nature, allows for the preservation of the whole grain. This includes the bran, aka the fiber-filled outer layer, and the germ, aka the flavorful, nutrient-rich part of its core. Both are discarded in the refining of "white flour," which makes it shelf stable but leaves the grain's starch devoid of that other nuanced and nutritious good stuff—B vitamins, iron, zinc, fatty acids, antioxidants—some of which is lost in industrialized versions of whole wheat flours as well.
And customers have taken notice, particularly since the early days of the coronavirus pandemic, when supply chain issues disrupted local grocery inventories and seemingly everybody started to bake bread. "It was a perfect storm," says Hertzmark, who estimates a 1,200-percent growth in orders that second quarter of 2020. "It's balanced out, but there continues to be a steady increase."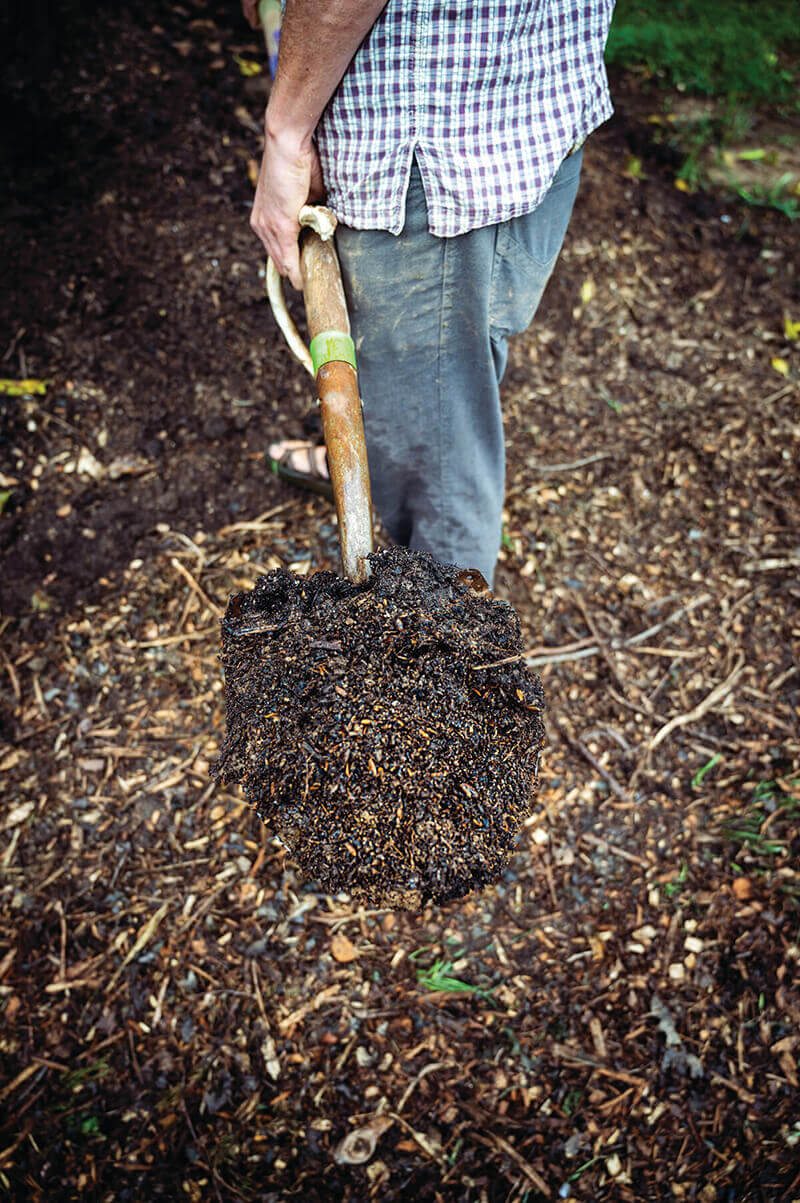 Homemade compost, which includes any grain leftovers from the stonemilling process.
Migrash now mills upward of 150,000 pounds of flour a year, selling online and to the long lines that form at his farmers' market stands in Catonsville and Takoma Park. These are both home cooks and professional chefs, with Hertzmark garnering a growing roster of restaurant-world clients across the region, like Well Crafted Kitchen in Hampden and Foraged Eatery in Station North, with some even starting to purchase their own stone mills to grind his grain themselves.
"It makes a huge difference," says Russell Trimmer, co-owner of Motzi Bread, who first met Hertzmark in 2016 when Trimmer was the head baker at Woodberry Kitchen near Hampden. "Just knowing that I'm feeding people something that's excellent for them, and that it's also feeding the land—for me personally, it just wouldn't be worth doing it any other way."
Throughout the year, he and Hertzmark hold regular check-ins, and among topics like crop plans and harvest success, they also discuss each variety's utility for baking—sometimes resulting in the farmer cutting those that aren't up to snuff.
"Warthog got the axe this year," says Trimmer, referring to a type of red winter wheat. "That back and forth with Ian is the fundamental benefit of this scale of agriculture—it considers what's best for everyone involved."
That sort of feedback is also essential for Hertzmark, who prides himself on overall quality. Behind the barn, he gestures toward the hulking assembly line of machinery—some pieces essentially antiques, others imported or purchased on eBay— used to discard the grain's unneeded hull and clean away rogue weed and cover crop seeds or any other debris that could make its way into the final product, impacting taste and consistency. He holds himself to a high standard, grading every step of the process with both the human eye and hand.
At the same time, a degree of imperfection is still welcome. When you buy a bag of flour from Safeway or Sysco, you always know what you're going to get. But at Migrash, no two seasons are ever the same, with subtle notes of Mother Nature found in every harvest. He opens a cannister lid, filled with freshly milled whole grain spelt flour, and encourages a whiff.
"One of my mentors likes to talk about Hollywood tomatoes," says Hertzmark. "Consumers have come to believe that tomatoes are perfectly round, no cracks, no blemishes, no character, no smell, no taste—that's a tomato, right? But anyone who has grown a tomato knows that's not the case."
In fact, the nuance has become a selling point, particularly for those professional bakers, allowing them to boast the differences between Wonder Bread and this dynamic sustenance.
"For something that used to be a blank, bland canvas to now have a flavor of its own, that makes it really rewarding to work with," says Trimmer, who, at the beginning of each harvest, receives a 50-pound sample from Migrash, allowing him to experiment before transitioning into the season's new grains.
In Hertzmark's dream scenario, people would seek out Chesapeake grains as if they were a Napa Valley or Finger Lakes wine. Like grapes, grain picks up the terroir, or characteristic essence, of the soil, topography, and climate of its particular region. Similar varieties grown in New England will not taste exactly the same as those in the Pacific Northwest or central California.
"In some beautiful system someday, could there possibly be, like, a 'Piedmont' or 'Coastal Appalachian' for Mid-Atlantic grains? Because there actually are differences," says Hertzmark. "It's not just the variety and the story behind the variety, but it's the story behind the land."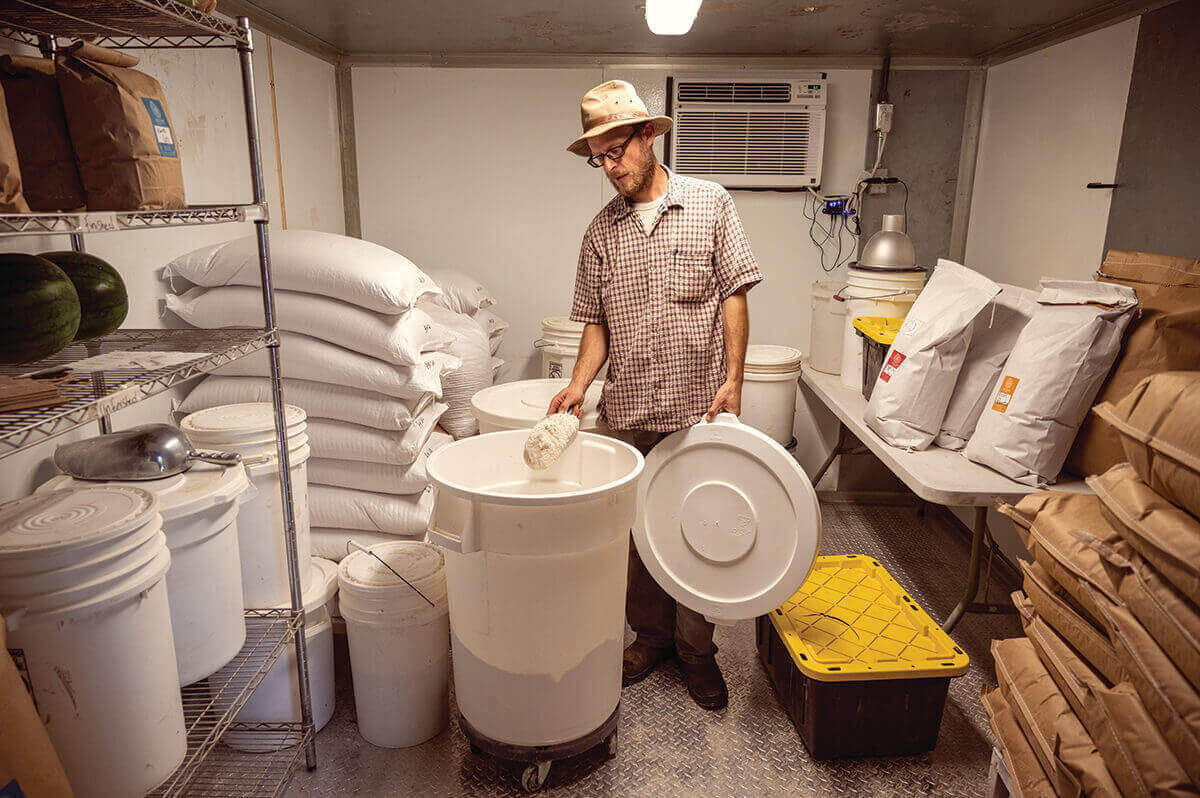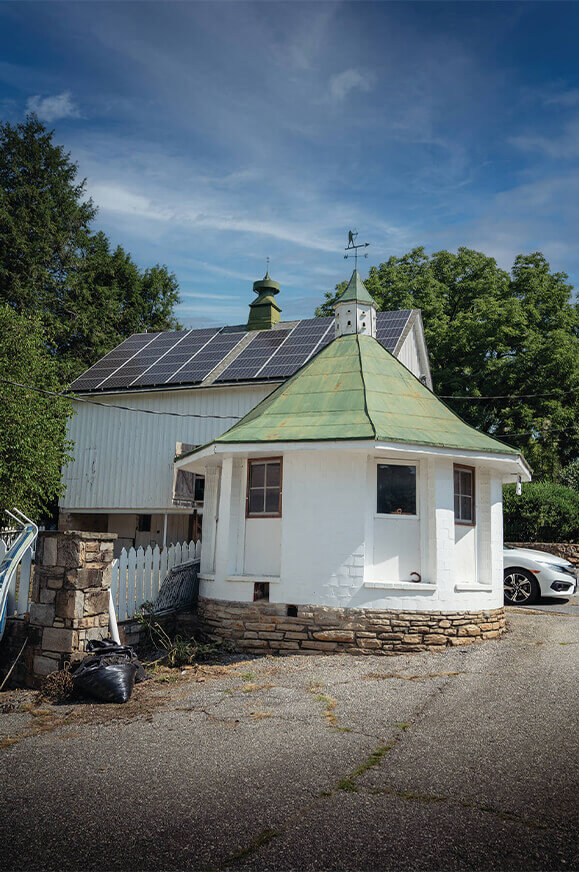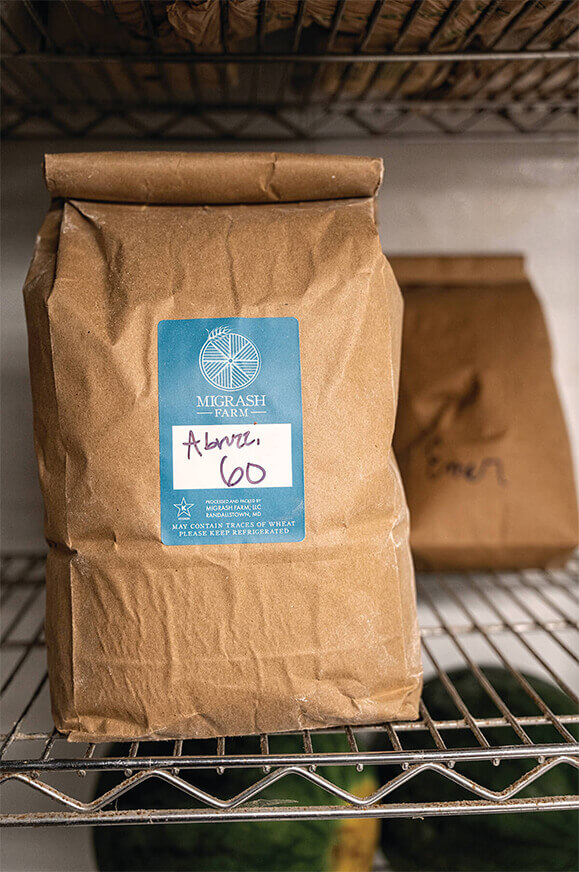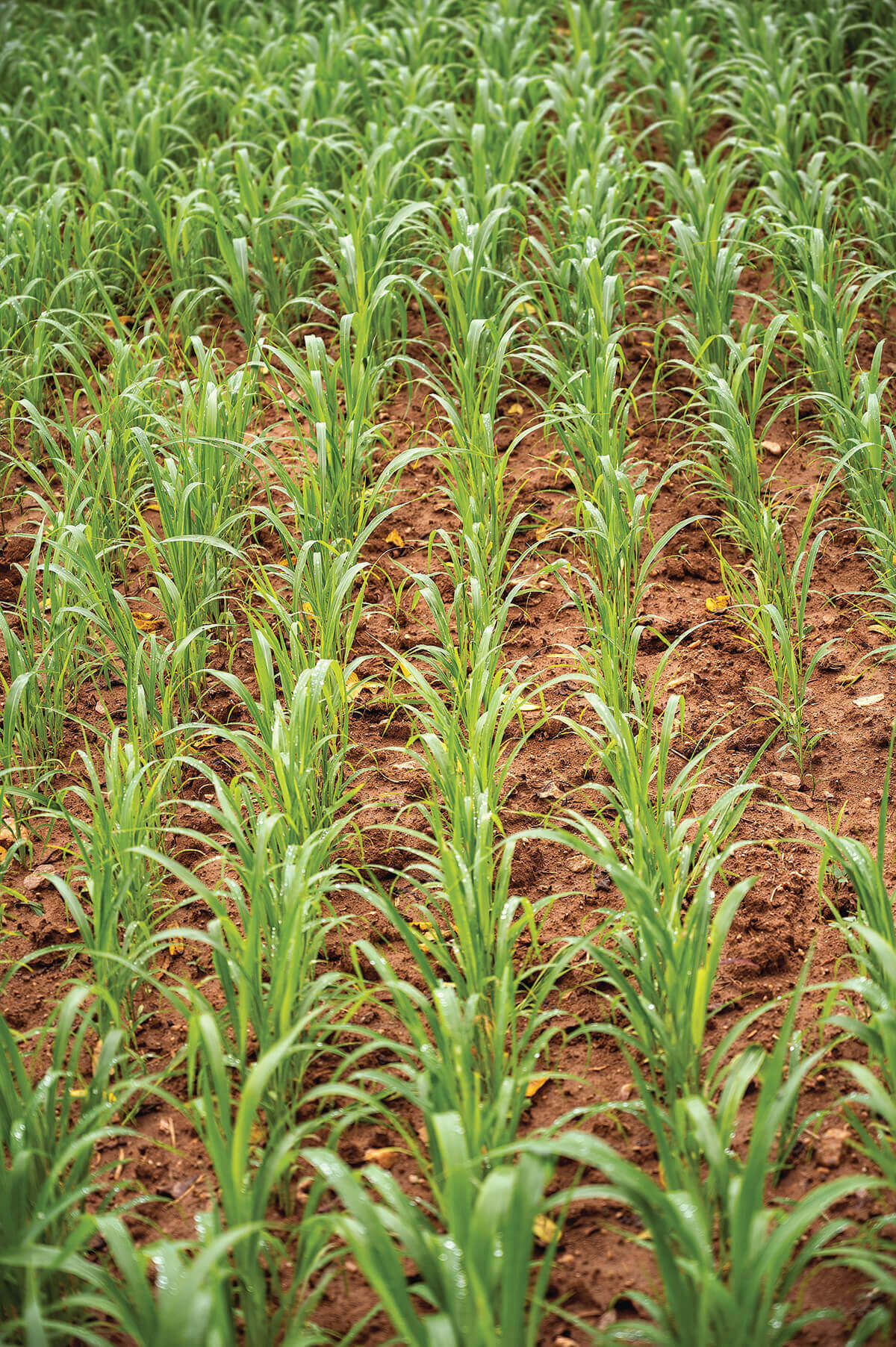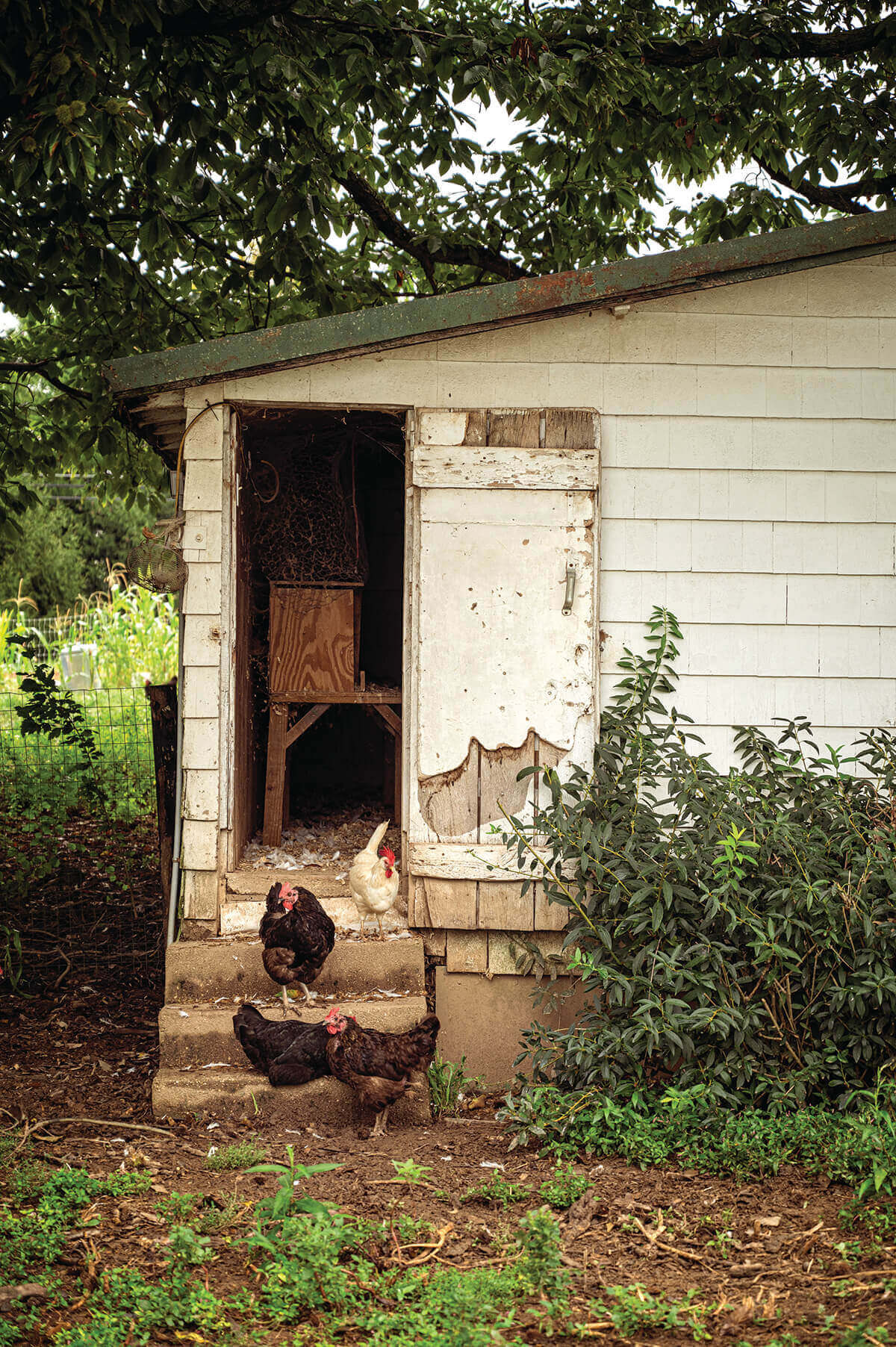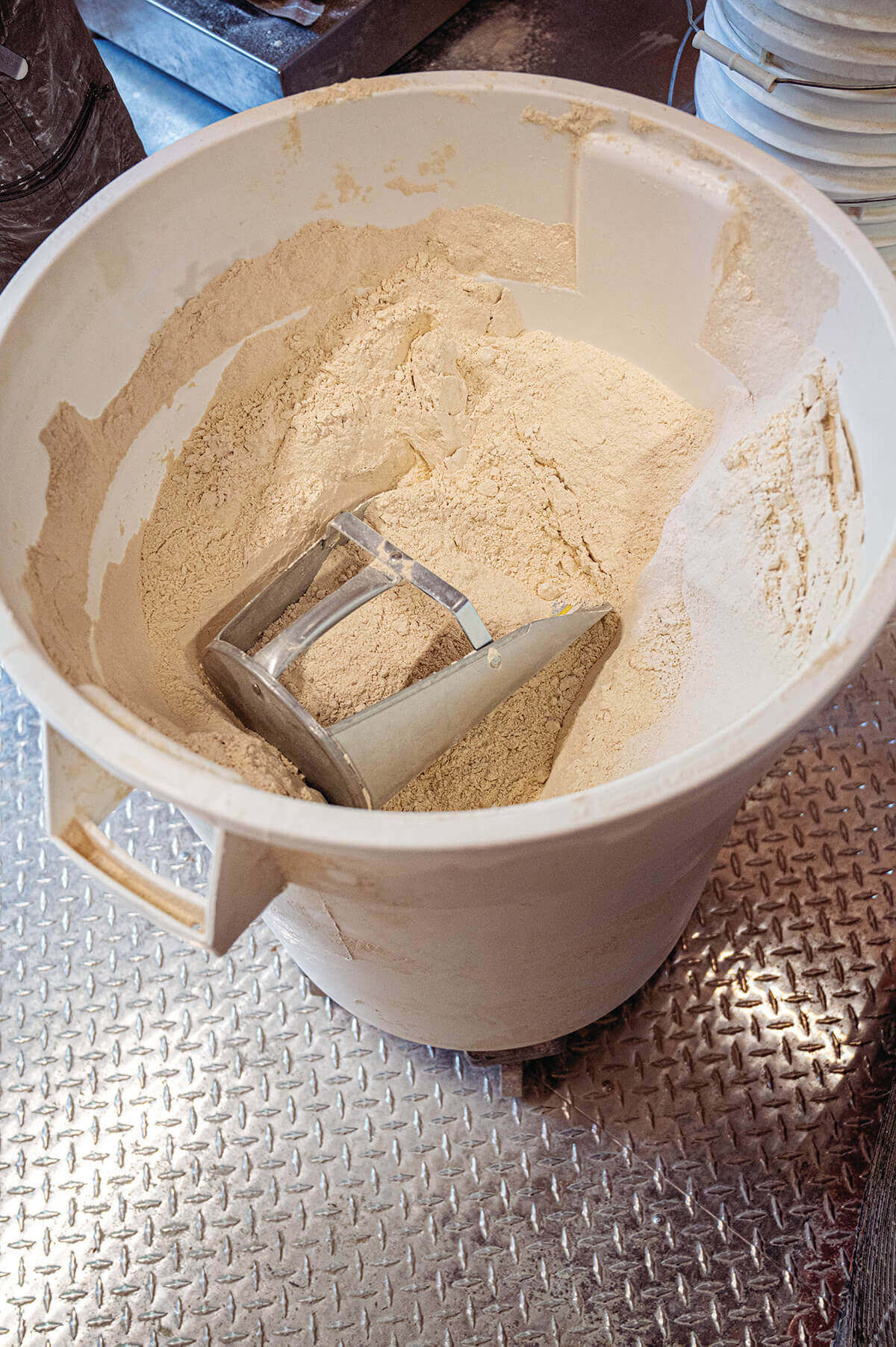 Hertzmark opening a cannister of whole grain spelt flour inside the walk-in cooler; the sorghum Sudan grass cover crop; freshly milled flour; the family homestead's chickens head out for a stroll; the barn; a bag of Abruzzi rye flour.
I n all honesty, this idyllic vision is a bit of an uphill battle. The high-end price point of artisanal grains reflects the expensive process of bringing them to market in the first place. Conventional grain farming is an economy of scale—one where bigger is better and government subsidies help buffer bad weather and global prices. Whereas this nascent industry often lacks the basic infrastructure, equipment, and resources that can increase efficiency and therefore profitability for its small farms, keeping their costs high and creating issues of accessibility if they actually want to make a living.
"I don't believe that local grains should only be for the elite or restaurants in gentrified areas that charge $30 a pizza," says Hertzmark, whose productive modern grains help keep some of his prices competitive with the likes of King Arthur, which costs $9.95 for a bag of organic wheat flour. "That's where real and more difficult conversations need to be happening."
Regional organizations have cropped up across the country to navigate some of the obstacles faced by folks like Hertzmark and help foster local, regenerative grain industries. The Mid-Atlantic's Common Grain Alliance, for instance, works with farmers, millers, bakers, and artisans to build regional networks, share resources, and garner consumer interest in hopes of creating a viable long-term market.
"It's definitely a work in progress, but scale impacts price, so as this market and businesses like Ian's continue to grow, they can continue to be more competitive, which will be important in the long run," says Ben Shorofsky, a CGA board member and owner of Back Alley Bagel, a local-grain-based cottage bakery in Patterson Park. "As a whole, our food system has been commoditized. How do we try to approach that reduced cost without losing quality for the farmer or customer?"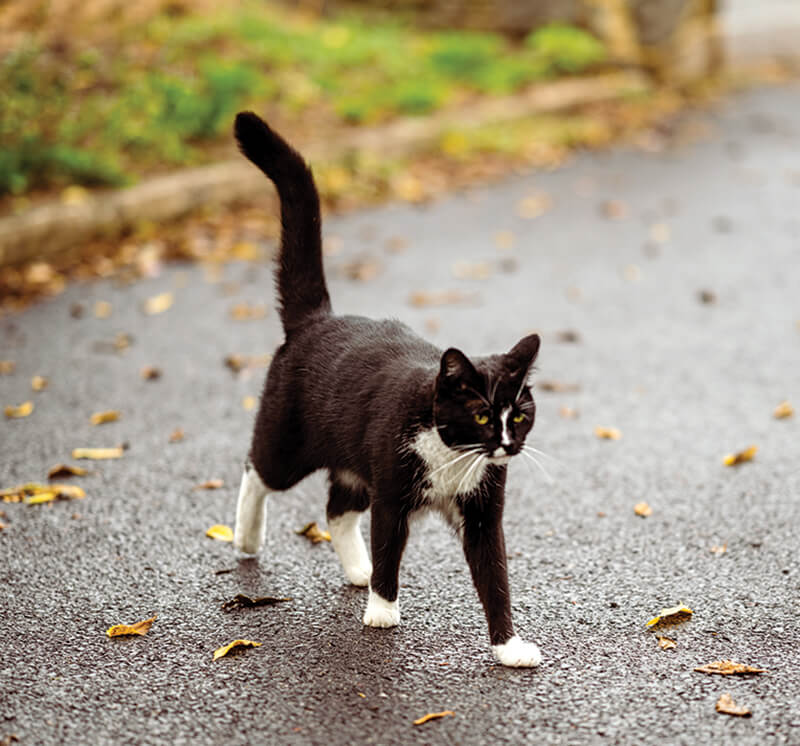 A farm cat takes a morning stroll.
As shown during the pandemic, local food systems can create a degree of resilience for their communities, while also providing them more fresh, flavorful, nutritious food—which once again aligns with Hertzmark's spiritual practice.
"The idea of the Commandments, as it were, should really be read as obligations," he says. "We have specific obligations that we acknowledge, on an ethical basis—to animals, to the insects, to the land. That's partly obligations to the Beri'ah, to the creation, but that's also obligations to my fellow humans."
Which is why he sticks to the tasks at hand, like sowing multiple acres of sorghum Sudan grass into the open field as part of a planting schedule that revolves around the Jewish High Holidays. This cover crop is not one that he will harvest. Instead, it will be used to combat weed pressure and enrich his soil for the future. After growing for several weeks, it will be mowed once in the fall, then killed off by the cold of winter, after which another cover crop, rye, will be planted come spring.
Over time, this type of regenerative farming creates a rich, self-perpetuating system within the land—one that requires less amendments, like compost or fertilizer, and less tractor passes, which will keep his intricate soil structure, and the carbon it stores, intact. And if adopted by more farmers, it could lead to a seismic shift.
Soil is one of our greatest defenses against the worsening threat of climate change. With the help of plants (and those mycorrhizal fungi), it absorbs about a third of the carbon dioxide that exists in the planet's atmosphere, a number that could increase with better land practices by more farmers.

But the agricultural sector is currently the fifth largest emitter of greenhouse gases in the United States—the second largest globally—according to the Environmental Protection Agency, which is why farmers are now being federally incentivized to plant cover crops and reduce tillage, keeping more of that carbon underground. (Unfortunately, this has created its own set of problems, as conventional farms increasingly replace ploughs with chemicals to control weeds and save time.)
Climate change is a reality that Hertzmark, like all farmers, has to deal with, and some of the trial varieties currently underway at Migrash are specifically aimed at navigating a warming world. In these uncertain times, it is still here, in the ground at his feet, that he continues to find his answers—and traces of faith.
"Ian looks at the world and sees the gap between what is and what could be," says his wife, Aliza. "But rather than accept the status quo, he feels personally compelled to close that gap. He sees the potential for how things can be better, and acts on it. That is really the force that has driven Migrash Farm from a patch of wheat to what it is today."
In late summer, Hertzmark watches his fields rise. He experiments with new crops—beans, lentils, even chickpeas—and plans ahead for next season. He has just harvested another patch of Red Fife, this time rigorously monitored and eventually approved by a group of rabbis to become kosher. It will be turned into matzoh for Passover.
He remembers one day during his time as an ecologist out west, standing in a grassland with miles of sage grouse habitat in one direction, and natural gas rigs as far as the eye could see in the other. Growing distraught, he turned to his mentor—"pretty sure an atheist," he guesses—who said, "The Earth is going to be here a lot longer than any of us, or any of that. Will we get by? We don't know. But it will get by, don't you worry."
He tries not to. After all, there are deliveries to be made, mountains of grain to be milled, and bundles of wheat to be threshed on a pedal-powered piece of equipment—arguably his most rudimentary—before the arrival of afternoon rain.
"Years later, I read the Book of Job, and it's the same message—we start off with this worldview that everything is for us, that everything is about us, but at the very end, we are but dust," says Hertzmark. "It's weird that it's comforting, but at least I know I'm part of something bigger. And if I try my best, I can't be too worried about anything else."