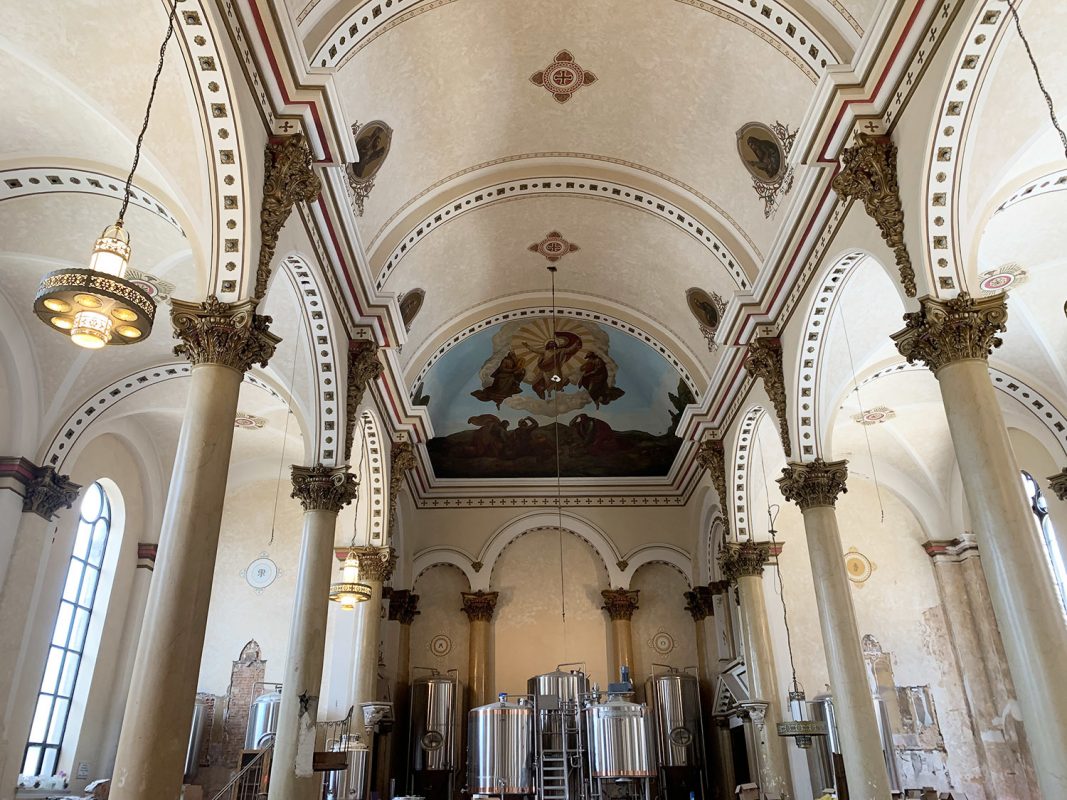 Photography by Sarah Kloepple
Something's brewing (literally) inside St. Michael's Church in Fells Point.
This fall, Ministry of Brewing will open to the public inside the 19th-century landmark, located on the northeast corner of Lombard and South Wolfe streets. The brewery aims to bring a classic rotation of beers and a unique gathering spot to the neighborhood.
General manager Jon Holley predicts the novel idea of a church brewery is unlike anything neighbors will likely expect, especially when they step inside the church and look up toward the vast barrel vault ceiling.
"When I came on board, I was like, 'Oh, a church brewery—that's cool,'" he says. "But then walking in here I think my jaw dropped. There's nothing really like this anywhere. We just want to have a good atmosphere, good food, good beer, and good people."
Built in 1857, the church was designed by Baltimore architect Louis Long in the style of early Romanesque Revival. It served the "significant waves of German Catholic immigrants that settled in East Baltimore during the mid-19th century and the Redemptorists who took charge of these German Catholics as part of their mission here in Baltimore," according to National Register of Historic Places.
It became the oldest continuously operating Redemptorist Catholic church in Baltimore. After most recently serving Hispanic parishioners, St. Michael's closed in 2011. It was abandoned until Ministry of Brewing partners—Jeff Hunt, Michael Powell, Ernst Valery and David Wendell—bought the building in 2017, with a deal closing in 2018.
The church first caught the eye of Valery, a real estate developer. As more partners became involved, a brewery felt like the right fit for the church's next life. Hunt—who also opened MadTree Brewing in Cincinnati, Ohio—says that turning the building into a 250-seat brewery has been a "unique undertaking."
Beer hall–style tables are made from wood reclaimed from the church, with the brewery's logo burned into the center of each. Food will be available, and Holley says to expect pub fare such as baskets of flavored popcorn, burgers and flatbreads.
A large bar, around 40 feet long, will soon be covered with a crushed oyster shell concrete bar top. The bar will initially serve classic beer styles—all made by Ministry of Brewing—such as a fruit-forward IPA, a pilsner, and a sour. Head brewer Dave Macala will use a 20-barrel system, with the equipment fittingly perched on the altar.
"He's excited to do some pretty unique things with beer," Holley says. "We're going to get pretty nerdy with it." Holley adds that the beers will be available draft only to start, and self-distribution plans around town are in the works.
Along with the beer hall tables replacing where rows of pews once were, patrons will find a lounge underneath the choir loft with low tables, cozy love seats, and couches. A platform with stairs, which is closer to the altar on the right-hand side, will lead out to a small outdoor courtyard with additional tables.
The partners are preserving as much as they can to honor the church's history. A number of specialized sub-contractors are working to restore the grand columns and one of the saint murals on the ceiling, as well as lightening the interior paint. The Stations of the Cross are also being touched up and will be filled with acoustical material to mitigate noise levels.
Holley says when the partners first got into the building, the stained glass was gone and only eight pews remained. They're currently refurbishing the leftover pews to use as booths around some of the tables. Wendell says vandalism was apparent, but patrons will see a completely different sight come early fall.
Church breweries are not particularly new, but still rare. In 2017, the Associated Press reported that since 2011, at least 10 breweries opened inside old churches in the US, with four more slated to open the following year. One of the closest church breweries to Baltimore is the renowned The Church Brew Works in Pittsburgh, Pennsylvania, which opened in 1996 inside what was formerly known as St. John the Baptist.
Often the goal with church breweries is to create a "wow" factor and revitalize a historic piece of property that's been left to dust and decay.
"Neighbors come in here and say, 'My parents got married in this church,'" Holley says. "It's so cool to be a part of it and hear all the stories."
He says that Ministry of Brewing hopes to offer tours to curious patrons who want to learn more about St. Michael's history.
Adds Hunt: "We want to preserve the place and be respectful of what it was, but at the same time, transform it."