Street Sweets
The mobile dessert trend gains speed in Baltimore.
In the 21st century, ice cream vending gets a decidedly modern spin. Move over ice cream truck—meet the latest trend in the mobile food business: dessert bikes. Both Katherine O'Brien, founder of Cream Cruiser, and Krystal Mack, owner of PieCycle and KarmaPop, are using bikes to peddle (and pedal) their dessert treats around town.
Here's a comparison chart for your consuming pleasure this summer: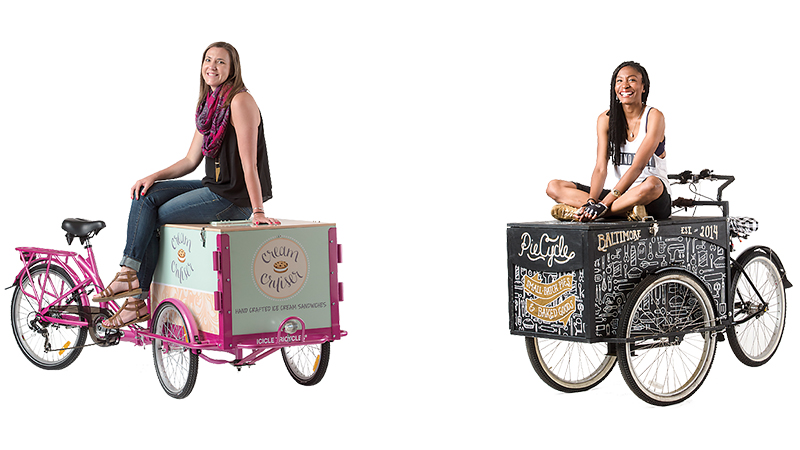 CREAM CRUISER
THE SCOOP

Gourmet ice-cream sandwiches.
LAUNCHED

Spring 2015.
ALONG FOR THE RIDE

One custom seven-speed bike from Portland-based Icicle Tricycles.
SEASONS

April-October, but also works weddings and corporate events.
STREET CRED

Home baker, who made ice-cream sandwiches for friends; currently clocks in at Charm City Concierge.
COLD REALITY

Eight cookies, 15 flavors of Taharka Bros. ice cream ($5).
TOP TASTES

Honey-graham ice cream

with chocolate-chip cookie;

strawberry ice cream with lemon cookie; cheesecake ice cream 
with snickerdoodle cookie.
ON THE ROAD

"Since it's such a new 
idea, my biggest fear was 
that the city would think I was completely out of my mind," O'Brien says. "But they gave 
me the same permit 
as a food truck."
SWEET BEAT

Inner Harbor, Fells Point, 
Federal Hill, and Pratt Street Farmers' Market.
MOBILE MOTTO

"I don't have the money to 
open up a brick-and-mortar," O'Brien says. "This is an 
inexpensive, low-risk way 
to sell my product."
FIND ME

Facebook: Cream Cruiser
Instagram: @creamcruiser

KARMAPOP/PIE CYCLE
THE SCOOP

Artisanal ice-pops and upscale pies, cookies, and cakes.
LAUNCHED

Spring 2014.
ALONG FOR THE RIDE

A seven-speed and 
three-speed from Philadelphia-
based Haley Tricycles.
SEASONS

May-September; 

October-January.
STREET CRED

Worked the cold station at 
Le Garage; now reaps and 
sows at Real Food Farm.
COLD REALITY

25 ice-pop flavors ($3) and 
four pie varieties ($5/slice).
TOP TASTES

Sweet-potato-chocolate-
harissa pop; kale 
lemonade pop; Spring 
Break pie with Fisher's 
caramel popcorn.
ON THE ROAD

"Weather is a big challenge 
since you can't fight Mother 
Nature," Mack says. "Also 
your legs, man—you forget 
how hilly this city is."
SWEET BEAT

Hampden, Mt. Vernon, 
Charles Village.
MOBILE MOTTO

"Having your own freedom 
is everything," Mack says. 
"Being able to have that 
one-on-one interaction 
with people in the 
community is key."
FIND ME

Facebook: BmorePopsandPies
Instagram: @karmapop_bmore