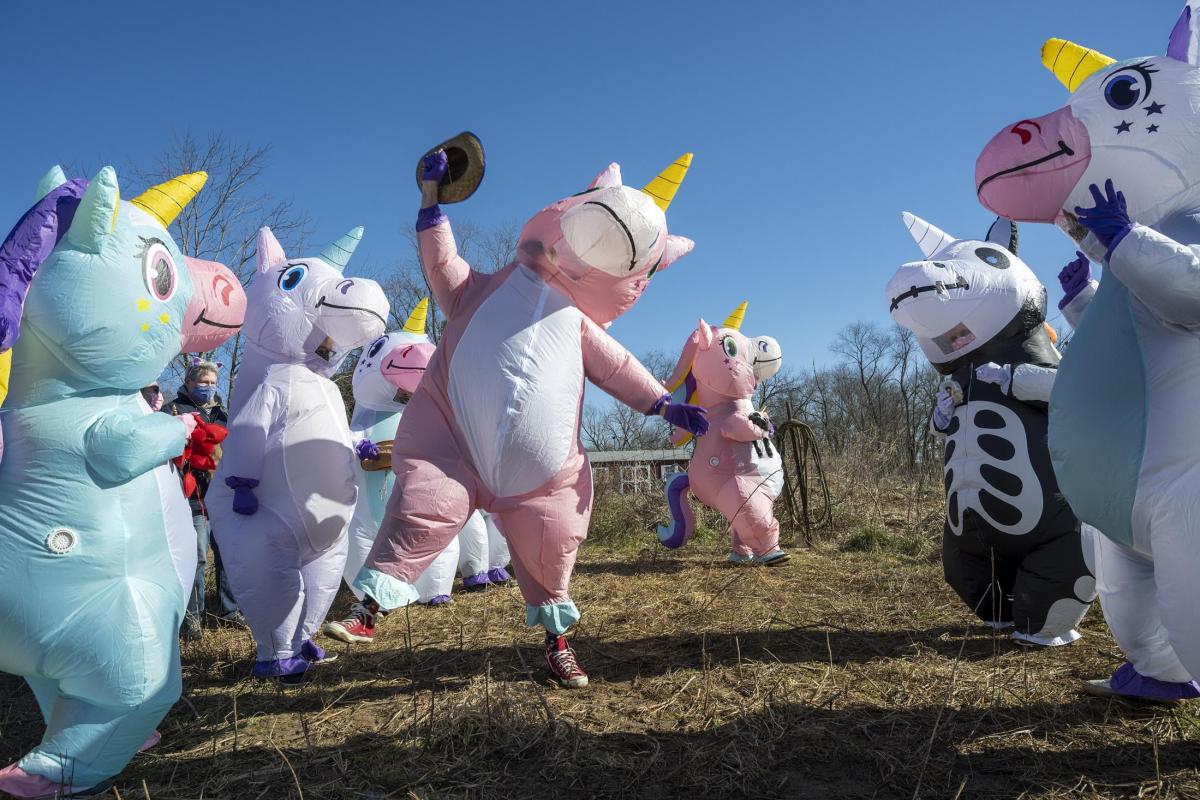 Photography by Christopher Myers
It turns out unicorns do exist—the food-delivering kind, anyway.
A local cycling team that annually participates in a charity bike ride benefiting Baltimore nonprofit Moveable Feast has, ahem, switched gears in the wake of the COVID-19 pandemic. 
Instead of its annual fundraising party—held at Gertrude's inside the Baltimore Museum of Art, with additional area restaurants and breweries donating food and drink—the cycling team Rebels with a Cause has found a whimsical, safe way to still raise money for Moveable Feast while supporting local businesses during this tough period.
About a dozen of its riders, all donning inflatable unicorn costumes, started delivering orders from Gertrude's last month for a $25 "delivery unicorn fee" that all went to Moveable Feast—which provides meals to Marylanders living with HIV/AIDs, cancer, and other life-threatening diseases. Upon delivery, the unicorns even broke into a flash mob-style dance for the recipients. One of the Rebels with a Cause riders spearheading the fun initiative is Abby Ferretti Jackson.
"We were thinking of how we could still encourage people to buy things from our favorite restaurants and then potentially have a spinoff to also raise money for Moveable Feast," she says. "That became the mission that we had to solve this year. The unicorn costumes were just a weird enough way that we felt we could drive some attention to [the cause]."
So where can you spot the unicorns next?
Jackson says more delivery dates with Gertrude's are on the way, but not yet confirmed. The team is also getting into the Valentine's Day spirit and will deliver gift baskets and specially made fudge from Charlottetown Farm on February 13 and 14. Fudge is $10, with $7 donated to Moveable Feast, as well as $40 from every gift basket purchase.
They'll also be at the Waverly Farmers Market on February 6 and 13 to help distribute pick-up orders—and to take plenty of fun pictures if customers feel so inclined.
And on March 3, the unicorns will help deliver orders from Well Crafted Kitchen, located inside Union Collective in Hampden.
"It has been really fun," Jackson says. "This wasn't originally the mission. But the people inside these suits—we have teammates who are doctors and OB-GYNs and associate deans of schools—they have these high-stress jobs. But then they zip up their suits and they're dancing to Kesha and just being ridiculous. It's good to see people finding joy."
Jackson emphasizes that the real "stars of the show" are Charlottetown Farm owner Pam Miller and Gertrude's owner John Shields, who is also a rider for Rebels with a Cause.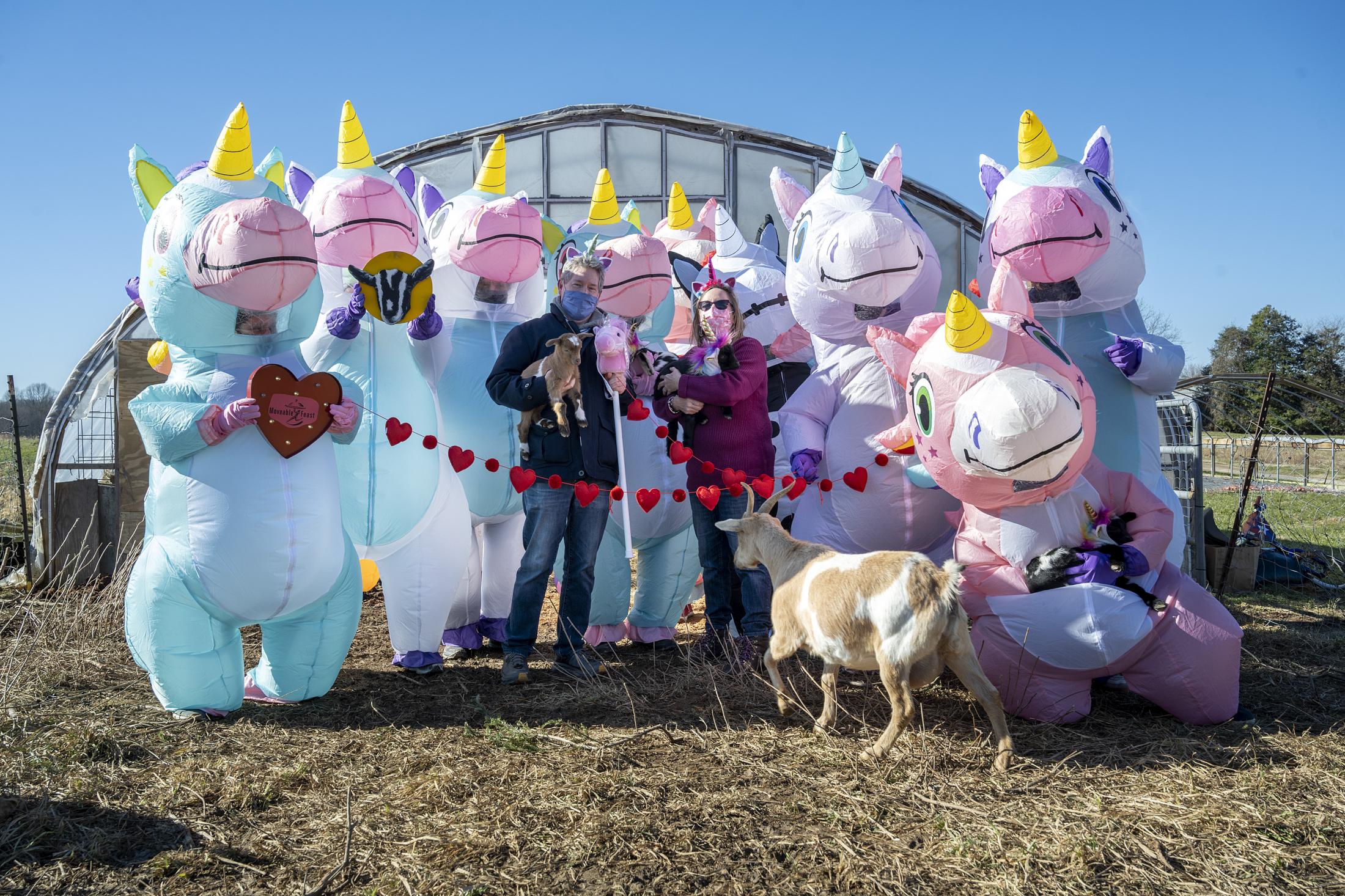 "I'm just a humble unicorn helping to organize," she says, adding: "It's been so awesome to see so many wonderful, creative, passionate people who just want to contribute and show some of their craft. I think that's what's really special about it, that so many people are just building upon it and making it a little bit more special."
When she's not donning an inflatable unicorn costume, Jackson manages a team of creatives for Johns Hopkins Carey Business School. This will be her eighth year riding with Rebels with a Cause, which she does alongside her husband, Peter.
Normally at this time of year, she and her team would be planning their big annual fundraiser at Gertrude's (which usually sells out) ahead of the Ride for the Feast bike ride. Rebels with a Cause, the largest team that participates in the ride, has been around for more than 11 years.
"We'd have really generous chefs and brewery partners who donate food, and they'd come in and make it a really fun event," she says. "We'd have live music, too."
During the party, the Rebels' team captains acknowledge a particular teammate who has gone above and beyond to support fundraising or recruiting efforts that year with the Pink Pony Award (a stuffed pony head on a stick).
"We had a team member who was a shock trauma nurse who literally saved a life with a liver transplant to another team member, so obviously she won that year," Jackson says. "There's this rich history of the Pink Pony Award…so unicorns have somehow become this iconic image throughout the team."
And a bit of, in this case, fitting trivia: A group of unicorns is called a blessing.
To stay in the loop and see where Unicorns with a Cause might appear next, or if you're interested in a potential partnership, follow them on Instagram or Facebook.