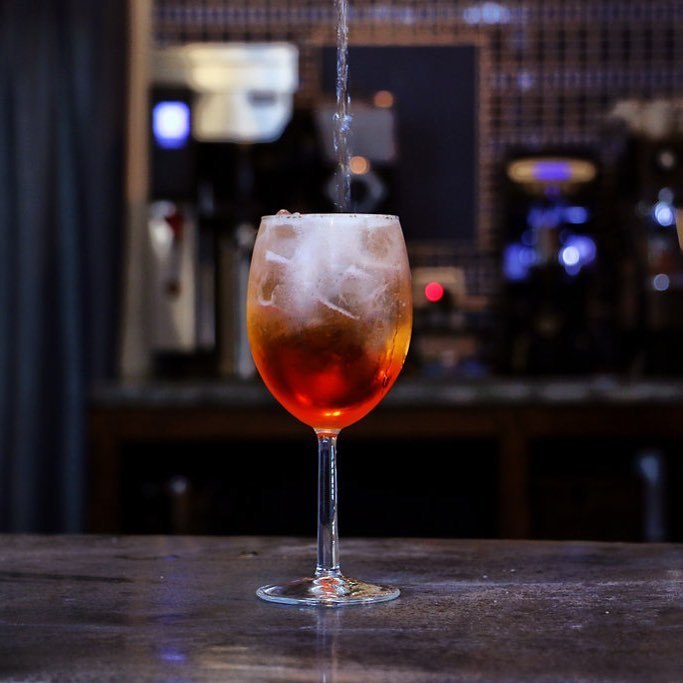 Perhaps it's because this particular bar reviewer isn't getting any younger, but we sure appreciated this year's national trend toward lower-proof spirits, session beers, and health-conscious cocktail ingredients. While the stresses of 2018 did still inspire us to throw a few back, it was nice that our mornings after weren't quite as harsh.
Baltimore also saw the rise of natural wines and welcomed the opening of some outside-of-the-box bars and breweries this year. In no particular order, here were 10 of our favorite ways to imbibe in 2018.
Aperol Spritz at Little Bird Coffee Bar
We dare you to find anything more refreshing than sipping an Aperol Spritz on the terrace of the newly opened Little Bird Coffee Bar in Hampden. From the owners of the cocktail gurus at Bluebird just upstairs, this cafe is quaint and charming in all the right places. Our absolute favorite part is the menu of spritzes (a welcome trend at other bars and restaurants), which come in Aperol, Campari, Cynar, and Elderflower varieties—simply a balanced ratio of each base spirit mixed with crisp Primaterra Prosecco, club soda, and an orange twist. Ah, total relaxation.
Epoch Rye by Baltimore Spirits Company
Okay, granted, this does not qualify as a low-proof spirit, but we had to give a shout to Baltimore Spirits Company for finally releasing its whiskey (and a few other distillations to follow) after it had been aging in American oak barrels since 2015. As with many whiskies, it turns out it was worth the wait since Epoch has a perfect balance of spicy rye notes like clove, cinnamon, and tropical fruit with the sweeter flavors of vanilla and honey imparted from the barrels. This was made all the better inside the distillery's new tasting room at Union Collective, which opened its doors in September.
Gose O's by DuClaw Brewing
This past year, thanks to the addition of brewing legend Ernie Igot (formerly of Peabody Heights), DuClaw Brewing in Rosedale has been putting out some of its tastiest beers since it was founded in 1996. (Be sure to check out the "Sour Me" series in peach, mojito, and dry-hopped versions or its recent barrel-aged Retribution releases.) But the latest iteration of Gose O's—released in time for Orioles season—had even crisper notes of cantaloupe and sea salt, making it the perfect accompaniment to a summer game, no matter the score.
Midori Highball from Regal Beagle
One of our favorite new bar additions of the year, Regal Beagle opened its doors in Canton at the beginning of May and we soon wondered how we lived for so long without its vintage, tiki vibes. Inspired by the Three's Company era, the bar has a distinct late '70s/early '80s feel and the fun and colorful cocktails reflect that. One of our initial favorites was the Midori Highball with with Nikka Japanese gin, Green Chartreuse, yuzu juice, fresh honeydew, and salt. We love a good liquid time machine.
Duck Season Old Fashioned at Wit & Wisdom
It is with a bittersweet palate that we recognize how Wit & Wisdom has revolutionized the Baltimore cocktail scene since it opened in the Four Seasons hotel in 2011. Though the bar will pour its last drink on December 31, Wit is going out with a bang as newly hired Gina Netisingha brought the program to an entirely new level this year. Take the Duck Season Old Fashioned in which Four Roses Yellow Label Bourbon was carefully infused with duck fat and rosemary to give it an incredibly silky texture and finished off with simple additions of sugar and bitters. Classic, just how we'll remember the place itself.
Hello by Wet City
This Mt. Vernon bar has been a go-to place to try experimental beer styles since it opened a couple years back. But this year, finally, we were able to see what the Sullivan brothers could do with their own, newly built brewery system. Wet City's first release, aptly dubbed Hello, was a perfect example of how a popular New England-style IPA should be: tropical pineapple on the nose, thick in body from flaked oats and barley, and super piney and citrusy tasting notes. We were sure glad to be introduced to this one.
Autumn Cider by Old Line Spirits
This was also the year that Baltimore welcomed its first bar inside a distillery, as Old Line Spirits opened The Ready Room at its Highlandtown facility. The bar menu was clever and made use of Old Line's single-malt scotch and aged Caribbean rum, but we were particularly excited about this autumn cider by bar director Steve Lamb. A combination of the American Single Malt Whiskey, apple cider, chai tea, cinnamon, star anise, clove, and lemon, the cocktail was cozy and felt like our official drink of fall.
Chrysalis by Monument City Brewing
While Monument City is known more for its classic beer styles like rye IPA and brown ale, the brewers went a bit outside the box with the purple-hued Chrysalis. Brewed in collaboration with veteran organic food producer Hex Ferments, they used the company's butterfly-lime kombucha to create the 3.5 percent (!) gose. The butterfly pea flower gave the beer its unique color and tart, refreshing flavor. We love how this brew got us to think about beer in a whole new way.
Pétillant-Natural Piquette by Old Westminster Winery
In 2018, we learned all about the versatility and funky flavors of natural wine, thanks to the opening of Fadensonnen, a wine bar and beer garden in Old Goucher. One of the best (and local!) varieties we tried at the bar was the Pétillant-Natural Piquette by Old Westminster Winery, which is spritzy, lower in alcohol, and a natural byproduct of the sustainable winemaking program out in Western Maryland. And, damn, if it isn't juicy, refreshing, and beautiful in color. You'll surely want more than one glass.
Keeper Stout (Nitro) by Checkerspot Brewing
The long-awaited Checkerspot Brewing Company debuted in South Baltimore this year and we were stoked to try their home-brew recipes on a larger scale. Known for its genre-defying styles and unique, local ingredients, Checkerspot kept us on our toes with every new release. Most recently, the Keeper Stout on nitro, a beer that's fortified with crab shells from J.M. Clayton Seafood Company in Cambridge, has been the most satisfying winter pour.