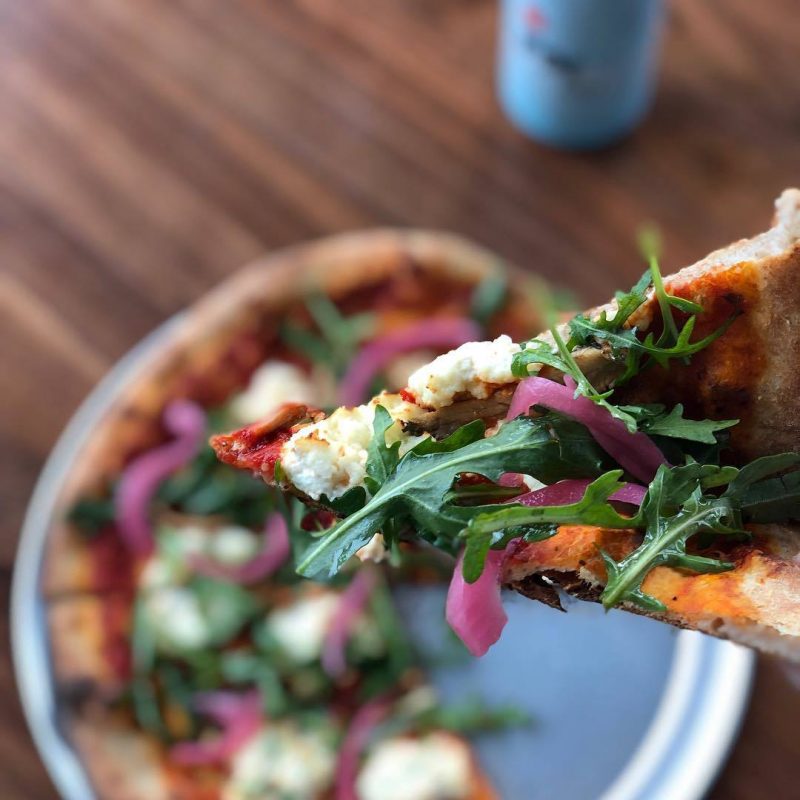 Noona's Pizza
When it comes to naming his restaurants, Phil Han tends to get personal. Dooby's in Mt. Vernon is a nod to his nickname as a young boy. Cocktail bar Sugarvale is a reference to the street that he grew up on. And forthcoming Broadway Market stall Old Boy pays homage to the classic Korean dishes Han now has a deeper appreciation for as an adult. His newest spot Noona's—meaning sister in Korean—is a dedication to his older sister, Christina.
"In really thinking about what to call this place, I thought back to how the name fits within the grander scheme of what we do," Han says. "'Noona' is a term of respect, specifically from a younger guy to his older sister."
To further the dedication to his only sibling, Han worked alongside Christina on design and menu details for the Midtown-Belvedere restaurant. Even the logo for the new shop mimics his sister's natural handwriting.
But beyond just their names, the restaurant concepts also serve as a way to give diners a glimpse at Han's upbringing: "Like every other kid, almost every birthday party that I went to growing up was always surrounded by pizza as this central food," he says.
Noona's—which opens today in the former home of Two Boots Pizza in the Fitzgerald Apartment Building—features a menu of signature sourdough-crust pies topped with ingredients like pancetta and shallots, potatoes and leeks, and classic pepperoni and mozzarella. The offerings will also include larger entrees like braised lamb with mint farro or roasted pork loin with broccoli rabe.
"The menu certainly has a big pizza element to it, but we also just wanted it to be a good neighborhood restaurant," Han says. "That was so key to where we wanted it to go. We thought about how it doesn't have to be just a pizza place with a few traditional pizzas and garlic knots. It can be something more than that."
Though there are some tie-ins to the Korean-fusion flavors at Dooby's, including a kimchi pork belly pie and similar coffee and pastry program, Han says he wanted Noona's to have its own identity.
The 55-seat space is a bit more modern, with mirrors by Artstar Baltimore, custom furniture by Goodwood Design, hanging ball light fixtures, a mix of individual and communal tables, and an L-shaped bar—which will be staffed by some familiar faces from his other businesses.
"The bar program is going to be very much driven by the Sugarvale team," Han explains. "However, it's going to be a touch more approachable. Sugarvale draws a lot more of the cocktail fanatic crowd, whereas this is more about how the drinks pair well with the food."
Aside from six local brews on tap, the bar will also offer beers, prosecco cocktails, and a rotating list of signature drinks. Among them are a house Negroni and the "Della Tristezza," which fuses rum, Strega liqueur, lime, grapefruit, pineapple, cane sugar, and molasses bitters.
An outdoor seating area with views of Mount Royal Station is also in the works for the warmer months. Han hopes that Noona's becomes a go-to for locals commuting from Penn Station, as well as MICA and University of Baltimore students strolling around the area.
"It's definitely a new neighborhood for us, but the way I think about it, it still feels like home field advantage," Han says, mentioning that many Midtown residents are regulars at Dooby's. "This definitely feels like familiar territory, and it feels great to be able to continue those relationships."