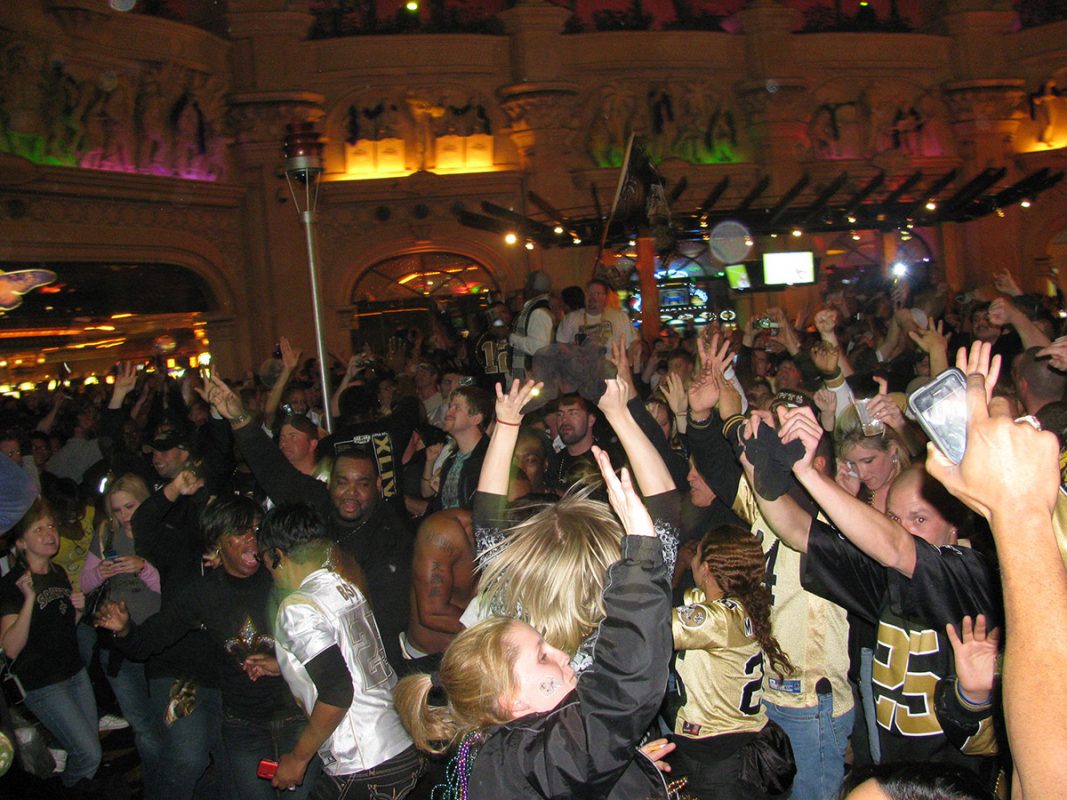 Courtesy of PBS NewsHour/Flickr Creative Commons
A few months back, several friends and I booked a five-day trip to New Orleans to celebrate a couple of birthdays. I was excited not only to get away, but to explore a city I'd never been to. Little did we all know, we were about to experience the biggest party the city had ever seen.
Before I even get to the Super Bowl, I have to say the nightlife in New Orleans lived up to every expectation. Live music spews out of every open door in the French Quarter—whether it's a smooth jazz trumpet or a lively zyedeco accordion. Alcohol is ever present. You're pretty much always encouraged to drink, even if you're just spending your afternoon at the zoo. And there didn't seem to be any rules, from what I could observe, about where and when to drink.
With the exception of Bourbon Street spots, everything was very reasonably priced, too. I'm pretty sure we got ripped off when buying jello shots on the side of the street (I know, so gross), but most of the bars we ventured into were charging $3 for beer and $5 for mixed drinks. For a hyped-up city like New Orleans, I was impressed. I tried some beer from local brewing company, Abita. I especially liked the Abita Amber, a smooth, caramel-like brew that was very easy to put back.
Obviously, the French Quarter is the party spot you always hear about. But I was staying near Tulane University and was able to hop around some of the Uptown bars, too, which was a nice change of pace. New Orleans seems to be a lot like Baltimore, in that there are a smattering of trendy spots, but most people in the city flock to dive bars (like Ms. Mae's), beer bars (like The Rendezvous Tavern), and bars where you can dance late into the night (like F&M Patio Bar). It was refreshing to see that a city, which has such a glorified nightlife reputation, was still extremely laid back at its core.
And then came Sunday. A friend (and NOLA local) recommended we watch the game at Lucy's, a bar in the Central Business District, where many Saints players apparently hang out after games. This was definitely the right spot. A huge crowd was hanging outside the bar with a DJ and various food and drink vendors (think Pickles times 20). The game was being projected onto the side of a building and looked pretty crystal clear by the time the sun went down. The atmosphere in the second half was explosive. Every gain felt like a touchdown and every touchdown felt completely insane. Tracy Porter's interception in the fourth quarter ignited the entire crowd into a frenzy: beers were flying, strangers were hugging, and everyone was chanting, "Who Dat?" (At one point, I even talked/screamed to some kid's grandmother on the phone).
When the game ended, everyone headed to Bourbon Street where the real celebrating began. And I use the word celebrating for a reason. When some teams win (ahem, Philly), cars are flipped over, stores are vandalized, and property is set ablaze. That night, I barely saw any destruction (except one guy who was, quite literally, attacking a tree) and all anyone could do was dance and hug. Maybe it's because the city is still rebuilding so the last thing its residents want to do is destroy it. Or maybe it's just because what the people in New Orleans value is simple: having a really good time.