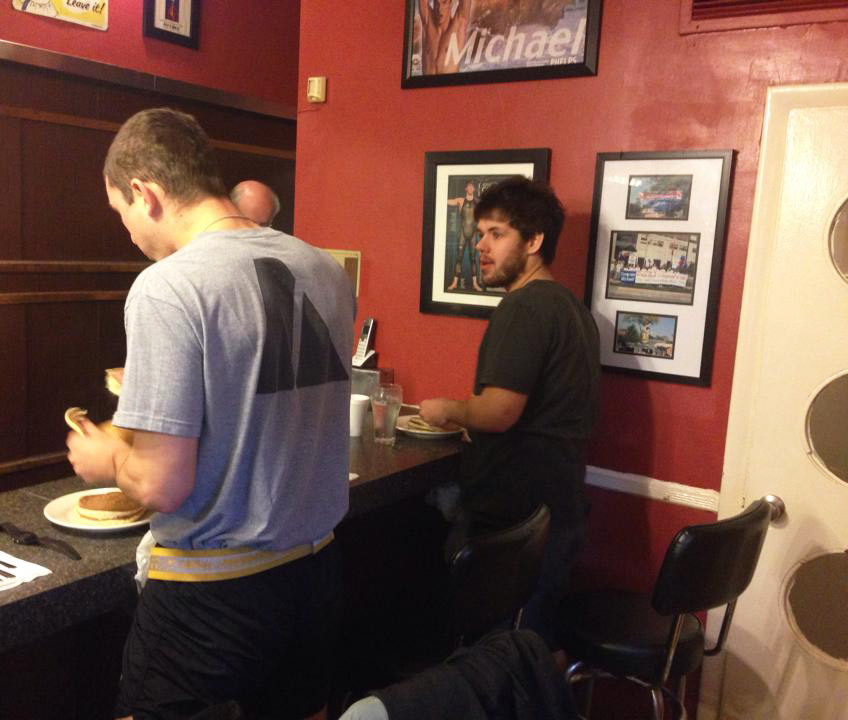 The sun wasn't even up, so why was I? The alarm went off this morning, and my boyfriend EJ was already wide awake in his lucky bacon-and-eggs T-shirt, mentally preparing for his first-ever competitive eating contest.
Participation in this annual Pete's Grille event is not for the weak of stomach, as each of the 20 or so place settings come with a complimentary plastic bag. (Need I say more?)
With Pete's celebrating its 23rd year, we found it appropriate timing to test the limits of my 23-year-old boyfriend, who, according to a bartender from Mama's on the Half Shell, has a "legendary appetite."
Every five seats were divided into "teams," complete with their own judges, who doubled as servers—loudly announcing when each participant was ready for more, and a new plate of steaming short stacks would quickly hit the counter.
Our team's spunky judge, Mike, asked Justin, an athletic Johns Hopkins senior, why he was sporting a neon, reflective waist band when he sat down next to EJ. His response was along the lines of "so that we don't get hit by cars when running." I assumed he was part of Hopkins' winter track team—as he changed from sweat pants to shorts and an Army T-shirt, as if he was ready for the starting pistol sound of a "true" race.
At 7:09 a.m., it all began—from an impressive front-runner, who was disqualified after eating something like 18 flapjacks in 20 minutes (turns out, she was a professional competitive eater), to a few drop outs, and then the unfortunate few who couldn't "hold their own." (A nice euphemism for tossing their cookies—or should I say cakes.) The energy in the room was exciting, suspenseful, and yes, a little nauseating—even from the sidelines.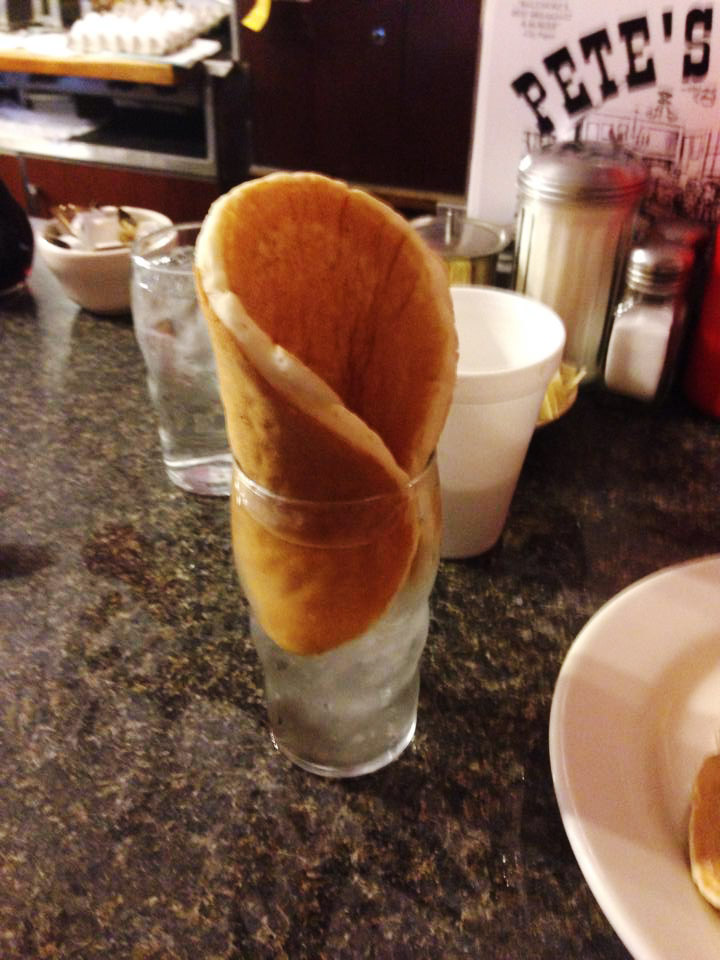 Of course, some strategy came into play, as most contestants stood the entire time, some jumped in place, and others, like EJ, dipped pancakes into water before consuming them, pictured.
For the first time ever, Pete's Grille tweaked its rules to allow for unfinished pancakes to count. The one-hour race literally came down to the last bites competitors could force feed themselves.
Alas, the iron-stomach reputation, mental focus, and even the lucky T-shirt weren't enough for EJ. When the 10-second countdown began, he and his track-star neighbor—in a tie the entire hour—were only one pancake behind the first-place competitor on the other end of the bar. They each tackled one more, reaching a solid 12, but the other pulled through with a few last fistfuls to the mouth—beating them by a hair at 12.5 pancakes.
The physical and emotional pains set in, and the winner was announced. EJ and Justin tied for second, and the bar began to clear out. I grabbed a pancake to go, rolling it up and eating with my hands—the basic strategy for all three finalists. Never in my wildest dreams (or nightmares) could I imagine consuming what even the earliest quitters did. Pete's Grille's pancakes are fluffy, buttery, and oh so dense.
In the end, the $500 prize was awarded to Mr. 12.5, but if you ask me, anyone that had it in them to even participate in that showdown takes the cake.