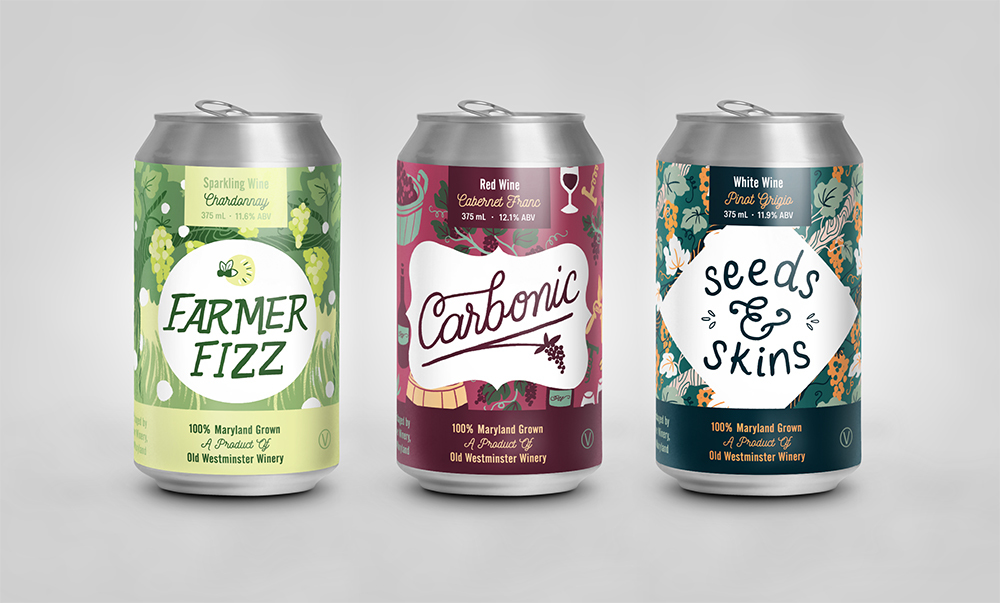 Old Westminster Winery
Once was, the idea of not packaging wine in a glass bottle was reserved for a cheap Franzia box in the fridge, a means to an end at an outdoor concert, or a laughable concept made popular on It's Always Sunny in Philadelphia. But innovators like Black Box in California or Union Wine Co. out of Oregon have proven that good quality wine doesn't only exist in a 750-milliliter bottle.
Now the owners of Old Westminster Winery, about an hour's drive from Baltimore, say it's time for Maryland to get in on the alternative packaging game by introducing the first canned wine to the market.
"If we had done this two years ago, I don't know if the market would have been ready for it," OWW co-founder Drew Baker says. "Producers are basically scared of making a product in a box, keg, or can because they think it will cheapen their brand. But we want to challenge that notion and think people are more willing to try something a bit off the wall."
The staff at OWW will begin canning their first three releases on November 1, making a total of 500 cases for the market. There will be Carbonic, a semi-carbonated cabernet franc; the Farmer Fizz, a sparking home-vineyard chardonnay; and Seeds & Skins, a partially skin-fermented pinot grigio.
"With it being November, let's do a juicy red, a sparking wine, and sort of this fall rosé style," Baker explains. "We wanted to target campfire wines."
In fact, the setting for drinking wine was part of the reason that the OWW founders were motivated to release this product. After toying with the idea in-house for a while, Baker talked to Foodshed managing partner Corey Poloyka, who runs the bar program at beachfront Sandlot. Because there is a strict no-glass policy, the bar was getting its boxed wine from South Africa and Baker realized then that a locally canned wine could have huge market potential.
"Our vision is to offer a product to enjoy while you're camping or on the beach and you can leave the glass and corkscrew behind," Baker says. "But this is still true to us being that its single-site, Maryland-grown, no makeup kind of wine."
In fact, he emphasizes, the only thing different about the process of making these wines is at the very end. The product is still fermented with wild yeast and grown on their vineyards. Each can will be equivalent to half a bottle of wine, retail for $9.99, and be available in four packs or individuals. 
"Will there be that long-time wine club member that thinks we're going off the deep end? Probably," Baker says with a laugh. "But this isn't a qualitative conversation. Putting something in a can will not ruin a product. These are wines that are meant to be enjoyed right now."
The three varieties feature vibrant label graphics by Baltimore artist Rebecca Smith, and a release party will take place at Parts & Labor in Remington on November 12. The launch will be a street-party style event with live music, outdoor games, and that campfire element Baker knows will pair well with their new products.
"Cans aren't better than cork," he says. "But these are brighter, fresher styles of wine that are meant to be enjoyed, not cellared. We're excited for a high-quality wine release that doesn't have a lot of pretense."