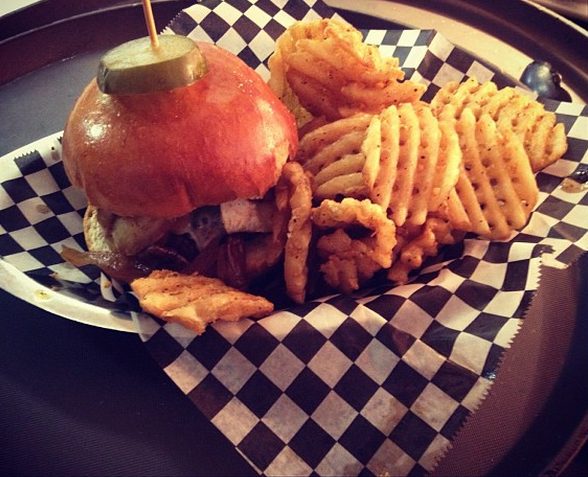 Courtesy of Abbey Burger Bistro
From recently debuted eateries to promising projects that are in the works, here's the latest in restaurant news.
OPEN:
Corfu: Federal Hill saw a new addition in mid-June as this Mediterranean tapas restaurant opened in the former Crazy Lil's space on Cross St. Executive chef Darren Maas' culinary repertoire includes stints throughout Washington D.C. Most recently, he served as the executive chef at Café Troia in Towson. With a focus on colorful cocktails and meant-for-sharing dishes—like pan-seared rockfish with lemon-crushed potatoes and lamb meatballs with tomato sauce and feta—Corfu offers trendy dining options in a 'hood best known for its pub grub. 27 E. Cross St., 410-617-0391
Play Café: In efforts to alleviate the struggles that parents face when dining with little ones attached to their hips, Hampden locals Kathy Kent Schott and Ryan Sterner, who each have toddlers of their own, came up with the idea to open this family-friendly eatery on Chestnut Avenue. The spot, which celebrated its grand opening earlier this month, boasts a designated kid's area complete with a puppet theatre station, a play kitchen set, blocks, toy cars, and books. The menu lists sandwiches, salads, and endless kid-friendly combos like ants on a log, hummus and carrots, and apples with peanut butter or Nutella. 3400 Chestnut Ave., 410-469-9784
Poets: Since opening earlier this month, bartender John Hartzell has been slinging pints of local beer and pouring inventive cocktails at this new spot on the first floor of the Hotel Indigo in Mt. Vernon. The swanky bar also offers a full menu featuring light fare like quinoa and kale salad, Asian lettuce wraps, tofu tacos, and a variety of flatbreads. 24 W. Franklin St., 410-625-6200
Sugarvale: This underground space, best-known as a revolving door for local pop-ups like Dylan's Oyster Cellar, has found a permanent inhabitant in Sugarvale, a wine and charcuterie bar conceived by the building's owner, Phil Han of Dooby's. The 35-seat haunt opened earlier this week, offering 18 wines by the glass, a seasonal cocktail menu, and house-made charcuterie. 4 W. Madison St.
COMING SOON:
Abbey Burger Bistro: From bacon and peanut butter to bison and bleu cheese, the offerings at this mainstay burger joint have made it a Federal Hill favorite for years. Husband-and-wife owners Russ and Marigot Miller have recently confirmed plans to expand by bringing a new Abbey Burger location to Fells Point in September. The eatery will set up shop in the former home of Willow on the 800 block of South Broadway. 811 S. Broadway
Citron: Longtime local caterer Charles Levine recently announced plans to open a 230-seat New American restaurant at Quarry Lakes at Greenspring. Slated to make its debut in summer 2016, Citron will offer fresh fish and grilled meats, while also accommodating vegan and vegetarian palates.
McCabe's: While putting the finishing touches on Huck's, his Brewer's Hill brainchild, which is slated to open in early July, Charlie Gjerde has taken on yet another new project. Gjerde and his partners, his wife Lori and sister-in-law Carrie Podles, have announced plans to take over the former McCabe's space in Hampden. The team plans to revamp the Falls Road restaurant, which was severely damaged in a fire last year, and transform it into a casual tavern. 3845 Falls Road, 410-467-1000
Sammy's Enoteca: Fans of Sammy's Trattoria on N. Charles Street will be happy to hear that owner Samuel Curreri's plans to open a new Italian concept are in full swing. Curreri was granted a liquor license for his new venture, Sammy's Enoteca, which will sit on the 600 block of S. Broadway in Fells Point. Slated to open in September, the restaurant will offer a menu full of Boot Country specialties such as squid-ink pasta and Chilean sea bass. 621-625 S. Broadway
SHUT:
Highland Inn: After a brief 18-month run, this revamped Howard County farmhouse closed its doors last week. It's been reported that one of the reasons for the closure was due to owner Brian Boston's struggles in devoting his energies to both the Highland Inn and its sister-restaurant the Milton Inn. Although no new projects are on the horizon for Boston as of yet, major renovations are slated to take place at the Milton Inn later this year.