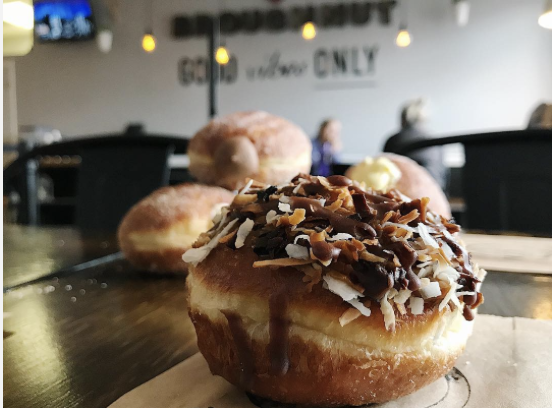 @b_doughnut via Instagram
NEWS
B. Doughnut: The local doughnut scene has taken diners on a bit of a rollercoaster ride lately. A number of beloved bakeshops have opened, closed, popped-up, and switched locations more times than we can count. And when this Hampden favorite—famous for its signature everything bagel-doughnut hybrid—moved to Leesburg, Virginia in 2016, foodies certainly felt the loss. But now, owners Brian and Pin Chanthapanya are bringing back their fan-favorite flavors for a recurring weekend pop-up inside Mount Vernon Marketplace. Pinch Dumplings will offer the doughnuts every Saturday and Sunday from 11 a.m. until sellout. Aside from the savory bagel varieties, be on the lookout for sweet flavors including vanilla bean, lemon curd, coconut-glazed, and the "Homer"—named after the famous cartoon patriarch and dipped in pink glaze with rainbow sprinkles. Pinch Dumplings, 520 Park Ave., 667-309-3445.
Häagen Dazs: This week's abnormal spike in temperatures had everyone jonesin' for an ice cream cone. But, for now, Harbor East diners will have to look elsewhere, as this token dessert destination in the neighborhood is currently closed for renovations. Atlas Restaurant Group is overseeing a complete redesign of the shop, whose original decor is more than a decade old. The management team plans for the revamp to reflect the advancements of the Harbor East community, and expects the store to reopen in mid-April—just in time for more warm weather. 685 S. President St, 410-605-2950
OPEN
Three New Dining Concepts Land at BWI: Baltimore Washington Thurgood-Marshall International Airport has seriously upped its food game lately. And this month, three new eateries have joined the many local spinoffs and enticing chains that the airport has to offer. Travelers can now chow down on Mexican street cuisine at La Carnita on Concourse D, soft-serve ice cream and sweet breakfast treats at Sweet Jesus on Concourse C, and classic burgers and shakes at Urban Burger at the Main Terminal.  410-859-7111.
COMING SOON
Noona's: Husband-and-wife duo Phil and Jennifer Han—who own Dooby's and Sugarvale in Mt. Vernon and Sundays in Federal Hill—have plans to expand their Charm City footprint with a pizzeria in Midtown near the University of Baltimore campus later this year. According to liquor board documents, the spot inside The Fitzgerald Building is expected to serve an array of pizzas, sandwiches, and small plates accompanied by cocktails and local beer. Stay tuned for more details. 1203 W. Mt. Royal Ave.

Suspended Brewing: After a successful liquor board hearing last week, this highly anticipated Pigtown brewery has finally set a grand opening date for Saturday, March 3. The brand's sustainable mindset will shine through with elements like repurposed furniture and ecologically conscious brewing equipment. Head to the taproom on opening day to sample unique releases including the New England-style Dirty Washes IPA, and Sour Persian conditioned with Iranian barberries. 912 Washington Blvd.
EPICUREAN EVENTS
2/22: Holy Frijoles Grand Reopening
Hampden locals were devastated when this Tex-Mex mainstay suffered an electrical fire in 2016. Luckily, owner Geoffrey Danek was able to bounce back and reopen the restaurant a few months ago—but he never really got a chance to celebrate. Now, the team is officially toasting the redesigned space with an all-day bash featuring $3 Mexican drafts, hourly food and drink deals, a tequila wheel of speicals, live music by The Busted Boots and DJ Pancakes, and, of course, plenty of Pinball machines. The party just so happens to coincide with National Margarita Day, which means there will also be $2 margs poured at the bar all day long. 908 W. 36th St., 11 a.m., 410-235-2326
2/22: The Txoko Experience Screening and Tasting
La Cuchara and The Parkway Theatre are teaming up to present this special evening celebrating Basque culture. Partake in a screening of The Txoko Experience—a documentary about the gastronomic societies that feature cuisine from the Basque region—and a Q&A with the screenwriter and director before enjoying a reception with passed bites from La Cuchara. The Parkway Theatre, 3 W. North Ave., 7 p.m., $35.
2/26: A Winter's Night in Hungary
You might know Craig Falk as the chef behind The Lunchbox Lady's signature sandwiches and salads. But next week, he is switching things up to host a Hungarian pop-up at Wet City inspired by his heritage. (Falk's Hungarian grandmother is even flying in from Michigan to help him prepare.) Warm up with traditional dishes including Liptauer cheese spread on toasted marble rye, stuffed cabbage topped with tomato sauce, classic chicken paprikash, and a seven-layer chocolate crepe cake with caramel sauce. Wet City, 223 W. Chase St., 5 p.m., 443-873-6699

2/27: Ekiben x Clavel Mexican + Asian Steamed Bun Pop-Up
This Tuesday, ditch the brown bag and head to Ekiben in Fells Point for this epic Asian and Mexican collaboration. The team from Clavel in Remington will be stopping by to whip up a one-day-only lunch menu of soft steamed buns that fuse both restaurants' signature flavors. Ekiben, 1622 Eastern Ave., 11 a.m.- 3:30 p.m., 410-558-1914