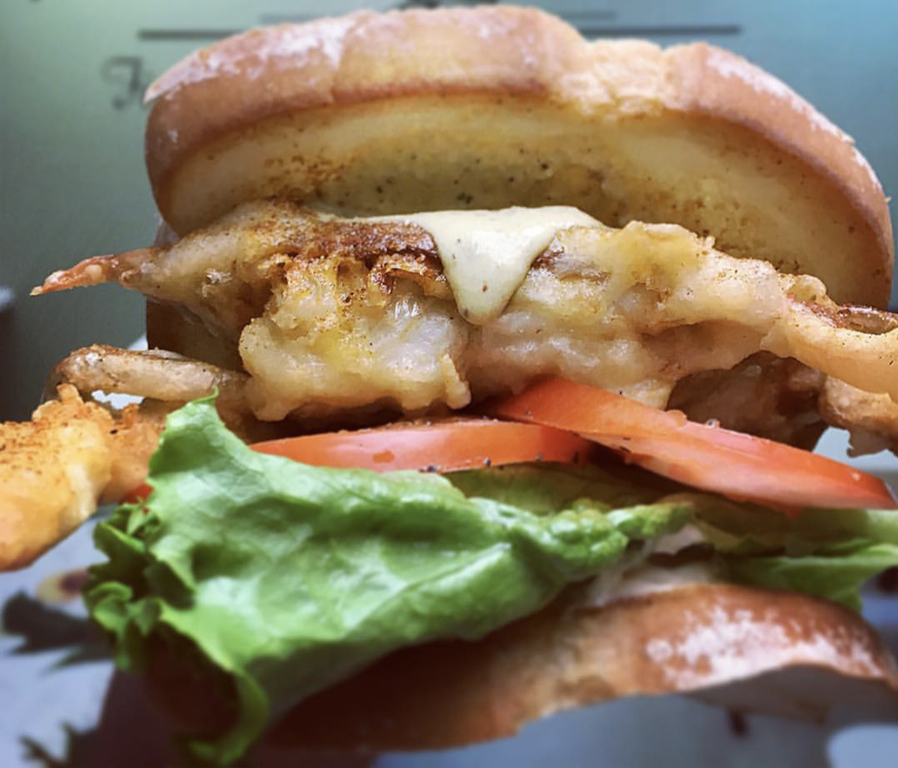 Courtesy of Big Softy
OPEN
Minnow: Brothers Ben and Jake Lefenfeld, who opened Basque-inspired spot La Cuchara in Hampden's Meadow Mill two years ago, introduced a new dining destination in South Baltimore earlier this week. Minnow, their new concept on the bottom level of the 2 East Wells apartment complex, focuses on sustainable seafood dishes paired with a selection of Mediterranean wines.  Guests are invited to settle in the modern dining room—complete with thematic touches like feathered bait and fishing hooks on display—to enjoy dishes such as pan-roasted rainbow trout, a softshell crab BLT, and rice noodles with wild mushroom ginger broth. 2 East Wells St., 443-759-6537
Big Softy: Local chef Craig Falk—who is best known for peddling The Lunchbox Lady's gourmet packed lunches—is switching gears this week, focusing on this new crab-centric concept that will set up shop inside R. House's rotating pop-up stall until May 14. Grab a table at Remington's communal food hall to sample Big Softy's signature items including jumbo soft-shell crab sandwiches, backfin crab salad, and handmade ricotta gnocchi with lump crab meat. 301 W. 29th St., 443-347-3570
El Gringo: This new taco truck helmed by chef Steve Carey—formerly of Waterfront Hotel in Fells Point—recently hit the streets, showcasing an array of authentic arepas and flour tortillas sourced from local favorite Tortillerea Sinaloa. El Gringo has been making use of the new food truck zones recently designated by Mayor Catherine Pugh, and often pops up in areas like Sinai Hospital, Johns Hopkins University, and The Rotunda in Hampden. This Saturday, catch chef Carey at Union Craft Brewing from 12-5 p.m., serving up tacos filled with everything from blackened chicken and chorizo to honey barbecue pork belly and teriyaki spam.
COMING SOON
Amber: This new coffee and craft beer concept from local restaurateur Gino Kozera will soon launch as part of the mixed-used retail and residential development Anthem House in Locust Point. Slated to open next fall, the spot will offer 40 craft beers on tap, brews sourced from Ceremony Coffee in Annapolis, and a menu of light fare to be served during breakfast, lunch, and dinner service. 900 E. Fort Ave.
DiPasquale's: With its overstuffed sandwiches, house-made pastas, and brick-oven pizzas, this Highlandtown mainstay has been a community staple for more than 100 years. Now, owner Joe DiPasquale is bringing his Italian favorites across the harbor with a second location on the first floor of the Harborview condominium complex off of Key Highway in Federal Hill. The new digs, expected to debut next week, feature updated finishes and outdoor patio seating. Though the 2,000-square-foot space is a bit smaller than the flagship, the eatery will still offer the brand's signature specialties including a selection of meats and cheeses, baked goods, and gourmet grub to go. 500 Harborview Drive
NEWS
Baltimore Whiskey Company Wins Big: Last month, Baltimore Whiskey Company's (BWC) beloved Shot Tower gin clinched a gold medal at the prestigious San Francisco World Spirits Competition—which saw more entries than ever this year. The contest, which was introduced in 2000, awards its highest honor to exceptional products that stand out among the pack on a national level. Shot Tower gin is the first local spirit to claim a gold medal since distilling returned to the Charm City in 2014. "I guess I deserve a drink," said BWC's head distiller Eli Breitburg-Smith in a statement. "It's humbling to be considered amongst the best spirits in the world."
Greenmount West Community Market: Creatives at Open Works—a brand new incubator space for local makers in Station North—have teamed up with the sustainability champions at Two Moons Food Group to launch this new Sunday market. The get-together, dubbed "Grow Market," will set up shop in the Open Works parking lot and highlight an array of fruits, vegetables, dairy, breads, coffee, and prepared foods from area chefs. Locals are invited to browse all of the comestibles while enjoying other attractions like weekly live entertainment, family-friendly activities, and fitness and cooking demonstrations. 1400 Greenmount Ave.
EPICUREAN EVENTS
East Meets West Cross Street: Tonight, Cross Street neighbors The Local Fry and Sobo Cafe are presenting a collaborative menu that fuses both of the restaurant's signature styles. From 5-9 p.m., head to The Local Fry in Federal Hill to nosh on American comfort foods with an Asian twist. Dishes to look out for include kimchi burgers, Peking duck fries, and Korean fried chicken. 21 E. Cross St., 410-244-1283
Gundalow Juice Workshop at Rooster & Hen: Allison Smith and Joe McRedmond, the duo behind Catonsville's organic general store Rooster & Hen, emphasize their mission of supporting local makers by hosting weekly workshops with small business owners on Saturday mornings. On Saturday, May 6, head to the shop to grab a few gourmet goodies while hearing Dana Sicko, CEO of Gundalow Juice and Gundalow Gourmet, discuss the ins-and-outs of starting a small business. The workshop begins at 10 a.m., and includes a light snack and samples of Sicko's local fresh-pressed juices. 2303 Frederick Road, Catonsville, $40
Summer Sunday Fundays at Baltimore Whiskey Company: The team at Sugarvale in Mt. Vernon is partnering with Baltimore Whiskey Company to launch a series of backyard barbecues at the Remington distillery throughout the summer. The ongoing event kicks off on Sunday, May 7 from 3-9 p.m. with live music by All Mighty Senators, Union Craft beers, and plenty of grilled burgers to go around. Sugarvale's Ben Yager and BWC's Max Lents will be behind the bar, mixing up signature cocktails like the "Adult Swim," (ginger-apple liqueur with lime and bitters) and the "Happy Colada," which fuses BWC's award-winning Shot Tower gin with coconut, pineapple, and lime. 2800 Sisson St., 443-687-9099
SHUT
Le Garage: This frites shop on the Avenue in Hampden is in for a rebrand. Though details about the new concept have not yet been finalized, owner Christopher Spann announced last week that the restaurant would soon see a refreshed look that makes better use of the property's downstairs dining area and street-level retail space. "We want to thank you all for your amazing support over these past three years, and are extremely grateful to be part of such an awesome neighborhood and city," reads a message posted to the restaurant's Facebook page. "We're proud of what we accomplished, our amazing staff for their hard work, and everyone who passed through to share a drink or meal." Stay tuned for updates. 911 W. 36th St., 410-243-6300
Tian's Teriyaki: This stall inside Cross Street Market, which has long been a favorite for locals in search of authentic Asian fusion cuisine, operated its final service last week. Owner Gang Li voluntarily opted to terminate his lease inside the market in order to tend to an ailing family member in his native China. Li's departure comes in the midst of the market's major overhaul by Towson-based developers Caves Valley Partners, who plan to begin making improvements pending the acquisition of a market-wide liquor license.