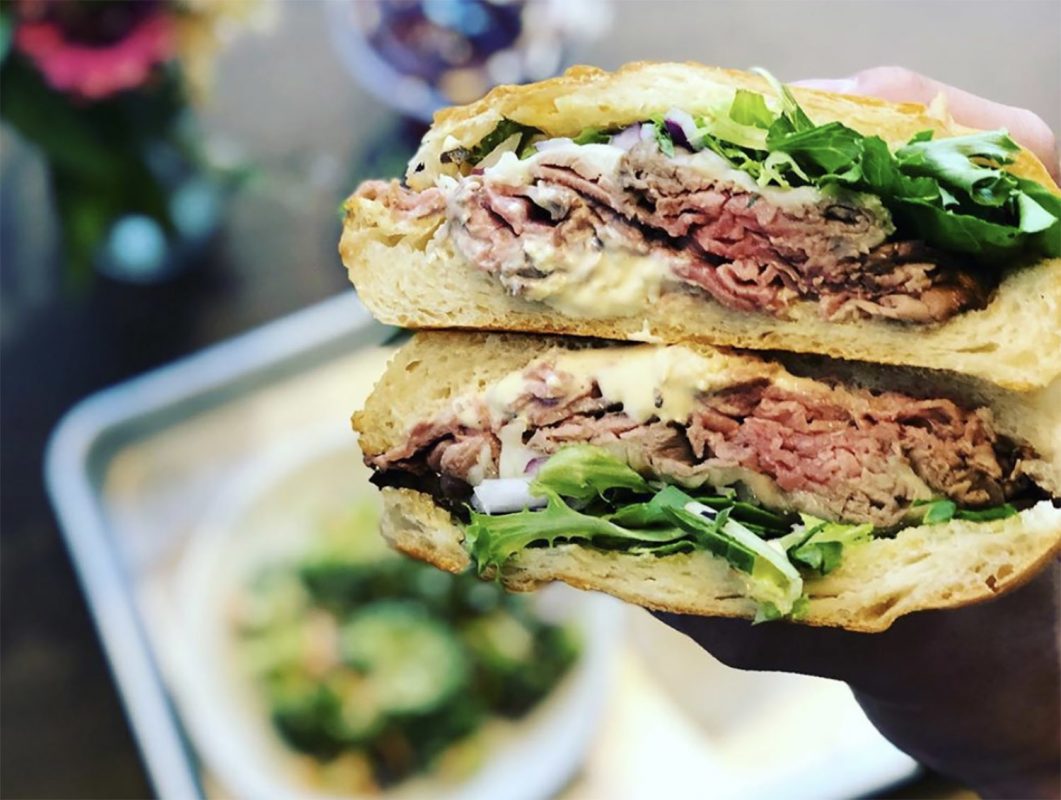 Bon Fresco
OPEN
Bon Fresco: This homegrown coffee-and-carb chain—which has shops scattered everywhere from Columbia to Beltsville—opened its first Baltimore location in the Inner Harbor last week. Dooby's owner Phil Han, whose father-in-law founded the chain in 2008, is spearheading the new shop between Pratt and Lombard streets. His team will follow Bon Fresco's recipes, highlighting stuffed sandwiches on house-baked ciabatta rolls. (Standouts include the Tuscan Chicken with grilled veggies and famous London Broil topped with red onions and dijonaise.) In addition, the cafe offers breakfast sandwiches, salads, soups, DIY grain bowls, house pastries, and tons of coffee drinks.
Bentley's Restaurant, Bar, and Lounge: Adding to Charm City's recent jazz renaissance is this new restaurant and live music venue in Mt. Vernon. On the heels of Keystone Korner's debut in Harbor East, Bentley's is now officially open on Antique Row—offering a comfort food menu and weekly jazz, soul, and R&B performances. Diners can tap their feet along to the live soundtrack while enjoying dishes such as beef brisket in a red-wine demi glace, filet mignon topped with crabmeat, and crispy skin salmon with sweet potato mash. Bar snacks include Old Bay wings, peach-glazed shrimp, and Baja fish tacos.
DAYTIME DINING:
Noona's: Speaking of Han, his pizza spot in Bolton Hill is now open for lunch. As MICA students and faculty return to the neighborhood for the fall semester, the restaurant is now open at 11 a.m. Tuesday through Friday. To accommodate those with limited lunch breaks, Noona's will feature pub-style service during the day (diners pay at the bar and have their food brought to them) with featured dishes including the house burger, a tomato and mozzarella sandwich, and a farro grain bowl with soft boiled egg and late-summer herbs and veggies.
Topside: Hotel Revival's rooftop restaurant is also launching daytime service this fall. Beginning Thursday, September 19, Topside will open from 7-10:30 a.m. for breakfast and then reopen from 11:30 a.m.-2:30 p.m. for lunch. Executive chef Scott Hines' breakfast menu will include egg white frittatas and grilled French toast with chantilly cream, while the lunch lineup will feature classic Maryland crab soup and an ancient grains salad with pickled fennel. The first day of the new service just so happens to coincide with Moveable Feast's Dining Out for Life fundraiser, which donates 25 percent of proceeds from participating restaurants to feeding locals in need.
COMING SOON
Roll Ice Cream & Coffee: Great news for sweet tooth fiends in Mt. Vernon. Highlandtown staple Roll Ice Cream & Coffee is bringing its customizable confections to the neighborhood with a new stall at Mount Vernon Marketplace. Opening on Saturday, August 31, the spot will offer its made-to-order treats that freeze a liquid ice cream base on a subzero plate before mixing in toppings and rolling it up in a cup or waffle taco. Although add-ins can be mixed and matched, co-owners Jason Werner and Jessica Reyes also offer house creations like the popular "Couch Surfer"—which tops a chocolate base with potato chips and caramel popcorn. In keeping with the local feel, the owners also collaborate with area purveyors like Wight Tea Co. and Ceremony Coffee to create their matcha and coffee flavors. Stop by the grand opening from 2-6 p.m. this weekend to sample signature ice cream concoctions and coffee drinks offered exclusively for the grand opening.
Heritage Smokehouse: Industry insiders know George Marsh as the former head chef and butcher at Parts & Labor in Remington, where he specialized in whole-animal butchery and supplied cuts to sister restaurants (including Woodberry Kitchen) and customers in the retail shop up front. "A lot of people are uncomfortable if their meat doesn't come in a little shrink-wrapped Styrofoam thing," Marsh told us back in 2016. "I want people to connect with it, see it, get used to it, get comfortable with it. Everyone's gotten so desensitized to what meat is and what it looks like." Now, the chef is bringing those philosophies to a new spot of his own. Slated to open in the former home of Murphy's Bar in Govans by the end of the year, the York Road restaurant will offer smoked meats, locally sourced sides, and a family-friendly setting with arcade games.
EPICUREAN EVENTS
8/30-9/1: Water Song Pop-Up at R. House
Head to R. House sometime during the long Labor Day weekend to get a taste of Yunnan, China by way of Remington. Water Song will be setting up shop in the food hall's rotating pop-up stall to serve authentic Mixian rice noodles in a tasty broth with pickled mustard greens, a touch of meat, and lots of chili oil.
SHUT:
Minnow: Last weekend, brothers Ben and Jake Lefenfeld served their last orders of crab toast and crispy tofu at this nautical-themed restaurant in Riverside. Open since May 2017, the La Cuchara sister-spot became known for its fish dishes and weekend drag brunches. Although regulars are sad to see Minnow go, the owners aren't going anywhere. They recently decided it was time for a change and are planning to reopen the restaurant as a new concept called The Hot Dry this weekend. Stay tuned for more details and an exclusive interview with the Lefenfeld brothers on our Local Flavor Live podcast.