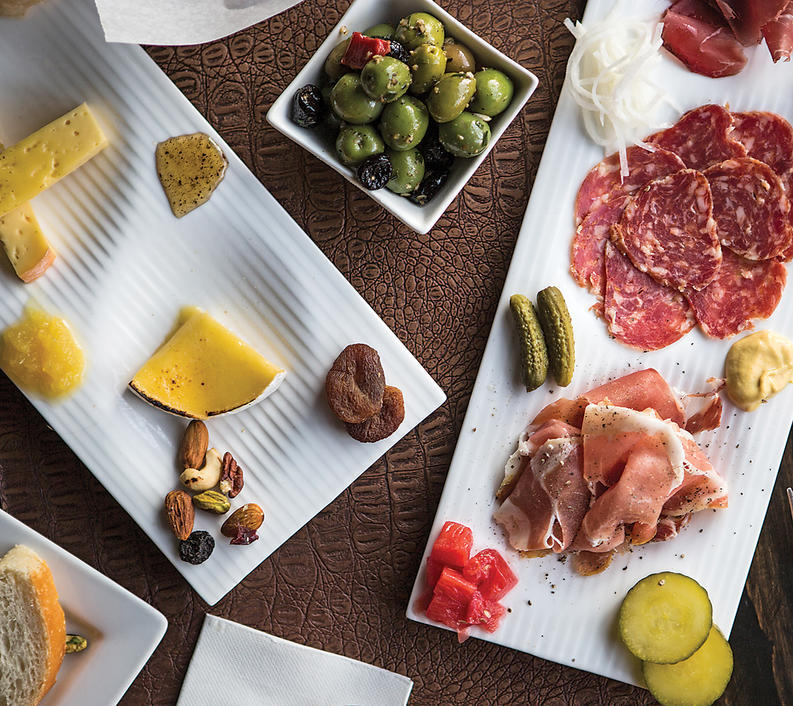 Photography by Ryan Lavine
COMING SOON
Boston's Restaurant & Sports Bar: Though Little Italy surely isn't lacking in pizza purveyors, this Canadian-based chain will soon provide another option upon opening in the neighborhood early next year. Taking over the former Vellegia's Restaurant space on the corner of Pratt and Albemarle streets, which has sat vacant for nearly seven years, Boston's will serve its signature gourmet pizzas, pastas, and burgers, alongside a lengthy list of game-day snacks. 829 E. Pratt St.
Primanti Bros.: This Pittsburgh-based chain unveiled its first Maryland location in Hagerstown last fall, and now, the brand is looking to expand throughout the Greater Baltimore area in 2017. The sandwich shop is in the midst of scouting locations everywhere from Westminster and Eldersburg to Columbia and Ellicott City. There's also interest in Baltimore City, so it looks like we're going to have to overlook the fact that the signature overstuffed sandwiches—famously topped with hefty portions of meat and a handful of French fries—are a Steelers fan-favorite.
NEWS
Tark's Grill: Owners Gino Cardinale and Bruce Bodie of Mt. Vernon's City Cafe recently announced that they will be taking over Green Spring Station stalwart Tark's Grill this fall. Though no plans for the concept have been set in stone, the new owners intend to renovate the interior, create new food and craft cocktail menus, and introduce weekend brunch. 2360 W. Joppa Road, Ste. 116, Lutherville-Timonium, 410-583-8275
Raven Beer: Don't be surprised if you spot the notorious Poe tap handle while bar hopping around South Carolina this summer. In partnership with South Carolina-based beer wholesaler Comer Distributing Company, this local brewery inspired by the works of Edgar Allen Poe has recently expanded its footprint to include the Palmetto State. Raven Beer is best known for its Tell Tale Heart IPA, Annabel Lee White, and malty Cask that was ranked the third best beer in the state by the Brewers Association of Maryland.
Holy Frijoles: After a fire broke out early Monday morning, owner Geoff Danek announced that this beloved Mexican restaurant on the Avenue in Hampden would be closed until further notice. Thankfully, no one was injured, but the blaze left a significant amount of smoke and water damage to the building's interior. Local yoga studio AsanaRoots is hosting a donation-based yoga benefit at Roosevelt Park this Sunday in an effort to help fund the cost of repairs. There's no word yet on the cause of the fire or the timeline for re-opening the restaurant. 908 W. 36th St., 410-235-2326
Corner Charcuterie Bar: Earlier this week, chef and owner Bernard Dehaene announced that he is putting his Hampden hotspot up for sale to pursue other projects. The neighborhood bar known for its sophisticated snacks and creative cocktails was born Corner BYOB in 2011 and expanded to include the property next door two years later. It is currently listed for $750,000. 850 W. 36th St., 443-869-5075
Foreman Wolf Hires New Pastry Chef: Foreman Wolf Restaurant Group recently brought on a new executive pastry chef to dream up desserts at Johnny's, Pazo, and Petit Louis. Michael Brown, a native of South Africa, hails from the D.C. restaurant scene and plans to put his own seasonal spin on the restaurant's classic pastries. At Petit Louis, be on the lookout for staples such as Opera Cake with almond sponge and hazelnut ganache and Grand Marnier chocolate mousse mini cakes. Multiple locations including 4800 Roland Ave., 410-366-9393
SHUT
Hamilton Bakery: After announcing plans to retire in a blog post penned earlier this week, Hamilton Bakery owner Ruben Hernandez will be closing his beloved Harford Road sweet shop. "This is an extremely difficult and emotional decision. So much so that I made the choice a few months ago but could only now bring myself to make the announcement," Hernandez wrote. "In the end, the prospect of breaking 90 on a regular basis, getting in an RV and hitting the open road, and seeing my grandchildren more than once every couple of years was just too powerful." Hernandez is currently in the process of meeting with potential buyers. Though the bakery's last day of service will be Sunday, August 14, owners plan to continue selling their fresh-baked goodies throughout the end of the season at the Hamilton-Lauraville and Druid Hill farmers' markets. 5414 Harford Road, 410-254-0797