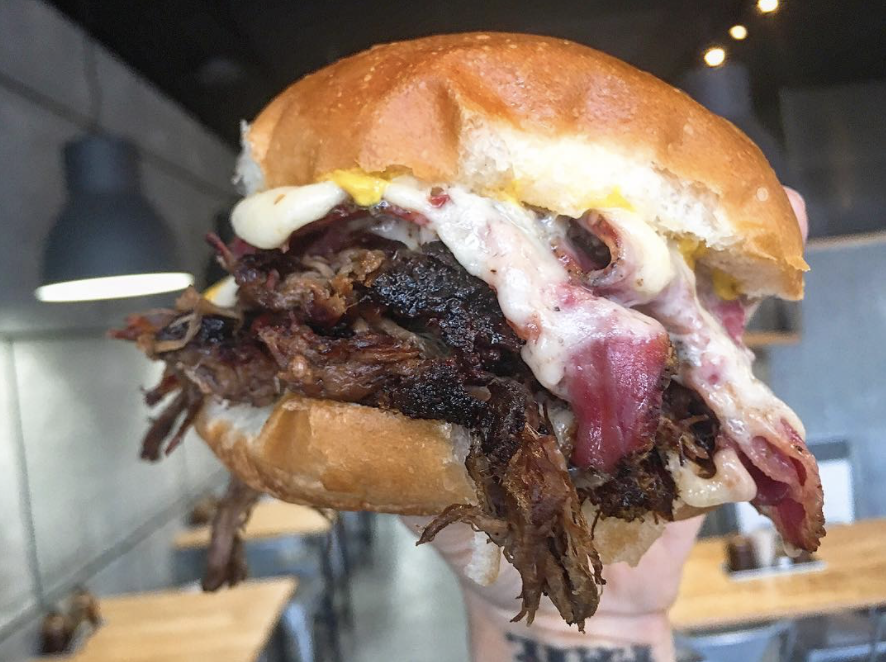 @hickorysmokedgoodness via Instagram
OPEN
Smoke: City dwellers no longer need to make the trip to Cockeysville to get their hands on a pulled pork sandwich from this barbecue joint. Chef Josh White has brought his fingerlickin' fare to Federal Hill with a new location inside Cross Street Market. The pop-up stall launched earlier this week, with a menu spotlighting chicken wings, smoked tofu, Korean barbecue spare ribs, and the "Notorious P.I.G." sandwich topped with pulled pork, Carolina vinegar sauce, and a signature slaw. Be on the lookout for Washington, D.C.-based soup startup Prescription Chicken, which is also opening a pop-up in the market this weekend. (We have a feeling that Federal Hill revelers are going to love the brand's spicy hangover soup.) 1065 S. Charles St., 410-685-2020
NEWS
Local Spots Top OpenTable's Best Restaurants List: The Charm City culinary scene received some well-deserved praise this week, as three local dining destinations topped OpenTable's yearly list of the best restaurants in the country. Chef Cindy' Wolf's Lowcountry gem Charleston in Harbor East, rustic Italian favorite Hersh's in Riverside, and fine-dining den Linwoods in Owings Mills all scored coveted spots on the list—which took into account more than $12 million reviews of 26,000 restaurants throughout the country. The honor comes at an especially serendipitous time for Charleston, which turns 20 years old on Tuesday. 
COMING SOON
The Brass Tap: Since opening a location on Mt. Royal Avenue last year, this beer bar has quickly become a neighborhood go-to in Midtown-Belvedere. Now, the chain is expected to debut yet another local franchise inside Towson Town Center next month. Patrons can expect 60 taps—the majority being local brews—a variety of canned and bottled options, and pub fare like burgers, flatbreads, and street tacos. 825 Dulaney Valley Road, 813-226-2333
Foraged: Foraging fiend Chris Amendola—formerly of Fleet Street Kitchen and Waterfront Kitchen—is opening a new restaurant to showcase his passion for earthy ingredients. Slated to premiere later this month, the hyper-seasonal spot will take over the former Arômes space on Chestnut Avenue in Hampden and feature a menu that includes both large entrees and smaller plates meant for sharing. The 28-seat interior will mirror the sustainable menu, with its own hydroponic garden growing edible flowers and herbs on one of the restaurant's walls. 3520 Chestnut Ave.
Hotel Revival: This boutique hotel has been in the works for a while now, and is expected to finally cut the ribbon in Mt. Vernon this spring. The swanky spot from Joie de Vivre Hospitality Group will feature 107 guest rooms, a street-level restaurant, three karaoke rooms that can be rented out for public use, and its own rooftop bar with killer views of the Washington Monument—which will be helmed by Charm City's own veteran bartender Chelsea Gregoire. Stay tuned for updates. 101 W. Monument St., 410-727-7101
Neko No Kafe: Just when we thought having one local cat cafe was big news, another one is on the horizon. Neko No Kafe will open its doors in the former Sirkis Paint and Hardware store on Falls Road in Hampden in early 2018. A partnership with Passport Animal Rescue, the cafe will be a destination for locals to sip coffee and espresso sourced by Chesapeake Bay Roasting Company while playing with adoptable cats. Much like Charm Kitty in Whitehall Mill, the cafe will offer a reservation system where patrons will pay admission for a certain time slot. 3827 Falls Road, 443-692-7567
EPICUREAN EVENTS
12/7: Baltimore Whiskey Company Presents: Gin and Jokes XXII: Holiday Jeers
Join the Baltimore Whiskey Company at Joe Squared in Station North for this holiday joke fest. Sip gin and snack on pizza while laughing aloud to local comics Jason Weems, Denise Taylor, Ian Salyers, and headliner Sonny Fuller. Joe Squared, 33 W. North Ave., 8:30 p.m., $5-7, 410-545-0444

12/11: A Winter's Harvest Benefit Dinner
Waterfront Kitchen is teaming up with Living Classrooms Foundation to host this dinner highlighting the season's local bounty. The evening's menu features dishes such as traditional corn chowder, rosemary-lemon chicken, pesto pasta with mushrooms and pistachio, and an apple cobbler topped with a scoop of vanilla-bean ice cream. Proceeds from the event will benefit BUGS (Baltimore Urban Gardening with Students)—Living Classrooms' after-school program that teaches elementary school students about cooking, gardening, and creative arts. Waterfront Kitchen, 1417 Thames St., 6-9 p.m., $125, 443-681-5310
SHUT
Big Jim's Deli: It's a bittersweet time for Cross Street Market. In the midst of all of the new developments, the decades-old food hall is saying goodbye to one of its longtime vendors. Popular sandwich spot Big Jim's Deli will serve customers for the final time on Saturday, December 16. Second-generation owner Anna Epsilantis took to Facebook to announce the closure earlier this week. "In 1979 when my Dad, Big Jim, asked me to fill in at the deli until he found new help, I had no idea I would still be here today," she writes. "Over the past 38 years, I have met so many good people and made many good friends. I want to thank you all for your support and being part of my life." Epsilantis goes on to say that she "mutually decided to part ways" with Caves Valley Partners—the Towson-based development firm currently redesigning the market. Construction is expected to be finalized by mid-2019.