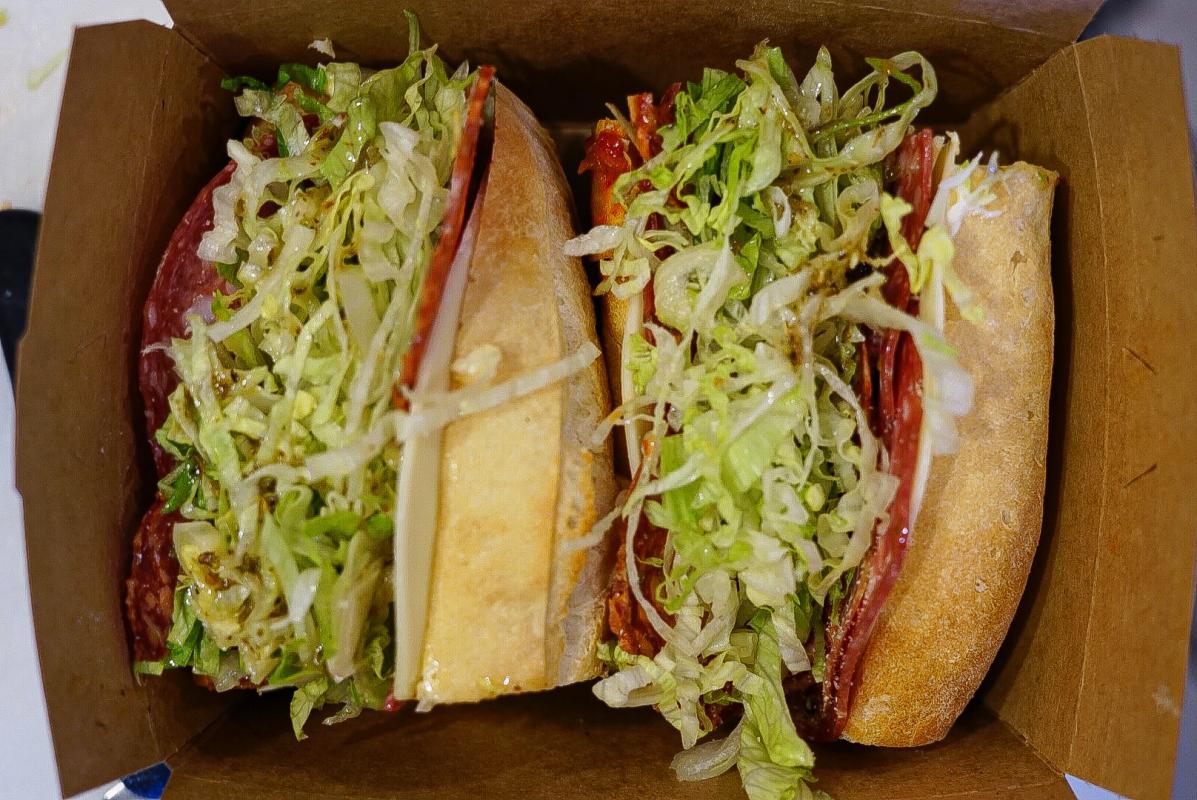 —Photography by Colin Marshall/John Brown General & Butchery
NEWS:
John Brown General & Butchery Takes Over Parts & Labor Space: It's been years since we've seen a full-time dining establishment operate inside the old Parts & Labor space in Remington. But now, Cockeysville's John Brown General & Butchery has officially taken over the spot, carrying on the traditions of locally sourced, whole-animal butchery from the building's previous inhabitant. Though details about the concept have yet to be announced, we can only expect that the John Brown team will place emphasis on their array of sustainably farmed meats—which can be cut to order or sampled inside a hearty sandwich. (JBGB's famous cold cut piles three types of salami on a Cunningham's Bakery sub roll with provolone, lettuce, mayo, and house sauce.) Stay tuned for updates on the grand opening date. 
H3irloom Launches Its Own Hot Sauce: Spicy food lovers will be happy to hear that chefs David and Tonya Thomas of H3irloom Food Group recently launched their own set of small-batch hot sauces. The couples' food is always steeped in tradition, and these new offerings are no different. Sold as a duo, the set includes "Sweat," a unique take on the traditional American hot sauce that traces back to Louisiana in the mid-1800s, as well as "Sosu," a West African-inspired pepper sauce that features habañero peppers and a signature seasoning blend. The limited-edition bottles are now available for purchase online.
COMING SOON
'Dashery: Throughout the past year, Hotel Revival's first-floor kitchen and dining space has been offered for rotating pop-ups to use rent-free in the wake of the pandemic. Now, as the city looks toward reopening, general manager Donte Johnson says it's time to enliven the space with a new cafe. Slated to open in the second quarter of 2021, the eatery—whose name is short for "haberdashery," (a shop that sells materials for sewing)—is meant to be a spot where locals and hotel guests can "dash" in to grab coffee or a quick bite before heading out to explore the neighborhood. As temperatures warm up this spring, the hotel also plans to bring back "Topside Outside," a streetside set-up that showcases a menu from Revival's top-floor bar and restaurant. 
Nola: Get ready to get a taste of the Big Easy by way of Federal Hill. As its name signifies, Nola will be bringing Creole to Cross Street when it opens in the old Ryleigh's Oyster space this spring. According to its website, the spot will combine "fiery flavor, sweet harmony, vibrant culture, and ever-present energy." We'll raise a Sazerac to that. 
Perennial: Last year, we told you about chef Jay Rohlfing's plans to rebrand Cunningham's in Towson. "Every restaurant has to reinvent itself at some point, and we've been in Towson for seven years," he said at the time. "We figured it was time to be a part of that renaissance." Now, after a year spent "thinking, imagining, inventing, pondering and testing," Rohlfing and his team are preparing to unveil Perennial—a modern American concept slated to debut in the space this May. In keeping with its name, the reimagined restaurant—designed by interior guru Patrick Sutton—will feature a garden-like setting in its conservatory dining room, casual bar and lounge, private dinner space, and outdoor terrace equipped with heaters for year-round service. Dishes to look out for on Rohlfing's opening menu include a crispy lobster tail with wildflower honey vinaigrette, Ocean City scallops with a spring pea salad, a house-ground sirloin burger with aged cheddar, and tempura flounder accompanied by a vegetable stew. 
THB Bagelry & Deli Owings Mills: The largest THB location yet will open this May at Mill Station in Owings Mills. Designed with social distancing in mind, the beloved breakfast-and-lunch spot will offer contactless ordering kiosks, a spaced-out dining room, and even a walk-up window that is accessible from outside. Though the owners' roots are Italian (they've teamed up with Naples-based design firm, Manuarino, to build out the shop's interior), the THB menu features traditional deli favorites including fresh bagels with an array of spreads, wraps, salads, and sandwiches. 
OPEN
Cava: Speaking of Owings Mills, locals have been welcoming this fast-casual spot with open arms ever since its grand opening in the Foundry Row development last week. Though Cava Grill operates a number of eateries throughout the state, this is the first to land in Baltimore. (Cava Mezze, a sit-down version from the same restaurant group, recently closed in Harbor East.) Stop by to customize your own salad, bowl, or pita with Mediterranean-inspired toppings ranging from harissa and grilled meatballs to falafel and crazy feta dip.
CH-CH CHANGES
La Cuchara: After a year of focusing on its online marketplace and curbside model, Hampden's Basque-inspired gem is officially relaunching indoor dining this month. Limited seating for both indoor and outdoor service will resume on March 12. In the meantime, be sure to stock up on to-go favorites—such as house-smoked salmon salad, ready-to-cook pierogies, and fresh produce—before the online marketplace closes up shop on Friday, March 5. 
Little Fig Bakeshop: Chef Melanie Molinaro has big dreams for her vegan pop-up shop, which has become known for its dairy-free doughnuts, pastries, cakes, and other picture-perfect sweets. She recently launched a GoFundMe to help secure a permanent home in Highlandtown. The "dream spot" would allow Little Fig to ramp up production, while also housing Plantry Goods—Molinaro's retail shop that offers vegan prepared meals, faux meats, condiments, soups, dips, and spreads. The community-focused headquarters would also highlight grocery items from local farms, plant-based cooking classes, and other family-friendly workshops. The crowdfunding campaign will help to secure equipment and proper upgrades for the storefront and production kitchen. 
Red Star: Chef Cyrus Keefer is switching things up at Red Star in Fells Point. The menu has shifted to highlight Italian-American favorites, wine, craft beer, and cocktails for dinner service five nights per week. Among the new items are warm olives, grilled calamari, garganelli pasta with pecorino and pork ragout, a cold cut calzone, a chicken parm hoagie, and, of course, a classic tomato and basil pizza. The team is also in the process of building out a boutique spirits shop for diners who want to grab a bottle on their way out. 
EPICUREAN EVENTS
3/10: Ekiben's Fifth Birthday
We can't believe it's been five years since the dining scene was forever changed by Ekiben's Asian-fusion fare and collaborative pop-up events. To celebrate the shop's big birthday, owners Steve Chu and Ephrem Abebe are offering their specialty buns and bowls at the same price as when they first started out on the local farmers market circuit. Both locations in Fells Point and Hampden will feature $7 steamed buns and $10 rice bowls on Wednesday, March 10.