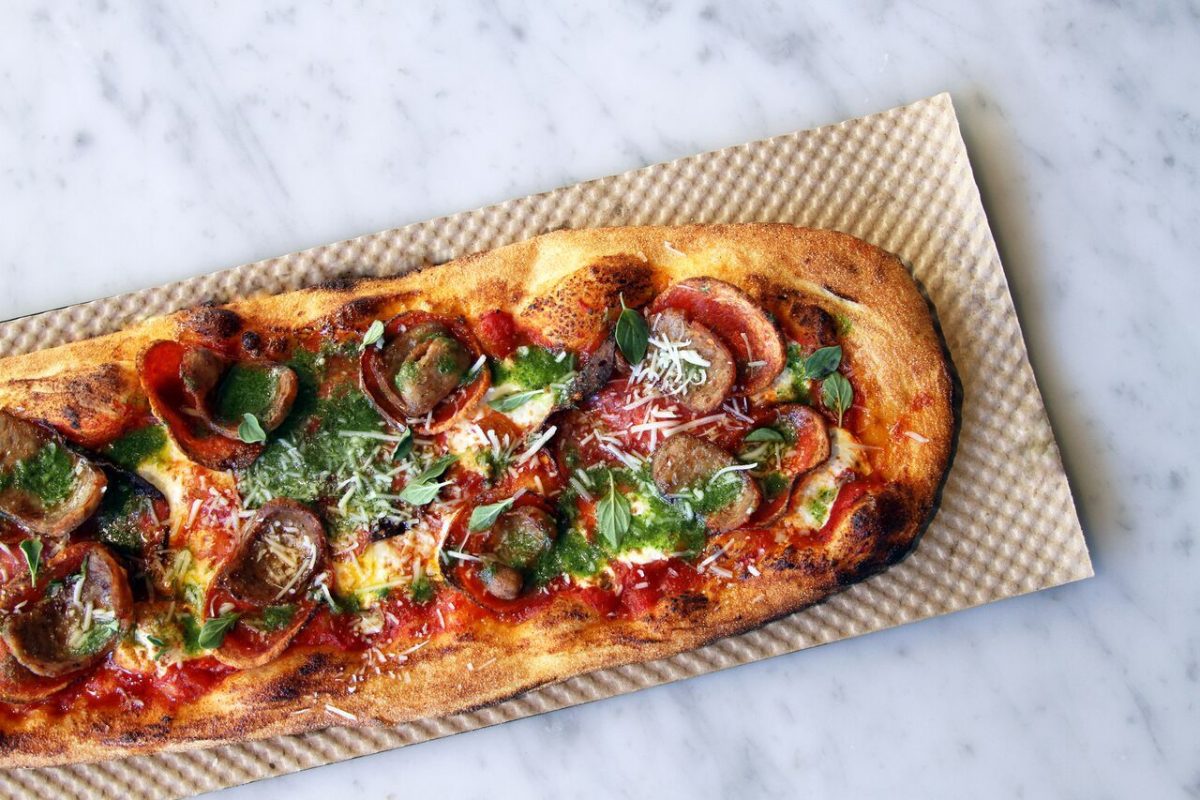 Courtesy of &pizza
OPEN:
Mother's North: Federal Hill favorite Mother's Grill brought its signature burgers and Crushes to the 'burbs last week with the grand opening of this spinoff in Timonium. The family-friendly space, which formerly housed an Applebee's, features 195 seats and the brand's signature dark-wood aesthetic. Diners can choose from a lengthy menu that lists sandwiches, burgers, flatbreads, wings, crab cakes, and fish tacos. 2450 Broad Avenue, Timonium, 443-991-5256
No Way Jose Cafe: The owners of Blue Agave quickly stepped in to take over this beloved Federal Hill taqueria after it unexpectedly shut its doors late last month. Blue Agave owner Brian Acquavella recently told us that No Way Jose has reopened, and will remain open offering its original menu until details regarding a new concept are fleshed out. Although the fare might change slightly under new ownership, Acquavella assures that the spirit of the neighborhood haunt will remain the same as changes are implemented. Stay tuned for updates. 38 E. Cross St., 410-752-2837
COMING SOON:
At Light's End: Former Tark's Grill chef Jeff Keeney recently announced his plans to open this new restaurant on the bottom floor of the 2 East Wells apartment complex in Riverside. The culinary-driven concept, which will feature custom whiskey lockers and an open kitchen, will incorporate fare such as coffee-rubbed veal short ribs, rainbow carrots, Swiss chard, and in-house pickled vegetables. An opening date is slated for August 2015. 2 E. Wells St.
Eggspectation: This International breakfast and lunch chain, which operates locations everywhere from Canada to Qatar, is opening its newest eatery in the Owings Mills Metro Center later this month. The restaurant, which will join the likes of Fractured Prune and Times Square Kitchen in the mixed-use development, will feature egg sandwiches, specialty omelets, sweet and savory crepes, and a juice bar. The new cafe will mark the company's third in Maryland, as it also boasts locations in Ellicott City and Silver Spring. 10209 Grand Central Ave, Stes. 122-126, Owings Mills
Surf House MD: This new Island cantina, which has a grand opening scheduled for March 18, is debuting in Frederick just in time for the return of outdoor dining. The new hangout will emphasize beach-inspired coastal cuisine, with offerings ranging from coconut mussels and Hawaiian shrimp to $5 fish tacos and pork burgers topped with grilled pineapple.As the temperatures continue to rise, diners can look forward to sipping cocktails while lounging on the spacious outdoor deck. 8925 Fingerboard Rd., Urbana, 240-341-7155
&pizza: The owners of this D.C.-based pizza chain are making their mark on Charm City with a new shop slated to open this summer in Federal Hill. Known for its trademark ampersand and unique interior designs that reflect each store's location, &pizza serves up signature creations—like the Farmer's Daughter pizza topped with spicy tomato, spinach, fresh mozzarella, Italian sausage, and red pepper chili oil—as well as DIY options. The shop also offers salads, craft sodas, and artisanal teas. 1201 S. Charles St.
West Madison Craft Beer & Wine Bar: Mt. Vernon locals will be happy to hear that Lisa Markiewicz, the original owner of Waterstone Bar & Grill, has regained control of the space after taking some time off to pursue a master's degree in global business. But instead of keeping her original concept, Markiewicz is rebranding the restaurant as West Madison Craft Beer & Wine Bar, which will debut with a soft opening on March 17. Adam Moss, previously of 13.5% Wine Bar, has been brought on as executive chef at the new spot, and will serve a menu of small plates like tuna tacos, duck sliders, and lemongrass chicken dumplings. The official opening date is slated for April 1. 311 W. Madison, 410-949-6609
CH-CH-CHANGES:
Johnny's: Chef David Garcia Reyes joined the Foreman Wolf Restaurant Group as a line cook in 2006, and has since climbed the ranks, working as chef de cuisine at Charleston for the past six years. Recently, Reyes was appointed executive chef and co-owner of Johnny's, Foreman Wolf's West Coast-inspired tavern in Roland Park. The menu will see slight changes (like the omission of sushi) this spring, as Reyes finds his footing in his new position. 4800 Roland Ave., 410-773-0777
Mason's Restaurant: Husband-and-wife owners Robert and Caroline Pascal will soon debut this historic Easton restaurant as Pascal's Chophouse, a reimagined concept that will incorporate a fresh design and revamped menu. The restaurant, which is currently closed for renovations, will re-open on March 18, revealing refinished floors, updated wall treatments, new furniture, and a state-of-the-art steak oven. Executive chef David Hayes has developed a brand new menu, which includes surf and turf ravioli, pan-seared scallops, and whole-roasted rainbow trout. 22 S. Harrison St., Easton, 410-822-3204