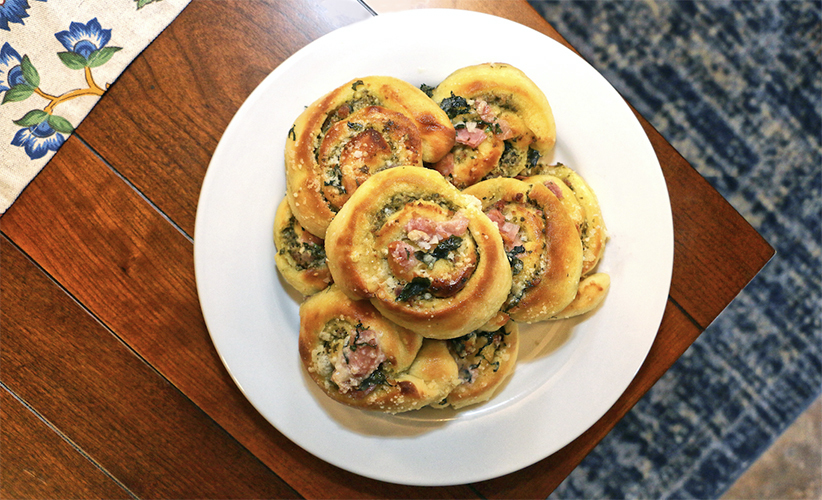 Photography by Jai Williams
OPEN
Little Bird Coffee Bar: There is now even more to love about The Bluebird Cocktail Room in Hampden, which debuted a sister concept in the subterranean space downstairs earlier this week. The Italian-inspired cafe offers an array of coffee and espresso drinks, as well as Campari, Negroni, and amaro cocktails. The European flair is also showcased in the food offerings, which include house-made pastries, charcuterie, a French hot dog on a petit baguette, pasta, and a marinara sauce recipe passed down from co-owner Caroline Benkert's great aunt Holly from Sicily. The 60-seat cafe will be open from 7 a.m.-9 p.m. on weekdays, and stay open until 11 p.m. on Fridays and Saturdays. 3600 Hickory Ave. 667-303-3263
Poke Fish Sushi: Take a trip to Hawaii by way of Owings Mills at this new poke spot that recently opened its doors in the Valley Village Shopping Center off of Reisterstown Road. The fast-casual eatery offers ramen noodles, specialty sushi rolls and burritos, and Hibachi-style chicken and tofu. But the stars of the show are the DIY poke bowls that diners can customize with rice, fish, fruits, vegetables, nuts, and a variety of sauces. The restaurant joins Stanford Kitchen, Suya Spot, and Palio on the list of dining destinations that recently debuted in the Owings Mills area. 9163 Reisterstown Rd, Owings Mills. 410-902-8889
COMING SOON
Man vs. Pho: Patterson Park locals will be happy to hear that a new pho destination is making its way into the neighborhood in plenty of time for soup season. Catonsville favorite Pho Saigon—which was featured on an episode of Travel Channel's Man vs. Food last month—is opening a spinoff on Eastern Avenue next to Matthew's Pizza next week. Named after its signature "Man vs. Pho" challenge (diners are dared to slurp down four pounds of meat and noodles in 30 minutes), the Vietnamese spot will feature its DIY pho bowls with add-ins including steak, chicken, crabmeat, and fried tofu. The new location will debut in soft-opening mode on Monday, August 13, and a grand opening is scheduled for Wednesday, August 22. 3133 Eastern Ave. 410-314-8345
NEWS
Salt Tavern: After 12 years, mother-and-son duo Jane and Jason Ambrose have decided that it's time to take their Butchers Hill tavern—best known for its duck fat fries and goat cheese doughnuts—in a new direction. The owners announced earlier this week that the last evening of traditional dinner service at Salt will be on Saturday, August 11. But they won't be abandoning the space. Starting in October, the restaurant will be used for special pop-ups and guest chef dinners, as well as private dining events. "As we begin this transition, we want to say thank you to all of our customers, foodie supporters, food critics, suppliers, neighbors, friends, and family," the duo said in a statement. "We appreciate what you have done for us and hope that you will continue to support us in our new venture." 2127 E. Pratt St. 410-276-5480
The Dizz: Rest assured, Remington. The Dizz is officially reopening on Friday, August 10. After a routine health inspection late last month, the fan-favorite hangout was closed due to "unexpected mechanical failures in the kitchen," according to a post on its Facebook page. Since then, the restaurant has taken a short hiatus to replace the equipment and refinish the floors. The spot will be back up and running starting at 10 a.m. on Friday, with plenty of beer, wings, and burgers to go around. 300 W. 30th St. 443-869-5864
EPICUREAN EVENTS
ONGOING: August Happy Hour at Bar Vasquez
With the beginning of a new month comes a fresh batch of $5 drinks and appetizers during happy hour at Bar Vasquez in Harbor East. In honor of the summer harvest, the bar is showcasing a refreshing "La Merienda" cocktail with George Dickel rye, peach and ginger syrup, fresh brewed iced tea, and lemon juice for $5 on weekdays from 5-7 p.m. The happy hour menu features plenty of snacks to pair with the cocktail, including crispy local zucchini, empanadas de queso, and shrimp ceviche. 1425 Aliceanna St. 410-534-7296
8/12: Mercado "No Se" at Clavel
Throughout brunch service this Sunday, Clavel will be hosting a special makers market featuring wares crafted by staff members and other local artists. Sip Sophomore Coffee—which will soon open a shop attached to Clavel's new beer garden in Old Goucher—while perusing art, ceramics, mixtapes, plants, vintage clothing, zines, and more. To add to the fun, Daniel Reza Barrientos of Mexico's La Rifa Chocolateria will be hosting an intimate chocolate tasting at 2 p.m. Learn more about the origins of chocolate while sampling truffles, cacao seeds, and a pre-Hispanic cold cacao drink. Admission to the market is free, and tickets to the tasting are $20. 225 W 23rd St. 443-900-8983. 12-4 p.m.
8/23: Battle of the Brands
Mark your calendar for this friendly food competition hosted by B-More Kitchen—the Govans incubator where dozens of culinary startups prepare their scratch-made goods. Stroll around the space to sip Full Tilt Brewing beers while sampling eats from the likes of Woot Granola, Wholesome Nibbles, Hiatus Cheesecake, Gundalow Gourmet, A Friendly Bread, Syriana Cafe, Tablefield Catering, and more. Winners will be crowned with bragging rights and prizes in sweet, savory, overall, and People's Choice categories. 5609 Hess Ave. 6:30-9 p.m. $5.