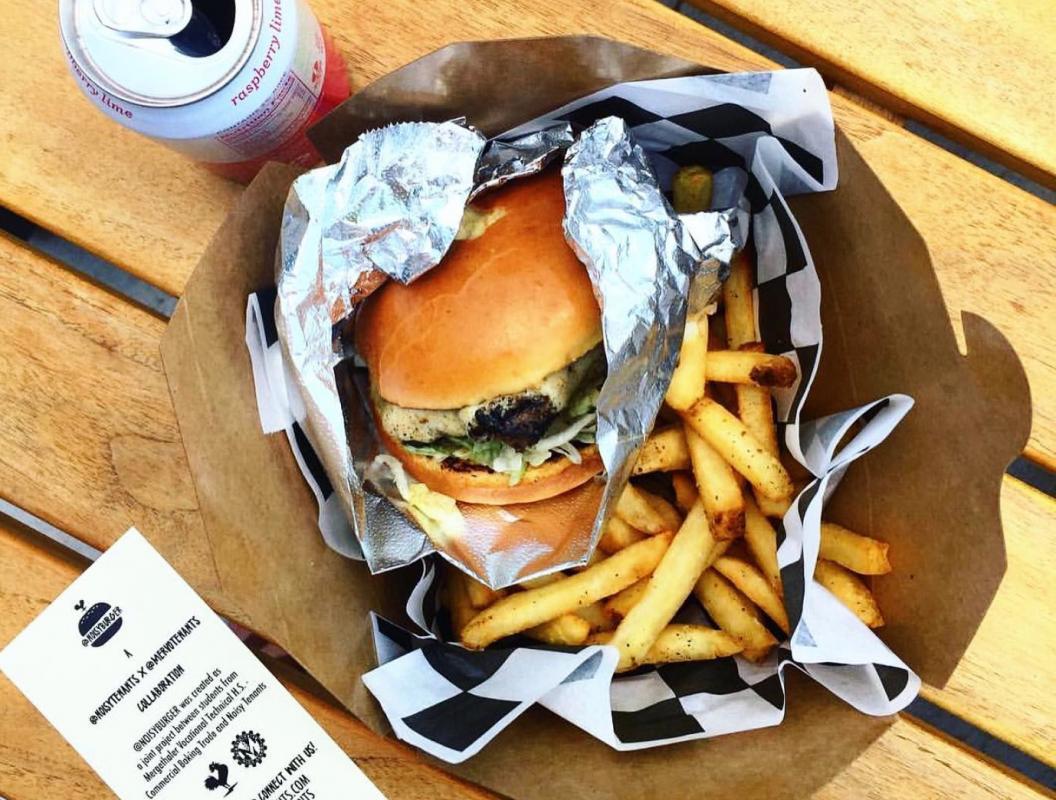 Noisy Burger permanently returns to R. House this week. —R. House
BURGER BUZZ
Noisy Burger: R. House regulars most likely remember this burger joint, which first brought its stacked patties and crispy fries to the food hall's rotating pop-up stall in 2017. Co-founders Chris Landrum and Nick Mitchel, the brains behind local production agency Noisy Tenants, teamed up with culinary students from Mergenthaler Vocational Technical High School to operate the eatery. And now, Noisy Burger is officially back as a permanent vendor inside the Remington dining destination. 
"After the pop-up, we recognized the opportunity to continually make a positive impact on the youth of Baltimore and decided to relaunch the Noisy Burger brand," Landrum said in a statement. "Our goal is to serve great food but to also provide opportunities for young people to gain experience in their areas of interest and contribute to their personal and professional growth." 
Now open Wednesday through Sunday in the stall that formerly housed On Top Hot Dogs + Burgers, the spot specializes in beef and turkey burgers that can be customized with everything from lettuce and tomato to bleu cheese crumbles and sautéed onions. 
The Urban Burger Bar: Speaking of burger joints opening inside of food halls—chef Jasmine Norton of The Urban Oyster is unveiling her spinoff patty palace inside Whitehall Market in Hampden on Friday, December 4. Featuring her namesake burgers jam-packed with toppings between buttery buns, Norton's menu lists varieties such as the Simpleton (local angus beef with cheddar and signature sauce), the Bay Burger topped with crab dip, and the vegetarian Shroom burger with caramelized onion and mixed greens. Pair yours with hand-cut fries, onion rings, and specialty shakes in flavors like banana pudding and strawberry shortcake. 
COMING SOON
Joe Squared: Fans of this 15-year-old Station North staple will be happy to hear that the restaurant is reopening its doors this month after taking a nine-month hiatus in the wake of COVID-19. With support from the Central Baltimore Partnership and Baltimore Roundtable for Economic Democracy, the revived Joe Squared will operate under a worker-owned cooperative model—much like other local food hubs including Red Emma's, Taharka Bros., The Greener Kitchen, and Mera Kitchen Collective—which allows each worker-owner to be a decision-maker in the business. 
"Research shows that worker-owned businesses have the resiliency often needed to get through a crisis," owner Joe Edwardsen said in a press release. "We believe that this is the business model for the future and, more importantly, an important thank you to those people who have made Joe Squared what it is today—our employees." 
This month, the nationally acclaimed dive will bring back its famous square pies and risottos for delivery and takeout while the team works to expand outdoor seating, renovate the indoor dining space, and set up a small retail area with to-go food. "It feels like we're giving birth to a new Joe Squared," sums up Edwardsen. 
Lily's: In case you missed it—Orto owner Elan Kotz has partnered with hospitality veteran Mary Zayaruzny to breathe new life into The Dizz in Remington. The iconic dive bar will reopen as Lily's, a restaurant that emphasizes elevated pub grub while maintaining the welcoming atmosphere that made The Dizz a neighborhood haunt for decades. Read more about plans for the menu and interior, here. 
BOOZE BULLETIN
Lost Ark Distilling Partners with Goetze's: Just in time for the holidays, Columbia's Lost Ark Distilling Company has created a hyper-local liqueur crafted with Baltimore's own Domino sugar and Goetze's caramel creams. The aptly named Caramel Creams Liqueur, which will be available at the distillery and regional liquor stores, is 30 proof with notes of rum and vanilla from the centers of the classic candies. The team recommends sampling the seasonal sip over ice, in a spiked tea or coffee, or shaken in a holiday cocktail. 
DuClaw Brewing and Wild Kombucha Cocktails at La Food Marketa: In yet another boozy holiday collaboration, the teams from DuClaw Brewing Company and Wild Kombucha have put their heads together to create festive cocktails that will be available at La Food Marketa in Pikesville throughout the month of December. Bartender Vince Castro, who also collaborated on the final products, will be shaking up drinks including the "Berry Christmas" (DuClaw's Funk blueberry citrus wheat with Elderberry Wild Kombucha and cranberry juice) and the "Cerveza Regular," which combines the brewery's Regular Beer with lime juice, tequila, and Wild Kombucha's Icara Yerba Mate. 
SHUT
The James Joyce Irish Pub: Earlier this week, guests attempting to dine at this Irish classic in Harbor East were met with a sign on the front door indicating that the restaurant had closed. For nearly two decades, the spot has been a go-to for authentic pub fare and live music in the neighborhood—which also recently saw the closure of Roy's just a few doors down. Regulars will certainly miss the shepherd's pie, annual St. Patrick's Day bashes, and boozy Irish coffees come winter.