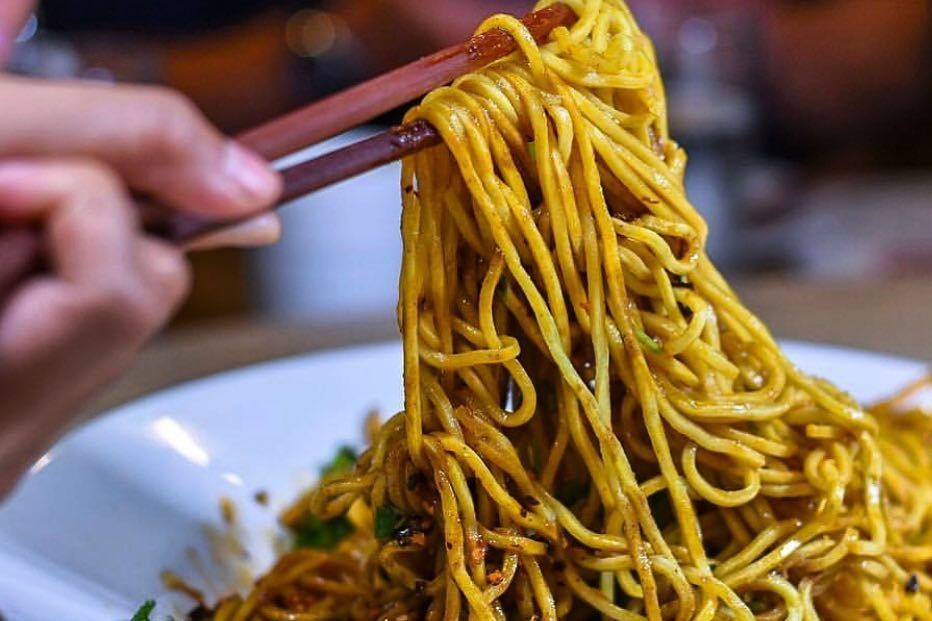 @qbypeterchang via Instagram
COMING SOON
Peter Chang Restaurant: Get pumped, "Changians." Though details have yet to be announced, devoted fans of cult icon Peter Chang will be happy to hear that the chef's family plans to open an Asian restaurant in the space that was previously Fork & Wrench in Canton. A former chef at the Chinese Embassy in Washington, D.C., Chang started his empire by opening strip-mall restaurants in towns throughout Virginia that weren't particularly known for their Asian cuisine. While Baltimore boasts some stellar global eats, locals have long been waiting for an authentic Chinese food spot to open within city limits. Here's hoping we're next on Chang's list of places to introduce to his Sichuan specialties—which include dry-fried eggplant, crispy pork belly, and Peking duck. 2322 Boston St.
OPEN
Lyfe Cafe: Experts say that late-January is typically the time when New Year's resolutions start to go off course. But this new Towson eatery is making it easy for diners to prioritize healthy eating. Local nutritionist and personal trainer Penny Seabolt opened Lyfe Cafe inside The Shops at Kenilworth earlier this week, offering everything from protein shakes and wellness shots to vegan fare and meal-prep services. In addition to the lengthy list of breakfast, lunch, and dinner dishes, the daily menu features a "Food for Mood" section with suggestions for specific health concerns. Need a B-12 boost? Try the veggie omelet with egg whites, spinach, and red pepper. For a healthy heart, Seabolt recommends the Summer Salad with grilled chicken, strawberries, and balsamic. The new eatery joins old standbys Atwater's and Italian Gardens at the shopping destination, which also plans to welcome Felipe's Mexican Taqueria next year. 800 Kenilworth Drive. Ste. 800, Towson. 410-842-1050
NEWS
The Elephant Building for Sale: Although co-owners Steven and Linda Rivelis and Mallory Staley assure that this fine-dining destination is in it for the long haul, they recently decided to put the historic building that houses the restaurant up for sale. In an open letter sent to diners via email earlier this week, the owners explained their struggles to secure a bank loan to pay back investors who helped fund the multi-million dollar renovation of the Mt. Vernon mansion. "Without even looking at our financials, nine banks told us that they will not make a loan for a restaurant, especially in Baltimore City," the owners write. "Unfortunately, we have run out of time. After two years, our friends and family who loaned us the gap funds deserve to be paid back." The iconic North Charles Street property is currently listed at $2.9 million. Although it will soon have a new landlord, The Elephant's elegant dining rooms, craft cocktails, and worldly cuisine are here to stay. 924 N. Charles St. 443-447-7878
So Long, Esskay Hot Dogs: Don't be surprised if you can't find orange-and-black packages of Esskay hot dogs on your next trip to the grocery store. Virginia-based Smithfield Foods recently made the tough decision to discontinue the fan-favorite franks in an effort to reduce expenses and competition with its other products. As a result, Esskay will also soon disappear from Camden Yards. "The Orioles have always offered a variety of hot dogs, including Kosher options, at Camden Yards, and there are many brands that are expressing strong interest in bringing their product to the ballpark," Orioles spokesman Greg Bader told The Sun this week. Though summertime cookouts will never taste quite the same, we're confident that the team will soon find a new brand to spark the same kind of hometown pride. Perhaps the only good news to come of the Esskay loss is that officials say it will not have any effect on the famous Hot Dog Races at Camden Yards.
Baltimore Spirits Company Releases Limited Liquor Line: In the very first collaboration between Baltimore Spirits Company and its Union Collective neighbors Union Craft Brewing, the distillery has created a malty, chocolatey liqueur using fermented wort (extracted liquid) from the brewery's seasonal Snow Pants Stout. Singularity #1 is the inaugural release in Baltimore Spirits Company's new "E.B. Smith's Singularities" line, which is named after co-founder Eli Breitburg-Smith. The liqueur will be available in the tasting room starting this weekend. Other Singularity releases, including a pear brandy, are expected to debut in the coming months. 1700 W. 41st St. Ste. 430. 443-687-9099
EPICUREAN EVENTS
1/25-26: Masarap Filipino Pop-Up at Fadensonnen
If you still haven't gotten a chance to stop by Fadensonnen—the Old Goucher beer garden from husband-and-wife owners Lane Harlan and Matthew Pierce—this weekend is an ideal opportunity. Not only will the spot offer its local beers, wild ciders, and natural wines, but it will also host chef Rey Eugenio in the food truck out front. Authentic Filipino dishes on deck include a braised pork noodle bowl with fried garlic chips, grilled veggie skewers with Jasmine rice and kimchi cabbage, and a beef-and-potato bowl topped with fermented chili paste ketchup. 3 W. 23rd St. 5-9 p.m.
1/25-26: Harry Potter Pop-Up at Order & Chaos
Key Highway coffee spot Order & Chaos is collaborating with Hampden's Full Circle Artisan Palace to host a Hogwarts-themed pop-up party this weekend. Fans can enjoy butterbeer lattes while sampling a selection of magical sweets crafted by Full Circle. Among them include doughnuts like the chocolate-glazed "Deathly Hallows," espresso-sugar covered "Floo Powder," and cinnamon dusted "Potter Spice." 1410 Key Highway. 7:30 a.m.-5 p.m.
1/29: Johntay Bedingfield on Chopped
Head to La Food Marketa in Pikesville to watch the restaurant's own chef Johntay Bedingfield compete on an episode of Food Network's Chopped. The kitchen will be closing at 8:30 p.m., at which point diners and staff will gather at the bar for drinks and light snacks while cheering on the chef during the episode. 2620 Quarry Lake Drive, Pikesville. 8-10 p.m. 410-415-0606
SHUT
Cafe Andamiro: MICA students were saddened to hear that this cozy Midtown-Belvedere cafe will be shutting its doors for good this weekend. "We appreciate your business and support," mother-and-daughter owners Ran Yun and Bomin Jeon posted to Facebook earlier this week. "Being able to share food, drinks, and moments with you was special to us." Since opening in 2016, Cafe Andamiro—meaning "overflow in abundance" in Korean—has been known for its espressos and pastries, as well as Seoul-inspired specialties including noodle bowls, seasonal salads, avocado toasts, and pressed paninis. 241 W. Chase St. 443-453-9314