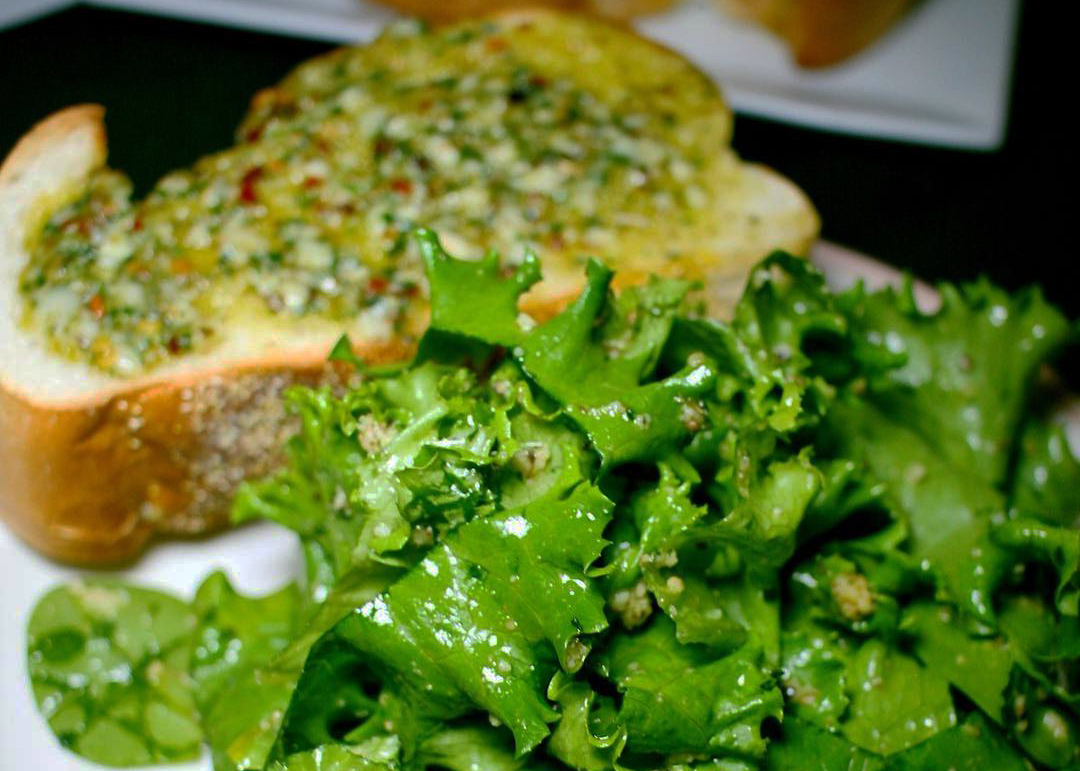 @liketheteaeats via Instagram
OPEN
Peter's Inn: We've been waiting to move this one into the "open" category for a while now. Nearly one year after a trash fire severely damaged the Fells Point staple, husband-and-wife owners Bud and Karin Tiffany quietly reopened their rowhouse restaurant Tuesday. In the months since the fire, the owners—who live in the apartment above the space—have worked tirelessly to get back on their feet. But roadblocks with insurance, permitting, and reconstruction delayed the reopening date several times.
Now, we're happy to report that the 23-year-old spot is officially back at it, serving Karin's signature dishes like burrata with roasted peaches, pan-seared scallops served over lentils, filet mignon with green beans, and, of course, the classic herby garlic bread. The owners are appreciative of the support from the neighborhood, which raised more than $20,000 for the rebuild via GoFundMe last summer. "It's humbling," Bud recently told us. "When you're doing the day-to-day tasks of running the business, sometimes you don't realize how many people you've come in contact with over the years. The outpouring of support has been tremendous." 504 S. Ann St. 410-675-7313
Red Emma's: The city's favorite worker-owned bookstore/cafe has officially settled in its new Midtown digs. Red Emma's originated in a cozy shop on St. Paul Street in 2004, and moved to a larger space on North Avenue in 2013. Now, the collective has relocated to the two-level building that formerly housed Spike & Charlie's on Cathedral Street across from the Baltimore Symphony Orchestra. The new spot will allow Red Emma's to double the size of its bookstore and offer seated dining, while still providing space for its readings, film screenings, panel discussions, and spoken word performances. The shop will soft open this Thursday-Saturday from 10 a.m. to 10 p.m., before debuting regular hours later this month. 1225 Cathedral St.
Zuzu's Gourmet Donuts: Federal Hill locals have most likely caught a glimpse of this purple- and orange-painted storefront situated next to 101 on South Charles Street. Though Zuzu's signage has been on display for a while now, the donut shop officially opened its doors for the first time last week. Named after owner Hak Zubar, the carry-out spot offers ice cream, sandwiches, smoothies, and fresh-pressed juices, but the real highlights on the menu are the house-made donuts. Creative flavors include strawberry delight, pineapple upside-down, honey double dip, and a savory "Oriole" donut garnished with lump crab and Old Bay. 1136 S. Charles St.
COMING SOON
New Cross Street Market Vendors: Just across the street from the new donut shop, Cross Street Market—which remains open during construction—recently announced a partial lineup of vendors that will occupy the space once it is fully renovated this spring. In 2019, the market will house legacy purveyors Fenwick's Choice Meats, Nunnally Bros., Steve's Lunch, and The Sweet Shoppe, while also welcoming an array of new producers. Among them are Annapolis-based Ceremony Coffee Roasters, a burger concept from the owners of Southside Diner, Vietnamese pho and banh mi pop-up Phubs, rice bowl maker Rice Crook, Haitian-Caribbean purveyor SoBeachy, and Cockeysville-based barbecue joint Smoke. The multi-million dollar revitalization is expected to yield floor-to-ceiling windows, indoor and outdoor seating for 500, and a retro aesthetic that harkens back to the 1950s—when the historic market was first reborn in its current configuration after a fire burned down the original facility. 1065 S. Charles St.
NEWS
Seawall Redeveloping Lexington Market: Speaking of public markets, the city's oldest recently announced that it has chosen Seawall Development to lead its $40 million proposed renovation. While architectural designs are still in the works, goals for the overhaul include right-sizing the market, incorporating clean energy features, and remaining faithful to the history of the building. Seawall, well known for its design of R. House and Union Collective, plans to gather community input before officially breaking ground in late 2019. "Lexington Market is the city's market and every stakeholder—vendors, patrons, and neighbors—matters," said Seawall partner Thibault Manekin in a press release. "We are beyond honored to have been selected and we look forward to working with the entire city to help transform the market." 400 W. Lexington St.
John Shields Scholarship Fund Established: At Gertrude's 20th anniversary celebration earlier this week, friends of the Chesapeake-inspired restaurant collectively donated nearly $10,000 to the newly established John Shields Culinary Arts Internship and Scholarship Fund. The money will support paid internships for junior and senior high school students, while also providing scholarships for local graduates hoping to pursue a degree in culinary arts. Founded in honor of Gertrude's beloved chef/owner Shields, the program hopes to raise $100,000 in the coming year to support as many aspiring young chefs as possible.
EPICUREAN EVENTS
10/4: Free Tacos at Taco Noche
In honor of National Taco Day, this brand new food stand at The Rotunda in Hampden is giving away free tacos with any carry-out purchase. Stroll up to the eatery to sample chef Audiel Vera's Northern Mexican-style snacks including brisket nachos with sour cream and queso fresco, barbacoa mac and cheese, and the "Red Eye" burrito filled with pico de gallo and refried beans. 711 W. 40th St.
10/5: Big Softy Pop-Up at Ground & Griddled
We've seen Big Softy owner Craig Falk sling soft shells at R. House before, but this week, he is planning a special brunch menu in collaboration Ground & Griddled inside the food hall. Swing by from 9 a.m. to 1 p.m. to sample Falk's crabby spin on G&G's classic pancakes, bacon, and egg sandwiches. 301 W. 29th St.
10/11: Taste of Hampden
This annual foodie fundraiser benefiting the Hampden Family Center returns next week at its new venue, Union Collective. Stroll around to sample bites from eateries on the Avenue and beyond including Luigi's Italian Deli, Dylan's Oyster Cellar, Five & Dime Ale House, Frazier's, Holy Frijoles, Wicked Sisters, Ma Petite Shoe, Rocket to Venus, Common Ground, The Food Market, The Charmery, and Blue Pit BBQ. Of course, there will also be plenty of Union brews to go around. All ticket proceeds will benefit the center's numerous classes, programs, and support services for residents of all ages. 1700 W. 41st St. 6-9 p.m. $50