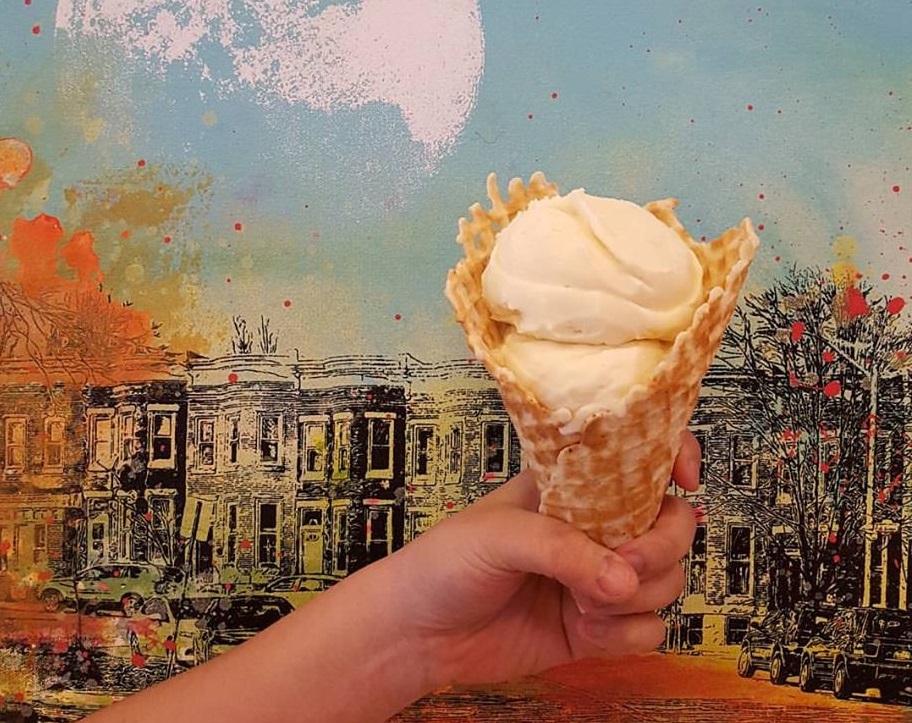 Courtesy of The Charmery
PIZZA PRESS:
&pizza: This D.C.-based pie chain hit the ground running at its newest location in Federal Hill on Thursday, offering free pizza and tattoos. (Yes, real tattoos.) Patrons formed lines around the block to snag their complimentary pies, and the brand gave away free pizza for an entire year to five gutsy foodies who got its trademark ampersand tattooed on their bodies at nearby Brightside Tattoo Shop. Known for its unique interior designs that reflect each store's location, &pizza serves up signature creations—like the Pineapple Jack pizza topped with salami and pineapple—as well as DIY options. The shop also offers salads, craft sodas, and artisanal teas. 1201 S. Charles St., 443-341-1016
BrickNFire Pizza Company: After winning a Shark Tank-style restaurant contest hosted by the Marriott, this Catonsville-based mobile pizza kitchen is opening its first brick-and-mortar shop inside the Marriott Inner Harbor at Camden Yards. In addition to its signature wood-fired pies cooked in an 800-degree oven, the new 30-seat restaurant will offer salads and a few sandwich options when it cuts the ribbon in July. 110 S. Eutaw St.
Two Boots Pizza: Named after the geographical shapes of Italy and Louisiana, this funky pizza parlor is opening its second Baltimore shop on the bottom floor of an off-campus student housing building near Johns Hopkins Hospital. Slated to debut this summer, the restaurant—which also operates an eatery on Mt. Royal Avenue in Midtown—serves inventive pizzas named after pop culture icons. The "Cleopatra Jones," for example, (an homage to the Tamara Dobson crime films from the '70s) is topped with sweet Italian sausage, roasted peppers, red onions, and mozzarella. 929 N. Wolfe St.
OPEN:
Gunther & Co: Former D.C.-area restaurateurs Jerry Trice and Nancy Hart Mola revealed their long-awaited Brewers Hill brainchild last weekend. The 7,000-square-foot space encompasses a front bar, 150-seat main dining room, mezzanine level with a live "green wall", soon-to-be-open outdoor patio, and an exposed kitchen with a wood-burning oven. Whether you're hoping to stop by for lunch, hang out at the bar, or enjoy a multi-course meal, Mola says that the concept is meant to provide an experience fit for any occasion. Trice, who is the executive chef, highlights globally inspired dishes such as tea-smoked duck breast, wood-roasted leg of lamb, a Thai seafood hot pot, and local pan-seared rockfish. 3650 Toone St.443-869-6874
COMING SOON:
BeBim: Yet-to-open communal food hall R. House has been sporadically announcing its tenants over the past few weeks, introducing micro-restaurants such as Ground & Griddled, Stall 11, and Arba. The latest chefs joining the pack in the 50,000-square-foot converted automobile showroom are sisters Heather Chung and Mimi Kim, the duo behind Brown Rice in Charles Village. They are opening BeBim, a causal Korean barbecue spot that will serve grilled meats on top of bibimbap (rice bowls) or inside buckwheat wraps that customers can fill with vegetables and house-made sauces. The stall will also offer from-scratch mandu dumplings stuffed with braised short-rib, sweet potato noodles, and sautéed peppers, as well as drinks like green tea and cinnamon punch. 301 W. 29th St., 443-347-3570
Black Forest Taphouse:: Fallston mainstay Josef's Country Inn, which was best known for its German delicacies, shuttered its doors in March 2015 after 30 years in business. Now, new owners Alex and Dana Theodoropoulos plan to transform the space into a taphouse featuring pub grub and 20-30 craft brews. Though the new owners are orchestrating a massive interior overhaul, they plan to honor the building's previous inhabitant by adding German-influenced dishes to the menu. The tavern's name, Black Forest Taphouse, is also a nod to the restaurant's previous owner Josef Gohring, who grew up in the Black Forest region of Germany. The new concept is expected to debut in early fall. 2410 Pleasantville Road, Fallston
Gnocco: Chef Brian Lavin, formerly of Salt and Fork & Wrench, announced this week that he is transforming the former Brewers Hill Pub & Grill space into a home for this new Italian and Spanish-influenced concept. Inspired by his travels through Europe, Gnocco (the Italian word for dumpling also commonly used as a term of endearment) will serve dishes such as lamb tartare, house-made ricotta cavatelli, and razor clams with grapefruit, tarragon salsa, and prosecco. Headed up by Lavin's friend Sam White who most recently worked at Cinghiale, the restaurant also plans to offer a next-level beverage program featuring regional wines and an array of amaro and vermouth options. 3734 Fleet St.
NEWS:
The Charmery:: Just in time for the blazing hot weather, this fan-favorite ice cream shop in Hampden recently released its new lineup of summer flavors. Returning favorites such as lemon stick, summer strawberry, cantaloupe ginger, and backyard mint with figgy lime swirl will be joined by a slew of new creations like basil watermelon, chocolate mint, and verbena with lemon, all made with locally foraged herbs. 801 W. 36th St., 410-814-0493
Mt. Royal Tavern: This one-of-a-kind dive bar scored a win as it was named one of the 18 best bars in America by Esquire magazine. The publication's editors praised the Bolton Hill watering hole, known for its old-school jukebox and Sistine Chapel ceiling mural—saying that patrons often stay for the "Natty Boh, Pikesville Rye, and religious thoughts." Though Mt. Royal Tavern was the only local spot to make the cut this year, previous editions have given love to beloved Baltimore bars Rye, The Brewer's Art, and Bad Decisions. 1204 W. Mt. Royal Ave., 410-669-6686