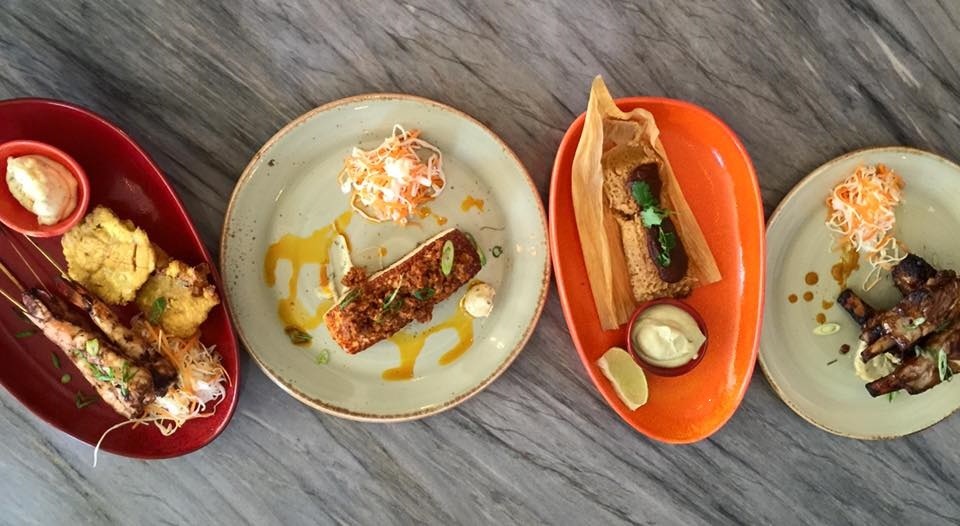 Courtesy of Points South Latin Kitchen
OPEN:
Points South Latin Kitchen: The Fells Point dining scene saw yet another addition last week with the debut of this Latin American spot, which opened in the former home of Anastasia on Thames Street. Completely renovated with hanging lights, colorful wall murals, and mosaic tile accents, the multi-level space also features a private table in the downstairs wine cellar. Fare includes tamales and skewered pinchos, as well as heartier plates like chimichurri steak and Chilean sea bass. The cocktail menu also reflects flavors of the region, highlighting mojitos, mezcals, and sangria. 1640 Thames St., 443-563-2018
Nalley Fresh: This Baltimore-based health food chain expanded once again last weekend, bringing its signature DIY salads, wraps, and sweet potato bowls to a new location in Columbia. Since the concept debuted in 2012, Nalley Fresh has launched eight eateries scattered everywhere from Canton to Gaithersburg. The latest opening marks the brand's first location in Howard County. 6455 Dobbin Road, Unit 45, Columbia, 240-512-0212
COMING SOON:
Brass Tap: Joining the city's assortment of craft beer bars is this Florida-based chain, which will soon open its first Maryland location on Mount Royal Avenue in Midtown. The 3,150-square-foot spot will highlight 60 taps (half of which will be local) and pub fare like spring rolls, tacos, flatbreads, and soft pretzels. A grand opening is slated for October 2016. 1205 W. Mount Royal Ave., 410-989-3459
Restaurant Expansion at BWI: When it comes to airport food, BWI is seriously stepping up its game. A new lease signed with Bethesda-based airport food company HMSHost calls for three next-level restaurants to set up shop inside BWI's terminals in the coming months. Among the new spots joining the scene are Kapnos Marketa, a Mediterranean spinoff from Top Chef alum Mike Isabella, a fifth Family Meal location from Frederick-based restaurateur Bryan Voltaggio (also a Top Chef contender from the same season), and a new wine bar called Brix & Vine. All changes are expected to take shape by fall 2016. Baltimore Washington International Thurgood Marshall Airport, 410-859-7111
Maggie's Farm Sister-Restaurant in the Works: Matthew and Andy Weaver, the husband-and-wife team behind Lauraville haunt Maggie's Farm, recently told us that they have taken over a vacant lot on the corner of Harford Road and Southern Avenue, and plan to use it to build a new "higher-end" restaurant in the neighborhood. Although details about the concept are still under tight wraps, the project is expected to break ground in the next few months and a grand opening date is slated for March 2017.
Fresh at the Avenue: After a series of sold-out pop-ups at Upton's Avenue Market earlier this year, the No Boundaries Coalition—a resident-led health committee which works to combat the city's food deserts—has decided to take over a permanent stall, offering locals affordable produce on a weekly basis. Fresh, which launched at the market last weekend, will be open for business every Saturday, selling everything from bananas to organic kale. In addition to the new stall, the committee's initiatives have been instrumental in providing healthy options at a handful of corner stores in Central West Baltimore. 1700 Pennsylvania Ave., 410-225-9448
West Madison Craft Beer & Wine Bar: Mt. Vernon locals will be happy to hear that Lisa Markiewicz, the original owner of Waterstone Bar & Grill, has regained control of the space after selling it to new owners a few years back. But instead of sticking with her original concept, Markiewicz is rebranding the restaurant as a craft beer and wine bar. In addition to offering a wide array of local beer, wine, and bourbon, the restaurant will focus on bites such as tuna tacos, beef sliders, dumplings, and pizza topped with smoked Gouda and house made pesto. The space, which features a cocktail bar, growler-filling station, and plush furniture, is set to debut in April. 311 W. Madison, 410-949-6609
CHEF CH-CH CHANGES:
The Brewers Art: Less than one year after taking over the kitchen at Le Garage, chef Andrew Weinzirl has hung up his toque at the Hampden hotspot. The local chef—whose resume includes stints at The Wine Market, Maggie's Farm, and The Dogwood Restaurant (coincidentally Le Garage's former inhabitant)—recently signed on as executive chef at beloved Mt. Vernon beer bar The Brewers Art. Le Garage is still on the hunt for Weinzirl's successor. 1106 N. Charles St., 410-547-6925
Tark's Grill: Chef Brendan McKinney, who most recently served as a sous chef at The Point in Fells, is the new executive chef at this seafood spot in Lutherville's Green Spring Station. McKinney has already implemented changes in his new role, orchestrating a raw bar, Sunday lunch buffet, "Date Night" deals on Saturday nights, and new happy hour specials. 2360 W. Joppa Road, Lutherville, 410-583-8275
SHUT:
No Way Jose Cafe: Federal Hill locals took to social media to mourn the loss of this neighborhood hangout, which shuttered its doors suddenly last week. Soon after news of the closure had spread, owners of nearby Mexican spot Blue Agave acquired the space. No Way Jose was known for its nightly Tex-Mex specials, build-your-own burritos, and jukebox-style TouchTunes. Details about whether the current concept will stick under new ownership have yet to be determined. 38 E. Cross St., 410-752-2837