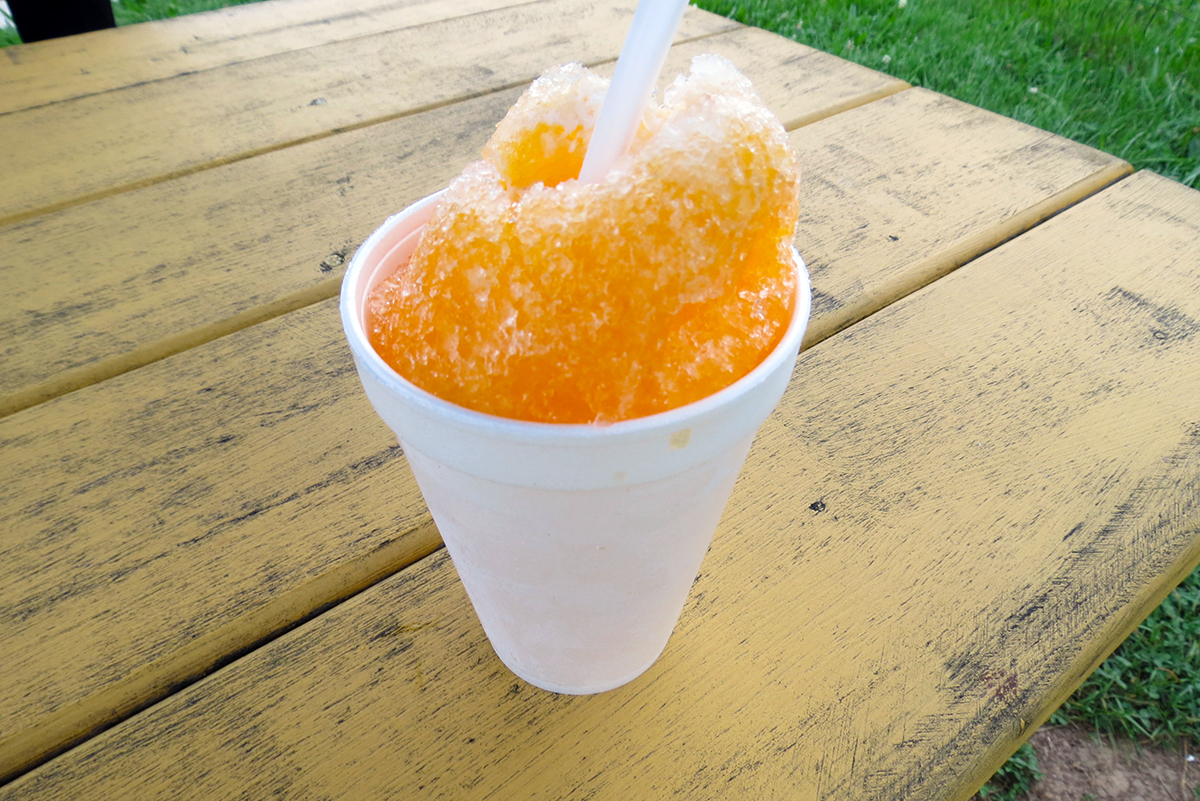 COMING SOON
Quality Snowballs: The Food Market chef/owner Chad Gauss is bringing the city's token treats to the Avenue in Hampden just in time for snowball season. Expected to debut on May 1, the 10-foot shipping container muraled by local artist Paige Orpin sits in the small parking lot on the side of the church building at 1014 West 36th Street—which is just across the street from The Food Market. "It's nice to be able to control what's going on from directly across the street," Gauss says. In keeping with his playful style, the stand will offer the classic egg custard with marshmallow, while also featuring fun flavors with unique toppings.
Look out for banana-Oreo, strawberry shortcake, dirt-cup, coconut cream pie, crème brûlée, and even s'mores flavored ice with torched marshmallow on top. The team also has ideas to create açaí snowballs and incorporate fresh herbs and fruits "so that it's not just the sugary syrup juice and that's it," Gauss adds. On the heels of opening DIY stir fry spot TigerStyle behind the Avenue, the chef says he's looking forward to introducing another concept in the neighborhood. "It's kind of like our playground," he says. "We're just looking to have fun and to find more ways to enjoy what we do." 1014 W. 36th St.
Blackwall Hitch: After much anticipation, this Annapolis favorite—which also operates locations in Alexandria, Virginia and Rehoboth Beach, Delaware—is finally bringing its massive menu of fine-dining fare to the Inner Harbor next month. Opening on the first floor of the Candler building on East Pratt street, the 10,000-square-foot restaurant will feature worldly dishes by executive chef David Montanz. The menu is expected to mirror the restaurant's other locations, which highlight staples like filet mignon, shrimp and grits, scallops with saffron risotto, pulled short rib carbonara, and classic jumbo lump crab cakes with roasted corn salsa. 700 E. Pratt St.
The Tilted Row: Cafe Fili loyalists will be happy to hear that owner Ziad Maalouf, along with his partners Jim Campbell and Nancy Hooff, are opening a sister-spot in Bolton Hill the week of May 20. Located on the bottom floor of the brand new Jordan apartment building, the neighborhood spot will have an inviting feel with warm woods and soft colors. Chef Andrew Thomas, previously of Donna's and The Elephant, will oversee kitchen operations, while the bar program will be headed up by former Woodberry Kitchen bartender Hannah Baker. The team will source ingredients from local farms and its own herb garden, and craft global dishes like cedar salmon tagine, pretzel pork schnitzel, lamb ragu pappardelle, and buttermilk biscuits with bourbon-chili glaze. To pair with the elevated pub fare, Baker will feature creative cocktails, 10 beers on tap, a boutique wine list, and an impressive collection of more than 120 single malts and bourbons. 305 McMechen St.
NEWS
Atlas Expands to Cross Street Market: This week, the team behind Harbor East behemoth Atlas Restaurant Group announced plans to expand their reach across the harbor next year. Amid rumors of a deal to open a concept inside the renovated Cross Street Market in Federal Hill, Atlas released a statement confirming that the group is currently in lease negotiations to debut an anchor crab house and seafood market inside the space. "The concepts will be two new brands and interior designs that will be unique to the city," the statement reads. "We look forward to being a part of the Federal Hill community." If all goes well with leasing, both are expected to debut in April of 2020.
In the meantime, three of the veteran vendors at Cross Street will be the first to reopen inside the new space next month. Market regulars will be able to get reacquainted with Henry Reisinger of Fenwick's Choice Meats, John Nichols of Steve's Lunch, and Pete Pittas of The Sweet Shoppe. A roster of nine newbies—including SoBeachy, Phubs, and Rice Crook— are expected to follow suit this spring, and additional pizza, wine bar, vegan, fried chicken, and grocery concepts will be announced in the coming weeks. 1065 S. Charles St.
Petit Louis Bistro Launches Fundraiser for Notre Dame Cathedral: In true Baltimore spirit, this beloved French bistro in Roland Park is lending a hand in the wake of the tragic fire that tore through the Notre Dame Cathedral in Paris earlier this week. For two weeks starting on Monday, April 22, the restaurant will be offering a special $59 lunch and dinner menu that will benefit reconstruction efforts. A portion of all proceeds from every multi-course meal served will be donated to Friends of Notre-Dame de Paris, which is dedicated to rebuilding the landmark. All guests who visit the bistro will also have the option to donate additional funds. 4800 Roland Ave. 410-366-9393
OUTDOOR OPENINGS
LB Skybar: It's been a big week for the historic Lord Baltimore Hotel downtown. On the heels of welcoming new executive chef Beth Dinice, the property is preparing to open its 19th-floor Skybar for the season on Friday, April 26. This year, guests can expect new furniture, additional areas for private events, and a revamped menu of shareable plates. Take in the killer views while sipping cocktails and snacking on Old Bay chips with onion dip, pit beef bao buns, or shrimp kebabs with cilantro aioli. Additionally, the hotel's new partnership with Mera Kitchen Collective will bring a special takeover menu to the bar every Wednesday evening. 20 W. Baltimore St. 410-539-8400
Noona's: Speaking of al fresco fare, this Midtown pizza spot recently unveiled its new 12-seat patio overlooking MICA's Mount Royal Station. Simultaneously, chef Cai Lindeman launched weekend brunch service. Snag a seat outside on a sunny Saturday or Sunday to enjoy Italian-inspired dishes including ricotta pancakes, pancetta omelets, maple-glazed bacon, and crispy confit potatoes. To wash down all of the mid-morning eats, Noona's also offers $5 prosecco on tap, $6 mimosas, and $6 micheladas made with Old Oriole Park Boh from Peabody Heights. 1203 W. Mt. Royal Ave. 410-424-0857
EPICUREAN EVENTS
4/19: Beach Party at Peko Peko Ramen
In celebration of its newly acquired liquor license, the team at this Charles Village ramen shop is throwing an all-day beach bash with plenty of themed cocktails to go around. Stop by for an early summer kickoff featuring free merch and giveaways like complimentary ramen bowls and buckets of beer. 7 E. 33rd St. 11:30 a.m.-11:30 p.m.
TO 4/21: Maryland Food Truck Week
There's still time to support your favorite kitchens-on-wheels during this annual event, which closes out on Sunday, April 21. Throughout the week, local food trucks have been hosting festivities all over town to benefit Meals on Wheels, and there are still rallies planned everywhere from Elkridge to Bowleys Quarters this Friday. Aside from the official events, it's also a great time to track down your favorite trucks. Among the many mobile kitchens participating include 410 Empanadas, Goganics, Crossroads Bistro, Kuya's Kitchen, Shareef's Grill, Miss Twist Ice Cream, and Dizzy Cow Pizzeria.
SHUT
Mustang Alley's: Throughout its 12-year run, this hybrid bar-and-bowling alley has been home to many fun-filled nights spent sipping local beers while chowing down on classic bowling snacks. Unfortunately, next month will be the last for the staple destination near Little Italy. Co-owner Mary Koch recently told the Baltimore Business Journal that, while business is good, Mustang Alley's came to the end of its lease term and was unable to negotiate a new one, so it will be closing in June. Here's hoping new owners come in to revive the bowling alley, but, in the meantime, stop by to bowl one last game while enjoying pub grub like Old Bay wings, cheeseburger sliders, and cheesy pizzas. 1300 Bank St. 410-522-2695