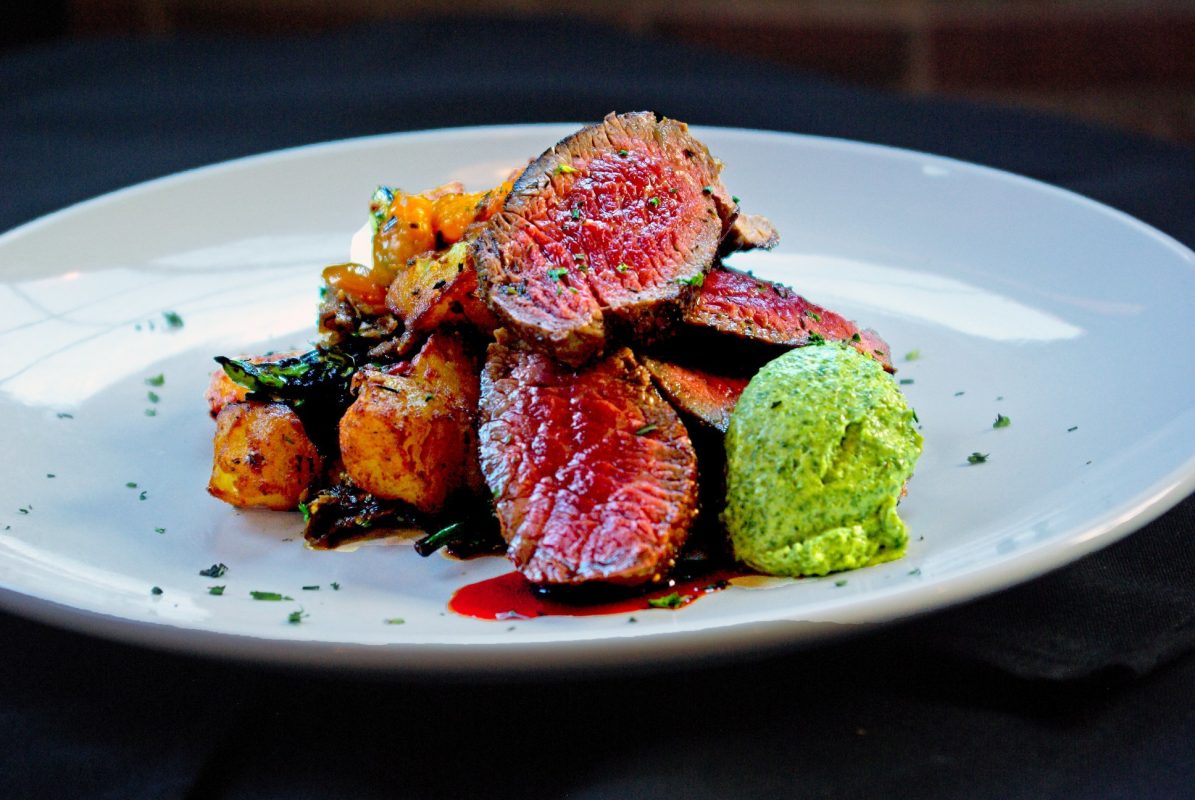 OPEN
The Boiler Room: Monument City Brewing and Haven Street Ballroom have officially welcomed this new neighbor to the Highland Forge area in Highlandtown. Housed in a former boiler room that was used for the milling of large trees until the 1950s, the aptly named space from developer Dave Seibert now maintains its industrial roots with exposed red brick and an original boiler room door mounted on one of its walls. As for the food, chef Brian Szewczyk—previously of Mama's on the Half Shell—turns out fun takes on American classics including fried Buffalo wontons, cajun chicken and dumplings, hanger steak with chimichurri butter, and a "Burger and Waffles" dish that sandwiches smashed patties between a waffle bun. Brick oven-fired pizzas in flavors ranging from wild mushroom to chicken alfredo are also highlights on the menu.
EPICUREAN EVENTS
1/17-18: Nihao Baltimore Pop-Up at Salt Tavern
Those eager for Nihao Baltimore—the authentic Chinese food concept from cult icon Peter Chang—to finally open in Canton can get a sneak peek of what's to come at this two-night pop-up taking over Salt Tavern in Upper Fells Point, which now operates as a private events venue. Stop in on Friday or Saturday night to sample cocktails and try out a few of Nihao's soon-to-be signature dishes. Though menu details are still under wraps, a previous collab at Artifact Coffee featured items such as tofu skin salad and Sichuan pickled baked rockfish.
1/26: Toki Underground Pop-Up at Bluebird Cocktail Room
Speaking of epic food-and-drink collabs, Washington, D.C.'s famous ramen house Toki Underground will be popping up at Bluebird Cocktail Room in Hampden next weekend. Mark your calendar for the can't-miss tasting event that will feature a creative menu of Japanese and Taiwanese flavors inspired by Akira Kurosawa's classic film Seven Samurai. Bluebird's bar team has dreamed up seven new cocktails highlighting Japanese spirits for the evening, including the sake and ginger-infused "Shichirōji" and the "Kambei Shimada," a spin on the bar's signature Old Fashioned. Toki Underground's chef Olivier Caillabet will be teaming up with Bluebird head chef Chance Jones to present an array of ramen, steamed buns, dumplings, and other collaborative dishes. Though reservations are suggested, walk-ins will also be welcome.
SHUT
Da Mimmo Restaurant: Earlier this week, Little Italy said goodbye to this neighborhood mainstay—which recently celebrated its 36th anniversary. In a press release announcing the closure, owner Mary Ann Cricchio thanked all of the restaurant's regular customers, family, and friends for their "loyal support" throughout the years. The message went on to explain that, while the restaurant has officially closed, Cricchio and executive chef Masood Masoodi are moving on to devote more time to their program organizing and leading tours on the Amalfi Coast. "We will cherish our memories made in Little Italy, and look forward to making new ones with you in Big Italy," Cricchio wrote. There's no word yet on what will become of the South High Street building.
Coelum: After only seven months, this Canton corner spot has closed its doors indefinitely. Translating to "sky" or "heaven" in Latin, Coelum became known for its cafe and market atmosphere by day, and its evening program that emphasized craft cocktails and larger seasonal plates. A post to Instagram indicates that co-founders Corey Laub and Ryan Thacker decided to close the eatery due to "infrastructure issues," but are working to get back on their feet soon.